Yahoo Fantasy Football Reviews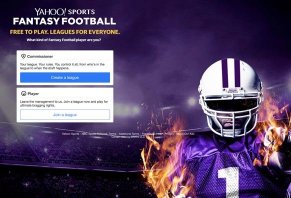 Yahoo Fantasy Football is a diverse platform that has leagues that cater to newcomers, players who want to customize league settings and competitive players who want leagues with cash prizes.
About Yahoo Fantasy Football
Yahoo Fantasy Football is among the premier fantasy football sites on the internet, offering a strong combination of customizable free leagues as well as prize leagues with entry fees ranging from $20 to $1,000.
The site is considered one of the Big Four, in our opinion: ESPN, NFL.com and CBS Sports are the other three major fantasy football sites.
If you're looking for a fantasy football site, there's a good chance you've heard of Yahoo. What makes the site so popular? What are its drawbacks? These are the things that are important to know as you decide which site is best for you or if you're starting a league with friends, which site offers the best tools for league commissioners.
In order to figure out the answers to those questions, we've covered the following areas in this review:
Types of games the site offers
Drafting on Yahoo
The Yahoo app
The site's fantasy football experts
Comparison to other sites
We'll finish up with our thoughts on the general pros and cons of the site's fantasy football platform.
The Types of Games You Can Play on Yahoo Fantasy Football
There are three basic types of fantasy football competitions you can play in on Yahoo, and we'll describe the characteristics of each of them in this section.
Daily Fantasy Sports
Among the four most popular fantasy football sites, Yahoo is the only one who runs DFS for football, which is a type of game in which you pick a new lineup each week. The Yahoo DFS option provides cash games as well as free ones.
Entry fees start at $1 and you have to be at least 18 years old to play. Also, people in the following states cannot participate in any cash games, whether it's DFS, private cash leagues or publish cash leagues:
Alabama
Arizona
Delaware
Florida
Hawaii
Idaho
Iowa
Louisiana
Missouri
Montana
Nevada
Washington
Free Leagues
These leagues have no fee to enter and can support up to 20 teams. You have the option of joining a public league, which is open to anyone with a Yahoo account who wants to get in a league, or you can set up your own private league in which only people with an invite link can join. This is a popular choice if you're starting a league with friends, co-workers or neighbors.
Here's a screenshot of what your league homepage looks like: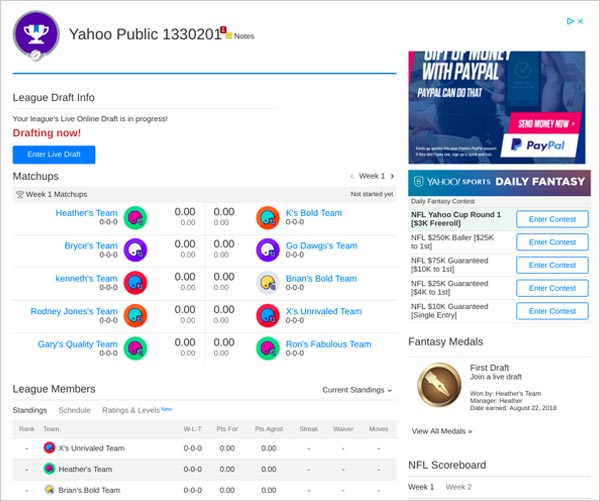 Public Leagues
Yahoo's public leagues follow the standard scoring rules that Yahoo sets and there aren't customizations like the ones you'll read about in a few seconds.
Here is the way that Yahoo does their default scoring, per the most important offensive categories:
1 point per 25 passing yards
1 point per 10 rushing/receiving yards
.5 points per reception
4 points per passing touchdown
6 points per rushing/receiving/return touchdown
-2 points for fumbles/interceptions
So, if your quarterback throws for 400 yards (16 points), two touchdowns (8 points) and two interceptions (-4 points), his total points for the game would be 20.
Private Leagues
The commissioner of your private league (the one who set-up the league) has the ability to change nearly all of the settings in the league, including scoring. You can also set up a keeper league, in which the managers in the league can keep a certain amount of players to use on their team the following.
For example, I'm in a Yahoo league in which we have keepers and we can trade draft picks in addition to players. When you're in a league like this, it's important to have a full suite of customizations, which Yahoo provides.
You can set up leagues that follow a head-to-head format in which teams play against each other each week and the best teams move on to the playoffs, or you can pick a points league, where the team with the most points at the end of the season wins.
A Quick Word About Private Cash Leagues
The commissioner of your private league also has the ability to set up a cash league, in which they set an entry fee of between $10 and $250. He or she can then set up the payout structure. Yahoo limits payouts to the top five teams. You can choose to award cash prizes to the first-place finisher, or up to the top-five finishers, Yahoo's fine print says.
Pro Leagues
The second type of league you can join on Yahoo is their Pro leagues. These leagues have a buy-in that ranges from $20 to $1,000 and prizes of between $20 and $5,000 for first-, second- and third-place finishers. The following chart details the payout structure for each league:
| | PRO1000 | PRO500 | PRO250 | PRO100 | PRO50 | PRO20 |
| --- | --- | --- | --- | --- | --- | --- |
| 1st place prize | $5,000 | $2,500 | $1,250 | $500 | $250 | $100 |
| 2nd place prize | $3,000 | $1,500 | $750 | $300 | $150 | $60 |
| 3rd place prize | $1,000 | $500 | $250 | $100 | $50 | $20 |
| Entry fee | $1,000 | $500 | $250 | $100 | $50 | $20 |
As you can see, Yahoo structures the payouts in a way that the league champion earns five times their entry fee, the runner-up gets three times the entry fee and the third-place finisher gets their entry fee back.
These leagues are far more flexible than what you'll find with CBS Sports cash fantasy football leagues, where CBS takes around a 35% cut of the entry fees, which means none of their money leagues award cash to the third-place finisher and, in some cases, don't pay out to the runner-up, either.
The Yahoo Fantasy Football Draft Experience
The Yahoo fantasy football draft platform hasn't changed too much over the years. The draft window that opens when your draft is live allows you to search players quickly, add them to your queue via clicking on a star next to their name on the master player list, as well as clicking the "Add to Queue" button on their state line at the top of the window.
Another strength to drafting with Yahoo is that you have three options for seeing whose already been drafted, one of which is a grid view through which you can see how many players each manager has drafted at a particular position.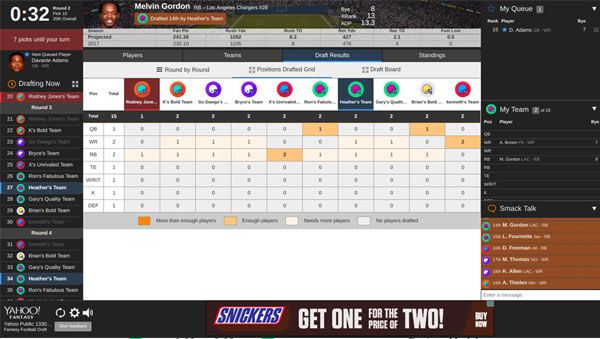 This feature is particularly helpful when you're trying to decide between players at two different positions. If you are thinking about waiting until the next round to get a quarterback and the grid shows that the teams drafting after you don't have QB's, then there's a good chance the quarterback you want might be gone by the time it's your turn to pick again.
As far as glitches go, the only ones I've experienced in my more than 10 years of experience drafting with Yahoo is that it will lag if you are on a spotty internet connection. As long as your signal is good, the draft should be a fluid experience with no hiccups.
When you do a public league, your draft will be a live draft, which means you have to log into Yahoo up to 15 minutes before the draft time and then pick your players via the Yahoo app or the desktop draft platform.
In private leagues, you can choose between a live draft, an autodraft and an offline draft. An autodraft is where you provide Yahoo your player rankings, and, at a random time, Yahoo does a draft and assigns players to each team based on the team's draft position and the rankings the team provided.
An offline draft is where your league commissioner or organizer buys a draft board and player tags that are used in an in-person draft. Once the draft is over, the commissioner generates each team's lineup based on their offline draft picks.
The Yahoo Draft Kit
Draft kits are a big deal around draft time because they provide you with all the information you need to make informed decisions about which players to draft. Yahoo, as well as its competitors, usually package all this together in one sub-menu on their fantasy football homepage so that you have easy access to the relevant material.
The Yahoo draft kit includes rankings, cheat sheets (lists of players at each position or on each team), articles about players to draft and players to avoid, as well as many other topics. At the time of publishing, there were more than 75 player rankings and articles on their draft kit page.
Based on my experience with Yahoo, the player rankings are some of the more interesting items in the draft kit, mainly because those rankings tend to vary from site to site. The following chart shows the top five quarterbacks to draft, according to Yahoo and three other sites:
| Yahoo | CBS | ESPN | NFL.com |
| --- | --- | --- | --- |
| Aaron Rodgers | Aaron Rodgers | Aaron Rodgers | Aaron Rodgers |
| Cam Newton | Tom Brady | Tom Brady | Tom Brady |
| Tom Brady | Deshaun Watson | Russell Wilson | Russell Wilson |
| Russell Wilson | Russell Wilson | Cam Newton | Deshaun Watson |
| Deshaun Watson | Drew Brees | Carson Wentz | Cam Newton |
As you can see, Yahoo's picks for the top-five quarterbacks diverges from the crowd by placing Cam Newton; they're the only site of the four that didn't put Aaron Rodgers at #1 and Tom Brady at #2. These rankings are based on Yahoo's expert analysts, who predict how well a player will do based on a variety of factors including past performance, other players on the team and any changes to coaches.
While not analyst can see into the future, some do have better success than others, which is what we'll talk about in the next section.
Yahoo Fantasy Football's Experts
The value of a fantasy football website's information and projections is only as high as the ability of its experts to forecast performances accurately.
To determine this, we defer to FantasyPros, a fantasy website that provides yearly rankings of the accuracy of experts' predictions. They provide a yearly list of the top 200 analysts. Here's how Yahoo's experts fared in the 2017 accuracy rankings:
Scott Pianowski: #61
Andy Behrens: #78
Brad Evans: #84
Dalton Del Don: #85
Liz Loza; #86
Exactly how well Yahoo analysts compare against other websites is something we'll discuss in the next section.
How Yahoo Compares to Other Major Fantasy Football Sites
Based on our research, we believe that Yahoo's main advantage over its competitors is that it provides customizable free leagues, Pro leagues with cash prizes and the ability to set up cash prizes for a private league.
ESPN does not offer leagues that provide cash prizes. CBS Sports does cash leagues but, as we mentioned earlier, the payout structure is really limited – there is no third-place prize – and they charge you $149.99 to start your own league in which you have control over the settings.
In terms of expertise, while Yahoo's analysts are all in the top 200, according to FantasyPros, CBS Sports' three analysts have better rankings – #46, #64 and #69.
We also think Yahoo has the advantage when it comes to DFS, as the other three sites do not offer DFS.
Finally, we believe that, among the sites we've mentioned so far, Yahoo has the #1 or #2 draft platform in terms of user experience.
In an overall sense, we believe that Yahoo is the best fantasy football site compared to the other three sites we mentioned in this section.
Pros and Cons of Yahoo Fantasy Football
Based on our research of this site's fantasy football, we believe its greatest strengths are that its team of experts are well-rated for the accuracy, their private leagues offer a wide range of customizations and their Pro leagues have cash payouts for the top-three finishers.
In our opinion, the site's downside is that its experts aren't ranked quite as high as the experts on CBS Sports. This is a marginal "downside" though, and certainly not worth passing up on Yahoo in favor of another site.
Another weakness is that the site doesn't let you do a full customization of leagues, something that only comes into play with serious fantasy footballers who have leagues that require all sorts of customizations specific to their league's rules.
We see Yahoo fantasy football as a good site for the beginner to advanced fantasy football participants because it offers a variety of games and has a great payout structure for those interested in playing cash-prize Pro leagues.
» For Further Reading: Guide to the Best Fantasy Football Sites: Comparison of Yahoo, ESPN, NFL, CBS Sports, and Sleeper
Additions needed to better league!

By Travis C.

,

Illinois

,

Sep 26, 2018
Verified Reviewer

I have been playing fantasy football on Yahoo since 2009. User-friendly app and great for all skill levels. I am on my second year as commissioner. I love how easy it is to run your leagues on Yahoo compared to ESPN. Also, this is my second year running a keeper league with Yahoo (never go back to a standard league, so much better, my opinion). Keeper leagues, you always have a chance to improve your team, even when key players are injured. Standard league, start from scratch league every year, injuries can cost you your season and possibly money. Always have a chance with a keeper league.

I came online searching to ask for an enhancement/feature upgrade. I am writing this review to see if Yahoo could add a feature to help better my league for Yahoo NFL Fantasy Sports. Can a trading block feature be added to let other owners in your league, know who you are interested in dealing/trading? Maybe something like the star you would select to add a player to your watch list. My league trades a lot of players and draft picks. It would help with negotiations tremendously to add people to the trading block. Even add a function in settings for notifications on or off, so the owner can choose to be or not to be notified for trading block notifications.

Bottom Line: Yes, I would recommend this to a friend

---

Advertisement

---