Yawn Air Reviews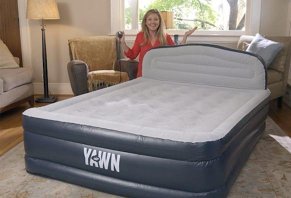 Using a built-in air compressor, adjustable firmness, and Comfort Air Technology, the Yawn Air portable, self-inflating air bed is a convenient way to instantly create extra sleeping space in your home.
About Yawn Air
If you find yourself needing a quick solution for visiting family or friends, the Yawn Air inflatable bed promises to transform a spare space into a comfortable, luxurious guest bedroom in under five minutes. How?
In the commercial, we're shown that the inflatable bed includes a built-in air compressor that can self-inflate to whichever level of firmness you prefer within minutes. Once inflated, the bed's durable construction means that it can last up to 24 hours without losing pressure, can support up to 550 pounds, and can withstand high-pressure impacts, such as kids jumping up and down.
Additional Yawn Air design features include an anti-roll rim to prevent falling off, along with a built-in premium headboard to stop pillows from doing the same. The flock-textured top is designed to keep sheets firmly on the bed, and the 45 cm (17.7 in) height is said to be easy for anyone to get in and out of, regardless of age.
Judging by its appearance, the Yawn Air looks as though it could really be a convenient way to add an extra sleeping space to your home. In order to help you decide if it's the best product for your needs, though, let's start off by taking a closer look at its most advertised feature.
How Does Yawn Air's Comfort Sleep Technology Work?
Although the website doesn't provide any additional detail (we also reached out to several customer support representatives, none of whom were able to assist), the Yawn Air commercial tells us the bed utilizes something call Comfort Sleep Technology, which is said to constitute "40 independent, thermally bonded comfort support structures."
While this certainly seems compelling and a feature that might help boost Yawn Air's overall comfort by contouring to the natural curves of your body and potentially reducing motion transfer to some extent, based on what we learned when comparing it to competing models (more about this soon), this technology doesn't appear to be unique.
In fact, these pillars seem to be standard manufacturing process and feature when it comes air mattresses, since the 'welds' they use help connect the top and bottom and provide underlying structural support.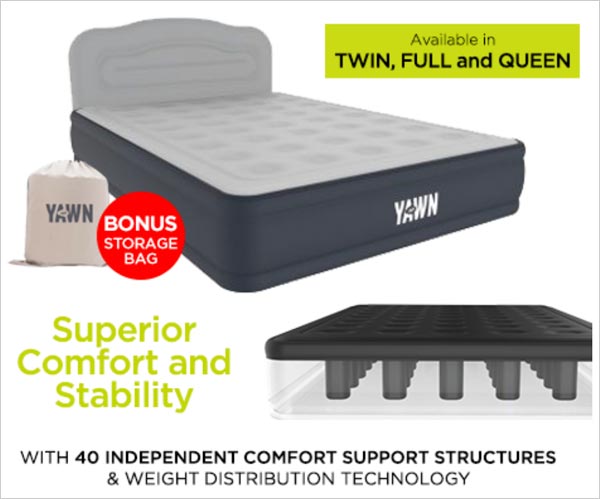 Although Yawn Air's Comfort Support Technology and the 40 independent structures (shown above) it involves sounds compelling, it appears to be a common feature among most air mattresses. Credit: Tristar Products, Inc.
Bottom line: Without additional details, whether on the product's website or via customer support, Yawn Air's 'Comfort Sleep Technology' simply appears to be a standard feature found in air beds at all price points.
With this in mind, if you're looking to give the product a try, let's take a look at how much the various sizes will cost you in the section below.
How Much Will the Yawn Air Cost You?
It appears that the Yawn Air bed is currently being sold excluveily on Amazon UK for £79.99 (a little over $100 USD). It may be only available in the the UK market at this time.
What Do We Know About the Company Behind Yawn Air?
Yawn Air is manufactured by Tristar Products, a Fairfield, NJ-based company who's been in business for nearly three decades. Over the years, they've released dozens of popular products, including recent hits like the Copper Chef pan, Clear TV, Copper Wear, and Power Air Fryer XL.
The company held an A+ rating with the Better Business Bureau, based on 18 negative customer reviews and more than 700 closed complaints, as of 1/22/18. Where additional details were available, most of these appeared to reference less-than-stellar support. However, a company representative responded in each instance with a resolution.
Yawn Air vs. the Competition: How to Choose the Right Air Mattress
Whether online or at your local big box retailer, you'll find many different inflatable mattresses and air beds to pick from, at price points ranging between $20 and $150+. Which features should you focus on?
According to the National Sleep Foundation, it's important to keep in mind that "variations in firmness based on their level of inflation can make [air mattresses] feel smaller," so you might want to consider purchasing the largest size your space (and budget, of course) will allow. Height can also be an important factor, especially if older individuals will frequently use the mattress, who might have difficulty getting in and out of models that are lower to the ground.
Pro tip: The average traditional bed height is 25 inches. As such, unless you place the 17.7-inch Yawn Air on an underlying foundation, it won't reach as high as a standard bed.
From a comfort perspective, they also emphasize that most air mattresses are made from PVC or nylon, which isn't always the most comfortable surface to sleep on. So, while the bedding (sheets, comforters, pillows, etc.) can have a big impact, we think it's important to maintain realistic expectations regarding any "luxurious" marketing claims, whether from Yawn Air or a third-party brand.
Bed Bath and Beyond also recommend (again, if your budget allows) focusing on air mattress models that come with useful extra features like a flocked surface for added warmth, two-layer reinforced construction for added comfort and support, along with adjustable firmness and a storage bag for when it's not in use.
Finally, SleepOnAir reports that although having a built-in air pump can make life easier and inflate your mattress faster than an external pump, as well as allow you to choose your level of comfort and reduce the likelihood of air leaks, they can also be more expensive and can present a problem if they stop working for some reason (i.e., you might have to purchase an entirely new mattress, versus just replacing the pump).
Does all of this bode well for Yawn Air?
The Bottom Line About Yawn Air
As long as you're okay accepting the relatively few potential downsides related to a built-in pump, Yawn Air seems to provide many essential features for any air bed, including a competitive price, flocking, reinforced construction, quick inflation/deflation, adjustable firmness, a headboard that could help keep pillows in place, and a handy storage bag.
It also comes with a 60-day refund policy, which should be plenty of time to figure out if it meets your needs.
However, as with any air bed or inflatable mattress, we think it's important to maintain realistic expectations about the level of luxury it'll deliver. In other words, while comfort is certainly a subjective experience and will differ from person to person, you might end up disappointed if you're expecting one to "look and feel just like a real luxury bed," as claimed in the commercial.
On top of this, keep in mind that you'll have to pay to ship Yawn Air back to the manufacturer if you're dissatisfied, so you might want to keep the original packaging on hand until you're certain that it's the best option based on your needs.
» SEE ALSO: How to Buy a Mattress Online: Buying Guide & Tips
Bad buy

By Sandie G.

,

Birmingham, England

,

Aug 21, 2018
Verified Reviewer

A very bad buy. I used it once! I bought this so I could go camping with my kids, as I couldn't afford Caravan. I am disabled and have brain and spinal damage. The bed went down in a couple of hours and left me stuck and in pain. I'm so disappointed and humiliated how it left me especially, as I have trouble moving. Never again will I be buying anything like this. Regardless of the good reviews, and they don't have a guarantee or a good return policy.

Bottom Line: No, I would not recommend this to a friend

---

Worst buy ever

By Alana T.

,

DOWN

,

Sep 26, 2019
Verified Reviewer

Bought one last week, had to return it 2 days later as it went down. I ended up laying on the floor. So took back to Argos and replaced it. So I am taking this one back as well as it has done the same thing. I wouldn't waste my money on these beds anymore. Not a very happy customer.

Bottom Line: No, I would not recommend this to a friend

---

Advertisement

---

Poor

By Wesley B.

,

Birmingham, England

,

Oct 21, 2019
Verified Reviewer

Lasted 2 days, the grove seams spit, pushed on it soft and it ripped apart, had a puncture in 2 days. Don't buy, not worth it. Buy a 20-pound one, lasts longer. Left me with no bed advert, miss-leading, conning customers.

Bottom Line: Yes, I would recommend this to a friend

---

Awful bed, awful supplier

By Karen R.

,

United Kingdom

,

Dec 3, 2019
Verified Reviewer

I purchased this from High Street TV.

The bed was used a few times before tearing at the seams. They refused to refund and sent me another bed. This was used twice before deflating again. They refuse to acknowledge that there is an issue with the bed and advise they don't have to exchange or refund as last time was a goodwill gesture. They originally sent me a parcel label to return and then changed their minds. I'm not sure what's worse, the awful bed or the awful service from High Street TV. I'm a few pounds down sadly with no guest bed but I guess that's a lesson learned. Don't trust these pitches, fake adverts we see on TV overselling a rubbish product.

Bottom Line: No, I would not recommend this to a friend

---

Advertisement

---

Yawn Air bed

By Julie S.

,

England

,

Jan 17, 2020
Verified Reviewer

I recently purchased a Yawn Air bed, costs £70.00. I had visitors staying for the weekend, looks very impressive when it's inflated, but unfortunately, it went down within 4 hours on both nights. I'm fuming as my friends wanted to book a hotel and I persuaded them to stay with us and sleep on the bed.

Embarrassing, to say the least.

Bottom Line: No, I would not recommend this to a friend

---

Do not buy

By Kim F.

,

Surrey, England

,

Jan 23, 2020
Verified Reviewer

We have purchased two of these air beds in as many weeks, they have both punctuated in different areas of the bed.

The holes seem to appear on edges of circular indentations of the mattress.

I have emailed the company but never responded back to us.

Complete waste of money.

Not fit for purpose.

Would recommend not to purchase one.

Bottom Line: No, I would not recommend this to a friend

---

Yawn Air bed

By Philip T.

,

Stoke-on-Trent, England

,

Jan 29, 2020
Verified Reviewer

I ordered one, went down, could not find it, sent it back, sent me another one, found this morning a small hole. These Yawn Air beds are crap, rubbish, these don't last, not worth the money. They make me sick, sending it back, costing me money. I would not recommend it to anyone. Their advertisers on the shopping channels are a bloke and a woman. I would never buy any more from this company, highstreet shopping. These are crap, rubbish make, don't last. This company should be closed down, it is a scam, not wasting any more money. I will get a proper bed.

Bottom Line: No, I would not recommend this to a friend

---

Ripped

By Ann S.

,

London, England

,

Mar 17, 2020
Verified Reviewer

I got a Yawn Air mattress 3 weeks ago and it already split on top. I tried fixing it but still no good. At first I loved it and then this to happen, I would not buy one again.

Bottom Line: No, I would not recommend this to a friend

---

The fab Yawn airbed...with knobs on

By Anthony L.

,

Norfolk, England

,

Sep 30, 2018
Verified Reviewer

I have purchased two of these double beds, and I cannot fault them for comfort and ease of erection, and find they compare favorably with any other bed I have tried.

One big downer, I am just about to return the second one for replacement, hopefully, the third time I am lucky. The structure of the beds has 48 pillars inside, which give it stability and support. Unfortunately, on the first two I have had to return, there seems to be a fault in the construction, and pinholes appear round, with the third left-hand support counting down from headrest. The exactly same fault has occurred on both of them within a few days of trying them. I am hoping the third one is better and doesn't let me down.

One other annoying fault is that the fan and controls are at the head of the bed, making it impossible to place the bed up to a wall, and making it difficult to reach the self-inflating controls.

I would thoroughly recommend it, subject to the fault I have experienced not being inherent in the manufacture of them all.

Bottom Line: Yes, I would recommend this to a friend

---