YNAB Reviews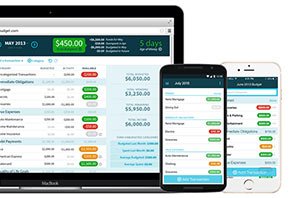 You Need a Budget is an online personal finance app that helps you track your spending and helps you create a budget. Fees are $5 per month or $50 per year.
About YNAB
There are many budgeting tools out there, and choosing the right one is, in many cases, all about what you prefer.
Some people prefer an automated tool like Mint. The app automatically tracks your transactions and then compares them to the budget you've set up.
However, if you prefer to take a more hands-on approach to budgeting, You Need a Budget claims to be your ideal solution.
This might be your first time researching budget apps, or maybe this is the first time you've ever used a budget. Either way, we want you to know you're on the right track.
And as part of that journey, we're going to walk you through what YNAB does, how it stacks up to popular budgeting tool Mint, what others are saying about it and our final thoughts.
How You Need a Budget Works
To get a first-hand experience, I decided to sign up for a YNAB account. At the time of our research, they offered a 34-day free trial.
I entered my email address and a password. The next screen was a series of slides with solid budgeting advice. We loved this: "A budget isn't complex or mysterious. It's a plan for your money, based on your priorities and goals."
"A budget isn't complex or mysterious. It's a plan for your money, based on your priorities and goals."
Aside from these nice quotes, the slides represent YNAB's budget philosophy: make categories, spend based on the limits you've set for those categories and stick with it for the long haul.
The Budgeting Page
You Need a Budget then sent us to our home page, where we clicked on the "Create New Budget" button. We gave it a name, chose our format preferences and then were sent to the budget page.
YNAB uses a list format with pre-determined categories. "Immediate Obligations" are at the top of the list (mortgage/rent, utilities, internet, groceries, transportation) and "True Expenses" (auto/home maintenance, insurance, healthcare), Debt Payments, "Quality of Life Goals" (vacations, fitness, education) and "Just for Fun" (fun money, music, gaming, dining out) follow.
We think this is a nice format for people new to budgeting because the categories are familiar and in plain language – "Stuff I Forgot to Budget For" is a great example.
Changing category names, budgeted amounts and spending is as simple as one click.
Overall, it's our opinion that YNAB's budget page is very straightforward. However, we noticed that it was a little difficult to understand where to enter transactions and income. It took us a few seconds to realize that you have to click on the "All Accounts" icon on the left side of the page to enter this info.
The Income/Transactions Page
Once you click on that icon, you get a message saying "Add your first account!" with an arrow pointing to an "Add Account" button. I clicked that button, and a new window popped up prompting me to name the account.
At this point, it was still unclear how I was going to add transactions – I realized later you can't add transactions if you don't have an account set up. In our opinion, You Need a Budget could make this process a little more intuitive.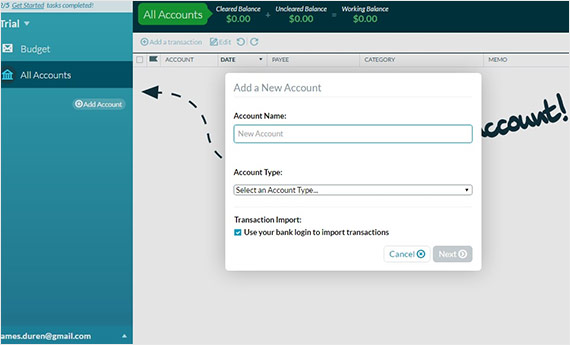 ​
You have the option of connecting the new account to your bank, something that's mandatory with Mint (more on that later).
If you don't connect to an existing bank account, you have to enter all your transactions by hand, kind of like the old days when you had to write down everything in your check book.
You can also add investment accounts or mortgages along with the standard checking, savings, credit and PayPal accounts (a few other types were listed as well).
Once you set up an account, you can add income (inflow) as well as enter spending (outflow). The idea that you'd have to enter your transactions one by one points to perhaps the biggest clash between You Need a Budget and Mint.
YNAB or Mint: How Are They Different?
So, you know how there's always the old guy in your family who grumbles about the way things are and the way things used to be?
That's kind of how we view YNAB; they put a big emphasis on manually entering transactions because it makes you more aware of what's going out and coming in. We checked out a Reddit thread about this very subject, and several people said the automatic approach leads to overspending and less involvement with day-to-day transactions.
Of course, YNAB doesn't force you to be disconnected from your bank. In fact, they automatically check the box that gives you the option of connecting to a bank account. You have to uncheck it to go old-school.
But even though you can connect your bank account, YNAB felt it was important for consumers to still do a little manual labor. Unlike Mint, where synced bank transactions are automatically categorized, synced transactions on YNAB must be manually categorized.
Most Americans May Not Be Able to Handle a Manual Budget
We believe that the mental side of a consumer's life is a huge influence on how he or she handles their money. In fact, we think many people are in debt because they have the wrong mentality about their money, not necessarily the wrong habits. Granted, there are tons of bad habits out there. But we think those habits will easily change with a change of mind.
Okay, so how does all this play into the YNAB v. Mint debate? It's our opinion that while people seem to like YNAB's optional banking feature, it's a pointless tool if the user hasn't changed their mind about how they manage their money.
Mint and You Need a Budget's option for connecting to an account makes the budgeting leap a little easier for those who are struggling with their mentality about money. Once they shift their thinking, then, yes, YNAB's by-hand budgeting method is, we believe, a great way to get involved with your spending.
But here's the thing – only one out of three Americans has a detailed budget. That means, most likely, 2 out of 3 Americans don't have the right mentality about budgeting. For this majority, Mint and YNAB's connected-account option is a great starting point.
Once you've got your thinking in line and your good habits going, consider disconnecting your bank accounts and using You Need a Budget's manual option.
The Cost Factor
Up until earlier this year, YNAB was a desktop-only product that offered a free option.
Like we mentioned before, You Need a Budget is now a paid service: $5 per month or $50 per year. We believe that, for those who want to manually enter their inflow and out flow, the nominal monthly or yearly fee is worth it.
The Features Factor
YNAB has a nice library of guides for how to use their app, how to think long term, how to deal with your debt and several other helpful areas. Each of these guides includes in-depth subject material as well as great videos illustrating the topic at hand.
Mint's main learning area is its community forum, which is divided into several different categories including Setting Goals, Budgets and Accounts & Transactions.
We noticed one big difference, though: Mint gives its users a wealth of resources in their "Ways to Save" section. They give you basic information about and links to credit cards, checking accounts, savings accounts, brokerage firms, 401K plans, IRAs and more.
If you want to become a budgeting expert, our research shows YNAB provides all the right tools. If you want to create a financial plan and browse options for savings and investment, Mint, in our opinion, is the better choice.
What People Are Saying About YNAB
You Need a Budget gets a 4.7-star rating on Amazon, while Mint gets a 3.8-star rating. One enthusiastic reviewer said he loved the guides and learning opportunities, while another said he really enjoyed how YNAB emphasizes the importance of tracking every dollar you spend.
Popular investment site Investor Junkie gave the software a 4-star rating, saying "YNAB is only about budgeting, and they do it extremely well." We think that's an excellent observation. The app devotes all of its resources to helping you become an expert in budgeting, whereas Mint's resources are spread across budgeting, investing and saving.
Final Thoughts: A Top-Notch Budgeting App
YNAB, as Investor Junkie pointed out, isn't a jack-of-all-trades that's good at a bunch of things but great at none. The site is laser-focused on helping consumers become excellent budgeters. Through budgeting, those consumers can set themselves up for a better financial future.
The software's user experience is pretty basic. Adding transactions isn't that intuitive, but once you figure it out it's smooth sailing.
Budget categories and amounts are easy to edit and entering transactions is equally as simple.
The site's resources are, in our opinion, a fantastic resource that utilizes in-depth writing and well-made videos that interject some humor.
While it doesn't offer the investment and savings extras found on Mint.com, You Need a Budget is a powerful budgeting tool that, in our opinion, can give your financial life a solid foundation.
Read Next: Why Making a Budget Can Be the Best Financial Decision You've Ever Made