Yogabed Reviews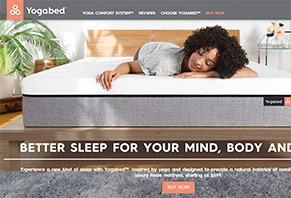 Yogabed is a brand of online-only luxury mattresses featuring 4 different foam layers that offer ideal comfort and support to provide you with optimal sleep.
About Yogabed
You spend a third of your life lying on mattresses, and Yogabed's one-model lineup is claimed to provide you with all the comfort and support needed to give you the best sleep possible. In fact, Yogabed's slogan is "better sleep for your mind, body, and soul."
Yogabed claims to accomplish this through their unique Yoga Comfort System, which is comprised of 4 different layers that "bring together the best characteristics of memory foam and latex" to evenly disperse weight, support your body, and reduce pressure points that can cause tossing and turning. Because of this, Yogabed claims to be "the one for everyone."
In addition, all Yogabed mattresses are made in the USA without ozone depleters, PBDE flame retardants, formaldehyde, mercury, lead, and other heavy metals, or phthalates. The company also claims that their mattresses come with low VOC emissions (less than 0.5 parts per million), which we'll talk more about in a moment.
But first, let's take a closer look at Yogabed's defining difference; their Yoga Comfort System.
What is the Yoga Comfort System?
When compared to other online mattress companies, Yogabed claims their mattresses feature a proprietary, 4-layer system known as the Yoga Comfort System, which is comprised of the following elements:
Yoga Instant Response Foam – A thin layer of highly reactionary, certified flexible polyurethane foam that, when combined with YogaGel, provides pressure relief and comfort by instantly reacting and recovering its shape as you move.
YogaGel – When compared to traditional memory foam, proprietary YogaGel is claimed to cushion and disperse impact from deep compression, and to provide seven times more thermal conductivity that helps keep you cool and comfortable.
Breathable Foam Base – Claimed to provide responsive support, 95% better air flow, and 300% more heat and moisture-wicking than traditional memory foam.
Support Base – A bottom layer of dense foam that provides even support to all the layers above.
Why Does Yogabed Only Offer 1 Firmness Level?
According to a video on the Yogabed website, when it comes to mattresses, 85% of us fall within the same desired comfort range (e.g. not too soft or too firm, but somewhere in the middle). Because of this, Yogabed manufactures only one mattress that will meet the needs of 85% of the population.
And while there isn't any additional information provided about this on the company's website, this likely helps them price their mattresses competitively (more about this in the Pricing section).
In addition, there aren't any specifics provided on the Yogabed website regarding firmness, although Sleepopolis claims these mattresses are a 6 out of 10 on the firmness scale.
The Popularity of Online Mattress Buying
Over the past year or so, we've seen a huge increase in the popularity of buying mattresses online, as more and more internet-savvy consumers forego high-pressure sales tactics and higher retail prices. Because of this, we've written some in-depth reviews for popular options such as Casper Mattress and Tuft and Needle.
Needless to say, while most of these companies only offer one mattress model, which also arrive in neat little boxes at your doorstep, there are some meaningful differences between them. Because of this, you'll definitely want to research all your online mattress purchasing options before making a decision (and HighYa is a great place to start!).
Are Yogabed's Customers Sleeping Better?
Overall, while there were several online reviews for Yogabed, most of these were posted by independent bloggers who received one of the company's mattresses in exchange for a review.
However, an in-depth video review on Sleepopolis claimed that the Yogabed mattress is very responsive, and immediately adjusts to your sleeping position. The host also noted that in the area where you sleep, Yogabed mattresses feature about 1.5" of sinkage that provides a nice body hug and a decent amount of edge support.
However, a fairly heavy chemical odor was noted, which seemed to slowly dissipate and to be completely gone after about a week (something known as off gassing, which is standard among foam mattresses). Overall, Sleepopolis claimed their Yogabed mattress provided good support, comfort, and coolness.
In addition, specifically comparing Yogabed to other online mattress options, Sleepopolis' author posted a detailed Quora response claiming that it falls nicely in the middle.
Finally, The Sleep Sherpa gave their Yogabed mattress a 9.1 overall rating, and complimented its construction, affordability, and softness. In fact, the author didn't note any negatives, and claimed, "I want to try and convey to you how much this mattress is an improvement over what you will find in a conventional mattress store in terms of price, quality and comfort." They also specifically noted that Yogabed's material seems to be of better quality than Casper, and softer than Tuft & Needle's mattresses.
From a company perspective, Yogabed mattresses are manufactured by YogaHome, LLC based out of Charlotte, NC, although they are not listed with the Better Business Bureau. This is surprising, since it appears they've been selling mattresses since mid-2014.
Yogabed Pricing & Refund Policy
Yogabed mattresses are priced as follows:
Twin: $599
Twin XL: $649
Full: $799
Queen: $799
King: $949
Cal King: $949
Note: Before checking out, be sure to search online for Yogabed coupons, as we found several available at the time of our research for up to $50 off.
With your order, you'll also receive 2 free pillows made of the same Instant Response Foam featured found in the mattress (only 1 free pillow for Twin and Twin XL models).
Yogabed also sells several bedding accessories, such as sheet sets priced between $79 and $119, pillows for $99, a mattress protector for $79, and an extra removable, machine-washable Zip-N-Wash cover (all Yogabed mattresses come with one included) for $79.
Regardless of which mattress you choose, all Yogabeds come with free shipping direct to your door. Similar to other online mattresses, your Yogabed will arrive in a relatively small box, which unfolds and "inflates" itself over the course of an hour after being unpacked.
Each Yogabed purchase features a 101-night no-risk trial, which includes mattress pickup and return shipping back to the company. Yogabed also offers a 10-year warranty against defects in materials and workmanship for their mattresses, although full replacement only applies for a period of 2 years. After that point, prorated replacement charges may apply. For full details, be sure to read through the Yogabed's Warranty page.
In order to ask questions about mattresses, request a refund, or to file a warranty claim, you'll need to contact customer service at 800-986-1656.
Should You Try a Yogabed Mattress?
Chopping to the point: When it comes down to it, Yogabed seems to be following the lead of other online companies that provide high-quality, competitively priced mattresses direct to consumers. Because of this, from what few online reviews existed at the time of our research, Yogabed seems to have a positive reputation.
With this said, it might be the case that the direct-to-consumer mattress market is quickly becoming crowded, with only relatively minor differences between them. In fact, based on Yogabed's comparison page, except for one less layer of foam and a $50 higher price tag, Casper Mattress appears to be essentially identical (even when viewing side-by-side pictures of each, which means they may undergo similar manufacturing processes).
Ultimately, finding the right mattress for you is a highly personal decision, so while you might be thrilled with your Yogabed, this doesn't necessarily mean that others will too. However, most online mattress companies provide extended risk-free trials, including Yogabed, so you can always take advantage of this before handing over any of your hard-earned money.
Read Next: How to Buy a Mattress Online: Save Time & Money by Knowing What to Look For