Yoshi Copper Grill Mat Reviews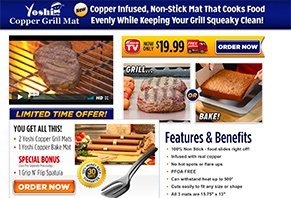 Yoshi Copper Grill Mat is a reusable, reversible, nonstick mat that's heat resistant up to 500 degrees and claims to make cooking on the grill easier and less messy.
About Yoshi Copper Grill Mat
Yoshi Copper Grill Mat is a copper-infused nonstick mat that promises to cook evenly, reduce hot spots and flare-ups, leave perfect grill marks on your cooked food, and keep your grill squeaky clean.
According to the website, just heat up your grill, place the Yoshi Copper Mat on the grilling surface, and you're set to cook. They're reusable and reversible, food slides right off (PFOA-free!), and they can be cut to any size or shape, making them perfect for burgers, hot dogs, fish, chicken, and vegetables.
Important note: While the commercial claims that Yoshi works with gas, charcoal, and electric grills, keep in mind that it can only be used away from an open flame and only up to 500°.
Then, when you're finished, Yoshi Copper Grill Mat claims to make cleanup a snap by throwing it in the dishwasher or rinsing it off with soap and water.
You're here because you want to know if the Yoshi Copper Grill Mat is everything the commercial and website claim. How does it compare to other grill mats? Is it more deserving of your money? Does its embedded copper make a difference?
To kick things off, let's start by taking a look at how these products work.
How Do Grill Mats Work?
Whether from Yoshi or another brand, grill mats are basically just sheets of some flexible, heat-resistant material—often fiberglass fabric—that's coated in PTFE, also known as polytetrafluoroethylene. The atoms in this low-friction chemical aren't very good at sticking to other things, which tend to slide right off.
This fabric also conducts heat, which allows it to work as a cooking surface. The heat from the grates even transfers through the mat and leaves grill marks, while allowing you to add sauces and cook veggies without falling through the grates.
But is it even safe to use these grill mats in the first place?
Is PFOA Bad For You?
The PFOA (perfluorooctanoic acid) referenced on the Yoshi Copper Grill Mat website is a chemical used in the process of making PTFE, which the FDA classified as a "likely human carcinogen" in 2006.
We learned from Robert Wolke, a professor emeritus of chemistry at the University of Pittsburgh and author of the two-part book series What Einstein Told His Cook, that "There is no PFOA in the final Teflon product, so there is no risk that it will cause cancer in those who use Teflon cookware."
Still, you'll find that many manufacturers boast their nonstick cookware is PFOA-free, when the reality it that this applies to all products in the class.
Important note: PTFE will still disintegrate at 500°, however, and the resultant fumes can cause flu-like symptoms in people and kill birds. This is why the manufacturer states that Yoshi can't be heated to higher than this.
Also, they emphasize that Yoshi Copper Grill Mat can't be used on an open flame, so it might be ideal for charcoal grills (as well as wood ones, as long as only hot embers exist).
What will you pay for this added convenience?
How Much Does Yoshi Copper Grill Mat Cost?
The Yoshi Copper Grill Mat costs $19.99, which comes with a BONUS Grip N' Flip Spatula for an additional $3.99 in S&H and applicable sales tax.
You can also order two mats + two Grip N' Flip Spatulas for a total of $39.98 + $7.98 for S&H and applicable taxes.
If purchased directly through Idea Village, Yoshi's Copper Grill Mat set comes with a 30-day money back guarantee, less S&H. In order to process one, customer service can be reached at 877-884-2826.
The Copper Grill Mat is also available at the following retailers:
Amazon: $11.80 + $5.24 shipping
Walmart: $9.98

Are There Other Grill Mats Available?
In addition to the original version, you'll also find several other meaningfully similar grill mats online, including the Miracle Grill Mat and Copper Chef Grill Mat.
If ordered online, these products are priced relatively in line with one another, although (like Yoshi Copper) you can often find them available at third-party big box retailers for less.
Functionally, there appeared to be almost no difference between these mats. Design-wise, only their colors appeared different.
Given these similarities, choosing the right grill mat for your needs might largely come down to price. Also, can you purchase one locally to save on S&H charges, while making the refund process easier if you're not satisfied?
Together, this could give you the performance you're looking for, while helping you pay as little as possible.
The Bottom Line About Yoshi Copper Grill Mat
The original Grill and Bake Mat seems to come with mostly positive customer feedback, so you might experience much of the same.
And if you don't, Idea Village stands behind the product with a 30-day money back guarantee. Just keep in mind that you'll lose the original $3.99 fee for the Grip N' Flip Spatula, plus whatever they cost to ship back to the manufacturer.
Based on what we learned from the company's website, as well as customer feedback for the original version, perhaps the most important points to keep in mind are that Yoshi Copper Grill Mat:
Can't be used around flames,
Has a 500° temperature limit, and
Just like regular nonstick cookware, you should avoid using abrasives or metal utensils, or you'll risk damaging the PTFE coating.
This means that Yoshi Copper might be ideal for charcoal or wood grills, but only after the flame has died down. On the other hand, gas grills only produce heat using flames, requiring you to heat up the grill, turn it off, and quickly toss on the mat and cook your food before too much heat is lost.
Pro tip: If you were surprised about the 500° limit, it might be easy to understand, considering the Yoshi commercial showed Copper Grill Mat on an open flame when cooking ribs. In fact, the announcer even notes that "your sauces stay on the meat, and out of the flames."
---
I purchased at Sam's Club

By Deborah W.

,

Columbus, OH

,

Sep 9, 2019
Verified Reviewer

Overall Experience:

I use it all the time. Excellent for chicken and hamburgers, keeps the chicken tender and prevents burning and keeps the hamburgers from falling apart. Perfect for fish. Very easy cleanup and very durable. I have used it over 15 times and I have had no problems.

I still prefer to cook steak directly on the grill because you should not use on high heat. I am looking for a place to purchase them for Christmas gifts.

Bottom Line: Yes, I would recommend this to a friend

---

Yoshi on a smoker

By Lori B.

,

gates

,

Aug 13, 2019
Verified Reviewer

Overall Experience:

I have been smoking everything from meats to vegetables, also herbs, paprika, and other spices. I was really tired of the clean up so I tried the Yoshi Copper Grill Mats. They worked amazing for the smoker. I soaked them in soapy water afterwards and they cleaned very easily. I love them for this reason. The heat is not direct so the mats were not affected in any way. You have to try this, it saves time and clean-up is amazing.

Bottom Line: Yes, I would recommend this to a friend

---

Advertisement

---

Forget it!

By Tom Y.

,

Tucson, AZ

,

Aug 13, 2019
Verified Reviewer

Overall Experience:

I've been impressed with the TV commercials for a long time, and finally bought. I've been using it 4 times a week for months now. It does cook well, and evenly. BUT - it's impossible to clean now. It has turned completely black. It's never been over 400 degrees, so has never been burned. I've even tried cleansers and a brush. You'd think that "wipe it clean" would actually work on cleanup. Soaked in hot soapy water overnight - no better. It's easier, cleaner, faster to clean up the grill without this mat. Save your money.

Bottom Line: No, I would not recommend this to a friend

---

Pure garbage

By Ron J.

,

Los Angeles, CA

,

Jul 17, 2019
Verified Reviewer

Overall Experience:

I used the grill mats one time only. They became so black and spotted that I had to scrub them very hard. They began to shred when I scrubbed them. These are garbage. Don't waste your money on this product.

Bottom Line: No, I would not recommend this to a friend

---

Advertisement

---

Not worth the money

By Tony L.

,

California

,

Jul 17, 2019
Verified Reviewer

Overall Experience:

The mats were burned after first grill. It is very difficult to remove burned areas and black spots discolored the mats indefinitely. Not worth the money. It does not work as advertised. Do not buy it!

Bottom Line: No, I would not recommend this to a friend

---

Yoshi Mat...NOPE!

By John K.

,

Amarillo, TX

,

Jul 16, 2019
Verified Reviewer

Overall Experience:

Decided to try this product of all days today, the 4th of July. BIG MISTAKE! Yes, it kept my grill clean, but the steaks all tasted like plastic and were very tough. Ended up throwing out $40.00 worth of meat and the Yoshi Mats. Thanks for ruining the meal YOSHI MATS! Steaks were so bad, they would have traumatized my dog. DON'T WASTE YOUR MONEY FOLKS! By the way, all instructions were followed in the use of the mats, Mat was cleaned before use as well.

Bottom Line: No, I would not recommend this to a friend

---

Grease fire

By Fred D.

,

Pittsford, NY

,

Aug 25, 2018
Verified Reviewer

Overall Experience:

I was cooking four hamburgers over a charcoal fire. The grease accumulated on top of the Yoshi and started an intense grease fire which almost got out of hand. Luckily, I had a garden hose nearby and I was able to extinguish it. They come with a warning to not use over an open flame but are advertised to use on a barbecue grill. They should be perforated so that the grease can't pond up on the surface and ignite.

Bottom Line: No, I would not recommend this to a friend

---

Not good

By Ana D.

,

White Deer, TX

,

Aug 11, 2018
Verified Reviewer

Overall Experience:

I bought them for my husband, used it only once, then we threw them out. I tried to grill chicken, caused a grease fire, had to throw all the food out. I will not recommend it to anyone.

Bottom Line: No, I would not recommend this to a friend

---

Love my grill mats

By Janet C.

,

Cuba, NY

,

Jul 25, 2018
Verified Reviewer

Overall Experience:

I was skeptical when we bought these grill mats, but I love cooking with these on my grill! I've cooked chicken, vegetables, steak and everything turned out great! I found clean up to be very easy. Wait until it cools down and soak in the sink with dish soap and after 10 minutes the yuk comes right off! I've used one mat several times and it's about at the end of its life, but I have another!

Bottom Line: Yes, I would recommend this to a friend

---

Awesome product!

By Pablo M.

,

Yerington, NV

,

Jul 9, 2018
Verified Reviewer

Overall Experience:

I use my Yoshi Mats almost every time I BBQ. Especially when doing tri-tip or pork chops, the "messy" meats. I'm using a Weber Q1000 gas grill and the mats fit perfectly. Like they were made for it. The meat stays juicy and tender. Even when the order is for "well done." The grill stays nice and clean and a quick wipe with a paper towel is all that is necessary to clean it up. The Yoshi Mats get set in a tray of plain water after every use and the next morning they clean up like new with a little soap and water. I've lost track of how many times I've used them (it's a lot), and they are not showing any signs of wear. I got mine at Family Dollar for $10. I don't know how I lived without them.

Bottom Line: Yes, I would recommend this to a friend

---

Copper grill mat

By Paulette S.

,

Wisconsin

,

Jun 13, 2018
Verified Reviewer

Overall Experience:

We have used this mat on our charcoal grill over hot coals with a temp of no more than 400 degrees. Food cooks beautifully. But clean up is pathetic. After one use it is impossible to get clean. I can't wipe it clean, or get it clean in my dishwasher.

Bottom Line: No, I would not recommend this to a friend

---