Yoshi Grill and Bake Reviews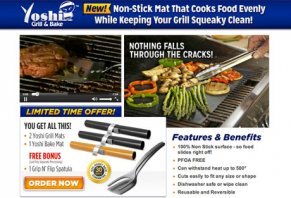 The Yoshi Grill & Bake is an "As Seen on TV" product that claims to be able to perfectly grill meat and vegetables, while also helping you bake your favorite pastries and pizzas.
About Yoshi Grill and Bake
Developed by Idea Village and based out of Wayne, NJ, the Yoshi Grill & Bake is a non-stick cooking mat that can be used to grill beef, poultry, seafood and more, in addition to baking your favorite pizzas, pastries. The manufacturer also claims it is able to cook all your food evenly, while being a breeze to clean up.
Idea Village holds a D rating with the Better Business Bureau, which is calculated based on 154 closed complaints within the past three years. It seems that the company has somewhat of a reputation for manufacturing cheap products that often don't perform as advertised.
How Yoshi Grill & Bake Works
According to the Yoshi Grill & Bake website, their grilling mats allows your meat and vegetables to soak up all the marinade possible, making them tender and juicy. In addition, the baking mats help you avoid burning your dough for light, fluffy pastries and pizza crust. The company claims that you'll never have to worry about food slipping through the metal grates again, and that cleanup is quick and easy.
Additional benefits of the Yoshi Grill & Bake mats include:
100% non-stick surface.
Can be cut to any shape, and are reusable and reversible.
Extremely lightweight and ultra-portable, so they can be used at campgrounds, campsites, cookouts, etc.
The ability to have the "perfect grill marks" on your food, with none of the hindrances of a regular grill.
Can withstand up to 500 degrees of heat.
Reduced flare-ups, so your food doesn't get burned and remains juicy.
Decreases your cooking mess, and clean up becomes a snap. Completely dishwasher safe when you're in a hurry.
Yoshi Grill & Bake Pricing & Refund Policy
The Yoshi Grill & Bake mat set is currently only available directly through the manufacturer and costs $14.99 (plus $6.99 shipping and handling), which includes:
2 Yoshi Grill Mats
1 Yoshi Bake Mat
a "free" bonus Grip 'N Slip Spatula (just pay $4.99 for separate processing)
All Yoshi Grill & Bake mats come with a !00% satisfaction, 30-day money back guarantee, less shipping and handling charges. In order to begin the refund process, you simply have to return all included items to this address, including your phone number and email address. Once your Yoshi Grill & Bake has been received by the manufacturer, your credit should be processed within 10 days.
Bottom Line: Is the Yoshi Grill and Bake a Scam?
As with many "As Seen on TV" products, public perception of Yoshi Grill & Bake's developer—Idea Village—is relatively low, and for apparently good reason. Some of the most common complaints include cheap construction, failure to work as advertised, and poor customer service.
With this said, we were unable to find any reviews specifically regarding the Yoshi Grill & Bake, which seems unusual, since the product's website has been registered since June 2012. However, based on the manufacturer's sales video, the mats are able to accomplish numerous things, which makes us wonder what kind of material they're made of, and whether or not they pose any health risks.
So bottom line: Is the Yoshi Grill & Bake mat set a scam? Based on its "As Seen on TV" status and lack of any legitimate online reviews, you may want to wait a bit before spending any of your hard-earned money on it. However, if you do decide to purchase the Grill & Bake mats, keep in mind that you'll lose more than 30 percent of your refund to shipping and handling charges if you're unsatisfied.
» See Also: 7 Things You Should Know About As Seen on TV & Infomercial Products Before Buying
1 out 1 people found this review helpful

Unhappy

By Tamra C.

,

Nebraska

,

Oct 25, 2019
Verified Reviewer

I bought these thinking it would do as advertised. It cooks inside food evenly but no grill marks and it burned holes through the mats and burned the outside of food. I bought the 2-pack and thought maybe it was just a flook. Nope, the other one did the same thing. I want my money back and will never try this product again.

Bottom Line: No, I would not recommend this to a friend

---

1 out 1 people found this review helpful

Won't clean

By Vikki I.

,

San Diego, CA

,

Jun 27, 2019
Verified Reviewer

Did just as manufacturers suggested. Before first use, cut to size, med-hi heat, etc. Burnt food will not come off no matter how long you soak/scrub. Very disappointed. I will use foil and have "easy clean-up!"

Bottom Line: No, I would not recommend this to a friend

---

Advertisement

---

7 out 7 people found this review helpful

Bad review

By Caterina G.

,

Davie, FL

,

Aug 3, 2018
Verified Reviewer

Everything sticks to it, and the mat turns black. It is very hard to clean. The advertisement states that it will make grilling easy but is very deceiving. This mat makes grilling more difficult. I would have given it zero stars, but you have to choose something.

Bottom Line: No, I would not recommend this to a friend

---

2 out 3 people found this review helpful

Works great for me!

By George V.

,

Iowa

,

May 30, 2018
Verified Reviewer

The hamburgers and asparagus came out perfect! I think that it is a great product. Two mats for under $10 seems to be a great deal. I'm going to purchase another set for use on the gross grills at the park.

Bottom Line: Yes, I would recommend this to a friend

---

Advertisement

---

5 out 5 people found this review helpful

Returning Yoshi Mats to Walmart

I used the Yoshi Grill Mat for hamburgers last night on a charcoal Weber Grill. I followed all heating instructions. Even poked a hole in the center of each burger to ensure even cooking.

First, there were no grill marks, and the outside of the burgers were turning dark. Ultimately, the hamburgers were removed from the mat leaving black remnants on the mat. At that point, I did not hand scrub but laid on the top rack of my brand new dishwasher. Upon removing from the dishwasher, the mat was full of water and had black markings on both sides of the mat. I feel that scrubbing in the sink will be a waste of time so I guess I will continue to spray the grill directly with nonstick spray instead.

Please note that the hamburger flavor and texture was fine. Perhaps it would work better in place of parchment paper in the oven.

Bottom Line: No, I would not recommend this to a friend

---

5 out 5 people found this review helpful

Loose customer service.

By Jim Stewart

,

Maryland

,

Sep 19, 2017
Verified Reviewer

I ordered the item, and after a week I went to find out were order was. I called and was told the order was back ordered and they had no idea when it would ship. I then canceled the order and was told that a couple of weeks later it arrives. Keep away form this mess.

Bottom Line: No, I would not recommend this to a friend

---

8 out 8 people found this review helpful

Horrible clean-up.

By Bonny Paiva

,

New Bedford, MA

,

Aug 23, 2017
Verified Reviewer

So I actually waited for the mailman to deliver my Yoshi Grill mats before starting my burgers today. I was quite excited. The anticipation was killing me. The burgers did get grill marks as advertised. But the clean-up was terrible. The grease that was laying on the mat after the burgers were done, burned on so badly that nothing would get them off. The mat was left with black marks on both sides. My sink was a mess from sponging it off and splashing black grease. Maybe it should have warned us to not let the greasy mat sit on the grill while it's still hot baking it on. A lot more work than I anticipated.

Bottom Line: No, I would not recommend this to a friend

---

3 out 5 people found this review helpful

Amazing thingy!

By Sean Ware

,

Lehigh Acres, FL

,

Aug 18, 2017
Verified Reviewer

I actually bought these for their "copper content," with the belief that they'd make awesome heat-shielding chimneys for cooling 3-500Z triode tubes in a homebrew amplifier. That was a total fail, as I cannot find any continuity in the fabric, or a means to connect to it if I did.

But for what it was advertised as and for, I am almost speechless! These mats are lifesavers in the kitchen, or cookout. It's an As Seen On TV no BS.

For grilling pizzas in the oven, they unsurpassed. Nothing sticks to them, and they cool so fast, you can touch them pretty much right out of the oven. You'll need something to grab it out with, but in seconds, the bare mat can literally be room temp!

I would highly recommend these to everyone with a kitchen. Period.

Bottom Line: Yes, I would recommend this to a friend

---

6 out 6 people found this review helpful

Not impressed yet!

By Melody P.

,

Oregon

,

Aug 2, 2017
Verified Reviewer

I purchased a set of mats (two came in the box) yesterday and used one last night for grilling pork loin chops that were marinading all afternoon. When the meat was done, there was quite a bit of blackened, charred matter left behind. I'm not sure if it was from the marinade or juices from the meat or both, but when cooking, it appeared foamy. After cooled, it was crusty and very difficult to clean. In fact, the mat never did come perfectly clean in spite of soaking all night. I might try it again for hamburgers or something like that before making a final decision on its usefulness. I'm not impressed so far, however.

Bottom Line: No, I would not recommend this to a friend

---

7 out 7 people found this review helpful

Terrible product

I bought the two-pack at Bed Bath & Beyond, and the first couple of times I used them they worked great. Then they both got harder and harder to clean. Most of the stuff would come off but left a black residue. The black residue will not come off. They have gotten to be a mess to clean now and really not worth using. They are a waste of money.

Bottom Line: No, I would not recommend this to a friend

---

3 out 6 people found this review helpful

Great grill mats

I just bought these Yoshi Copper Mats at Bed Bath & Beyond for $10 and used them to BBQ ribs to get the grill marks and then popped the ribs into the oven. I have a propane fired BBQ with a temperature gauge, so I kept the temperature in the grill to 300 degrees, and the ribs looked great. I did not experience any grease fires and the non-stick mats cleaned up without any effort. I only needed to cook them for eight minutes aside before cooking them fully in the oven. I can't wait to try them with steak, chicken, and salmon.

Bottom Line: Yes, I would recommend this to a friend

---