Your Complete Online Safety Handbook Reviews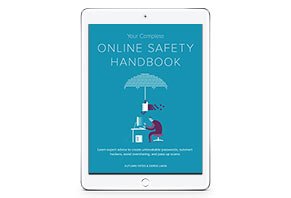 HighYa's second e-book, Your Complete Online Safety Handbook, contains all the information essential to act as your own internet safety net.
About Your Complete Online Safety Handbook
Do you wait until the kids visit to help configure your Wi-Fi, wantonly click on email links from unknown senders, and wonder if you should change all your email passwords after a new hack is reported on the news?
No matter where you land on the spectrum of internet literacy, Your Complete Online Safety Handbook is chock-full of the kind of tips that will help you brave the internet and live to tell the tale.
Released in November 2016 and published by HighYa, this online safety e-book contains 89 pages of tips and instructions—topics range from data protection to tech scams, online shopping safety, family-minded social media, and more.
"Wait a minute," you're probably thinking. "Didn't you guys write the book?"
Yup! But since reviews are what we do, we figured it was only fair to put our own product to the test.
How Much Does the Your Complete Online Safety Handbook E-Book Cost?
HighYa's online safety e-book is technically free—although getting it delivered to your inbox requires signing-up for the website's weekly newsletter by entering your email address.
We'll talk about the potential ramifications of handing over your email address in a second. But first, why would a company give something away?
Content-driven websites such as HighYa depend on readers coming back to regularly check out new articles. (After all, no one likes talking to themselves, right?) Of course, unlike your favorite online stores that sell stuff you want regularly, it's rare that you'll look in your closet and think, "I just need to read a review today!"
That's where newsletters come in. In HighYa's case, the weekly newsletter is delivered over the weekend and generally includes five or six of that week's top hits.
Still, it's difficult to get folks to sign up for newsletters. So, from a company's perspective, it's worth putting effort into creating something super-tempting—in this case, an e-book tailored to help their target audience—in hopes that you'll sign-up.
This kind of bonus is called a "content upgrade," and it's a pretty popular way for websites that depend on readers coming back to further engage potential fans.
Wait, Should I Be Giving Out My Email Address?
If you're cautious about handing over your email, that's totally understandable. However, like many online businesses who use newsletters to keep in touch, HighYa promises never to share your email address with others.
Additionally, if you ever decide that you'd like to stop receiving newsletters, you can unsubscribe with a single click of the link included at the bottom of each week's edition.
Who Is Your Complete Online Safety Handbook For?
The e-book covers four categories of tips that are generally aimed at helping internet users who fall anywhere between beginner and intermediate in their comfort online. If you've ever asked yourself:
Are my passwords strong enough, do I really need different ones for every account, and how do I remember all these darn things, anyway?
Why is my computer so much slower than when I bought it last year?
Should I click on that link?
Why do products I shop for always show up later as ads in my Facebook feed?
What is and isn't ok to post on social media?
Then this e-book is written with you in mind! However, if you can debug a MySQL database in a LAMP environment, then we'd appreciate you passing this along to your grandparents.
What's Inside Your Complete Online Safety Handbook?
As we mentioned above, Your Complete Online Safety Handbook is broken into four sections and includes 12 chapters in total. Here's a quick overview of what you'll learn in each chapter:
1. Passwords: Your First Line of Defense: The two passwords you should never use, an easy trick to remembering super-strong passwords, and the surprising weak link in your security.
2. Keep Your OS Lean & Clean: Set your Mac or PC up for long-term success with simple steps on clearing out clutter and enabling automatic updates.
3. How to Reduce the Risk of Viruses: Learn when you can click safely, what's ok to download, and where to find anti-virus software to keep you protected.
4. Surfing Safely: Public Wi-Fi Isn't Private: Data security doesn't stop when you step outside. Protect all your devices from wi-fi hacks for a safer browsing experience.
5. Stopping the Madness of Spam Emails: Spam happens—the trick is knowing what to do about it. Here are tried and true tips to keeping your inbox lean and clean.
6. All About Tech Support Scams: Learn how to spot this rapidly increasing scam type with tools to identify who can help, and who's trying to trick you out of cash.
7. Social Media Scams Designed to Steal Your Information: Social media is about keeping in touch, but some nefarious folks use it as a means sucker others into sending cash, downloading viruses, or sharing false information.
8. Understanding Targeted Ads: Online privacy is a touchy topic, but there are two sides to every story. Learn how ads pay for the content you view online and how to manage your preferences.
9. Don't Fall for Deceptive Advertising: If you're guilty of falling for the same advertising promises again and again, this chapter's info on confirmation bias will help you learn to spot overblown claims.
10. Digital Literacy, Safety, & Etiquette: The Golden Rules of interacting on the internet are slightly different from those your mama taught you, but just as important. Here's how to be good to others online.
11. Know How to Quit Social Media: Sometimes you just need a break, but social media platforms don't like to let you quit! Here are steps to saying goodbye to any or all of your accounts.
12. How to Keep Your Kids Safe Online: Your kids know not to get into a car with strangers, but are they just as sure about the boundaries of chatting online? A clear outline for this generation's most important safety chat.
What Makes HighYa a Credible Source for Info About Online Safety?
The information in Your Complete Online Safety Handbook was compiled from a range of articles covering online safety topics—each carefully researched and written by HighYa's reporters Autumn Yates and Derek Lakin.
What makes the authors so sure of their online safety street cred?
With a combined 17 years of researching and writing under their belts, HighYa's reporters have sufficient experience to cut through marketing claims and explore topics from a consumer perspective.
However, we still can't know everything—the rest was informed by industry experts.
This e-book isn't just a compilation of our cumulative knowledge but includes dozens of tips from top network security advisors, online marketing professionals, digital citizenship educators, and many more.
Should You Download Your Complete Online Safety Handbook?
If you're interested in upping your online IQ and enjoy brief, actionable information, we think that you'll get some good mileage out of the tips in Your Complete Online Safety Handbook.
Of course, many of these tips can be found in the articles published on HighYa. However, considering that the condensed version is 89 pages, that would mean a whole lot of reading!
If you're unsure whether or not these tips will be useful, there's little harm in giving the e-book a shot since there's no cost. However, just remember that signing up will lead to weekly newsletters in your inbox.
And, for those who are tech-savvy enough to have already been ahead on every tip that HighYa shared, this e-book might even be worth keeping in your figurative back pocket the next time Auntie Em asks for your anti-virus expertise.
All in all, Your Complete Online Safety Handbook does its job as a simple, straightforward reference to help casual internet users avoid potential online safety pitfalls—and for a price that really can't be beat.
» Check Out Our Other E-book: 145 Scam Hacks
My rating for Your Complete Online Safety Handbook.

Bronx, NY

,

Apr 16, 2018
Verified Reviewer

I did not read the entire Your Complete Online Safety Handbook from beginning to end. The pages I did read were quite helpful, eyebrow-raising, and insightful of how to protect yourself online. The pages are clear, precise, and easy to read. I would recommend Your Complete Online Safety Handbook to any beginner using a Mac or P.C. also to any experience Mac or P.C. user to brush up on their knowledge on how to protect themselves online. I love the book.

Bottom Line: Yes, I would recommend this to a friend

---

Good reading

I found this book to be surprisingly easy to read with no nerd talk or gobbledygook which require lookup translations on Wikipedia or similar.

Based on eminently good sound common sense, this book should be included in all newbie basic computer skills arsenal.

Bottom Line: Yes, I would recommend this to a friend

---

Advertisement

---

Overall very informative!

Since I am not a computer technician, nerd, guru, or etc., just about everything that is written is most informative and enlightening. All the writing is easy to read and to understand; having partial extra spacing between lines and with very readable print size.

Bottom Line: Yes, I would recommend this to a friend

---

Good information for the beginner or intermediate user

By Gene Sechrest

,

Versailles, Indiana

,

Feb 9, 2017
Verified Reviewer

First, let me say that this is a well-written article. For sure, the beginner or intermediate user of computers can glean a lot of very good information to start. If the intent was to basically help many of these people to be informed and made aware of various aspects of the topics covered, it serves the purpose very well.

Please do not take the rest of this review as being "highly" negative. That is not my intent. If I rated the document on a 1 to 10 scale for the general computer user, I would give it a solid 9 for sure. HOWEVER, as some constructive criticisms, I offer my perspective.

The document covers a wide range of topics. If I were to review it with respect to improvements, I think it could be expanded to about ten times its size in order to adequately cover the areas, to not only enhance the knowledge of the beginner and intermediate user, but also provide a significant amount of information for the more knowledgeable computer user.

I feel that there are far too many statements that use the more "totally encompassing" words like "never, always, everywhere," and such that can be very misleading or unnecessary. I also feel that in many cases clarification or expansion would better serve the product.

Bottom Line: Yes, I would recommend this to a friend

---

Advertisement

---