YouTube TV Reviews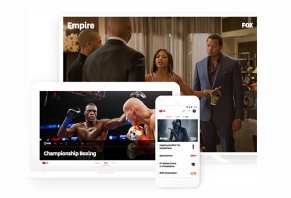 YouTube TV is an upcoming no-contract streaming television service that will provide subscribers access to 40+ channels—including sports—for $35 per month.
What Is YouTube TV?
Recently introduced in Los Angeles by CEO Susan Wojcicki, YouTube TV is a soon-to-be-released web-based streaming service that promises to deliver live TV made for you, whether using a smartphone, tablet, PC, or television.
Specifically, by allowing you to stream network channels like ABC, CBS, FOX, and NBC—as well as gain access to professional, collegiate, and regional sports—Susan was quoted as saying YouTube TV "represents an effort to evolve television."
And at just $35 per month, it will be a heck of a lot less expensive than a traditional cable subscription.
With more than one billion hours of content watched daily, YouTube certainly has a captive market when it comes to streaming television. But does this mean you should eagerly anticipate its arrival—and sign up once it does?
While the company tells us YouTube TV won't launch for a "few months," we pieced together important details from multiple online sources to give you a quick, clear overview of what you might expect, and how it might compare to other streaming television services.
Pros & Cons: What We Know About the YouTube TV Streaming Service
In her address, Susan Wojcicki noted that YouTube TV is based on two years of development, which will give subscribers access to the following:
Channel Lineup & Content Selection for YouTube TV
YouTube TV plans to offer more than 40 channels, along with all four major networks (including local news and weather information); news channels like MSNBC, Fox News, and Fox Business; sports channels such as ESPN; and other popular cable channels like USA, FX, Oxygen, E!, Disney Channel, and National Geographic.
We're told Showtime and soccer will be available for an added fee, and subscribers will have access to all YouTube Red content. And if you're also a YouTube Red subscriber ($10/mo), several media outlets reported that your YouTube TV account would be ad-free.
Wired is careful to point out, though, that, "some content comes with restrictions. If you're a pro football fan, for example, you'll have to watch games on your TV or computer because the NFL's deal with Verizon made it off-limits to your mobile device."
Speaking of which, how can you access YouTube TV's content?
YouTube TV's App Functionality & Compatibility
In a nutshell, there are three avenues you can take to stream YouTube TV:
Online via YouTube TV's website
Mobile via YouTube TV's app
Chromecast-equipped TVs
While the company doesn't reveal much on their website, Ars Technica attended the LA event where YouTube TV was announced and reported that the app "has three main sections: Live, which has everything currently playing live in your area; Library, which stores all your recorded content; and Home, which shows content suggestions based on what you already like to watch."
Inside the app, you'll also find AI-powered search and personalization, allowing you to search by genre or network, view recommendations based on what you're currently watching, and see what's trending in your area.
YouTube TV is also integrated with Google Home. Each account will be able to support up to six user profiles (with separate log-ins), with three simultaneous streams per account.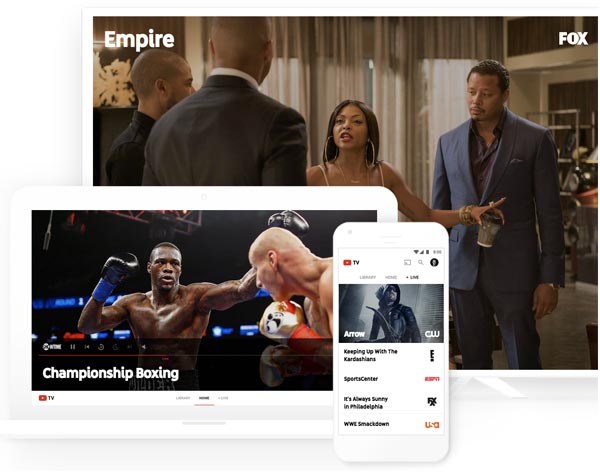 Since YouTube TV won't launch for a few months, this screenshot is about all the public has to go on related to its interactivity and functionality. Image credit: Google, Inc.
The Ringer: YouTube TV's Cloud-Based DVR System
Compared to other streaming television services, perhaps YouTube TV's most groundbreaking feature is its cloud-based DVR system.
Here, subscribers will be able to record an unlimited number of shows for later viewing, which will be stored for anywhere between six and nine months (media sources reported different timelines)—without the need for any additional hardware.
What's more, YouTube TV's DVR feature won't use a single megabyte of your data plan.
Certainly, YouTube TV's cloud-based DVR seems to be a standout feature. But are there any downfalls related to the service?
Other Than Release Date, What's the Biggest Potential YouTube TV Drawback?
As mentioned earlier, except for "a few months," YouTube TV's release date is fuzzy, which probably makes the techies among us itchy with anticipation.
But based on what's reported by many different popular media outlets, perhaps YouTube TV's biggest potential drawback is holes in programming.
Specifically, YouTube TV is missing several popular channels offered by the stiff competition; HBO, CNN, TBS, TNT, Comedy Central, MTV, HGTV, and Food Network, to name just a few.
Many report that the company still negotiating with a few program providers, though, so additional channels could be in place by release.
Another fuzzy detail is that YouTube TV is initially set to launch in only a few select major US cities, but no word yet on which ones.
Finally, if you'd prefer to watch YouTube TV on a traditional television set, your only current option is to purchase a Chromecast device. The company noted in their announcement that many other streaming devices and smart TVs would be supported in 2017.
How do these potential drawbacks compare to the competition?
YouTube TV vs. Sling Television & Other Web-Based TV Streaming Services
Clearly, based on what we know at this point, YouTube TV puts together a unique bundle of channels and services that you won't match elsewhere. But does that mean it's right for you?
At the moment, there are only three streaming television services that can compete with the upcoming YouTube TV: Sling Television, Playstation Vue, and AT&T's DirecTV Now.
Note: HULU is set to roll out live TV for around $40 per month as well, which will include local broadcast feeds, live channels from ABC, Disney, and FOX, along with many different cable channels.
Sling TV also recently debuted a beta version of its cloud DVR feature at the end of last year. Since neither was available at the time of writing, though, we didn't include them in this comparison.
| | Price | Number of Channels | Standout Features | Potential Drawbacks |
| --- | --- | --- | --- | --- |
| YouTube TV | $35/mo | 40+ | Cloud-based DVR w/unlimited storage. Commercial-free access w/YouTube Red. Google-powered AI searches, including personalized recommendations. | Won't release for several months. Holes in programming. Only supports Chromecast for television access. |
| Sling Television | $20-$25/mo, a la carte extras $5-$15/mo | 50+, depending on package | Two subscription options, based on your viewing habits. App is supported by dozens of devices, including Amazon Fire Tablets and Roku. | Many customers report buggy streaming and app functionality. No ability to record. No local channels. Only one device w/Orange plan. |
| Playstation Vue | $29.99-$64.99/mo, depending on plan | Up to 90 channels, including HBO and Showtime | Compatible w/PS3 & 4, Apple TV, Roku, and many other devices, as well as iPad, iPhone, Android, and Fire Tablet devices. | Some customers complain it requires an ultra-fast internet connection. Some tiers equally as expensive as cable. DVR only saves recordings for 28 days. |
| DirecTV Now | $35-$70/mo. Add HBO, CINEMAX, STARZ, or ENCORE for $5/mo | Up to 120+ channels, 10,000+ on-demand movies and shows | In-app streaming does not count against your data. | No DVR feature. Some tiers equally as expensive as cable. Many customers report spotty service. |
What's this mean for you? Let's address this important question in the next section as we wrap things up.
Thinking About Using YouTube TV to Help You Cut the Cord? A Few Quick Considerations
Ultimately, since they all feature no contracts and the ability to cancel at any time, whether or not YouTube TV is the best choice for you comes down to 1) what you're willing to pay and 2) the specific content you expect to get for this price.
For example, Sling TV is the least expensive option by a decent margin, although its lowest-price package doesn't offer the ability to stream to more than one device—a big potential drawback if there's more than one user in your home. You also won't gain access to network television.
Pro tip: Since most customers cite price as the reason they're looking to cancel their cable contract, keep in mind that the cost of these streaming services can quickly add up. In fact, as we mentioned in the previous section, some are equally as expensive as traditional cable.
Also, remember that you might need to maximize your Internet speeds to accommodate the extra streaming (especially if there are multiple users in your household), which could increase your overall costs.
If you're looking to regain sports programming after cutting the cord, all four options will give you access to ESPN, while Vue will also deliver NBA games on FOX Sports Network. DirecTV Now provides extensive access to regional sports, like 19 of 29 US-based MLB teams, 22 of 29 NBA teams, and 15 of 23 US-based ice hockey teams.
On the other hand, if cloud-based DVR capability is your number one factor, YouTube TV and Vue are currently the only games in town. Remember, though, that HULU is set to roll out live TV later this year, and Sling TV has a beta DVR in the works.
Speaking of which, if you're looking to sign up for a subscription right now, perhaps the biggest drawback is that YouTube TV isn't set to release for a few months.
BAN YouTube FOR CENSORSHIP AGAINST THE PEOPLE GAINING THE TRUTH

As long as YouTube is censoring and removing users and their non-copyright content, due to political or religious beliefs, they do not deserve our paid business.

Pat Condell uploaded a clip entitled "Welcome to Saudi Britain" in which he ridiculed British Muslims while simultaneously denouncing the "corrupt" Saudi regime. The company removed the video and issued a warning to Condell, noting YouTube's community guidelines and stating that users who break the rules risk having their account disabled. Notably, the company did not state which rule Condell had violated.

Yet, videos about DearbornISTAN Michigan are still on YouTube. revealing a change of missing Americanism that has been replaced with Muslimism store fronts, and noting that there were no American flags in Muslim family's any yard. Folks, they're not immigrating, they've colonized since Muslims have taken seats in U.S. Government offices.

YouTube claims the following rule, but many users have complained about Youtube's removals of their content without citing any broken rule. There are many complaints listed online due to YouTube's policies having a double standard, or no standard.

THE ARGUMENT: The Truth MUST be shared.

[ Excerpt from https://motherboard.vice.com/en_us/article/59jgka/a-brief-history-of-youtube-censorship ]...

"Normally, this type of violence would violate our community guidelines and terms of service and we would remove them," YouTube's then-Manager of News, Olivia Ma, stated in May 2011. But we have a clause in our community guidelines that makes an exception for videos that are educational, documentary or scientific in nature.... In these cases, we actually make an exception and say we understand that these videos have real news value."

Some countries have blocked YouTube from their citizens view. That is another fight FOR PEOPLE TO OVERCOME.

WE HAVE GATHERED SEVERAL PIECES OF CRIMINAL EVIDENCE OF HOW OUR MEDIA IS NOT REPORTING THE TRUTH TO US DUE TO THEIR CONTROLLING ALLIANCE WITH A GLOBAL CABAL. This coop will eventually be broken, as NEW News Reporters are rising. Until then, the world is in MEDIA BLACKOUT. YouTube is just one source of sharing The Truth.

Also research how ABC CBS CNN MSNBC NBC NYT and other mainstream media outlets have committed Treason against its people.

What is the difference between treason and high treason?

Historically, in common law countries, high treason is treason against the state. It was differentiated from petty treason (or petit treason), which was treason against a lesser lawful superior (such as a servant killing his master). ... High treason is criminal disloyalty to one's government.

High treason - Wikipedia

https://en.m.wikipedia.org/wiki/High_treason

Bottom Line: No, I would not recommend this to a friend

---

Advertisement

---