Yumi Baby Food Reviews
Claimed This company has claimed this profile, is getting alerted on any new customer reviews entering this page, and may engage in dialogue with its customers to address their matters.

Companies cannot pay money or provide goods in order to remove or alter customer reviews.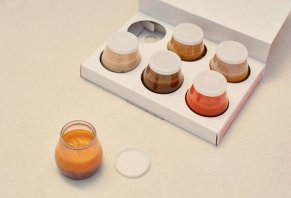 Developed by pediatricians, nutritionists, and seasoned chefs and shipped to your door, Yumi Baby's organic foods promise to provide health and convenience.
About Yumi Baby Food
Using ingredients sourced from the best farms, Yumi Baby Food is a weekly subscription service that delivers more than 50 different organic, fresh, superfood-based meal plans directly to your door.
Not only can this keep mealtime yummy and exciting, but the website indicates their intelligently designed meals are developed by pediatricians, nutritionists, and seasoned chefs to provide "the right mix of nutrient-rich ingredients to support your baby's body and mind."
In addition to being organic, all of Yumi's baby foods are also plant-based, low in total sugar, allergen and nut-free (except for coconut), and gluten, soy, and dairy-free. Their packaging is curbside recyclable, the insulation is compostable, and ice packs are reusable.
To get started, all customers have to do is pick a Yumi subscription plan that fits their needs, and then wait for deliveries to arrive each week.
You're here because you want to know if Yumi's baby food really can help you—and more importantly, your baby—live your best lives, as claimed on the website. We'll help you find some research-backed answers, starting with the difference between homemade and store-bought baby food.
What's Wrong With Store-Bought Baby Food?
You might be thinking, "I was raised on store-bought baby food, and I turned out just fine. So, what's the problem that brands like Yumi promise to solve?"
According to Mona Rifka, MD, a pediatrician at Cleveland Clinic's Hillcrest Hospital, traditional baby food often contains high levels of sugar and preservatives, while processing can kill nutrients and the packaging isn't always earth-friendly.
Interviewed for Business Insider, Carina Venter, a registered dietitian at the Cincinnati Children's Hospital Medical Center, adds:
"There is little data available about nutrient profiles for store-bought baby food. It often lacks texture, which can stunt infants' chewing development; there is little variety in the ingredients, which in early life has been associated with an increased risk of asthma; and the microbial load (the amount of good bacteria) in commercial baby foods is typically much lower than in homemade foods."
Comparatively, she says that organic foods "have been shown to contribute to a more diverse gut microbiome, which can help prevent allergy development, as well as conditions like inflammatory bowel disease, depression, and anxiety."
When it comes to Yumi's baby food, how many different combinations of organic ingredients do they offer?
Taking a Closer Look at Yumi's Baby Food Plans
Each Yumi Baby Food meal is packaged in a 4.5oz jar and falls between 100 and 200 calories. The foods they contain are sourced from local organic farms, who don't use GMOs and are made carefully in a certified commercial kitchen in Los Angeles.
After they're prepared, meals—which are available in 6, 10, or 12 oz servings—are sealed using modified atmospheric packaging (MAP), which the company reports displaces oxygen with inert gasses, thereby ensuring freshness. Then, they're shipped chilled to your doorstep weekly.
Once received, they should be consumed within one week (a 'best by' date is included on each jar), or within 24 hours of opening. If necessary, the FAQ indicates jars can be frozen for up to two months.
Yumi notes that their farm-based menu changes regularly. But to help give you a better idea of the types of foods they specialize in, here's what they offered at the time of our research:
Yumi Basics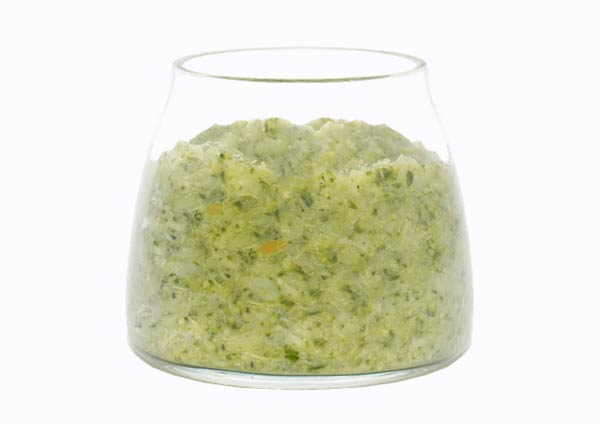 Yumi's Basics options contain only single-pureed ingredients, such as broccoli above. Image credit: Caer, Inc.
These are advertised a great introduction to solids for babies who are just starting to get used to them.
Carrot
Black beans
Broccoli
Butternut squash
White beans
Yumi Baby Food Blends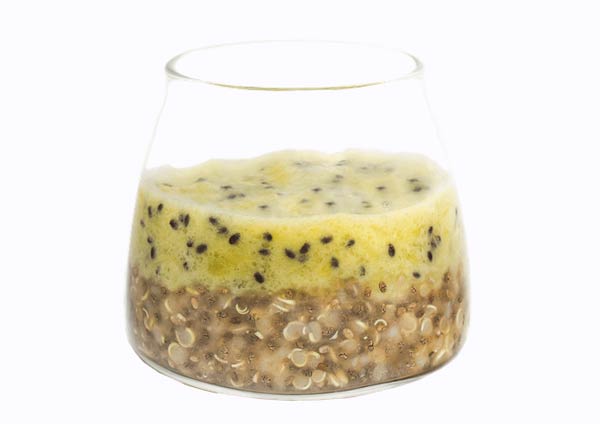 Yumi's Chiwa Blend contains several different ingredients, including kiwi, coconut milk, banana, and date. Image credit: Caer, Inc.
Comparatively, these nutrient-packed options feature multiple ingredients and flavors:
Bell Pepper Soup – Sweet potato, red bell pepper, apple, chard, quinoa
Chiwa – Kiwi, coconut milk, quinoa, banana, chia seed, date, wheat germ oil
Cran Squash – Butternut squash, apple, white bean, cranberry, pumpkin seeds
Pitaya Porridge – White yam, pineapple, dragon fruit, coconut milk, quinoa, banana, chia seed, date, wheat germ oil
Spirulina Smash – Blueberry, spinach, coconut milk, quinoa, banana, chia seed, date, spirulina, wheat germ oil
Basics and Blends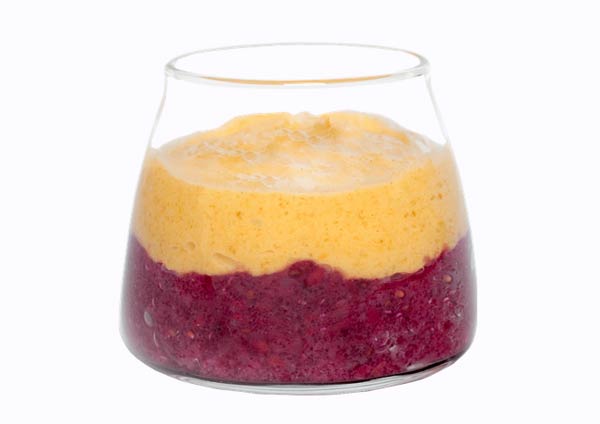 Yumi Baby Food's What a Peach contains flavorful ingredients like blackberries, sweet potatoes, and cinnamon. Image credit: Caer, Inc.
These options allow your baby to explore a variety of different jars each week:
What a Peach – Peaches, coconut milk, blackberries, quinoa, banana, chia seed, date, wheat germ oil, sweet potato, cinnamon
Japanese Sweet Potato
Pumpkin Pie – Pumpkin, cinnamon, ginger powder, nutmeg, vanilla extract, flax, apple, coconut milk, arrowroot powder
Apple
Blue Yamma – Blueberries, coconut milk, quinoa, chia seeds, banana, dates, wheat germ oil, sweet potato
How Much Does the Yumi Baby Food Delivery Service Cost?
Yumi's per-week prices, which includes shipping, are as follows:
Basics
6 Jars: $35
10 Jars: $50
12 Jars: $55
Blends
6 Jars: $50
10 Jars: $70
12 Jars: $75
Basics and Blends
6 Jars: $45
10 Jars: $60
12 Jars: $65
Important note: While Yumi claims they're working to quickly expand, their delivery services are currently only available in California and parts of Nevada, Arizona, and Utah.
All subscriptions are charged weekly, delivered on Tuesdays, and auto-renew unless you pause, skip a week, or cancel at any time by reaching out to customer service at 415-TRY-YUMI (879-9864), support@helloyumi.com, or via their site's contact form.
If you're dissatisfied for any reason, the company offers a satisfaction guarantee, as long as you contact support within 24 hours of delivery. According to their terms:
"Depending on the circumstances, and within the sole discretion of Yumi, we will provide a full or partial credit or refund of the purchase price for that Product delivery. Yumi may require either that the Product be returned to Yumi or that You send Yumi photographic images of or other documentation of the basis of Your dissatisfaction with the Product before we process a credit or refund."
What Do We Know About the Company Behind Yumi Baby Food?
Yumi Baby Food (parent company Caer, Inc.) was launched mid-2017, co-founded by CEO Angela Sutherland and President/CMO Evelyn Rusli.
Previously, Angela worked as a director for Sierra Constellation Partners and technology supervisor for Versus Motors. Evelyn worked as a reporter for news outlets like Forbes, TechCrunch, the New York Times, and the Wall Street Journal.
Are There Other Organic Baby Food Delivery Services Like Yumi?
According to TechCrunch's Connie Loizos, at least a dozen subscription-based companies have entered the marketplace over the last couple of years, each of which is looking to take a bite out of the sizable baby food market that's expected to reach $76 billion by 2021.
Some of the more popular options at the time of our research included:
| Company | Per-Meal Price | # of Meal Options | Areas Served |
| --- | --- | --- | --- |
| Yumi | $4.58-$7.50 | 16 (changes frequently) | CA and parts of NV, AZ, and UT |
| Nurture Life | $4.28-$12.40 | 50+ (include babies, toddlers, and kids) | National |
| Little Spoon | $3.50-$5 | 26 | National |
| Pure Spoon | $2.59-$4.70 | 11 | National (also available at many local retailers) |
| Bambino's Baby Food | $2.08-$3.99 | 19 | National |
These are in addition to companies that ship organic ingredients to customers, who must then process them to create baby food, such as Raised Real, Thistle Baby, and Ayesha Curry's Homemade. How to choose?
Writing for Parents magazine, Bonnie Taub-Dix, RDN notes that focusing on foods that use organic ingredients, contain only natural (or none, ideally) preservatives, offer a variety of flavors, and are limited in sugar and salt content. BabyCenter.com also recommends avoiding baby foods that contain modified food starch—all of which are factors that most of the above options meet.
Given this, Bonnie notes that packaging (jars, pouches, frozen packages, etc.) could be a deciding factor, based on "how much room you have for storage, your portability needs, and cost."
For example, she says that "glass jars are great if you are spoon-feeding your baby or heating up the food," although they could be dangerous "if you're giving the food to your child to handle." On the other hand, frozen packages can take up precious freezer space and require defrosting, but they're often more convenient and the freezing process can help retain nutrients without preservatives.
Pouches are child-friendly if you are handing the feeding over to your older baby," she says, "but be wary of any contaminants in the plastic packaging."
Our Final Thoughts About Yumi Baby Food
As a parent, you want the best for your child, so you're committed to feeding them foods that are as healthy and as natural as possible. But it probably shouldn't come as a surprise that healthy foods are often among the most expensive.
To outline this point, we found Gerber (perhaps the most popular national brand in the U.S.) baby food for as little as $0.56 per jar at the time of our research, compared to Yumi's lowest-priced option at $4.58—more than eight times the cost.
However, if you're already buying organic foods and creating your own baby food at home, it certainly seems that delivery services like Yumi could provide a similar per-meal price, but without all the labor-intensive food processing (washing, cooking, chopping, pureeing, etc.) that's typically involved. And as parents are all-too-aware, time is precious.
In the end, if you believe that you can't put a price on the nutrition you provide to your child, Yumi stands behind their baby food with a satisfaction guarantee, so you might not be out much more than time (and potentially return shipping charges) if you give them a try and aren't satisfied.
Just keep in mind that if you don't live in California or parts of Nevada, Arizona, or Utah, you'll have to go with another company until Yumi expands their service area.
Poor quality control, baby too much digestive distress with diarrhea and tears

By Grandma C.

,

Sandwich, MA

,

Oct 16, 2019
Verified Reviewer

Bottles come with vacuum caused indents or crystals on food inside and contents not stated in normal way with percent of gradients of contents. Foods regularly causing gas, diarrhea, extreme discomfort for baby, unopened bottles having to be tossed, too expensive, subscription availability needs to be adjusted for amounts babies eat within the short shelf life of their food, plastic containers seem to be presenting problems in manufacturing leading to questions of safety for babies health. Too much postprandial distress leading to unhappy baby and tears.

Bottom Line: No, I would not recommend this to a friend

---

Love Yumi

By Jessica H.

,

California

,

May 21, 2019
Verified Reviewer

Yumi Baby Food is high quality and I love the packaging too. My daughter enjoyed the variety of options and Yumi delivery was a lifesaver for me as a busy mom. I had to make a change to my order and their customer service team was very professional and friendly and resolved my issue without hesitation.

I would highly recommend to busy moms and friends looking for a healthy delicious option for their babies.

Bottom Line: Yes, I would recommend this to a friend

---

Advertisement

---

Confused by comments

By Leonard C.

,

Austin, TX

,

May 21, 2019
Verified Reviewer

I'm confused by the negative comments, it's been game-changing! We've been long-time Yumi customers and even when they make mistakes, they're so quick to remedy them and always do so in a timely and professional manner. We love the quality and freshness of the food and all the perks that come with being a part of Yumi - from the occasional extra treat in a box to the fact that we can ask questions to their in-house nutritionist anytime. We recommend Yumi to all of our friends!

Bottom Line: Yes, I would recommend this to a friend

---

LOVE them

By Paula R.

,

Texas

,

May 20, 2019
Verified Reviewer

Say what you will about other brands on the market but there is truly no fresher option than Yumi. Their food is made fresh every week and their menu changes based on seasonality - as a health-conscious mama, I SO appreciate that. There are so many unique ingredients like quinoa, chia seeds, papaya - I mean really…Yumi needs to start making food for grownups.

Bottom Line: Yes, I would recommend this to a friend

---

Advertisement

---

Yumi review

By Kimberly L.

,

New Jersey

,

May 16, 2019
Verified Reviewer

I started my baby on Yumi at 6 months and loved it. The variety that they offer takes the pressure off of me to constantly think of new things to offer my baby. I love how their menu rotates weekly so we always get to try new things and textures. Would highly recommend!

Bottom Line: Yes, I would recommend this to a friend

---

You are what you eat.

By Bernard B.

,

Los Angeles, CA

,

May 15, 2019
Verified Reviewer

Yumi is a part of our family now. I say that because my wife and I are raising a girl and a boy without "the village" it supposedly takes. We have no extended family to help us in Los Angeles and I welcome anything that can afford us the most precious commodity we have with our children: "time". Time away from the market, time away from the kitchen, means more time with my children and wife. Also, parenting offers enough challenges as is, and having the peace of mind that my son is eating a nutrient-dense meal that was tailored to his growing needs takes one weight off of my shoulders.

Lastly, besides the health benefits, another aspect of Yumi I love and did not appreciate until my daughter grew up to where she was eating with us, i.e. eating what we prepared; is that Yumi instilled a culinary curiosity and a broader palate than she would have gotten from our home cooking. One thing you quickly realize as a new parent is that your child is a sponge and will pick up on your habits. And even though I am a healthy eater and consider myself adventurous when it comes to food, Yumi offered my daughter a greater variety of flavors that I would not have been able to replicate preparing the meals myself. In other words, they helped instill better eating habits for my daughter and in the end that is what I am most grateful for. I sincerely could not live without Yumi.

Bottom Line: Yes, I would recommend this to a friend

---

The most amazing food

By Lucy D.

,

New York, NY

,

May 14, 2019
Verified Reviewer

We are first time working parents of a 14-month old and we've been using Yumi for the last 3 months. It has made such a big difference. Our toddler loves the food and so do we. Neither of us has time to always make food, and when we do, it's not nearly as interesting or delicious. Yumi helped us out so much. The ingredients are so healthy and nutritious, there's so much more variety, and it's saving us so much time and stress.

Bottom Line: Yes, I would recommend this to a friend

---

Yumi has made my life easier

By Thomas L.

,

Los Angeles, CA

,

May 8, 2019
Verified Reviewer

I started ordering baby food from Yumi for my daughter Paloma very early on. She loved it right away and to be honest, me too. The taste, the variety, and the service are great. I even found myself eating the end of meals when she was already full.

I highly recommend it!

Bottom Line: Yes, I would recommend this to a friend

---

Food safety DANGER

By Shamim B.

,

Irvine, CA

,

Apr 25, 2019
Verified Reviewer

Parents, please heed my warning. I am a food safety and regulatory manager for a global corporation. Yumi has come to my house with multiple jars not completely seal, with causes potential for bacteria/pathogen contamination. Yumi products also have come bloated and exploded out when I opened them, there is yeast that culminated in the food because of unsanitary containers and headspace. DO NOT feed your children this product, please try another brand! This will have your children HOSPITALIZED!

Bottom Line: No, I would not recommend this to a friend

---

Whirlwind that ended amazing

I am new to Yumi and found them on Facebook ads. I have an 8-month-old who is hungry all the time, and a 3-year-old, it's hard to find time to cook for both as a working mom. I ordered my first order this past month and got the wrong order. I was disappointed and my 8-month-old wasn't impressed because it was like a stage 1 type single-item food, on top of that, I only received half of what I was charged...

Moreover, I was also frustrated that no one got back to me from the company to remedy this problem.

But finally on the evening of Saturday, after I blasted them with text messages, someone finally got back to me took care of my frustration above and beyond.

Thanks so much, Ashlee, I am excited to see what my baby thinks of the new menu!

Bottom Line: Yes, I would recommend this to a friend

---

Amazing customer service

By Misty F.

,

San Diego, CA

,

Jan 27, 2019
Verified Reviewer

Although my son didn't enjoy the food on the first try, I would still highly recommend this to friends. You can see it is high-quality food and the packaging is great. When I cancelled via email they immediately responded letting me know my account had been cancelled. They also suggested it can take up to 10 tries for a baby to like a new food so keep trying and some great ideas like how to make pancakes out of the food! Ended by saying they would love to have me back and how to easily rejoin if I change my mind. It's nearly impossible to find a company with such amazing customer service.

Bottom Line: Yes, I would recommend this to a friend

---