Yumi Baby Food Reviews
Claimed This company has claimed this profile, is getting alerted on any new customer reviews entering this page, and may engage in dialogue with its customers to address their matters.

Companies cannot pay money or provide goods in order to remove or alter customer reviews.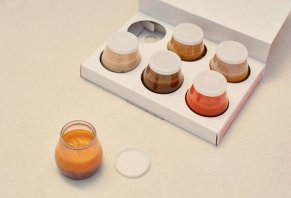 Developed by pediatricians, nutritionists, and seasoned chefs and shipped to your door, Yumi Baby's organic foods promise to provide health and convenience. See how customers are rating their experience.
---
Don't buy this food!

By Elodie V.

,

California

,

Jul 12, 2020
Verified Reviewer

Length of Use: Less than 3 months

Overall Experience:

First of all, it's super hard to leave a review and let people know about this baby food. Secondly, I was really excited about this food because I work so much I don't have time to cook for my baby but I am so disappointed in this brand! My daughter hates it, she would cry so much when I tried to feed it to her, her stomach would hurt so bad after she ate it, I had to take her to the clinic and I even tried the food to see if it was good for her but I even didn't like it. The fruits are way too sour and they don't peel the veggies before cooking them which causes the baby stomach to hurt. I know this because I'm a doctor. You see only good reviews everywhere but honestly, I don't know how! Don't get this food for your baby, it's way too expensive, it takes a week to cancel your membership and they don't even reimburse you.

Pros and Cons:

No "pros" were specified in this review
I had to take my daughter to the clinic
Gave her diarrhea
Don't peel the veggies
Fruits are way too sour

Bottom Line: No, I would not recommend this to a friend

---

Poor quality control, baby too much digestive distress with diarrhea and tears

By Grandma C.

,

Sandwich, MA

,

Oct 16, 2019
Verified Reviewer

Overall Experience:

Bottles come with vacuum caused indents or crystals on food inside and contents not stated in normal way with percent of gradients of contents. Foods regularly causing gas, diarrhea, extreme discomfort for baby, unopened bottles having to be tossed, too expensive, subscription availability needs to be adjusted for amounts babies eat within the short shelf life of their food, plastic containers seem to be presenting problems in manufacturing leading to questions of safety for babies health. Too much postprandial distress leading to unhappy baby and tears.

Bottom Line: No, I would not recommend this to a friend

---

Advertisement

---

Love Yumi

By Jessica H.

,

California

,

May 21, 2019
Verified Reviewer

Overall Experience:

Yumi Baby Food is high quality and I love the packaging too. My daughter enjoyed the variety of options and Yumi delivery was a lifesaver for me as a busy mom. I had to make a change to my order and their customer service team was very professional and friendly and resolved my issue without hesitation.

I would highly recommend to busy moms and friends looking for a healthy delicious option for their babies.

Bottom Line: Yes, I would recommend this to a friend

---

Confused by comments

By Leonard C.

,

Austin, TX

,

May 21, 2019
Verified Reviewer

Overall Experience:

I'm confused by the negative comments, it's been game-changing! We've been long-time Yumi customers and even when they make mistakes, they're so quick to remedy them and always do so in a timely and professional manner. We love the quality and freshness of the food and all the perks that come with being a part of Yumi - from the occasional extra treat in a box to the fact that we can ask questions to their in-house nutritionist anytime. We recommend Yumi to all of our friends!

Bottom Line: Yes, I would recommend this to a friend

---

LOVE them

By Paula R.

,

Texas

,

May 20, 2019
Verified Reviewer

Overall Experience:

Say what you will about other brands on the market but there is truly no fresher option than Yumi. Their food is made fresh every week and their menu changes based on seasonality - as a health-conscious mama, I SO appreciate that. There are so many unique ingredients like quinoa, chia seeds, papaya - I mean really…Yumi needs to start making food for grownups.

Bottom Line: Yes, I would recommend this to a friend

---

Yumi review

By Kimberly L.

,

New Jersey

,

May 16, 2019
Verified Reviewer

Overall Experience:

I started my baby on Yumi at 6 months and loved it. The variety that they offer takes the pressure off of me to constantly think of new things to offer my baby. I love how their menu rotates weekly so we always get to try new things and textures. Would highly recommend!

Bottom Line: Yes, I would recommend this to a friend

---

You are what you eat.

By Bernard B.

,

Los Angeles, CA

,

May 15, 2019
Verified Reviewer

Overall Experience:

Yumi is a part of our family now. I say that because my wife and I are raising a girl and a boy without "the village" it supposedly takes. We have no extended family to help us in Los Angeles and I welcome anything that can afford us the most precious commodity we have with our children: "time". Time away from the market, time away from the kitchen, means more time with my children and wife. Also, parenting offers enough challenges as is, and having the peace of mind that my son is eating a nutrient-dense meal that was tailored to his growing needs takes one weight off of my shoulders.

Lastly, besides the health benefits, another aspect of Yumi I love and did not appreciate until my daughter grew up to where she was eating with us, i.e. eating what we prepared; is that Yumi instilled a culinary curiosity and a broader palate than she would have gotten from our home cooking. One thing you quickly realize as a new parent is that your child is a sponge and will pick up on your habits. And even though I am a healthy eater and consider myself adventurous when it comes to food, Yumi offered my daughter a greater variety of flavors that I would not have been able to replicate preparing the meals myself. In other words, they helped instill better eating habits for my daughter and in the end that is what I am most grateful for. I sincerely could not live without Yumi.

Bottom Line: Yes, I would recommend this to a friend

---

Advertisement

---

The most amazing food

By Lucy D.

,

New York, NY

,

May 14, 2019
Verified Reviewer

Overall Experience:

We are first time working parents of a 14-month old and we've been using Yumi for the last 3 months. It has made such a big difference. Our toddler loves the food and so do we. Neither of us has time to always make food, and when we do, it's not nearly as interesting or delicious. Yumi helped us out so much. The ingredients are so healthy and nutritious, there's so much more variety, and it's saving us so much time and stress.

Bottom Line: Yes, I would recommend this to a friend

---

Yumi has made my life easier

By Thomas L.

,

Los Angeles, CA

,

May 8, 2019
Verified Reviewer

Overall Experience:

I started ordering baby food from Yumi for my daughter Paloma very early on. She loved it right away and to be honest, me too. The taste, the variety, and the service are great. I even found myself eating the end of meals when she was already full.

I highly recommend it!

Bottom Line: Yes, I would recommend this to a friend

---

Food safety DANGER

By Shamim B.

,

Irvine, CA

,

Apr 25, 2019
Verified Reviewer

Overall Experience:

Parents, please heed my warning. I am a food safety and regulatory manager for a global corporation. Yumi has come to my house with multiple jars not completely seal, with causes potential for bacteria/pathogen contamination. Yumi products also have come bloated and exploded out when I opened them, there is yeast that culminated in the food because of unsanitary containers and headspace. DO NOT feed your children this product, please try another brand! This will have your children HOSPITALIZED!

Bottom Line: No, I would not recommend this to a friend

---

Whirlwind that ended amazing

Overall Experience:

I am new to Yumi and found them on Facebook ads. I have an 8-month-old who is hungry all the time, and a 3-year-old, it's hard to find time to cook for both as a working mom. I ordered my first order this past month and got the wrong order. I was disappointed and my 8-month-old wasn't impressed because it was like a stage 1 type single-item food, on top of that, I only received half of what I was charged...

Moreover, I was also frustrated that no one got back to me from the company to remedy this problem.

But finally on the evening of Saturday, after I blasted them with text messages, someone finally got back to me took care of my frustration above and beyond.

Thanks so much, Ashlee, I am excited to see what my baby thinks of the new menu!

Bottom Line: Yes, I would recommend this to a friend

---

Amazing customer service

By Misty F.

,

San Diego, CA

,

Jan 27, 2019
Verified Reviewer

Overall Experience:

Although my son didn't enjoy the food on the first try, I would still highly recommend this to friends. You can see it is high-quality food and the packaging is great. When I cancelled via email they immediately responded letting me know my account had been cancelled. They also suggested it can take up to 10 tries for a baby to like a new food so keep trying and some great ideas like how to make pancakes out of the food! Ended by saying they would love to have me back and how to easily rejoin if I change my mind. It's nearly impossible to find a company with such amazing customer service.

Bottom Line: Yes, I would recommend this to a friend

---

Advertisement

---