Zaahn Mattress Reviews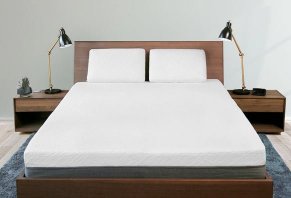 With two flippable sides and featuring two different firmness levels, the Zaahn Mattress claims to provide personalized comfort for each sleeper, regardless of preference.
About Zaahn Mattress
Compared to the competition, Zaahn Mattress is a two-sided memory foam model with selective support technology that allows each sleeper to personalize their level of comfort, simply by turning one half over.
Each 10-inch mattress was designed by a team of world leading industry experts to offer firmness and support (the Zen side) and softer plushness (the Aah side), all in the same unit.
This way, the company tells us that their mattresses can easily be adjusted while offering "extreme" comfort to two unique sleepers.
Zaahn's mattresses certainly seem to take a unique approach, compared to the competition. But will they deliver a lot of value for the money? By providing two flippable section for different levels of comfort, will it really help "balance your bedroom"?
First, let's help you find some answers by starting with what you'll find under Zaahn's cover.
What Are Zaahn Mattresses Made From?
Twin, Twin XL, and Full-size Zaahn mattresses only contain a single layer of memory foam, while Queen, King, and CA models feature three layers wrapped in an easy open zip-off cover:
The ZEN Side – According to the website, this two-inch high-density memory foam provides firmer support.
The Magic Core Middle – A six-inch layer of medium-density memory foam to deliver central support.
The AAH Side – Two inches of highly adaptive memory foam that promises to provide softer support.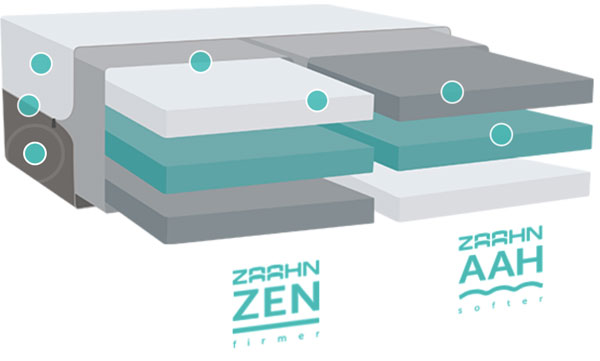 Each Queen, King, and CA King Zaahn mattress features three memory foam layers and two flippable sides for adjustable support. Image credit: Zaahn Mattress
The website indicates that all foam found in Zaahn's mattresses is constructed using open cell technology to help maintain a cool sleeping environment. The cover is crafted from bamboo viscose to help keep the surface airy and comfortable, with an inner cover made from 100 percent cotton for breathability and temperature regulation.
Since there are two 'mini mattresses" contained in Zaahn's larger models, this means that if you prefer a different level of support than your partner, you only need to unzip the cover, flip, and re-zip.
According to Zaahn, their mattresses are designed to work on platform beds, wood slat foundations, box springs, and power foundations. However, they recommend that if you're using an older box spring, it's important to make sure it's firm enough so that it doesn't impact your mattress's effectiveness.
If used without a bed frame, the mattress's non-slip base can help prevent sliding.
How Much Does a Zaahn Mattress Cost?
Zaahn's mattresses are priced as follows:
Twin (39" x 75") - $529 / $627 with two Zaahn pillows
Full (54" x 75") - $749 / $847
Queen (60" x 80") - $849 / $947
King (76" x 75") - $979 / $1,077
All mattresses come with free delivery, which should arrive within 4-10 business days.
It will arrive at your door in a vacuum sealed box, which will need to be moved to the room of your choice. Once there, you'll need to open the box, remove the mattress, place it in the appropriate position, and remove the packaging.
Your mattress will expand within a few minutes, although we're told it can take up to 24 hours for it to fully recover and provide optimum comfort (and perhaps longer if exposed to very cold temperatures during delivery).
All Zaahn mattresses within the US and Canada also come with a 100-night risk-free sleep guarantee, a 10-year warranty against manufacturing defects, along with free pickup and returns if you're dissatisfied. Keep in mind that the manufacturer recommends you sleep on your mattress for at least 60 nights before requesting a refund.
To process a return or warranty claim, customer service can be reached at 888-814-4365 or support@zaahn.com.
Based on these prices, are customers reporting a solid night's sleep?
Can We Learn Anything From Zaahn Mattress Reviews?
The only online review we encountered for Zaahn's mattress at the time of our research was on Sleep Sherpa.
There, he noted that Zaahn isn't the first to offer this type of customization, although he felt they did a great job, with a competitive price point and a generous free return policy.
While he was impressed with the construction of the cover, he pointed out that the different firmness levels on each side "aren't drastically different" and that it was in the middle of the road when it came to heat retention. Ultimately, he concluded:
"It's clear that a lot of effort went into designing this mattress. Looks and feels great. I strongly recommend this mattress for people looking for a medium firm mattress that can be made slightly softer. It provides excellent support and is one of the best mattresses out there for isolating motion transfer. This is because the foam is dense and the mattress is split in two. Any movements by your partner will be mostly isolated to their half of the mattress.

This is the best priced customized mattress I have reviewed and so would make the perfect guest room bed as well."
We also found Zaahn's mattresses for sale on Amazon.com at the same prices, although no feedback had accumulated.
From a company perspective, Zaahn is manufactured by Thane, a popular ASOTV manufacturer responsible for recent hits like Ab Doer 360, H2O Mop X5, the FlavorStone InfusionGrill, and the Bike Nook. According to the mattress's website, they brought together a team with 60 years combined expertise in the industry to create a "beautifully designed, contemporary, and award-winning specialty mattresses."
As perhaps evidenced by the fact that even members of the As Seen on TV industry are jumping into the online-only mattress niche, you have a lot of options. How does Zaahn compare?
Zaahn Mattress vs. Casper & Other Direct-to-Consumer Options
As of this writing, the HighYa team had reviewed 18 different online-only mattress manufacturers, including hugely popular options that have become staples in the marketplace, including Casper, Tuft and Needle, Novosbed, Zenhaven, Sapira, and Bear.
While most of these options were constructed of between two and four layers of memory foam (like Zaahn), none featured its same flippable double-sided construction. So, if you only want to shop online and only want the same design, it's currently your only option.
However, MattressClarity.com reported that after taking a short quiz, Helix is an online-only company that can customize your support levels, and even include different firmnesses on different sides. Similar to Zaahn's, Helix's models were priced between $600 and $1,195, came with 100-night trials, and were backed by 10-year warranties.
How can you choose the right option, then?
What's the Bottom Line About Zaahn Mattress?
In How to Buy a Mattress Online, we outlined that when it comes to the best mattress, your preferences make all the difference. This includes whether you're a back or side sleeper, whether you prefer the feel or foam or traditional coils, your take on firmness levels, and so forth. It's all about where you place emphasis.
As we mentioned in the previous section, this means that Zaahn is the only game in town if independently flippable two-sided construction is your primary emphasis. It's also currently the least expensive option among other two-sided memory foam options with alternating firmness levels.
Given this, along with its free shipping and returns and the 100-night trial, it seems you might not have much more to lose than a little of your time by giving Zaahn mattress a try.
It doesn't appear the company offers white glove delivery or removal, though, so you might want to keep your old mattress around just in case you need something to sleep on while you process a return.
Before you go, be sure to tell us about your Zaahn Mattress experience below!
See Also: Mattress Reviews & Buying Guide