Zaahn Ultra Chill Reviews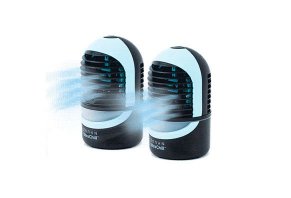 Manufactured by Thane IP, Zaahn Ultra Chill's ultrasonic evaporative cooling technology promises to deliver fast, efficient relief from the heat, whether you're at home, outside, or working in the office.
What Is Zaahn Ultra Chill?
Zaahn Ultra Chill is a compact and sleek personal cooler and humidifier that uses ultrasonic evaporative technology to cool the air in seconds and create "your own personal chill zone."
The device accomplishes this by quietly converting hot, dry air into a cool, moist, ultra-fine mist for up to 10 hours on "intermittent mode" per fill up.
This mist also helps relieve dry skin and scratchy throat, reduces dust particles and improves air quality, and, according to the website, "puts the chill anytime and anywhere," including the bedroom, living room, playroom, office, pool area, or a hotel room.
With the dog days of summer fast approaching, can you expect the Zaahn Ultra Chill to keep you cool, while also saving you money? Let's kick things off by zooming in on its functionality.
How Does the Zaahn Ultra Chill Work?
Zaahn Ultra Chill is, in part, a filterless ultrasonic humidifier. As such, as water moves from its removable 315-milliliter tank, it encounters a diaphragm that vibrates up to 108,000 times a second—or, ultrasonic speeds, which are so fast they break water into "micro-droplets" and create a dense fog.
Then, Ultra Chill's quiet, four-speed fan blows this fog through its six-blade adjustable grill to humidify and cool the surrounding air. Together, this "lets you put the chill right where you want it," the commercial advertises.
While all of this goes on, its condensation recovery system constantly recycles water, delivering up to 10 hours of runtime before requiring a refill. It also features a calming blue light.
In addition to this, the product's commercial demonstrates that Ultra Chill can decrease blow-dryer air from 150° to 73° in just a matter of a couple of feet.
With these details in mind, Zaahn leaves out several vital specifications on the Ultra Chill website, including:
What are its dimensions?
How much does it weigh?
How does it plug in (standard wall outlet, USB, etc.)?
How long is the cord?
Does it come with any safety features, like auto-shutoff?
How large of a room can it cool (known as its cubic feet per minute (CFM) rating)?
How much energy does it consume? After all, the website advertises it only "costs pennies per day to operate."
We spoke with the company's customer service department looking for additional insight, and other than advising us that it's 6.6 inches high, none could assist.
Now, let's zoom out and discuss whether or not you can realistically expect Ultra Chill to "cool the air in seconds," as advertised.
Is Evaporating Cooling Effective?
Although the Ultra Chill website might make evaporative cooling sound technical, Khan Academy explains it's simply the process whereby water turns into vapor—i.e., evaporates—and takes with it a small amount of heat, thereby slowly reducing the surface temperature. If this sounds familiar, it's the fundamental mechanism behind sweating.
But, evaporative cooling occurs in numerous other natural scenarios as well, such as wind blowing over the surface of a body of water and moving its cooler, moist air onto land. In fact, swamp coolers—which combine an electric fan and a small, shallow body of water underneath—use this premise to cool the interiors of homes and businesses.
Appliance manufacturer Sylvane explains the process has its limits, though, since the level of cooling it provides is proportional to the humidity in the surrounding air, leading to significant performance differences across climates.
For example, they say that evaporative coolers can decrease the air temperature by up to 20 degrees in arid regions like the southwestern U.S., but might provide little-to-no relief in humid areas, such as the Gulf Coast.
Remember the hair dryer demonstration in the commercial where the air temperature is measured at 150° on Ultra Chill's backside, which drops to 73° directly in front?
Even in a best-case scenario, given what we just learned about the general effectiveness of evaporative cooling, we're don't think most customers should expect anywhere close to the same temperature drop.
How Much Does the Zaahn Ultra Chill Cost?
One Zaahn Ultra Chill evaporative humidifier costs two payments of $19.95, or single payment of $39.90, plus $9.95 shipping.
The website and commercial indicate you can pay an additional shipping fee for a second unit during checkout, as well upgrade to the Deluxe model featuring a rechargeable battery, aromatherapy diffuser, five different mood lights, and a handy reading lamp.
However, neither was offered when we attempted to check out, and customer support couldn't provide additional insight.
All Ultra Chill orders come with a 30-day money back guarantee, which begins from the date you receive the product, as well as a one-year warranty "against defects in materials and workmanship under normal use and service to the original owner."
You can call (800)676-1604 or send an email to customercareusa@thane.com.
Zaahn Ultra Chill vs. Competing Mini Ultrasonic Humidifiers & Evaporative Coolers
We didn't encounter any third-party products like Ultra Chill during our research that combined evaporative cooling technology with ultrasonic humidification.
However, we did find dozens—perhaps hundreds—of potential competitors that offered many of the same core features, including lightweight and portable designs, filterless operation, quiet fans with multiple speeds, built-in lights, and 1-year warranties. Here were some of the top contenders on Amazon:
| | | | |
| --- | --- | --- | --- |
| Brand | Price | Average Amazon Rating | Features |
| Zaahn Ultra Chill | $49.85 | N/A | Combines ultrasonic humidification w/evaporative cooling fan, purchase a second unit for additional shipping, Deluxe model advertised, limited specifications available |
| Meixx Mini Humidifier | $14.71 | 2.9 stars, 13 reviews | Humidifier only (no evaporative cooling), USB connected, auto-shutoff when water tank runs dry, external removable fan |
| NovoLido Portable Humidifier | $13.98 | 3.9 stars, 292 reviews | Humidifier only (no evaporative cooling), 8-9 hr runtime, 7 LEDS, 7 colors available |
| Dr. Fasting Portable Mini Cooler | $35.99 | 4.5 stars, 706 reviews | Evaporative cooling fan only (no humidification), USB charging |
As mentioned above, if your main goal is to achieve ultrasonic humidification and evaporative cooling in a single ultra-small device, it appears the Zaahn Ultra Chill is currently the only game in town.
However, if your main goal is to humidify a small room for as little cash as possible, the Meixx and NovoLido models above feature meaningfully lower prices than Ultra Chill.
They also come with a decent amount of online feedback to help you learn what other customers have experienced, which isn't something afforded by Ultra Chill, either.
Price-wise, another big consideration is that if you decide the Ultra Chill doesn't meet your needs, you'll lose almost 25% of your refund in shipping charges, plus fees for the second device, along with whatever it costs you to ship yours back to the manufacturer.
Bottom Line: Should You Order the Zaahn Ultra Chill?
The bottom line is that, although the Zaahn Ultra Chill is the only compact unit we've researched that combines evaporative cooling technology with ultrasonic humidification, it doesn't seem this unique combination of features will necessarily deliver better cooling or humidification than lower-priced, single-function models.
And based on what we learned about the power of evaporative cooling, we certainly don't think it will deliver a 75-degree temperature drop, as advertised in the Ultra Chill commercial.
Even then, based on its small size, it won't have a high enough CFM rating to meaningfully cool anything but the smallest spaces (think closet-size) and in lower-humidity environments.
Finally, the product is so new that the manufacturer's customer support department didn't have any additional information about its specifications, so the bottom line is that you're purchasing an unknown product with a meaningfully higher price than competitors on Amazon.
>> Continue reading: Best Budget-Friendly Ways to Keep Your House Cool