Zenhaven Mattress Reviews
Claimed This company has claimed this profile, is getting alerted on any new customer reviews entering this page, and may engage in dialogue with its customers to address their matters.

Companies cannot pay money or provide goods in order to remove or alter customer reviews.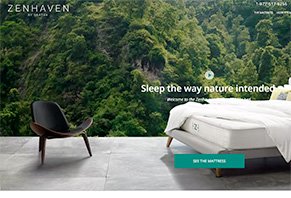 Zenhaven Mattresses feature pure Talalay latex that can help deliver comfort and healthy, eco-conscious materials, at up to 70% less than other companies.
About Zenhaven Mattress
If you're interested in purchasing a mattress online, you probably understand that there are a lot of companies vying for your business.
To separate themselves from this competition, Zenhaven Mattress promises to deliver on three important fronts: quality, health, and price. In fact, the company goes so far as to claim that they provide "the most breathable, sleepable, comfortable mattress on earth."
To accomplish this lofty goal, we're told Zenhaven starts with pure tree-tapped latex that's whipped into an airy foam and formed in a "magical mold," making it even airier. From there, it's plunged into subzero cold to freeze the latex particles in place, and then heat-treated to cure.
At the end of this process, Zenhaven claims they're left with a proprietary 5-zone design that gives firm support where needed, while remaining plush, buoyant, and elastic. Then, this latex is layered with organic, naturally flame-retardant wool (instead of the chemicals normally used)—providing natural breathability and moisture wicking properties—and wrapped in organic cotton.
Overall, Saatva claims their Zenhaven Mattresses can offer incomparable support, natural hypoallergenic properties, as well as mold and dust mite resistance—not to mentioned long-lasting construction—at up to 70% less than mainstream manufacturers.
But will Zenhaven help you achieve "the most comfortable sleep of your life"? If so, will you save a lot compared to the competition? These are all important questions that deserve an answer, which is exactly what we'll help you accomplish here.
The Finer Details of a Zenhaven Mattress
How Are Zenhaven Mattresses Manufactured?
Zenhaven claims they focused on simplicity when designing their mattresses, which are constructed over a 12-step process and feature four primary layers:
A 6" base layer of 100% Talalay latex
A 1.5" comfort layer of 100% Talalay latex, featuring the company's proprietary 5-zone design (more about this in a second)
A 1" flame-retardant layer of natural New Zealand wool
A quilt package with an organic cotton circular knit top panel and Sewn-on custom embroidered label
Because Zenhaven uses premium Talalay latex, they claim it doesn't give off the volatile organic compounds (VOCs) common with petroleum-based foams. And unlike memory foam, latex's natural open cell structure allows air to circulate freely and prevent overheating. In fact, the company claims their Talalay latex is seven times more breathable than even other types of latex.
On of this, Zenhaven promises that their 5-zone design will instantly respond to your body, regardless of sleeping position, providing firmer support where you need it and improving spinal alignment. Ultimately, this could help relieve pain, improve circulation, regulate temperature, and provide a better night's sleep.
Although you'll have to use a solid platform with your Zenhaven, its 2-in-1 comfort technology means that you'll have two different comfort levels in the same mattress—all you have to do is flip it! The Luxury Plush side falls in the 4-5 range on the comfort scale, while the Gentle Firm side if 18% firmer if you need more pressure-free support.
Handcrafted in 18 independent Canadian and American factories, Zenhaven claims their mattresses are built to last 20 years with normal usage.
How much will you pay for all this natural comfort and durability?
How Much Does the Zenhaven Mattress Cost?
Zenhaven Mattresses are priced as follows:
Twin (38" x 75"): $1,299 ($150 foundation)
Twin XL (38" x 80"): $1,349 ($150 foundation)
Full (54" x 75"): $1,699 ($200 foundation)
Queen (60" x 80"): $1,899 ($250 foundation)
King (76" x 80"): $2,499 ($300 foundation)
California King (72" x 84"): $2,499 ($300 foundation)
In addition, you'll need to pay $99 for flat rate shipping and full-service in-home placement and setup, while frames will cost you another $99.
Note: The company claims that if you have a narrow staircase, they recommend ordering the split queen foundation, which comes with an additional charge of $35.00.
If you'd also like the Zenhaven delivery team to take away your old mattress and/or foundation, you'll pay another $39. If there are more than 2 pieces, it'll cost you an extra $19.50 per piece.
All Zenhaven Mattresses come with a 75-day home trial, which starts from the day you receive your mattress. If you're dissatisfied with your mattress for any reason during this time, the company claims they'll pick it up and refund all your money, excluding the original delivery charge.
Outside of this, Zenhaven provides a 20-year warranty against defects in workmanship and materials on their mattresses. There are some stipulations, so be sure to read through the full Warranty page.
In order to ask questions, request a refund, or process a warranty claim, Zenhaven's customer service can be reached at 877-517-6266, info@zenhaven.com, or via online chat.
Given that these prices are much higher than a lot of the competition, what are customers saying about their Zenhaven experiences?
Do Zenhaven Mattresses Come with Positive Customer Reviews?
Compared to a lot of other online mattress companies we've reviewed, including Casper, Novosbed, Tuft & Needle, and many others, Zenhaven's mattresses come in meaningfully more expensive—60% or more in some instances. In fact, even compared to Saatva's mattresses (the company behind Zenhaven), these latex versions are at least 50% higher.
Granted, Zenhaven's mattresses claim to feature higher-quality components with (perhaps) less of a health risk, so it's not like we're comparing apples-to-apples here. Still, you'll have to decide whether or not this focus on organic and natural materials is worth the much higher price tag. We'll come back around to this point in the final section.
Blogger Sleepopolis actually tested the Zenhaven mattress and found that it offered a great balance between sinkage and hug (though less hug than a memory foam mattress), as well as tremendous pressure relief. They also liked its consistent support and spinal alignment, regardless of sleeping position, and found that it delivered good bounce with little motion transfer.
From a company perspective, Saatva claims they're the "web's best-reviewed mattress company, with more than 12,000 5-star reviews," as well as the 7th-fastest-growing private retail company in America, according to Inc. 500. As we mentioned in our review, the company seems to get very high marks from customers, which is reflected in their A+ Better Business Bureau rating (as of 7/16/16).
Just because Saatva's customers seemed to be pleased, does this mean a latex Zenhaven mattress it right for you?
Should You Splurge on a Zenhaven Mattress?
Let's break it down into bite-size chunks:
Latex vs. Other Mattress Materials
On the down side, latex mattresses often have a reputation for being too firm, over-compressing with extended use, and for retaining heat. However, these complaints often accompany manmade (or mixed) latex foams, so Zenhaven's natural Talalay latex might not be susceptible to these concerns. Perhaps the biggest disadvantage of latex mattresses, though, is price, which we've already addressed with Zenhaven.
On the upside, natural latex mattresses have well-earned reputations for providing superior comfort and longevity, without any nasty chemical smells or health concerns. As Sleepopolis noted in the previous section, motion transfer is essentially non-existent.
Zenhaven takes this a step further by using the Talalay (vs. Dunlop) process, which is "a method of producing molded pieces of latex foam rubber" via a vacuum-sealed mold. Combined with their proprietary design, this really could differentiate Zenhaven from the competition.
Let's continue talking about comfort in the next section.
Will You Sleep Better on a Zenhaven Mattress?
Zenhaven makes some pretty big claims about their mattresses, including that they represent the "ultimate in comfort and spinal alignment" and provide pain relief and improved circulation. Is this true?
From our perspective, there's simply no way to know. Why? Because, personal preferences aside, there are literally thousands of different factors that might cause you to sleep poorly, including medications, medical conditions, stress, poor diet and lack of exercise—even the wrong pillow choice. And as you might imagine, your choice of mattress won't always impact these causes.
What's this mean? If you're constantly getting a bad night's sleep, talk with your doctor about whether getting a new mattress like Zenhaven might do the trick or if something else could work better.
The Bottom Line About Zenhaven Mattress
If your primary focus is to bring high-quality, health-conscious materials into your sleeping environment, without worrying about nasty chemicals, then you've probably found an ideal way to do so with Zenhaven. And compared to latex mattresses from more mainstream manufacturers, you might be able to accomplish this at 60% (or more) savings.
Just because Zenhaven mattresses are less expensive than the competition, while perhaps providing a greater amount of value, they're still not cheap. As such, only you can decide if it's worth splurging on a Zenhaven Mattress. If so, the company seems to stand behind their product with a 75-night trial—just keep in mind you'll lose your original $99 delivery fee.
Did you purchase a Zenhaven Mattress? Did it deliver a better night's sleep? In the end, do you feel it was worth the extra money? Tell us all about your experience by writing a review below!
See Also: How to Buy a Mattress Online: Save Time & Money by Knowing What to Look For
BUYER BEWARE!

By Rita G.

,

New Jersey

,

Feb 27, 2019
Verified Reviewer

I was looking for a healthy, natural mattress for my son and I mistakenly fell for Zenhaven's false claims of being an all natural mattress. As soon as I received the mattress, I immediately knew it was not all natural. The off-gassing was very strong, and the mattress was of poor quality and very uncomfortable - firm and couch-like. Upon further research, I learned that Zenhaven uses Talatech latex, which is synthetic latex! I should have been suspicious that they have no certifications on their website and they did not provide them when asked. They simply provide a certification number, which you will see if you look it up, is Talatech latex (70% synthetic latex and 30% natural latex, with additives). Also, they glue the layers inside of your mattress together and the cotton cover and wool are blended with other materials - on their website, they claim it's to prolong the life of the mattress.

This is an overpriced piece of uncomfortable, toxic junk! To top it all off, they tried to force me to keep the mattress for 50% off instead of refunding my money. They are a third party seller so returning is not easy. They were aggressive about it too. I suggest that everyone buying a mattress researches all of the materials and certifications in every single layer of the mattress and don't fall for false advertising. I certainly learned my lesson.

Bottom Line: No, I would not recommend this to a friend

---

No support!

By Amy O.

,

Kentucky

,

Jun 21, 2018
Verified Reviewer

Delivery unprofessional, Mattress not supportive, very uncomfortable. The worst mattress that we have ever slept on! We arranged the return of the mattress three days after receiving it. We simply could not take anymore sleeping on it, felt like we were sleeping in a hole, no support, thin mattress. We tried both sides, neither worked for us, and we woke early each morning in pain. We felt like we were sleeping in the mattress, not on the mattress.

Customer service tried every way to convince us to keep the mattress, no way.

They offered a free topper, offered to deduct money off the mattress, seemed unhappy that we were sending it back, but it has to go!

Bottom Line: No, I would not recommend this to a friend

---

Advertisement

---

Satisfied Customer

By Lucas B.

,

Nov 1, 2016
Verified Reviewer

I'm 2.5 weeks into owning a Queen size Zenhaven and I love it. 4 years of memory foam mattresses gave me serious back issues and after one night's rest on the Zenhaven I knew I found a solution to my problem. It's perfect for when I sleep on my back and slightly less than perfect for when I'm on my side. A 5-star experience so far.

Bottom Line: Yes, I would recommend this to a friend

---