Zerocard Reviews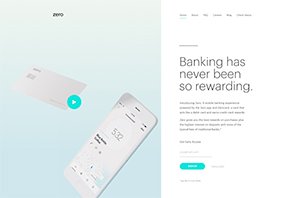 The Zercoard from Zero Financial is a yet-to-be-released credit-debit card hybrid that offers cash back rates between 1% and 3%, as well as high-yield checking account.
About Zerocard
Have you read about the hype surrounding the Zerocard? We did, so we conducted research and wrote a review that covers what you need to know about the card.
The days of debit-card rewards programs are long gone.
Or are they? New financial tech startup Zero Financial has announced the forthcoming release of a debit card that can earn cash rewards as high as 3% depending on how much you spend and how many people you refer to Zero.
The company is based in San Francisco and claims their Zerocard will help customers avoid the fees and interest they face with credit cards but, at the same time, rack up cash-back rewards on part with cards like the Citi Double Cash and Discover it.
Zero's founders are Bryce Galen and Joel Washington. Galen was a senior product manager at Zynga, while Washington founded car selling/buying website Shift.
How the card does this makes it a little different than anything you've probably experienced in the debit or credit market. We'll talk about those differences later in this review, but for not we want to give you a broad view of what we're going to cover:
What does the Zerocard do and what's the catch?
Why are there so few rewards credit cards?
What are some potential problems with using the Zerocard?
We'll finish off our review with our conclusions about the Zerocard.
What Does Zerocard Do?
Since the Zerocard is still in development and isn't being used by anyone, what we know about the card is found on their website. Here's a quick breakdown of how it works:
You deposit money into an online bank account that's linked to your Zerocard.
Your balance shows up in your Zero app.
You make purchases and get a certain percentage of cash back on each purchase.
You pay your purchase balance in full using money in your linked checking account.
Cash-back rewards are deposited into your checking account each month.
In other words, you can't use the money you don't have. This concept is interesting for several reasons, but the biggest one is that the card offers zero-liability perks like a credit card, but only lets you spend what you have, like a debit card.
We think of this card as a reverse credit card. Instead of making purchases with "borrowed" money and then paying off those purchases with money you've deposited to your checking account, you deposit money into your checking account so you can make purchases.
Zero also claims their checking account will give you high-interest rates on money you deposit, free ATM use at more than 50,000 machines and live support through their app.
As for the rewards, you have to spend a certain amount of money to "level up" to a better card and get more cash back:
Zerocard Carbon: 3% cash back earned through $100K spending
Zerocard Magnesium: 2% cash back, earned through $50K spending
Zerocard Graphite: 1.5% cash back, earned through $25K spending
Zerocard Quartz: 1% cash back, available to all w/out spending requirement
When you level up, you get the status for the remained of the calendar year as well as the entire following calendar year.
Zerocard's Referral Bonuses
Since Zerocard is in the early stages, spreading awareness about Zero is key. So, the company allows you to get access to the Carbon card if you get three people to sign up for the card via the referral link they give you when you sign up.
Once you unlock the Carbon card, you can make $100 every time two people who used your referral link make two purchases on their Zerocard and have two direct deposits go into their Zero checking account.
Zerocard's Fraud Protection
These cards offer credit-card style fraud protection, which means you aren't liable for fraudulent charges made on your account. Banks, on the other hand, will put you on the hook for $50 to $500 of purchases depending when you report the suspicious charges.
The Zerocard App
Users need to download the Zerocard app to make deposits to the card, monitor their checking and card balances, as well as take advantage of Intelligent Advisor, a tool that predicts your future earnings based on current income and spending.
From a broad view, this card looks like a pretty great product for consumers. You get the benefits of cash-back rewards without the APRs, late fees, and penalty APRs. But the key to being a financially smart consumer is to move beyond the broad view and get into the details because it's often the details that will cost you money.
What's the Catch With Zerocard? The Card is More Credit Than Debit
News articles and reviews of the Zerocard are few. We managed to scrape together an article from personal finance site Doctor of Credit and a thread on Reddit, but that's about it.
Since the details are pretty sparse, we want to lay out some of the "catches" to this card:
Their FAQs page says that those who own higher-tier cards (doesn't specify which ones) may have to continue to capture referrals to maintain their status. In other words, Zero may force you to pitch their card to your friends, family, and coworkers if you want to keep your cash-back rate.

You are required to renew your status every year, so be prepared either to hit your spending requirements or ask people to sign up through your referral link. The yearly spending requirement for the Magnesium and Quartz are beyond the $25,000 yearly spending totals the average American household can pay for with their credit card.

The "debit card" terminology only describes the fact that you make deposits to your Zerocard via the checking account you get through Zero. The Zerocard is branded as a debit card with rewards, but that's not accurate, in our opinion, because even the Wall Street Journal called the Zerocard a credit card.

The online checking account Zerocard gives you isn't a Zero product; it originates with a bank. This is a common practice among fintech startups. For example, investing site Aspiration offers a no-fee checking account through third-party Radius Bank.
To us, the real question isn't if Zerocard is a debit card; based on the evidence we've presented above, we don't think it is. The real question is whether or not the Zerocard can compete as a cash-back credit card that has one or two debit-style benefits.
Balance Protects Consumers From Debt…
As compared to cash-back credit cards, we like how the Zerocard only lets you spend what you've deposited into your account. We think this will help consumers spend what they've got and not get thrown into a cycle of debt where they're spending what they don't have. As of March 2016, consumers had nearly $1 trillion in credit-card debt.
…But What Happens if You Overdraw?
We don't know how Zero will handle overdrawn accounts. If you have $100 in your checking account and $50 on your Zerocard and you try to buy a $200 pair of earbuds, what will happen? It's hard to say since Zero has provided so few details about fees and charges.
Because their checking account is provided by a real bank, we imagine fees would be involved to a certain extent. However, we can't say for sure. We reached out to Bryce Galen and the company's press email address but did not receive a response to our questions before we published this review.
Best Cash-Back Rates Require Lots of Spending
Zero's website says that consumers can get the top-level Carbon card by getting three people to sign up for a Zerocard. You can also get the card if you hit the $100K spending requirement. But is that huge spend/referral chase worth the cash back?
Well, if you're the kind of person that hates having to sell stuff, then the Carbon card may not be a good fit if you don't spend $100K a year.
According to our calculations based on 2015 stats from the Bureau of Labor Statistics, the average American household can charge about $25K worth of purchases on their card per year.
With those numbers in mind, it seems that only an elite group of consumers can cash in on the 3% rewards rate, which, to its credit, is the highest cash-back rewards rate on the market.
The Discover it Miles offers 3% miles rewards the first year, but 1.5% after that and those miles aren't straight cash back – you have to use them on travel purchases. At 1.5%, it matches the rewards of the Graphite card but without the $25K spending limit.
The Citi Double Cash card offers 2% cash back on all purchases, which equals the Magnesium card without the $50K spending requirement.
There are dozens of cash rewards cards out there that offer 1-1.5%; to list them all is unnecessary. Again, these full-fledged credit cards don't force you to spend a certain amount of money each year to get your cash back rewards.
Why the Emphasis on Debit-Card Rewards?
One of most intriguing aspects of this card's branding is the link between rewards and debit cards.
You see, rewards programs for debit cards were more popular before and during the Great Recession. Banks were charging merchants every time one of their cards was used, and they then pulled some of that money out to pay for the points/miles they offered their customers.
However, the onset of the recession and the resulting public furor over greedy banks drove lawmakers to approve the Durbin amendment, a piece of legislation proposed by Illinois Senator Dick Durbin.
New York Times Reporter Binyamin Applebaum wrote about the amendment as it awaited a Senate vote back in 2010.
"The Durbin amendment gives the Federal Reserve new authority to regulate and limit the fees that businesses pay to card companies," Applebaum wrote. "Last year businesses paid Visa and MasterCard $19.71 billion on debit card transactions."
You can imagine that cutbacks on those fees cost banks a lot of money, and when banks lose money, they tend to ax consumer-friendly benefits (rewards programs) and find new ways to make money (checking account fees).
In a nutshell, that's what happened to debit card rewards programs. Miles and points are pretty much non-existent for debit-card transactions, so Zero's re-introduction of those benefits is unique, but, as we and other sources have pointed out, they aren't offering a true debit card.
Our Conclusions About the Zerocard
Zero has presented a very interesting financial option for the average consumer.
Their card is processed by merchants as a credit card, and you can rack up cash-back bonuses like a credit card, but the fact that you can only spend what you deposit into your Zerocard account is very debit-like.
While the card doesn't quite qualify as a debit card, in our opinion, it can be a very useful tool for parents of college students who want to give their kids a credit card with a set limit. The student gets a modern payment method while the parents get cash back rewards and can set spending restrictions on the card.
We believe this card could also be a good tool for someone who is rebuilding their credit. Because you can only deposit money from a checking account, you aren't using the money you don't have. Furthermore, any payments you make on the card could have a positive effect on your credit. We use the word "could" because Zero's website doesn't say definitively if making on-time payments will help your credit score.
However, if you want to use the Zero as your go-to cash-back rewards and not as a training tool, we believe there are other cards out there that can offer you better cash back rates without any spending requirements or the possibility of having to bring in referrals to keep your cash-back rate.
Our last piece of advice is this: Zerocard is a financial services company that has yet to release their product. If you're more of a conservative person, it might be in your best interest to wait on the Zerocard until it's been in the hands of consumers for six or seven months. Doing so means you can get a sense of how pleased your fellow consumers are and which, if any, kinks have been worked out.
Read Next: 7 Credit Card Hacks You Can Use to Raise Your Credit Scores & Reap Rewards