Zevo Trap Reviews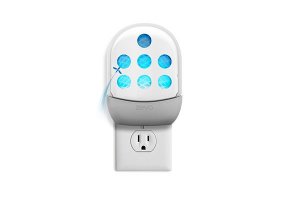 Using blue UV light and a sticky trap inside its housing, the Zevo Trap offers a chemical-free way to catch and kill bugs without any clean-up. The trap utilizes replaceable cartridges that last up to 45 days each, putting the yearly cost of ownership for one trap at around $38.
What Is Zevo Trap?
Zevo Trap is a bug trap that purportedly works by attracting flying insects with blue LED lights then traps them on a sticky pad until they die.
The makers claims that the bug catcher utilizes a cartridge system through which you can easily switch out an old trap with a new one.
Zevo's About Us page reveals a photo of more than 20 employees but doesn't say where the company is located and when it started. What we do know is that, unlike other As Seen on TV bug traps we've seen, the Zevo Trap is available for purchase in Home Depot. We'll reference the products ratings on that site later in this review.
Over the next few minutes, we'll talk about how the Zevo Trap works, what science says about bug traps using blue UV light and how much the device costs. We'll also talk about how it compares to other bug catchers similar to it, then give you an overview of what Home Depot customers say about the device.
We'll finish up with a quick conclusion that covers what we think are the Zevo Traps strengths and weaknesses.
How the Zevo Trap Works
As we mentioned a few seconds ago, the Zevo Trap uses a combination of blue UV light as well as a sticky pad to attract and then capture insects.
Insects need water to live or they'll quickly dry out and die. This is exactly what happens when they become trapped on the sticky pad inside the Zevo Trap housing.
Your Zevo Trap ships with one plug-in base and two cartridges. These cartridges include the blue LED light and sticky pad. To activate the trap, you plug in the base and then slide the cartridge in.
According to Zevo, one cartridge will last up to 45 days. So, purchasing one trap with two cartridges should work, the company says, for up to 90 days.
The advantage here is that you don't have to use any chemicals to catch bugs; the traps are safe for kids and pets.
Zevo also features four different bug sprays that you can use as part of an insect defense system. The sprays are priced at $6.99 and come in four types:
Ant, Roach and Fly
Wasp, Hornet & Yellow Jacket
Ant, Roach & Spider
Fly, Gnat & Fruit Fly
Why Blue UV Light Can Be Effective for Catching Bugs
We spoke with Dr. Jonathan Day, a professor of etymology at the University of Florida.
Day told us that UV light is, in fact, effective in attracting bugs. He said UV light reflecting of flowers in breeding and feeding grounds attracts bugs, helping them reproduce and sustain themselves.
Bugs have a natural instinct to follow UV light and, therefore, you can trick them to go into a trap by using UV light.
"Insects use reflected ultraviolet light to find host plant. They use it to find a food source or a place to lay eggs and that's why ultraviolet lights are so effective," Day told us.
What day told us corroborates a pair of videos that Zevo posted on their bug trap site. The videos show a time lapse of a bug-catching study done at a university, although they don't specify which university.
The videos show the traps catching at least 10 flies in one trial and multiple mosquitos in the other trial. The videos are sped up but, as far as we can tell, the flies that initially stuck to the trap did not escape.
One of the things you have to keep in mind about mosquitos, though, is that they are more attracted to your breath than they are to UV light. Mosquitos instinctively follow the aroma of carbon dioxide because they know it will lead them to a host.
So, if you want to kill mosquitos in your bedroom, it may be smarter for you to use a mosquito net that presents a physical barrier for mosquitos. If you rely solely on traps like the Zevo Trap, then there's a good chance the mosquitos will end up on your skin anyway.
Zevo Trap Pricing and Return Policy
The price on the Zevo website wasis$16.99 for a trap with two cartridges and $48.99 for three traps with six cartridges.
Home Depot sold the Zevo Trap for $16.97 and, like the traps on the Zevo website, they come with two cartridges.
The advantage of purchasing directly from Zevo is that you get free shipping, whereas the advantage of buying from Home Depot is that you can walk into the nearest location and buy it immediately if it's in stock.
If you buy from Zevo, then the trap is covered under a money-back guarantee. According to Zevo, they will refund your money to a pre-paid debit card if you aren't happy with how your traps work.
If you want to buy replacement cartridges for your trap, they cost $6.99 per pair. So, if you were to buy one trap, the cost to use it for one year (replacement cartridges included) would be around $38 if you bought six extra cartridges in addition to the initial trap and two cartridges.
To initiate the returns process, you'll need to call the Zevo customer service department at (800)374-9429. The phone line is open from 9 a.m. to 6 p.m. EST Monday through Friday.
Zevo Trap Customer Reviews
At the time of publishing, Zevo Trap had 311 reviews on HomeDepot.com. The product had an average rating of 3.7 stars. Of those 311 reviews, 172 were five-star and 57 were one-star.
From a numbers perspective, this data indicates that there's a good chance you'll be pleased with how the Zevo Trap works. The five-star reviews outnumber the one-star reviews by a margin of three to one.
That being said, many of the trap's recent reviews were three stars or below. The most common complaint was that the trap simply did not catch bugs and, if it did, it caught very few bugs.
We also noticed that Zevo responded to some of the complaints in a very cordial way, offering to help them via the company's customer service line.
When we spoke with the company's customer service, we received excellent information and care from the phone rep.
The Bottom Line – Is Zevo Trap Right For You?
Based on our research, we believe that that Zevo Trap presents some excellent advantages. First, their customer service is excellent. We enjoyed our interaction with their phone representatives. We also noticed they responded politely to negative reviews on HomeDepot.com. These two facts are good signs, as many companies we deal with are hard to contact.
Second, their traps are visually appealing. They look more like a nightlight than a bug trap. Among design-friendly bug traps, Zevo is pretty cheap. But, remember, you'll need to buy new cartridges in order to use the Zevo Trap for more than 90 days.
Finally, Zevo Trap doesn't use any chemicals to kill bugs. This feature could be an important one if you have children or pets, or you don't' like using chemicals in your home or office.
The downside to the device is that there were several recent reviews indicating it didn't work well. There are a variety of factors at play when it comes to effectiveness. Zevo reminds you that placing the trap behind curtains and out of sight reduces their efficiency. Furthermore, light traps may be less effective during the day if they're placed in sunny rooms where sunlight can hamper the brightness of the UV light.
Also, Zevo Trap could become quite expensive if you need three or four for your home. If you need to buy four, you'll end up spending more than $150 a year to keep all the traps running all the time.