Zipit Bedding Reviews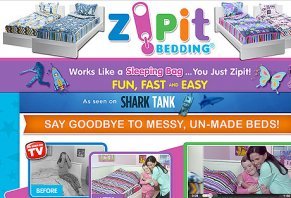 Zipit Bedding combines all the useful features of a sleeping bag with the familiarity of traditional sheets, to make bedtime fun and enjoyable for kids.
About Zipit Bedding
Zipit Bedding is a sheet-and-blanket set that's claimed to work just like a sleeping bag, which might help make both moms and kids happy. They say it's fast, fun, and makes it easy for kids to make their own bed in seconds, just by pulling the zipper. In addition, Zipit Bedding is glow-in-the-dark, reversible, and features side-storage pockets.
Zipit Bedding was invented by Jennifer MacDonald who had an "Aha!" moment as she watched her sons zipping up sleeping bags after a sleepover, and she thought to herself, "Why not use the same principal for their regular beds?"
Afterward, Jennifer teamed up with her sister Hayley Carr and eventually formed MacCarron Industries to manufacture and market the product (according to their website, Zipit Bedding was also featured on the TV Show "Shark Tank"). However, there is no information, accreditation, or company rating listed by the Better Business Bureau.
How Zipit Bedding Works
Zipit Bedding is essentially a fitted sheet and a comforter zipped into one unit, which is available in two colors, six patterns, and in Twin or Full sizes: Blue (Extreme Sports, Outer Space, Wild Animals) and Pink (Rocker Princess, Fantasy Forest, Sweet Stuff). They claim it is perfect for hard-to-make bunk beds, as well as trundle beds, squishy air mattresses and more.
The video demonstrates that Zipit can be fully zipped, or zipped-and-folded in several different combinations for different looks. Each Zipit Bedding set is also reversible and interchangeable, which means you can mix-and-match so they'll never be a "bore".
According to the manufacturer, Zipit Bedding is "interactive", "radical" and "sure to excite" (but hopefully not to the point of being unable to sleep), while remaining soft and durable. When you turn off the lights, Zipit Bedding also glows for "even more fun," and its two zippered side pockets can hold things like cell phones(!) that often get lost under the bed.
When the time comes, Zipit Bedding can be laundered simply by stripping it off the bed, wash, and re-fitting as one unit. (They suggest washing in cold water on Gentle and drying on Low Heat to preserve the glow-in-the dark. If you wash the fitted sheet separately, they say it can be washed in cold or warm on Normal.) Because of this, Zipit Bedding's manufacturer brags that you will "say goodbye to unmade beds" and will no longer have to struggle with ill-fitting sheets, blankets, or pillows. On top of this, not only will the beds be nice and neat, but your child will be safely "tucked-in," preventing the blanket (or themselves) from falling off.
To further illustrate how much fun your child will have with Zipit Bedding, the company has also created their own YouTube Channel featuring The Zipit Bedding Kids dancing and singing in their own music videos.
ZipIt Bedding includes:
Zipit Comforter and Fitted Sheet (Twin or Full, color and style of choice)
Matching Zippered Pillowcase
Zipit Bedding Pricing, Shipping, and Returns
Zipit Bedding is priced at $49.99 for Twin and $59.99 for Full, plus $12.99 S & H.
If you order more than one set of Zipit Bedding, the shipping goes up to $14.99 for 2 sets, $17.99 for 3 sets, $21.99 for 4, $25.99 for 5, and $31.99 for 6. In addition, for orders with more than one set, you can take 10% off the price.
Once you receive your Zipit Bedding order, you'll have 30 days to try it out. If the kids aren't jumping around singing "Just Zipit!" (or for any other reason), you can return the bedding for a refund of your purchase, minus shipping charges (and you have to pay to ship back).
Bottom Line: Is ZipIt Bedding Worth It?
Zipit Bedding is touted by a lot of mommy bloggers on sites such as "LIfe with Twins & a Drama Queen" and "The Divine Secrets of a Domestic Diva," but many of these accept money or advertising for endorsements. Still, we have to admit Zipit Bedding is a pretty neat idea for kids that they'll probably love, if for nothing other than its convenience (and the fact that they're not getting yelled at to make their bed!).
---
Do not buy

By Brook S.

,

Winnipeg, Manitoba, Canada

,

May 14, 2019
Verified Reviewer

Overall Experience:

I got Zipit bedding for my son at Christmas. By February one zipper broke, by March the other zipper broke. I sent correspondence to Zipit about my problems and they never bothered getting back to me. They clearly do not stand behind their product.

Save your money and pass on purchasing Zipit.

Bottom Line: No, I would not recommend this to a friend

---

Overall Experience:

I got my Zipit sheets for Christmas. They were a queen size, Pink Clover sheets. At first, I really liked it, and part of it glowed in the dark which was cool, but after a week of using it, one of the zippers got stuck and wouldn't unzip. Also, the material was very cheap and thin, it felt like paper.

I called customer service, and after three CALLS they finally rectified the situation, but they were so unclear and nonchalant about everything it bothered me. The customer service for Zipit Bedding doesn't care at all about anything! I talked to three separate customer service representatives, and their attitudes were all the same!

It took me over a week to try to return these sheets. So not only was my poor mother swindled by spending over $75 for a shoddy product, but then when we wanted to return it, they were trying to convince us to buy another one at a discounted price! Are they serious?! NEVER AGAIN.

Cool idea, but too bad Zipit bedding totally ruined my experience! Hopefully, a different company comes out with a better version of what Zipit Bedding tried to do because they don't deserve a dime.

Bottom Line: No, I would not recommend this to a friend

---

Advertisement

---

Zipper broke quickly on two

Oregon

,

Jan 23, 2018
Verified Reviewer

Overall Experience:

I got a queen Zipit, and it lasted two months. My son bought a twin for his son on my referral, and the zipper lasted two days. Very disappointing. Plus colors of the grey striped ended up being jet black.

Bottom Line: No, I would not recommend this to a friend

---

Not too bad, but if you can sew, make your own!

By Christa Neves

,

Salt Lake City, UT

,

Sep 25, 2017
Verified Reviewer

Overall Experience:

The idea is a good one, but the execution could use some improvement. The fitted sheet is not quite deep enough, so my son complained that he needed another blanket to be warm enough during the winter months, but then it was too hot with just the "comforter" during the summer months. The zippers wouldn't stay closed during the night.

Thankfully, I am a seamstress, so I have taken their idea and modified it. I had to purchase elastic clip-on straps at a local store to keep the fitted sheet on the bed. I purchased zippers online that have a "locking" slider and replaced the pulls on the set. I made a cover that is just a sheet, for hot weather. I made a second cover that is a much thicker comforter, for cold weather. Amazingly, the cost of the materials for these adjustments was less than the original Zipit set. With these modifications, my son loves his "Mama's Zipit" bedding.

Bottom Line: Yes, I would recommend this to a friend

---

Advertisement

---

Overall Experience:

They could be awesome if they were made correctly and bigger. I hate these sheets and wish I had never bought them for my son. My son and I were both so excited when I got these for him. He has a loft bed and we all thought that they would be perfect. No way! They are now the source of many arguments. He doesn't even have a high loft mattress, and they constantly are popping off. He loves they way they feel but hates the way they fit and I don't even want to try to put them on. They look terrible, and the bed is much more of a mess than with regular sheets. By the end of the night, he is basically on the mattress. What's the point?

Bottom Line: No, I would not recommend this to a friend

---

Not as expected, could be better

By Angie

,

Michigan

,

Feb 4, 2017
Verified Reviewer

Overall Experience:

My child's grandparents purchased this for my son via Wayfair (shipped by Walmart) for Christmas. He is young and kicks off his covers so we felt this would be good for him.

I was very disappointed to find that it is very thin. The sheet is see-through (it is so thin), and not very soft. And the comforter is thin and very light weight. It may be good for use in the summer but not in the colder months when the zippers are more needed to keep a child covered and warm. Also, it doesn't stay zipped up, defeating the purpose for why we purchased it. My child moves just a little, and it unzips on both sides.

For the $55 price, it could be a bit better than it is. The construction is flimsy.

Bottom Line: No, I would not recommend this to a friend

---

Overall Experience:

I ordered the Zip-It bedding the second week of December. With the 3-6 week shipping I had made my peace with the fact that it would not come in time for Christmas. We were elated when it arrived on December 23rd.

As for the bedding itself, the bed looks nice and tidy even when my child forgets to "make the bed" by zipping it. We paid extra for the Glow-In-The-Dark version which my child loved.

Bottom Line: Yes, I would recommend this to a friend

---

Works great

By Jami

,

MD

,

Jan 23, 2016
Verified Reviewer

Overall Experience:

I ordered for my daughter for Xmas because her bed is always a mess. I actually ordered through another retailer and had no problem. I love it, makes her bed look so much neater. I'm considering getting one for her brother. I got a full/queen and the fit was perfect.

Bottom Line: Yes, I would recommend this to a friend

---

Don't Bother

By G M

,

Canton, Georgia

,

Jan 19, 2016

Overall Experience:

Bought a twin size from Walmart for $59.99. Looks cute, came with a pillow case and that's where it ends. It zips up but refuses to stay up. When the child turns or moves it zips down until both sides are all the way down. Will not stay zipped up at all. Waste of money.

Bottom Line: No, I would not recommend this to a friend

---

Review of ACTUAL PRODUCT (vs. Customer Service)

By Nicole

,

Las Vegas, NV

,

Jan 14, 2016

Overall Experience:

I was shocked at all the negative reviews, having just given daughter one as Christmas present and being pretty satisfied! Then I started reading them and realized that they all reflect Customer Service, not the actual product.

I bought the Rock Princess one at Walmart - so no CS issues:) My 9 1/2 year old daughter really wanted two for her bunk beds. We couldn't find second one locally (and only a few days before Christmas) another style/design, so bought the ZippySack for the 2nd one (more later, but it truly sucked and has been returned).

Bottom line? AWESOME.

The fitted sheet is nice and tight. The comforter is OK - it's not too thin, but not nice and thick/plush/comfy. The cotton is cotton - so not super soft. It works as advertised: stays on bed and kids just flip the cover up and zip open or closed. She LOVES it. The comforter does reverse by unzipping each side, flipping the comforter over. The pillow case you just flip to the other side.

A couple minor points I would recommend to improve slightly:

1. The zippers slide nice and easy, almost too easily. Normal shifting during the night works them down. Could see this being not bad for little fingers zipping and unzipping; but for my daughter it's too slick.

2. The bottom is open. This is no surprise as you see this in the video. However, zipping all around like a true sleeping bag might be better; otherwise, the point of a comforter (warmth) is defeated with the bottom open. This may not be possible due to the unzip/flip ability to change the look.

3. As mentioned the comforter could be thicker in general; or even plush! Or the option to choose thicker/plush (which I'd certainly pay the difference for).

Overall - the ACTUAL PRODUCT IS GREAT.

There are too many retailers that sell this to bother with the customer service - so just don't buy from the company itself.

Now - brief comment about the ZippySack. DON'T BOTHER. It's not really clear on their site, but you need to have a fitted sheet and pillow case. This is ONLY a thin, plush fitted bumper with a single side/bottom zippered top. It's a single plush layer so not very comforting/warm (I'll say it - 'cheap'). I bought the pink cat, which is clearly shown to come up high enough to cover a pillow. This is NOT the case. The top of the ears barely came to about 3/4 up the bed and my daughter had to scoot down just to be fully covered. It also fits tight (since it's attached directly to the fitted side bumper) so not a lot of room for turning over, etc. She (and I both) hated it and it got it returned. Now searching for another Zipit Bedding to replace it.

Bottom Line: Yes, I would recommend this to a friend

---

Overall Experience:

I ordered my Zipit Bedding (the dream catcher one) for my 4 year old daughter a week before Christmas. I knew it wouldn't get here in time when I ordered so I didn't stress too bad. It's now December 30 and I just got the package. Not too bad of a shipping time especially around the holidays. We put it on her twin bed immediately. It looks great, perfect size. It's soft & durable. The colors are very pretty. I'm really excited about it. I think it was a great purchase.

Bottom Line: Yes, I would recommend this to a friend

---