ZipRecruiter
Claimed This company has claimed this profile, is getting alerted on any new customer reviews entering this page, and may engage in dialogue with its customers to address their matters.

Companies cannot pay money or provide goods in order to remove or alter customer reviews.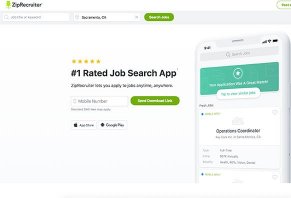 ZipRecruiter is a website that claims to help businesses find employees and job seekers to find employment, and to make the process as simple as possible for both.
ZipRecruiter Review: Details, Pricing, and Features
ZipRecruiter is an online employment marketplace that uses in-house technology to match businesses with millions of job seekers and their app, their website says, is the "#1 Rated Job Search App."
The company's technology and standing as one of the premier online employment sites means that not only do companies and job seekers have access to countless opportunities, but also that the experience of finding a job and hiring people is fluid and simple process.
A 2018 article from Inc. does a good job of describing the effectiveness of ZipRecruiter's efforts to use artificial intelligence to match the right job seeker with the right position.
"ZipRecruiter began investing millions of dollars in AI and data research," contributor Jeremy Goldman wrote. "They shifted their focus from delivering the most candidates to using their new deep learning tools to deliver the right candidate."
The company is based in Santa Monica, CA, and employs around 1,000 people across two states and three countries. Its four founders – Ian Siegel, Ward Poulos, Will Redd and Joe Edmonds – launched the company in 2010 and, over the past eight years, the company has, according to their website, served more than 1.5 million employers and more than 430 million job applications.
In this review, we'll analyze how ZipRecruiter works, its pricing and refund policy, its customer reviews, and how it compares to other job-search sites.
How ZipRecruiter Works
ZipRecruiter offers services for both job seekers and employers, so let's take a look at the site from the job seeker's perspective first.
ZipRecruiter for Job Seekers
To get started on your job search, you'll have to set up an account with ZipRecruiter online or through their app and upload a resume, although they won't require a resume for you to create a profile.
Through this profile, you can add a photo, your work history, pay requirements, and other vital information you think employers should know. Here's a screenshot of a profile page we created by uploading a resume:
The more detailed and complete your profile, the better chance you'll have of ZipRecruiter matching you with the right position.
You'll also be able to search for open listings based on keyword and city/state, and once you find a job that you're interested in, you can apply directly or save the listing and apply later.
Meanwhile, ZipRecruiter's matching technology is finding suitable jobs on your behalf and, when a particular position is posted that fits your profile, ZipRecruiter will send you an invitation to apply.
After you've submitted your résumé, ZipRecruiter gives you the ability to see how many employers have viewed your résumé, as well as how many times your application was saved, liked, shared, or considered.
And when you're not at your computer, or on iOS or Android mobile device, you can create job alerts to notify you when a job matching your criteria has been posted.
Also, ZipRecruiter will send you notifications when a job has closed so that you can move on to other opportunities.
ZipRecruiter for Companies
ZipRecruiter's proprietary technology analyzes your jobs in real-time in order to maximize your placement across all of their more than 100 job board distribution partners, which includes Google, Facebook, LinkedIn and Monster.
Each of your job postings on ZipRecruiter is mobile-friendly and can include your company's branding (logo, etc.).
Companies can also add candidate screening questions to their job posts, which help you qualify applicants quicker.
After candidates have answered the questions and submitted their résumé, you can manage your candidates via a user-friendly dashboard. You have the ability to track and rate each applicant.
More importantly, you can give a good candidate a thumbs up. This thumbs-up helps ZipRecruiter's AI understand the type of candidate for which you are looking and will help it send application invites to the most appropriate candidates.
Also, you can use your dashboard to create custom email responses and export your candidate list to Excel.
On top of all this, ZipRecruiter gives you the ability to search more than 12 million résumés in their résumé database.
Pricing and Refund Policy
Job seekers can use ZipRecruiter for free, whereas employers have the option of trying a four-day free trial. After the trial ends, paid accounts begin at $249 for a Simple account and go up from there:
Standard: Distribute to 100+ job boards
Premium: Distribute to 100+ job boards, Premium placement in 15 million+ emails, Access to our database of 12 million+ resumes
Pro: Everything that Standard & Premium Offer plus TrafficBoost for urgent or hard-to-fill jobs, Send candidates directly to your external ATS
Regardless of which option you choose, all plans come with an unlimited number of candidates who can apply to your postings each month, without any additional charges. To obtain pricing, you must contact the company directly.
ZipRecruiter's services come with a 100% satisfaction guarantee, which states that if you're not happy, you can cancel your account and you'll be refunded your previous payment (if on a month-to-month plan).
If you're on a 6 or 12-month plan, you'll need to cancel within the first 30 days in order to be eligible for a full refund. Otherwise, your account will remain active for the remainder of your term, after which you'll no longer be billed.
ZipRecruiter emphasizes providing premium support from real people. As such, if you encounter a problem, you can contact the company at (800) 557-9015, via email, or through live chat 24 hours a day.
Analysis of Customer Reviews
To get a sense of how happy people are with their ZipRecruiter experience, we took a look at the company's ratings on HighYa, Google Play and iTunes.
More than 175 HighYa reviewers give the site an average rating of 1.5 stars, with many recent reviews from employers noting that they received poor results and candidates that didn't match what they were looking for.
The company's Job Search app received more than 170,000 reviews in Google Play with an average review of 4.8 stars, which is a fantastic score. Some of the common phrases included in the reviews were "easy to use," "helpful" and "informative."
ZipRecruiter's Job Search app earned equally sparkling reviews in the iTunes store, where more than 175,000 reviewers gave it an average rating of 4.9 stars.
The company also has a sparkling profile on TrustPilot, where more than 5,000 reviewers gave the company an average rating of 9.1 out of 10.
How Zip Recruiter Compares to Other Job Search Sites
One of the best ways to understand how well a service like ZipRecruiter performs is to put it in the context of its competitors. The following table shows the app store metrics of four popular job search services:
| | | | | |
| --- | --- | --- | --- | --- |
| | ZipRecruiter | Indeed | Monster.com | Glassdoor |
| iTunes rating | 4.9 | 4.7 | 4.4 | 4.7 |
| # of iTunes reviews | 175K | 538K | 3.5K | 223K |
| Google Play rating | 4.8 | 4.3 | 4.4 | 4.5 |
| # of Google Play reviews | 174K | 767K | 35K | 116K |
| # of downloads | 1 million+ | 50 million+ | 1 million+ | 5 million+ |
As far as app-store user reviews go, ZipRecruiter is the clear winner here, as it receives the highest ratings in both the iTunes and Google Play stores. Glassdoor garners the second-best ratings followed by Indeed and Monster.com.
These metrics are important to keep in mind mainly because there's a good chance you'll conduct a significant part of your job search via the app and you'll want that experience to be as seamless as possible.
The Bottom Line
Whether you're a company looking for a new employee, or an individual looking for the perfect employer, almost everything about posting a job and the job-hunting process can be stressful.
ZipRecruiter appears to have a well-earned reputation for effectively helping both employees and employers make the right match and to make the process as simple and as straightforward as possible.
The reviews they earn from users are, for the most part, high, and their app ratings are better than Indeed, Monster.com and Glassdoor, three of the site's competitors.
Because the site is free, there aren't many downsides for job seekers, as the only up-front cost for you is the time it takes to fill out your profile.
If you think ZipRecruiter is a good fit for you as a job seeker, then take a few minutes to complete a profile with them and then keep an eye on the application invites they send you. There's a good chance you'll be happy with them, based on the reviews the company gets.
If you aren't happy with the results, Indeed, Glassdoor and Monster.com are options you can try out and compare to your ZipRecruiter experience.
---
This company is actively collecting reviews from its customers. All reviews submitted are subject to moderation and approval to ensure they meet our

Review Guidelines

.

Con artists

By Brooke R.

,

New Braunfels, TX

,

Apr 24, 2020
Verified Reviewer

Overall Experience:

The customer service representative on the phone number +1 877-252-1062 was not helpful, she refused to let me speak to a supervisor. They charged my card back to back in the middle of the night for $556.50 twice and then $202.38 after that. A total of $1,315. Sketchy. I've never authorized any of these transactions, I don't have a business. So when I asked how they got my card info and why it was charged I was told that they weren't able to discuss that information with me. Not understanding why when it's my card in my name and my money. I wouldn't give them even 1 star, the customer service is horrible and they think it's ok to steal people's money. I was thinking that someone stole my information but now I'm thinking it's someone at ZipRecruiter that did this. I had to go get a police report and call a lawyer.

Bottom Line: No, I would not recommend this to a friend

Apr 26, 2020

Hi Brooke. We reviewed your account and see that on 4/22 our customer service agent was able to assist you with the changes you requested. If you have further questions, please feel free to reach out to us at support@ziprecruiter.com, 877-252-1062, or live chat. Our representatives are available 24/7 and we are always happy to help. ~DW

---

Must call to cancel

By Donald H.

,

Texas

,

Apr 22, 2020
Verified Reviewer

Overall Experience:

As noted by others. Candidates don't match jobs and they will bill your credit card even when the job is closed. You must call to cancel.

You can sign up online but must call to cancel? Amazing.

They knew the job was closed but kept right on billing.

Bottom Line: No, I would not recommend this to a friend

Apr 26, 2020

Thank you for your feedback, Donald. We would like to apologize for your recent experience with our cancellation process. To address the cancellation issue, our call-to-cancel policy is designed to protect your sensitive information and privacy. Our Customer Care Team is available 24 hours a day / 7days a week at 877-252-1062 and you can call us anytime to cancel. Once your auto-renewal is shut off, you will not be charged again. Our auto-renewal is in place to provide employers with a seamless transition from month to month that their job ads are posted. This information is also clearly displayed in your subscription details when you create your account and choose your plan. We do apologize for any inconvenience this process may have caused. If you need further assistance, please don't hesitate to reach out to us. We are always happy to help! ~DW

---

Advertisement

---

Numerous

By Gary F.

,

Wellington, FL

,

Apr 16, 2020
Verified Reviewer

Overall Experience:

The total experience was disappointing at best. Not genuine people or reputable company. No real customer orientation. Most candidates are not remotely qualified. I signed up for what I thought was a 30-day platform and they continued to bill me even though I was not using the service. Our companies will never use ZipRecruiter again. There are much better alternatives like Indeed.

Bottom Line: No, I would not recommend this to a friend

Apr 19, 2020

Thank you for your feedback, Gary.

We are disappointed to hear you had a poor experience using our platform. We want to help and provide some clarification. ZipRecruiter is an online job board that allows you to post jobs. Upon creating an account, our system requires acceptance of our terms of use and the subscription features, price and renewal date of the plan you chose. Your subscription can be canceled at any time before the renewal date, to avoid charges for the next month of service. Employers can also view the subscription information in their account, at any time, by navigating to MY ACCOUNT > SUBSCRIPTION > OVERVIEW. We do our best to make this information as transparent as possible and we apologize if there was any confusion.

If you need additional assistance, please contact us at support@ziprecruiter.com, 877-252-1062, or live chat. Our agents are available 24/7 and we are always happy to help.

Kind regards,

~DW

---

Giant waste of time

By Chris O.

,

California

,

Nov 26, 2019
Verified Reviewer

Overall Experience:

Huge waste of my time. Have had my resume posted on the site for over 2 years and have NEVER received any offers - nothing. I must admit I am "overqualified" for most of the positions "pitched" to me but honestly, nobody at ZipRecruiter is doing me any favors - a good portion of the positions offered I am clearly not qualified to do yet according to ZipRecruiter these positions "line up perfectly with my resume"? And the positions that I am actually qualified to do I have had ZERO response. So can someone please explain to me how ZipRecruiter can make claims that they find the right candidate for the position if I haven't had any response from anyone in over 2 years?

Bottom Line: No, I would not recommend this to a friend

Dec 4, 2019

Hello Chris,

Thank you for your review as we do appreciate your valuable feedback. We're sorry to hear of any less than pleasant experience while utilizing our job boards for your job search needs. I understand your frustration of not receiving any responses from employers during this time and we do our best to ensure your using the tools necessary within your account to apply for positions. Although we do not directly deal with the recruiting for each company, we provide assistance with your account and we are able to make recommendations on tools you can use in your account to make your resume stand out to employers. It's great that you have awesome qualifications and we want you to succeed in finding a great position! We can review your account if you can send an email to support@ziprecruiter.com we will be able to assist you further with your concerns, we truly appreciate your feedback. We look forward to hearing from you.

Leticia, Tier III Support

Customer Success Team

---

Advertisement

---

Scam! PLEASE READ!

By Danielle B.

,

Seattle, WA

,

Oct 18, 2019
Verified Reviewer

Overall Experience:

SUCH A SCAM! Got the trial period they offered. Forgot about it. Did not get notified of the change to subscription. It should be tracked if a user is not using the service and the account goes automatically into a subscription after the trial period. The account holder should be notified and called/texted that they are in subscription. (IT'S 2020, email is not the only way to notify someone, ZipRecruiter!) During which time, I was not opening the service at all, and was charged $700 in less than one month. That is a LARGE amount of money for NOTHING. I have absolutely NO GAIN from using this service. ZipRecruiter IS just robbing people of their hard-earned money and offering great benefits during a trial period. Then scamming them for hundreds of dollars! Plus after opening the dashboard to check it, in 1 month, I had no leads. Big shocker. SCAM! DO NOT USE!

Bottom Line: No, I would not recommend this to a friend

Nov 1, 2019

Hello Danielle,

Thank you for your feedback. I have reviewed your account and I think I have a solution. Could you please reach out to me so we can discuss a resolution via email support@ziprecruiter.com, attn: Miranda. Customer Success Support is available 24/7 via phone 877-252-1062, email, and live chat.

Kind Regards,

Miranda

Tier II Support

---

Will keep billing your credit card over and over!

By Robin T.

,

Illinois

,

Oct 17, 2019
Verified Reviewer

Overall Experience:

Was hiring for dental assistant, got multiple resumes for dentists (not helpful). Job was filled July 22nd, they e-mailed us asking if job was filled, responded it was, they continued to bill us through October when we called about the credit card charges, allowed one month refund for 2-3 months of illegitimate charges. Had used service in the past to place month-long ads, renewed as needed. They now auto-bill and continue job ad until you catch the charges, which makes no sense for a job ad company, should renew ad as needed. WILL NOT USE AGAIN, and do not recommend them unless you pay EXTREMELY close attention to automated charges to your credit card!

Bottom Line: No, I would not recommend this to a friend

---

Fraud

By James W.

,

Paso Robles, CA

,

Oct 11, 2019
Verified Reviewer

Overall Experience:

I signed up for one month only! I posted a job and they gave me applicants that were not qualified for anything? I cancel everything after 7 days and they just charged my card $496.00 for nothing! I called and they said oh sorry, now we made sure it's closed. This is fraud! I never gave them permission for anything! This is a total scam just to keep charging you.

Bottom Line: No, I would not recommend this to a friend

---

Be careful working with this company

By Alton R.

,

Sacramento, CA

,

Oct 2, 2019
Verified Reviewer

Overall Experience:

We signed up to list jobs with this company to see how they could help us. After the first month we heard nothing from them. No feedback, no billing. Our clients were complaining that they could not find their ads on ZipRecruiter's site. We never hear from them until 16 months later when they sent us a bill for over $11,000. We asked for proof that they provided the service for us. We asked for the last three months of copies of our ads. They would not comply. They kept asking for payment. This company is unprofessional at the least and crypt at the worst. Be careful.

Bottom Line: No, I would not recommend this to a friend

Oct 8, 2019

Hi Alton,

Thank you for sharing your review and concerns regarding your experience with your employer account. I understand you are not happy with the service and we do our best to ensure that our customers have easy access to their account information which is the reason why we provide the employers with access to their job ads and invoices/receipts in the account so its easier to log in and view the closed jobs and dates they were closed on your account dashboard. We also have an invoices/receipts page within your account that you are able to access anytime for your review and when the account is active, it gives you all of your plan information on the subscription overview page. If the account is closed, you are still able to access the invoices for accounting purposes. Our customer success team is also available 24/7 by phone, chat and email to provide assistance with your account concerns. We would be able to walk you through logging into your account and navigating you to your closed jobs page where you can access a job performance report as well which will give you a report about all the jobs you've posted on your account and this is a free service we provide to make it easier to view a report.

We would be glad to assist you with any account inquiries you may have and want to ensure you have a good experience with us and if we do have the opportunity to help you, please reach out to our customer success team by phone at 877-252-1062 or email at support@ziprecruiter.com. Thanks for reaching out, Alton. We look forward to hearing from you.

Kind Regards,

Leticia, Tier III Support

Customer Success Team

---

Flashy, deceptive marketing.

By John K.

,

Winston Salem, NC

,

Sep 23, 2019
Verified Reviewer

Overall Experience:

We tried out the service with a free trial. During this process, it wasn't made clear that they would charge you $500 a month. We barely used the service as we didn't receive enough quality candidates despite rating the new candidates. Their whole business model relies on flashy marketing to lure in new customers and lock them into an expensive subscription. This is evident in the fact that you have to call into a "specialist" to cancel your subscription. We called and told them we were shocked by the amount we were billed, barely having used the service, to which they replied by saying they can't offer a refund, but we can pay more money to get on to another subscription for another month. Wow, the gall on these people. Avoid the deceptive practices of this company, and if you do start a trial, make sure you cancel before they drop the payload on your credit card.

Bottom Line: No, I would not recommend this to a friend

Sep 29, 2019

Hello John,

Thank you for sharing your concerns with us and we appreciate your feedback. I understand you are not happy with the costs that you were charged after your free trial and I am glad to help. We have multiple plans available which is the reason we ask our customers to give us a call to cancel so we can ensure the billing is stopped which is the reason why we are available 24/7 by phone, chat, and email so we can assist you with your request.

We have a wide range of plans so we always recommend you give us a call if you are not sure what type of plan you are on, we are happy to explain to you the different plan options according to how many jobs your company is posting as well. We offer a variety of free features on the account that drive candidates to your job posting too and our customer success team are always willing to share these features with you to assist in the recruiting process.

I understand you may not want to use our services at this time, if you ever feel that we may have the opportunity to earn your business we would be happy to ensure that we walk you through the variety of plans that are available to ensure you are on a plan that is best suited for your business needs at a reasonable price. Thank you for sharing your experience with us and we understand, if you would like to reach out to our team, please send an email to support@ziprecruiter.com, Attn: Tier II and III Support or give us a call at 877-252-1062 and we will gladly assist with your concerns.

Leticia, Tier III Support

Customer Success Team

---

Can't make them stop contacting me

By Jeff N.

,

San Diego, CA

,

Jun 18, 2019
Verified Reviewer

Overall Experience:

I registered my small business on the State of California government website. ZipRecruiter snatched that data up and ran with it. They email. They call. They send letters. I just want them to stop. I've called them. I've emailed them. I called a second time. Apparently, they are never ever going to stop contacting me. I am beginning to feel harassed, and am considering seeking legal protection.

Bottom Line: No, I would not recommend this to a friend

Jun 25, 2019

Hi Jeff,

Thank you for providing us with your valuable feedback. We at ZipRecruiter take great pride in our role in bringing job seekers and employers together; However, we also apologize for any unwanted contact we have made to you. We can definitely place your contact information as a "do not contact." Give us a call 24/7 at 877-252-1062 to immediately get this updated. Again, Jeff, we apologize for any inconvenience this has caused.

Should you need any further assistance we are available 24/7 via phone 877-252-1062, chat, and email at support@ziprecruiter.com.

Have a great day!

---

Waste of time for this job seeker

By Mo M.

,

Shenandoah Valley, VA

,

May 7, 2019
Verified Reviewer

Overall Experience:

After about 3 months of using this site, I'm removing myself.

They continually send me jobs in geographical areas that I have no intention in commuting to (DC would be a 2-2.5 hour commute ONE way). I clearly set my radius at 50 miles, yet all they send me are jobs in DC, Alexandria, Arlington, upper Maryland, etc.

I sent an email for assistance and got a generic reply saying where to go in the settings to set this up. It was exactly as I'd already explained that I did.

Even when you call their 877 number, the message clearly states that they are a service for EMPLOYERS! They are not here for the job seeker, since we aren't the ones paying.

I have much better search results with Indeed and LinkedIn...and you likely will too!

Bottom Line: No, I would not recommend this to a friend

---