ZipRecruiter
Claimed This company has claimed this profile, is getting alerted on any new customer reviews entering this page, and may engage in dialogue with its customers to address their matters.

Companies cannot pay money or provide goods in order to remove or alter customer reviews.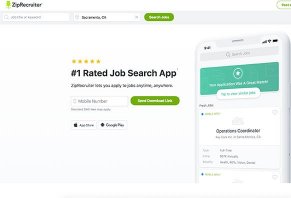 ZipRecruiter is a website that claims to help businesses find employees and job seekers to find employment, and to make the process as simple as possible for both.
---
This company is actively collecting reviews from its customers. All reviews submitted are subject to moderation and approval to ensure they meet our

Review Guidelines

.

Awesome site

By Jeffrey D.

,

Olivehurst, CA

,

Feb 22, 2019
Verified Reviewer

Overall Experience:

ZipRecruiter is a pretty good place to find a job. However, suggestions for jobs not certified for is kind of annoying. But it gets a lot of jobs and keeps you updated on jobs and applications.

Bottom Line: Yes, I would recommend this to a friend

---

ZipRecruiter review

By Alan K.

,

Morristown, NJ

,

Feb 22, 2019
Verified Reviewer

Overall Experience:

Recommend it highly. Quick and easy way to apply. Good and swift feedback on resume reviews. Frequent job recommendations in areas that I am looking for a position in. Good suggestions for applying.

Bottom Line: Yes, I would recommend this to a friend

---

Advertisement

---

ZipRecruiter equals results!

By Tiffany S.

,

Tampa, FL

,

Feb 22, 2019
Verified Reviewer

Overall Experience:

I have been extremely pleased with ZipRecruiter. I have had more job leads with ZipRecruiter than any other sites. The more you apply, the more leads for jobs are sent to you. They make it simple to use. Their text messaging option is very helpful. I recommended ZipRecruiter to a friend in Palm Beach Country and she loves it too. She has also received more job leads than any other site she has used. I absolutely recommend ZipRecruiter to anyone seeking employment. I actually wish I could work for ZipRecruiter because I stand so strongly behind them. Thank you!

Bottom Line: Yes, I would recommend this to a friend

---

One of the best job sites I have used

By Floren Y.

,

Ohio

,

Feb 22, 2019
Verified Reviewer

Overall Experience:

I have been with ZipRecruiter for a few months and have received a lot of great job postings. Up until now I was only browsing through but have been really looking for real lately and am glad to receive quality job openings sent to me.

Bottom Line: Yes, I would recommend this to a friend

---

Advertisement

---

Overall Experience:

Thanks ZipRecruiter for NOT directing me to unwanted ads that NEVER lead to a job. ZipRecruiter does exactly what it's supposed to do...jobs posts you look up and then apply. THANK YOU.

Hassle-free and easy to use.

Bottom Line: Yes, I would recommend this to a friend

---

Excellent communication

By Nikki S.

,

Grand Prairie, TX

,

Feb 22, 2019
Verified Reviewer

Overall Experience:

I like ZipRecruiter because the communication is not only detailed and great all around, it comes across as personable. I don't get the feeling I'm working with bots when using ZipRecruiter's website/app and features/services/tools.

Bottom Line: Yes, I would recommend this to a friend

---

Excellent

By Thomas G.

,

Shelton, CT

,

Feb 22, 2019
Verified Reviewer

Overall Experience:

ZipRecruiter is without a doubt the best online job search engine. They bring the jobs to me, I don't have to search for them. I'm impressed with the quality and quantity of job recommendations I received.

Bottom Line: Yes, I would recommend this to a friend

---

Great jobs local

By Ashley B.

,

Boston, MA

,

Feb 22, 2019
Verified Reviewer

Overall Experience:

I receive great jobs in my area daily. Most of them are quick-apply jobs and take one minute to fill out. I usually get updates on my applications as well. Some jobs are a little out of my league, but for the most part, their perfect match jobs are spot on. I would recommend this job site to anyone looking for a good job near their location that fits their search criteria. You can also unsubscribe at any time by clicking the bottom of emails and adding your email address.

Bottom Line: Yes, I would recommend this to a friend

---

Excellent service

By Rob W.

,

Las Vegas, NV

,

Feb 22, 2019
Verified Reviewer

Overall Experience:

My experience with ZipRecruiter has been excellent. Questions are answered in a timely and thorough manner. Their advice and concern shows a genuine interest in the future of their clients. Well done and keep up the awesome work!

Bottom Line: Yes, I would recommend this to a friend

---

Great job search engine

By Jill M.

,

Florida

,

Feb 22, 2019
Verified Reviewer

Overall Experience:

Very helpful in finding a great job, employers seem to be very responsive. I highly recommend, especially for the restaurant industry. Their job suggestions via email are on point as well.

Bottom Line: Yes, I would recommend this to a friend

---

Constant

By Billie W.

,

California

,

Feb 22, 2019
Verified Reviewer

Overall Experience:

I receive job openings constantly. And I really appreciate you for this. I am only now prepared to accept a position. My husband had a stroke a while back and his care was first. You are appreciated. Thank you.

Bottom Line: Yes, I would recommend this to a friend

---