Zum Rides Reviews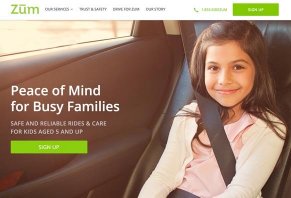 Currently only available in the CA Bay and Orange County Areas, Zum Rides is a ride-sharing service that helps kids safely get where they need to go.
About Zum Rides
Available seven days per week for kids ages five and up, Zūm Rides is an app-based service that offers safe, reliable, family-focused ride-sharing and childcare services for busy families.
After booking a one-time or recurring ride, you'll be able to view the driver's picture and profile within 12 hours of scheduled pick up. Then, you'll be notified once pickup occurs and have the opportunity to track the ride live.
This way, the website indicates that Zūm can be used for a variety of activities, including daily rides to or from school, commuting, carpooling with friends, attending play dates or parties, chaperoning, or for when after school care is needed for a couple of hours.
Because popular ride-sharing services like Uber and Lyft have age restrictions that stipulate anyone who orders a ride must be at least 18, this can leave parents in a bind if they need to go one direction, but send their kids in another. As such, it would seem logical that Zūm Rides is tapping into a massively underserved market segment.
Does this necessarily mean they're right for you, though? Are there any competitors? And if so, how can you choose the best option? Let's begin with the app's functionality.
How Does the Zum Rides App Work?
We didn't book a ride through the Zūm app, although it seemed straightforward and intuitive to use.
After setting up a member profile for your child, you'll be able to utilize the booking tool to select pick up and drop-off times and locations, along with any riders. As you configure each ride, you'll be able to see the total mileage and estimated cost. Then, when you successfully book, you'll receive an email confirmation.
To help build trust and get your children accustomed to familiar faces, the company selects from only a small pool of Zūmers using their proprietary matching algorithm that "optimizes your family's needs and pairs you with a small pool of drivers, ensuring long-term relationships and consistency."
According to the company's FAQ, they typically assign drivers to rides by 8 pm PST the day before. Once this occurs, you'll receive a text message confirmation and be able to log into the app, where you'll find a "picture of the driver, picture of their car, their license plate number, and a short bio about them."
At this same time, you can share the driver's profile with your child's school or family member via phone text or email. All drivers provide one booster seat on-demand, which can be booked in advance by noting the need in your profile.
Finally, children will be given a ride-specific password to ensure safety. As the company's FAQ explains, "we generate a ride-specific password 24-hours before each ride for your child to exchange with their assigned driver for two-way identity verification."
Parents can also schedule childcare before, during, or after a Zūm ride, in 15-minute increments up to a maximum of two hours.
Here, we can see the Zūm app's live tracking ability, which also provides pickup and start locations, including any stops mid-way. Image credit: Google
If you have neighbors or friends that you'd like your child to carpool with, drivers can accommodate different pickup and drop off locations for up to five children. As with the single-rider option, you can choose to create a recurring event if necessary.
What's Different With Zum's Kid's App?
In addition to the parent's version, Zūm offers a kids-specific app that allows them to view upcoming and previously completed rides, driver profiles and vehicle details, live tracking, as well as their unique safety password.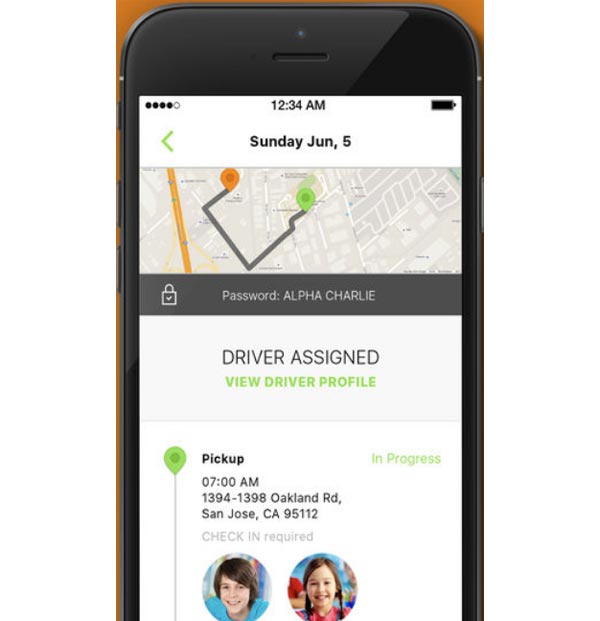 The kid's version of the Zūm app allows older riders access to much of the same information as the parent's version, including live tracking, driver details, and passwords. Image credit: Google
How Are Zum's Drivers Screened?
In this instance, providing parents with peace of mind isn't only about ease of use; it's also about not having to worry about their child's safety.
In this respect, the company claims that all drivers (or Zūmers, as they're called) go "through a rigorous selection process and [are] highly vetted (even more than most childcare providers!)" This includes a pre-screening phone interview to ensure they have at least:
Three years of childcare experience
Three years of driving experience with a clean driving record
A college education and/or experience working in a professional setting
A four-door vehicle in great condition, year model 2006 or newer
That they're at least 21 years old
Following the interview, candidates have their address history and social security numbers vetted; undergo FBI, Department of Justice, and sex offender background checks, have their DMV and driving record validated, and then are certified through TrustLine.
Then, Zūmers are invited to an in-person interview where their "personality, attitude, reactions to situations, and their sense of purpose" are assessed, followed by a driving test and ride-along and verification of the candidate's references.
If the driver passes everything else, the final stage is to present the car they'll be using to pick up your children. In addition to the 2006 or newer requirement we already referenced, drivers must provide proof of regular vehicle maintenance and inspections and pass a 20-point vehicle inspection.
Together, Zūm tells us that only one in five applicants makes it all the way through the selection process. And any that fail to maintain the highest ratings or meet the company's requirements after being hired are removed.
Zum Rides Pricing & Requirements
Currently only available to Orange Count and Bay Area customers between the hours of 6a and 9p., Zūm is a pay-per-use service, with no contracts or subscriptions involved, and no cash is required since all payments are handled through the app.
Just like any other ride-sharing service, the cost will depend on factors like total distance, number of riders, number of stops, and whether or not childcare is required before or after. With this said, the company's Fare Estimator promises to help you better understand what you're likely to pay for your ride.
Customers can book rides up to one year in advance, until 7 PM PST the evening before, and there is no limit as to how far your child can be driven (as long as it's within the Bay Area or Orange County).
However, they emphasize that until a Zūmer is assigned the day before the ride and you receive a text, drivers are not guaranteed.
The company's childcare services are priced at $6 for each 15-minute increment and can only be booked as part of a ride (standalone childcare is not available).
If you book a ride and need to cancel for some reason, you'll receive a 100 percent refund if processed before 7 pm the day before the ride. If after 7 pm but before the ride starts, you'll receive a 50 percent refund. If canceled within two hours of the scheduled time, no refunds are available.
To change, cancel, or make a special request for a ride, Zūm's support team can be reached at 855-RIDE-ZUM (743-3986), support@ridezum.com, or online chat.
What Are Zum Customers Saying in Their Online Reviews?
On Yelp, Zūm had nearly 60 customer reviews and an average rating of fours stars at the time of our research. There, common compliments appeared related to ease of use, friendly and reliable drivers, solid customer support, and lack of contracts or subscriptions.
Remember earlier when we mentioned that a Zūmer isn't assigned until the day before your requested ride, and that drivers are not guaranteed? Overall, the most common complaints referenced occasional scheduling issues, and even some no-shows, leaving parents responsible for picking up their kids at the last minute. Unhelpful customer service was also frequently referenced.
Between iTunes and Google Play, Zūm Rides' standard and kid's apps cumulatively had about 40 customer reviews and an average rating of about 3.75 stars. While many reported an enjoyable experience, complaints of last-minute cancellations persisted.
From a company perspective, Zūm was co-founded by CEO Ritu Narayan, "a former eBay executive who started the company out of her own personal child care needs," according to a 2016 USA Today article. They held an A Better Business Bureau rating and no closed complaints as of 9/13/17.
Previously, Ritu worked as the founder of TechX and a group project manager for eBay, and was a Sloan Fellow at the Stanford Graduate School of Business.
Zum Rides vs. the Competition: Are There Other Ride-Sharing Services for Children?
While there are certainly children-oriented transportation and pick up/drop off services available in the most metropolitan areas, are there other ride-sharing services competing in the same niche as Zūm? We encountered the following options:
| Company | Pricing | Service Area(s) | Special Features |
| --- | --- | --- | --- |
| Zum Rides | Varies based on distance, number of children, and number of stops; childcare is $6 per 15-min increment, 2-hr max | San Francisco Bay Area & Orange County, CA | Small pool of Zumers for familiarity, different apps for parents/kids/drivers, ability to share driver's profile with school or family members |
| Kango | $9/mo intro fee; $16 min ride fare; $15-$20 per hour for single childcare | San Francisco Bay Area | Drivers are also fingerprinted, users can interview drivers in advance |
| HopSkipDrive | Single family $16-$18 min fare (depending on location); $7 carpool per family | San Francisco, East Bay, Los Angeles, and Orange Counties | Can be booked within 8 hours of pickup, only available M-F, drivers must be at least 23 years old |
| Pogo | Free-$200/mo, depending on account type | Seattle metro | Matches you with other Pogo users who are commonly driving the same route, can meet drivers in advance; does not include background check, driver's license verification, proof of insurance, or driving history |
| Zem Car | Varies depending on ride duration and distance; min fare $15 | Greater Boston | Video/image/audio/text pickup permission, ability to watch the ride in real time, panic alert and instant communication, backup drivers |
| Carpool Kids | Free | None noted | Only carpools, essentially a scheduling app with other parents in the area |
| GoKid | Free | None noted | Only carpools, parents do the driving (no paid drivers), in-app messaging |
Given the fact that many of these options offer similar services, how can you choose the best one for you? As we frequently mention in our articles, this will largely be a need-based decision.
For example, do you only need carpooling services and are focused on the lowest cost? If so, Carpool Kids and GoKid could meet your needs.
On the other hand, are you most interested in drivers who have undergone extensive screening and apps that offer live tracking and the options to schedule recurring rides? Based on these needs, pay-per-use apps like Zūm Rides and Kango could be a better fit.
Once you've prioritized your needs and narrowed down your list accordingly, you'll want to focus on traditional shopping factors like price, company reputation among online customers, app/website user feedback, and functionality/ease of use.
Our Final Thoughts About Zum Rides
Based on what we learned during our research, Zūm Rides is tapping into a largely unmet children's ride-share market with an easy-to-use app and competitive prices and comes with most positive—if not somewhat limited—online customer feedback.
But there are some considerations: The company currently only offers their services in the San Francisco Bay and Orange County areas, and their most common complaint among customers is that drivers can cancel at the last minute, leaving parents hanging and without recourse against the company.
With all of this said, according to the USA Today article referenced earlier, "A recent Pew Research study revealed that 34% of ride-hailing users feel services such as Uber and Lyft are a good way to get kids to their destinations, despite the fact that according to both companies' terms of service they cannot take passengers under 18."
To perhaps differentiate themselves, Zūm "say they're not Uber-for-kids, but rather nannies with cars." Again, if this is one of your top factors, it might be worth giving them a try.