Zumper Reviews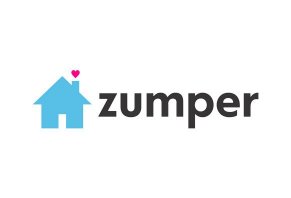 Zumper is an apartment, condo, and home rental listings website that offers several unique features to make the process easier for tenants, agents, and landlords.
What Is Zumper?
Zumper offers a real-time, searchable inventory of more than one million rental home, condo, and apartment listings across the US and Canada each month. In fact, their listings are so current they promise you'll find new inventory before other competitors like Craigslist, Zillow, or Trulia.
Their 'Instant Apply' feature also gives members the ability to maintain a current Experian credit report and application on file, and then quickly send it over to listings they're interested in. This could potentially help them "jump to the front of the line for competitive apartments and avoid crowded open houses"—while saving a few trees in the process.
Together, Zumper believes that renting an apartment should be as easy as booking a hotel. And if you need assistance along the way, they have a team of rental experts standing by.
But the big question is: Can they really help you find a perfect apartment? Even if they can, should you put all of your eggs in one basket, or also focus on some of the competition? Let's start helping you find some answers by looking at Zumper's functionality.
How Does Zumper Work?
After entering the appropriate city and state on Zumper's home page, the following screen will display relevant results in map or list format, which can be narrowed by:
Property type – Apartments, houses, rooms, condos, other
Minimum or maximum rent
Number of beds and baths
Whether or not pets are allowed, and what types (cats or dogs)
Long term or short term
Minimum square footage
Unit Amenities – Air conditioning, assigned parking, balcony/deck/yard, furnished, in-unit laundry, etc.
Building Amenities – Business center, concierge, elevator, fitness center, swimming pool, on-site laundry, etc.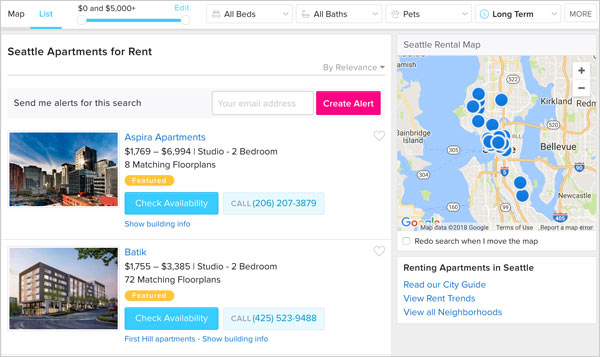 After entering a city, Zumper will display matching results, which can be modified based on criteria like price, number of beds and baths, and whether or not pets are allowed. Credit: Zumper, Inc.
According to the company, all of their listings are monitored by spam filters to help "prevent any shenanigans, duplicates, or scams when you hunt apartments."

You can also save your searches and set up real-time alerts, which will allow you to receive notifications any time a new rental becomes available that matches your criteria.
Once you find a rental that you like, you can click on the listing to learn more. This will include additional pictures, floor plans, rent ranges for different models, detailed description(s), and unit and building amenities, along with average rent, trends, and walk score for the area.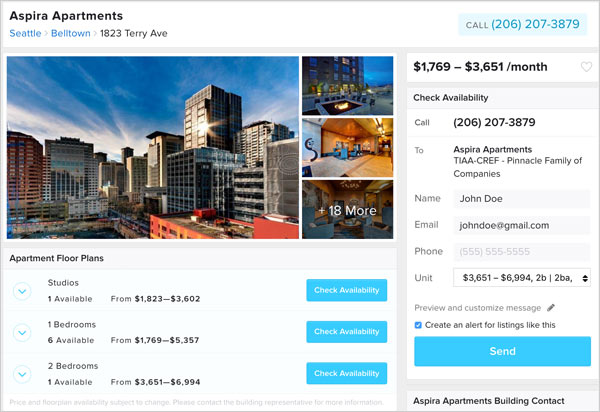 Each floor plan for a property will feature a 'Check Availability' button next to it, which allows you to send a message directly to the management. Credit: Zumper, Inc.
Compared to many other rental websites (more soon), Zumper gives members the ability to securely create and save an Experian credit report (this "soft pull" will not affect your credit score), along with a rental application, in less than five minutes.
All you have to do is create an account by entering your name and password, or by linking your Facebook account. Then, you'll complete an Experian credit report by entering your date of birth, Social Security Number, and your current address, and choosing security questions.
From there, Experian will run a credit report, display the results, and store them for later use.
Zumper's online rental application involves much of the same initial process (without the credit check, of course), but you'll also need to list your previous residences, current occupation, financial details, and references.
When you're ready, any properties displaying an 'Instant Apply' icon (currently only available for listings with purple badges in the Atlanta, Chicago, Dallas, Denver, and Houston markets) will allow you to use Zumper's unique feature, which will also guarantee that management will review your application once it's sent.
Even for those that aren't part of the Instant Apply program, you can "offer to share your application with any other listings on Zumper, or securely share it with a landlord or agent's email address."
Outside of their listings, Zumper also provides easy access to a wide variety of generic and city-specific rent reports, as well as rental guides.
What's the Difference Between Regular Zumper & Zumper Pro?
While Zumper's main service is consumer-facing, their Pro program promises to help make it easy for agents and landlords to post rentals—not just to their site, but also through syndication to other top sites like PadMapper and Realtor.com. They can also screen tenants (US-based customers only), including nationwide eviction and criminal checks.
Pro members can set their own application fee, which is paid by applicants directly online with their credit card.
How Much Does Zumper Cost?
Zumper's Standard version is free. According to their FAQ, Zumper Pro accounts are also free if you have a PadLister account (again, free), and are posting a listing outside of New York City.
If you have additional questions, support can be reached via the contact form on their website.
What Can We Learn From Zumper User Reviews?
On Yelp, we encountered 11 Zumper user reviews at the time of our research, who had given the site an average rating of about 1.5 stars. Common complaints referenced less-than-stellar functionality (especially on the landlord side) and customer support.
Between more than 11,000 combined reviews on Google Play and iTunes, the Zumper app had a much higher average rating of about fours stars, with most compliments revolving around ease of use and quality listings, while the relatively few complaints related to bugginess.
From a company perspective, Zumper, Inc. is based out of San Francisco, CA and has been in business since 2012. In 2018, the company acquired PadMapper, which they claim "will be used by over 40 million people to move home."
Zumper held a B+ rating with the Better Business Bureau as of 3/14/18, with no closed complaints.
Are There Other Home & Apartment Rental Sites Like Zumper?
There are perhaps hundreds of national, regional, and even city-specific (especially for competitive markets like San Francisco and NYC) rental websites available to choose from.
In fact, Zumper mentions some of the biggest competitors directly on their website, including Craigslist, Zillow, and Trulia, along with other options like HotPads, Rent.com, Apartments.com, and Realtor.com (to name just a handful)—most of which are also free to use.
From a landlord perspective, there are also many other sites (some of which are free) that assist with tenant screening services, such as Cozy, MySmartMove, and MyRental.com.
However, we didn't encounter any other options that combined a free rental search service, tenant screening for landlords, and credit report and application services all under the same roof, at the time of our research.
So, if you're looking for something exactly like it, Zumper is currently the only game in town. Does this necessarily mean you should use them, though?
Our Final Thoughts About Zumper
We found Zumper's website super easy to use, with quality, in-depth listings that provided high-resolution images, detailed descriptions, and all of the important information renters would need to take the next step.
On top of this, both their standard and Pro versions are completely free, so you might not have much more to lose than a few minutes of your time if you give them a try and find they don't meet your needs or preferences.
» Read Next: How to Avoid 4 Common Craigslist Rental Scams
The worst of the worst. Fake leads. Clueless customer service.

By Larry L.

,

Massachusetts

,

Nov 24, 2019
Verified Reviewer

Zumper is a useless copy cat of Zillow. They claim to want to take on Craigslist but can't compare. I got numerous "leads" in the form of inquiries that were for properties I wasn't advertising. Others have pricing that's inaccurate. Their customer service sends out replies that don't even line up with the question. They asked me if I'd recommend them and I said "no".

They shut down my account for saying so. Obviously this is no great loss but they are a tremendous time waster and I'd recommend staying away from them.

Bottom Line: No, I would not recommend this to a friend

---

Poor service

By Heidi S.

,

Ottawa, Ontario, Canada

,

Sep 29, 2019
Verified Reviewer

Very difficult to unsubscribe. Numerous unwanted, inapplicable emails. Rude and unhelpful responses from customer service. After multiple attempts and requests from multiple departments, I still received no help. Only redirection to no solution.

Bottom Line: No, I would not recommend this to a friend

---

Advertisement

---

Stay away, this is not a company with high integrity

By Wes B.

,

New York City, NY

,

Aug 14, 2019
Verified Reviewer

I was relocating from Dallas to NYC and needed help finding an apartment. The broker I dealt with was Gary Goldman, a man not to be trusted wherever he is now. He made verbal promises that he would offer a $1000 rebate of his commission if I used his services.

I arranged to fly in and spend one day locating an apartment. I provided specific criteria and a list of no-fee apartments that I was hoping to see. The expectation was that he would do the legwork and send a list of confirmed apartments we had appointments for. He had plenty of time to do this, but the morning of the showings, I was still hounding him for the list. It turned out many of the places I wanted to see were either unavailable or there was some "issue" with the property management company. What I didn't know at the time was that some places do not share commissions, so his job was to steer me to places that he can get a commission, not necessarily where I preferred. Some he was showing me included a fee which he claimed would be "worked out".

In the end, I landed in a building I absolutely hate. When I threatened to walk and find something else, he "sweetened" the deal by offering a $500 Amazon gift card. That he put in an email. I never received the rebate or the gift card. When I reached out to inquire, he was long gone. When I escalated it to customer service, they told me they cannot honor the rebate but that they would send me the gift card. That never happened.

Lesson learned, trust no one that tries to do business without any signed agreement. And, definitely choose a broker wisely. This place is a complete sham!

Bottom Line: No, I would not recommend this to a friend

---

Horrible experience

By Morgan S.

,

New York City, NY

,

Jul 9, 2019
Verified Reviewer

I am similar to most young professionals in that searching for a first time apartment in NYC is no easy task. The ins and outs of rental real estate in NYC is unparalleled and many young people are often scammed when they end up using a broker. Luckily - I have a personal broker (who is amazing), but the apartment we found was co-brokered with Zumper Inc. They definitely tried to scam my roommates and I by not IMMEDIATELY wiring back money that we sent to them on part of THEIR mistake. They mixed up apartment 1B for 2B and we ended up paying the WRONG required deposit, which was MORE than what we needed to pay. We sent them funds and they are still currently having a difficult time getting them back to us and it is truly unfathomable that we can wire money and they say they "can't wire money back". If we can send funds and you can receive them on your end - you can send them back. Period. Thank goodness my personal broker had my best interest - and when he spoke on the phone with the co-broker at Zumper Inc, he told me they called him a "prick" and used foul language. The Zumper brokers are so disrespectful and seemingly trying to take ADVANTAGE of young people moving to the city. Extremely unprofessional and I would absolutely not recommend to anyone.

Bottom Line: No, I would not recommend this to a friend

---

Advertisement

---

Bad experience

By Lennard C.

,

Peterborough, Ontario, Canada

,

Jun 11, 2019
Verified Reviewer

Person on the phone was very rude and hung up on us. We were not rude to them. I cannot and will not refer even the most horrible person I know to this service. I honestly do not know how a company like this can stay in business without people filing lawsuits against them. They were offensive.

Bottom Line: No, I would not recommend this to a friend

---

Zumper abandoned us in the middle of our apartment search

They are not prompt with scheduling viewings, very opaque and in the way they operate. They will frustrate and delay you and try to run the clock down on you so you are desperate. Once that happens, they will force into one of the buildings they have a deal with and make a commission. Avoid.

Bottom Line: No, I would not recommend this to a friend

---

Horrible experience

By Cristina M.

,

Jacksonville, FL

,

Feb 18, 2019
Verified Reviewer

I am a realtor in Jacksonville holding a license for 30 years. Never in my life if I had such a horrible experience with a company that is intended to help the customer. My customer was trying to get an apartment and lost out on it because the emperor keeps saying they can't verify her. We call for help they will not answer the phone and over 29 emails have been sent to no avail. Several voice messages no phone calls back…It's tough to get an apartment here and she lost it it was a rare find. We are still waiting for help.

Bottom Line: No, I would not recommend this to a friend

---

Amazing experience with LaDarian at Zumper

By Tobias P.

,

Illinois

,

Nov 8, 2018
Verified Reviewer

Together with my family, we were looking for a place in Chicago. Early on we engaged LaDarian at Zumper to help us as a real estate agent. I have moved about 10 times over the course of the last 10 years and LaDarian has easily been the best real estate agent that I have ever worked with! Hands down.

He does what he says, he is super professional, and as a Chicago native, he really knows his city. If you are looking to move to Chicago or within Chicago, make sure to reach out to LaDarian at Zumper!

Bottom Line: Yes, I would recommend this to a friend

---

Fantastic experience with Zumper!

Denver, CO

,

Jul 24, 2018
Verified Reviewer

We had a fantastic experience working with Amanda from Zumper (Denver).

She was wonderful from start to finish. She took the time to listen to what we wanted and had great communication with us throughout the entire process! We would highly recommend using Zumper!

Bottom Line: Yes, I would recommend this to a friend

---

Awful experience

By Thomas K.

,

Pennsylvania

,

Jul 23, 2018
Verified Reviewer

I'm a real estate broker and I sent my clients to Zumper for applications and credit reports. Ours is a very competitive market and when the property comes up a person interested need to move quickly or they will lose the property. That's one of the reasons that I used the site.

My clients went to the site, paid their money, filled out the application and had their credit run. Then we were unable to access the information from their site. The support was virtually nonexistent. No phone support, only email which was pretty much automated and not helpful which came about 10 hours after my first request for help. About five or six hours after that an email comes back telling me that they can reset everything, but all the data, applications and credit reports will be deleted. I asked them how they can be restored and I get no response.

Bottom Line: No, I would not recommend this to a friend

---