7 Tips for Better Back-to-School Shopping
Back-to-school shopping can be stressful and expensive. Our guide gives you clear advice about how to avoid alluring retail tricks, make a budget and buy the right items at the right time.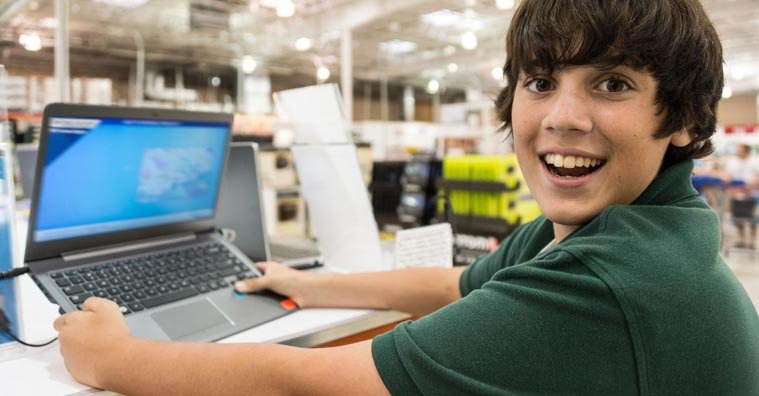 Back-to-school shopping requires an understanding of how stores use sales and pricing to influence your decision, how to budget wisely and which times are best to buy.
In our guide, we combined our research along with interviews of experts to generate seven tips related to retail strategies, planning, and purchase timing. These tips clarify back-to-school shopping in a way that will make this season's purchases easier and cheaper.
These tips clarify back-to-school shopping in a way that will make your buying decisions easier and less stressful.
1. Watch Out for Quantity Discounts
Doing back-to-school shopping on a budget isn't as simple as it seems. According to Palmer, it's a constant dialogue between what you see, what your sub-conscious is doing and what your conscious mind is thinking.
"In the case of making buying decisions, they're made on a sub-conscious level. You think your conscious brain is in control when you're trying to get in and out of the store," Palmer said. "Your subconscious is filtering everything around it and picking out things it thinks are important for your conscious to make decisions about."
Retailers know they have to appeal to your subconscious, so they craft their endcaps, aisles, and sales to speak to your inner shopper, Palmer said.
One of the techniques they use is called anchoring and adjustment. Our brain has a difficult time knowing the value of something when we're shopping, so retailers give us a frame of reference for a certain product.
A good example is a store selling 10 packs of pens for $10. One study reveals, that you'll buy 38% more when 10 packs of pens are on sale than if one pack of pens was on sale.
The reason for this is that we think 10 packs is excessive, so we buy six for $6 when we'd normally just buy a single pack of pens for $1.
"You'll notice when you're going to buy things that, if you have 10 for $10 instead of a $1 each, you'll end up buying more than if they were $1 apiece," Palmer said. "You think, we'll I'll stock up for the year. Your conscious brain will provide an explanation of why you're doing it but your subconscious has already made the choice."
To combat this tactic, make a list of what you need and include how many of each item you need. Use this as your anchor, not the store's volume discounts.
2. Mid-August Is the Time to Buy
Retailers are eager to earn your business because they know that the back-to-school shopping season is easy money.
Parents have to buy school supplies for their kids, so retailers market like crazy their school-supply sales.
Don't fall into the trap of doing your shopping as soon as the ads come out. Waiting will save you money.
"The best deals on school supplies also arrive around mid-August, when retailers drop prices even more as competition increases and back-to-school sales near their end," said Ivy Chou, a marketing expert who led campaigns for eCommerce sites Black Friday FM and DealsPlus.
3. Budget Before You Shop
In general, it's a great idea to make a budget for anything you spend your money on. Whether it's Christmas shopping, back-to-school or your monthly grocery and bills.
However, budgets are even more crucial before your kids start school because it's easy to overspend.
Emily Stroud, a Fort Worth-based CFA and MBA and owner of Stroud Financial Management, said you can counter overspending with a detailed budget.
"Plan out every expense for the month on paper, including back-to-school expenses, and then write down each expenditure as it happens so that you can stay on track," she says. "If you have a realistic monthly budget that you actually commit to following, it will allow you to live a more peaceful life from a financial standpoint."
Budgeting for the back-to-school season requires a shift in mindset, too, Stroud said.
"It's also important to take stock in why you are spending," she said. "If you're aware of the way your brain responds to shopping, it can help you make sense of the highs and lows of impulse shopping, avoid buyer's remorse, and lower your risk for overspending."
When you head to the store to shop for school items, remind yourself why you're going: to buy a specific list of items. Focus on that "why" aspect of your shopping and you'll help yourself avoid unnecessary or excessive spending.
Her final advice for budgeting involves bringing your kids into your process. Show them your budget and what it means. Go through ads with them to show them how to find deals that fit into your spending limits. Have them help you cross off items on your list when you buy them.
"You will be teaching your child a life-long skill, and it will make back-to-school shopping more fun for everyone," Stroud said.
4. Watch Out for Big Sales on Small Items
Have you ever noticed during back-to-school season stores usually welcome you with a big display of heavily discounted pencils, pens, and papers?
Chou says this is a common tactic used by retailers to get you in the buying mood and, hopefully, lure you into other parts of the store where you'll spend more money.
If you aren't going to the store with a specific list of items to buy, there's a good chance you haven't researched fair prices on items in other parts of the store.
Let's say you go to Target because you found out they have the best deals on pens and pencils, which happen to be right at the front of the store.
After you load up on the small stuff you shop around for items you didn't anticipate buying.
There's a good chance that back when you were planning your budget, you didn't include those items on your list and didn't comparison shop ahead of time.
"The retail store's main goal is to lure you into the store to buy everything else you need at higher prices," Chou said. "The more banners, flashy store signs and pretty colors you see, the more you'll spend."
5. Tiered Online Offers Aren't Always a Good Value
One of the classic retail tactics you'll see at certain stores' websites is tiered savings. For example, if you spend $100, you can get $25 off your purchase and if you spend $200, you can get $50.
At face value, this looks like a great deal. What many back-to-school shoppers fail to realize is that this is just another way of a website getting you to spend money on items that may be cheaper somewhere else.
If one of these websites catches your interest, take a minute to browse through their inventory. Pay special attention to the prices of the items you have on your shopping list. Are they a little higher than what you've seen on other sites?
If that's the case, it may not be worth it to spend more just to get free shipping or to get that $25-off-$100 deal you saw.
"If you only need a $25 backpack, that's an extra $25 to $75 they're earning off you by employing this tactic," Chou said.
6. Buy Computers on Black Friday and Cyber Monday
Retailers may have a few sales on laptops as the school year approaches. However, there's a good chance those sales aren't going to match the discounts and clearance prices you'll see on Black Friday or Cyber Monday.
"If you can wait until Black Friday and Cyber Monday, buy big-ticket purchases like laptops, tablets, and MacBooks then," Ivy said. "It's only a few more months, but could equate to hundreds of dollars in savings."
If your child needs just a basic laptop, then consider sticking with budget laptops from Acer or HP. Both of these companies sell Chromebooks for less than $200 and include all of Google's Office-style apps, including Docs (Word) and Sheets (Excel).
If your student needs native software like Word, then the Acer Aspire is a budget-friendly laptop that costs less than $300.
That same laptop may be closer to $200 if you can wait until Black Friday or Cyber Monday.
7. Big-Box Stores Tend to Have the Best Prices
We live in a time when hacks are commonplace and everyone is looking for a new angle that veers away from traditional choices in favor of the road less traveled.
However, when it comes to back-to-school shopping, the big-name stores are usually the ones who really do have the best prices.
Over the past couple of years, these stores have become more consumer-friendly through programs like free shipping and various discount codes.
"I still believe Walmart, Target, Amazon, Staples, and Office Depot/OfficeMax have the best back-to-school offers and now, many stores' best offers are online exclusives," Chou said. "These stores have dropped their minimum threshold for free shipping in the last couple of years as well, and all offer either rock bottom prices, online codes, or printable coupons for extra savings."
Final Thoughts
Nailing your back-to-school budget is as much as it is about understanding the dynamics between the stores where you shop and your subconscious and conscious choices about what you'll buy.
The key to the successful, budget-based back-to-school season is to prepare ahead of time by making a list of what you need, including both the items you want and the quantity you want.
Doing so creates a framework from which you can make your decisions and tell your subconscious that there are rules that need to be followed.
On top of that, you'll want to shop in Mid-August, avoid tiered spending offers that incentive bigger purchases and hold off on computers until later in the year.
Having the right mentality and focus when you go out to shop will help set the tone for your back-to-school season.