7 Things You Should Know About As Seen on TV & Infomercial Products Before Buying
As Seen on TV products have a spotty history regarding their effectiveness, customer service, and billing practices. Our guide will identify the most common issues buyers face, helping you avoid the pitfalls and spend your money wisely.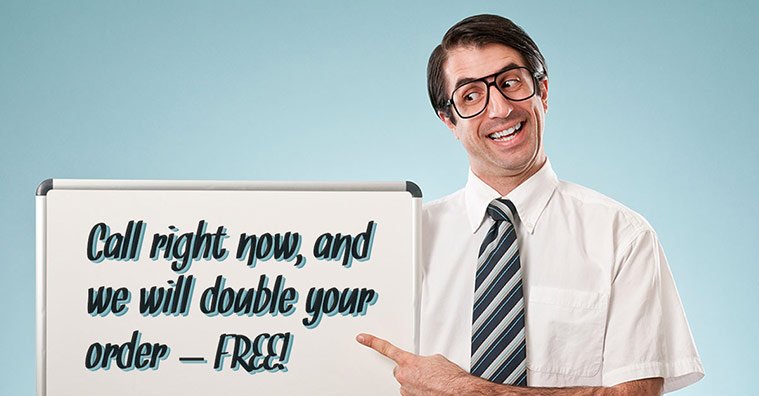 As Seen on TV manufacturers are masters at getting you to believe their products can work wonders.
Convincing marketing and persuasive testimonials lead many consumers to buy the products they see on TV. Months later, however, they regret the purchase.
The product may not work as advertised or it may not work at all. Or, it may be too expensive to return after calculating the money spent on shipping and handling.
This guide warns you of some of the pitfalls of buying ASOTV products. It will help you avoid buyer's remorse and make smart purchasing decisions.
For more shopping tips: Click here to subscribe to HighYa's YouTube channel
1. Inflated Shipping and Processing Fees
Many As Seen on TV companies will advertise a product at a price that's lower than what you'd expect.
However, many consumers fail to notice the shipping and handling fees. In many cases, these fees could be up to 50% of the product's price.
An example would be a hair trimmer that sells for $15. Shipping is $7. You can add a second hair trimmer for "free," but you'll pay an additional $10 processing fee. Your final bill is $32 for two devices: $15 for one trimmer and $17 in extra fees.
This pricing structure exists for two reasons. First, inflating shipping fees creates revenue for As Seen on TV companies.
Second, the more you pay in shipping, the less likely you are to make a return.
Continuing with our example of the hair timmer, not only do you pay $17 to ship the trimmers to you, but you have to pay to ship the trimmers back to the manufacturer. If return shipping is $10, then you'll end up paying $27 in shipping to return two hair trimmers.
You aren't likely to make a return if you know you're losing out on $27 just to get that $15 back.
2. Slow Shipping Times
Poor business practices are the second most common complaint against As Seen on TV products.
One prevalent complaint is that shipping takes a long time. We've seen some products whose fine print says it can take as long as 30 days for the product to arrive.
This is because some companies don't actually produce specific products until they've received enough orders to justify the manufacturing costs.
As a result, we've read numerous instances of customers waiting more than three months for their ASOTV products to arrive—and oftentimes, they're met with nothing but brick walls when contacting customer service.
3. Aggressive Up-Sell Techniques
Many "As Seen on TV" companies use some fairly aggressive techniques to sell you additional products during the checkout process.
The Arrow Posture posture corrector from Hempvana is a good example of this. The product claims to help correct your posture while wicking away moisture via the hemp fibers weaved into it. The Arrow Posture costs $24.99, shipping included.
When you click the "Order Now" button on its website, you go to a purchase page. This page gives you two choices: the posture corrector or the posture corrector and a jar of hemp-based pain-relief cream. This is the first upsell.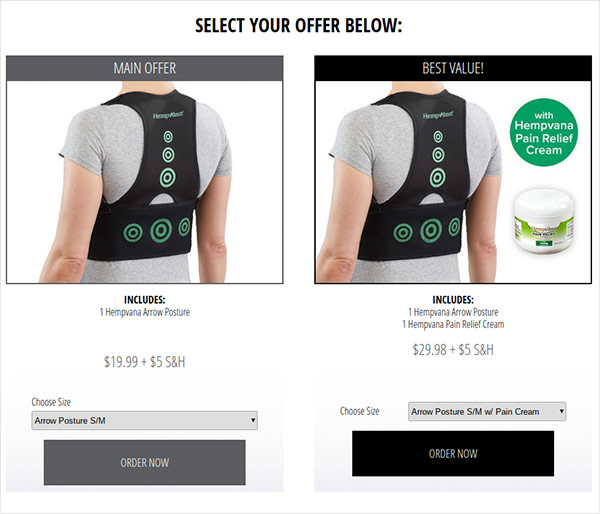 After you choose which offer you want and click "Order Now", you end up on the second upsell page.
Hempvana will ask you if you want to upgrade your posture corrector to a deluxe version with twice the hemp fibers. The page doesn't tell you how much the upgrade costs.
The next page you encounter is the third upsell. This page promotes Hempvana gloves for $19.99. The gloves boast the same moisture-wicking hemp fibers the posture corrector does.
If you give in to all the upsells, your order will cost you $74.95 instead of $24.99.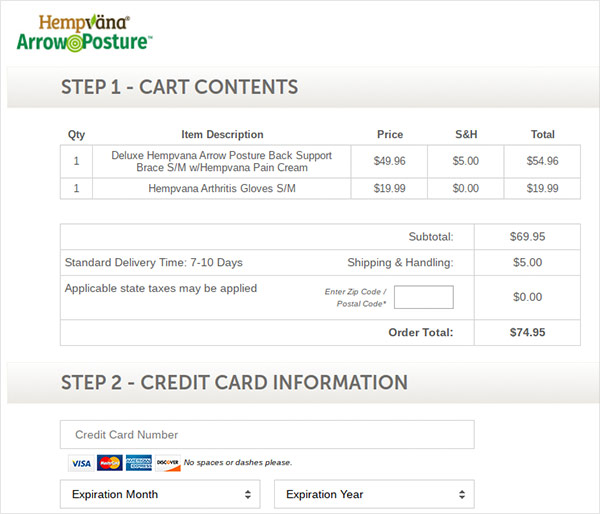 Our advice is to always check your order before buying it. In some cases, the company selling the products will add items to your cart you didn't ask for.
4. Poor Customer Service
Many of the As Seen on TV companies hire overseas call centers to handle their customer service phone lines. The personnel in these centers have to know details about a wide range of products and, often, their knowledge falls short.
When you contact customer service, you'll most likely speak with someone who has knows very little about the product you want to buy.
In some cases, the phone rep won't give you any information because the product "isn't in the system." This is a response we've received many times during our research of ASOTV products.
If you find an As Seen on TV product that you want, vet the company's customer service quality by calling the number on your screen and speaking with a customer service representative.
5. Frequent Solicitations
Another avenue for ASOTV manufacturers to make money is selling your information to third parties. After ordering an ASOTV product, you may find yourself suddenly inundated with telemarketing calls and junk emails.
In most cases, you unknowingly gave the company permission to sell your information when you made your purchase.
If you visit the product's webpage and read their Privacy Agreement or Terms & Conditions, you'll often see a clause that reads something like:
"You're agreeing to allow us to share your information with companies who may have a mutual interest."
As soon as you place an order with the company, you agree to allow the company to share your information with as many companies as they see fit.
6. Monthly Subscriptions
"Autoship" programs and monthly subscriptions allow the manufacturer to automatically continue shipping you a fresh supply of a product on a regular basis.
This type of tactic is most common among skincare products and supplements that are often advertised as part of a "risk-free trial" or a heavily-discounted introductory offer.
For example, you purchase a 30-day supply of a product for the discounted price of $19.95, plus $8.95 shipping and handling.
During your online checkout, you didn't notice the small disclaimer letting you know that you'll continue to receive a fresh supply of the product every 30 days thereafter. Each auto-shipped delivery will cost you $39.95 plus $8.95 for shipping.
We've seen stories of people not paying attention to their credit card statements, and racking up hundreds of dollars in charges from autoship programs.
Even in instances where customers discovered the autoship charge, the product's customer service personnel were often of little to no assistance.
Read the fine print when you're buying a free trial or reduced-priced trial of a product. This is where you'll find out information about the autoship program, as well as your options for opting out.
7. Poor Product Performance
Based on thousands of customer reviews, product performance is the most common complaint about ASOTV items. Electronics are the most unreliable category.
Exactly why these products get such poor performance ratings has to do with a couple of factors:
Claiming their technology is new when it's been around for years
Overhyping basic benefits
Making unproven claims about product effectiveness
A good example of these three scenarios at work is the HD antenna ASOTV industry.
You'll find manufacturers claiming their antennas use "new military-grade breakthrough technology" when they're just using the same tech as other antenna manufacturers.
They'll try and sell you on the antenna's ability to get multiple HD channels when all HD antennas get multiple HD channels.
The Bottom Line
When you're buying an ASOTV or infomercial product, our advice is to think carefully about the product you want to buy.
Is it a legitimate need in your life? If so, take a few minutes to search Amazon, Walmart, and Target for the product or alternative products.
It benefits you to by from these retailers because of the following advantages:
Shipping times are faster
You might be able to buy the product in-store
Return policies are more lenient
You can return it in-store or return ship for free
By purchasing the product or a similar option from a well-known retailer, you can avoid the headaches common with ASOTV and infomercial items.