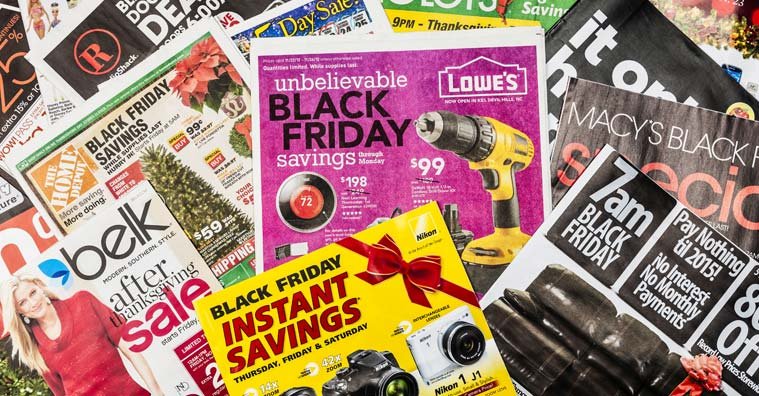 Image: iStockphoto/Catherine Lane
The day after Thanksgiving is the Hunger Games of the retail world, which makes a solid set of Black Friday strategies a necessity.
Shoppers converge on their favorite stores like they were storming a bargain-laden battlefield, ready to elbow, push and bulldoze their way to big-screen TV's, gaming consoles, washers, dryers and just about every big-ticket item you can find.
Credit cards race across so many card readers their magnetic strips gasp for life by the end of the day. Balances soar as quickly as big-box stores' profits and, in the end, Consumers win with great prices and retailers win with their biggest sales day of the year.
Amid all the hectic buzz of Black Friday – and the images of fist-fights outside department stores – it's easy to forget that fortune favors those who plan and execute a successful Black Friday strategy.
It's more than just camping out on a sidewalk for that 55" Smart TV, and to find out why, we talked with Ivy Chou, director of content and marketing at DealsPlus.com and BlackFriday.FM. Ivy gave us an incredible list of Black Friday strategies and tips that we're excited to share with you this year.
Looking for a Successful Black Friday? Plan Ahead
If you want the day after Thanksgiving to be a failure, start your research the night before as those spoonfuls of mashed potatoes settle in your stomach and you're struggling through an epic food coma.
Last-second price research won't prepare you for the biggest shopping day of the year, Ivy says.
"The best thing you can do is to, when ads come out early this month, keep an eye on what you want, make a list where you write down prices and where it's from," she said. "Don't wait until Black Friday."
Being methodical will help you get a sense of what you should be paying for those items you absolutely must have.
"Keep making and updating your lists," Ivy says, "and you'll see the prices start to drop as you see more and more ads."
And don't get stuck in the idea that the best prices only come out on Black Friday. Retailers have realized the biggest shopping day of the year can be too much to bear for their stores – cashiers hate long lines just as much as customers.
Related: 40 Black Friday Shopping Tips for Scoring the Best Deals
"More and more stores are starting deals the week of Thanksgiving," Ivy says. "They're trying to spread out their sales so shoppers don't bombard their stores in a span of 12 hours. It works out for consumers and the store."
Apps play a huge role in your game plan, Ivy told us as she went on to recommend BlackFriday.fm and DealsPlus.com. Basically, the app scans Black Friday ads, compiles them and lets you favorite items and add them to a shopping list.
"It helps you organize prices, store hours and store locations, so you can bring everything with you on your phone," Ivy says. "That's what I do every year and it never fails me."
Black Friday FM does have affiliations with retailers, but Ivy told us "whether we are affiliated or not, we'll treat every offer the same because our mission is to help the shopper."
Top Deals: Tech and Home
If you're looking for big-ticket items, you're in luck. Ivy says the best Black Friday deals are found in tech and big/small home appliances.
Why these categories? Well, the answer has two sides to it. First, the marketing side.
Retailers lure customers to their stores, Ivy says, with a door-buster item like a big TV. But, there's a catch.
"Best Buy and Walmart always have a deal on a TV, but there's usually only four or five of that particular model at that price," Ivy says. "Things like that really draw the customers in."
Since there's a good chance that you won't get that doorbuster if you don't camp out the day before, you're more likely to buy other things in the store since you're already there and you need to knock some items off your list.
Now, this doesn't mean that there's only four or five of every item on sale. There are plenty of deals to be had with non-door buster electronics like phones, fitness trackers, and other items.
As for the second reason why things like appliances get bargain prices during Black Friday, Ivy says it's because these products are one-time purchases. For example, you buy a washing machine once every five or six years. Retailers want to make that sale and Black Friday is the perfect time to do it.
"There are big margins for retailers in this category," Ivy says. "You might be more willing to replace your old washer or dryer if you find a great deal on them."
It's true; our wallets get a little looser during Black Friday. The sales, hype, and craziness are hard to resist, but just because you're ready to spend doesn't mean you should abandon your negotiation skills. There are deals to be had beyond the sale price, Ivy says.
Learn the Art of Price Matching and Negotiation
Black Friday's onslaught of ads and door-busters can get you to go to stores you wouldn't normally shop at – even if they're places you don't quite trust or you know have a mediocre reputation.
Ivy says this is where price matching comes in.
"Let's say you trust Best Buy or Home Depot more than the store where you saw the low price," she told us. "If you have it in print or on your phone, ask to see the manager at those stores. They have the power to change prices or throw in additional services."
So, if you're buying a washer and dryer set and the manager can't quite match the price in the ad you brought in, don't be afraid to sweeten the proverbial pot by asking for white-glove service and delivery instead.
If you're skeptical about the price-matching technique, remember these two things, Ivy says:
One in 10 purchases should be negotiated, but people don't try.
Competition among retailers is fierce and most will do what it takes to earn your business on Black Friday.
Preparation will foster for price-matching success. Google the price-matching policy of the store where you want to buy the item.
Read the fine print. Your store may require that the price match is for an item of the exact same model and color, and it might have to take place on the same day as the competitor's one-day sale, Ivy told us.
"Taking those necessary steps means you're setting yourself up for a much higher chance of being able to negotiate price and services," Ivy says. "Like all Black Friday shopping, the more prepared you are, the better prices you'll get."
However, not all products or services are cheapest during Black Friday.
Black Friday Deals Aren't the Best for Travel, Winter Gear and Holiday Decorations
While you're literally going to find thousands of items with amazing prices on Black Friday, travel and winter gear are most likely not going to be two of them.
Travel prices tend to be their highest around Thanksgiving, Ivy says, and while there might be a few sales here and there, you should wait until January to book.
Related: 4 Steps to Find the Cheapest Flights This Holiday Season
"Travel is something that's separate from retail. If you find a good deal on Black Friday, I would compare those prices and wait until after New Year's to travel," she told us. "You are better off booking from mid-September until the end of October."
As for winter gear, she said, you'll find good deals here and there but the best bargains will come later in the season.
"I do see a lot of good deals out there on outerwear, boots, and gear from brands like North Face and Columbia," Ivy says, "but the cheapest gear is going to come at the end of December."
If you've got a trip coming up and you need to buy your winter jacket or boots before December, use the Black Friday research tips we talked about earlier. Just keep in mind that big 70%-off sales and clearance prices most likely won't show up until the end of the year.
The same rules apply to holiday decorations – there will be a few deals out there, but nothing will match the price-slashing you see the week after Christmas.
See Also: How to Save on Holiday Decorations
Don't Forget Family, Friends and Other People Matter
Ivy's last bit of advice is, in our opinion, the most important. People are what matter most during Black Friday and holiday shopping. Think about it: You brave the swarms of shoppers to find the perfect gift for those you love and appreciate. The act, in itself, is an expression of appreciation.
Yet, we often succumb to the stress and craziness. Sometimes we take that out on loved ones or fellow shoppers, other times we take it out on cashiers and customer service representatives.
Related: How to Take the Stress Out of Thanksgiving
Be gracious when negotiating a sale, price-matching or just waiting in line.
"It's important to remember that these people are taking time out of their Black Friday to work and probably aren't getting paid much," Ivy says. "Be patient and understanding, and be very, very courteous."
Also, Ivy told us, you have to remember what you value most. During this time of the year family usually tops the list.
"If you typically have dinner as a family and it's an uninterrupted time, you don't need to push yourself to go out and shop and wait in line," she says. "But, some families like going to a store early and camping out."
Whichever style fits you best, embrace it.
"Family time is about the family and about enjoyment," Ivy told us. "It's about having fun together, and to remember that Thanksgiving is a time to appreciate each other."
Summing It Up: How to Have the Best Black Friday Strategies
The principles of successful Black Friday shopping revolve around planning. Get cracking on your research ahead of time and use apps like Black Friday FM or websites like DealsPlus to keep track of what you want, how much it costs and who is selling it.
Keep an eye out for great tech sales, but remember that the door-busters you often see have limited inventory.
If you're thinking it's time for a new washer, dryer or other home appliance, Black Friday is a great time to upgrade. As you negotiate prices, talk with a manager to see if you can get white-glove service with your purchase.
Be prepared to enter a tornado of eager shoppers, but remember that everyone wants the same thing: a great holiday where those we love and care about are happy with our expressions of kindness. Extend that mindset to fellow shoppers and employees.
See a tired mom or dad with kids who're struggling to keep things under control while she's at the back of the line? Give up your spot for him or her. Standing in line at that Starbucks in the mall? Give the cashier $10 and tell him or her to use it to pay for the next couple of drinks.
When you're shopping, we think it's a great idea to have a few $5 Starbucks cards on hand. Pass them out to employees who keep their cool amid the hoards, or who go out of their way to be kind when they don't have to.
Additional Holiday Tips and Advice
We're glad you stopped by HighYa to study up on Black Friday shopping strategies. If you think you need more information and advice, head to our holiday shopping and travel tips section, where we've compiled all of our best holiday season articles.
Though we didn't talk about it in this article, Cyber Monday is becoming a pretty big deal. We've compiled a list of our favorite do's and don'ts of Cyber Monday, including using a site's online chat to score coupon codes and discounts.
We've also got a great article on how to avoid common Black Friday scams, a topic that you may not read much about. Scammers know you're looking for good deals and, as our Derek Lakin writes, "they'll use your desires against you in order to scam you out of your money, your personal information, or both."