Bespoke Post Reviews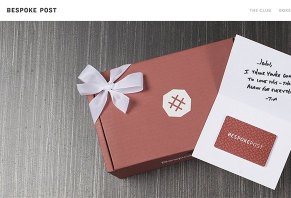 Bespoke Post is a $45-a-month subscription service that caters to men. Their monthly boxes are sent based on the preferences of each customer, but can also be purchased without a subscription.
About Bespoke Post
Bespoke Post is a monthly subscription club for men that delivers boxes of various goods at $45/month for members and $55 per box for non-members.
The company's boxes feature a mix of American- and foreign-made goods. Bespoke also has a male-focused blog with posts centering on culture, relationships, travel, and fashion.
The New-York based company started in 2012 and received a significant boost when it raised more $875,000 in the following years.
Its founders are Steven Szaronos and Rishi Prabhu, a pair of MBA grads from Northwestern University. Prabhu is a former employee at Groupon and Google, while Szaronos spent time at Callaway Golf and Deloitte.
As you figure out whether or not Bespoke Post is right for you, it's a good idea to understand how their memberships work, what the real value of their boxes are and how that value compares to other companies.
You'll also want to get a sense of what your fellow consumers are saying about their Bespoke experiences.
We're going to cover each one of these areas over the next few minutes.
How Does Bespoke Post Work?
Just like many of the other subscription services in the world today, Bespoke entices you to sign up for their $45-a-month box shipments.
To enroll in their program, you answer a few questions about your preferences and provide them payment information and your address.
Subsequent shipments are sent out based on your preferences. You'll get an email on the first of the month listing that month's collection of boxes.
Bespoke Post gives you a five-day window to decide if you like your box or you want to switch it out for something else. You can also skip the shipment altogether and you won't be charged.
Shipping and exchanges are free, according to Bespoke's website.
If you don't want to join the Bespoke Post membership program, you can buy single boxes for $55. You can choose from the same boxes members choose.
Bespoke Post also has an online store that features items you won't find in your box, but nonetheless reflect the Bespoke style and philosophy.
Some of the items you see in boxes and in the store are Bespoke Post branded, while others are manufactured by companies in the U.S. and abroad.
What's the Real Value of a Bespoke Box?
According to Bespoke Post's website, each box they curate has a retail value of at least $70.
As someone who's received several Bespoke Post boxes as a gift, I have personal experience with their products. I've also been a subscriber to SprezzaBox, so I'll use my experience with both companies to help you understand the value of your Bespoke items.
One of the boxes I received from Bespoke Post was the Homefront, a frontier-themed box with three items: a Bear & Son knife, a Zippo lighter and U.S. Shelby Co. can opener.
The subscription price for this box (shipping included) is $45. Here's the real value of the items based on a search at the time of publishing:
Bear & Son Cutlery's 3 7/8" walnut trapper knife: $50.99 (Bear & Son website)
Zippo Street Chrome Lighter: $14.95 (Walmart)
U.S. Shelby Co. by Maratac P-38 Can Opener: $4.99 (Amazon)
Grand total: $70.93
When you throw in the cost of shipping each item from three different websites, you're looking at around $80.
However, you should never judge a subscription service by one box. So, I'll lay out the contents and price of another box I received, the Bloom:
Chemex Classic 6-cup coffee maker: $43.50 (Chemex website)
Ovalware RJ3 drip kettle: $28.99 (Amazon.com)
Jack's Stir Brew Coffee, 4 oz. bag: $4.25 (Jacks' website)
Grand total: $74.74
Our research and personal experience say Bespoke's boxes offer at least $70 of value, especially considering how much you save if you shipped each item separately.
A Comparison to SprezzaBox
To give you an idea of how tricky it can be to save like you can with Bespoke, I'll use my experience with SprezzaBox, another subscription service that sends out monthly boxes of accessories.
Their website claims that the contents of their box retail at around $100. Here's a list of the contents of their January box, along with the supposed retail price:
Twillory herringbone tie: $69
Bedford & Broome performance socks: $16
Thread Etiquette anchor bracelet: $27
Smart Req armband: $10
HyperGo sports wipes: $2
Sprezza water bottle: $4
We immediately found issues with this pricing. For example, at the time of publication, Twillory was selling all ties on their website for $39. This was not a sale price, but the regular price.
The sports wipes were a promo-style product with only one wipe, and the armband and water bottle were relatively generic products that could be found on any number of websites.
Based on our research, SprezzaBox's items are equal to the value you pay for one box. Like Bespoke Post, you get free shipping with SprezzaBox, so you end up saving money by getting everything in one delivery.
Is Bespoke Post a Good Value?
In our opinion, Bespoke Post offers good value for the items you get in the box. As a member, you'll probably save at least $25 on the items delivered in your box (shipping not included).
When you compare that to what you get in a SprezzaBox shipment, you start to see how Bespoke Post's product selection offers real value.
What's the Bespoke Post Return Policy?
According to Bespoke's website, all boxes ship between the 6th and 15th of the month.
You have 60 days to return a box or an item you purchase from the Bespoke Post store.
If you return a box, you have to return the entire box's worth of items. If you return an item from the store, it has to be in mint condition.
Bespoke handles returns one of two ways. You'll get free return shipping if you get an exchange or credit the purchase amount to your account.
If you want a straight-up refund, you'll pay $6 for return shipping.
What Are Other People Saying About Bespoke Post?
As subscription services like Bespoke Post have popped up in the past five years, subscription-focused blogs have also emerged.
My Subscription Addiction's Reviews of Bespoke Post
One of the most popular is My Subscription Addiction (MSA). The site doesn't rate subscription services in a general sense. Instead, they rate each individual box they receive.
So, while you won't necessarily find consumer reviews about an entire service, you will find plenty of consumer reviews about individual boxes.
Review of Bespoke's Scout Box
For example, MSA co-founder Eric Cadman wrote a review of Bespoke Post's June 2016 box, Scout. He was pleased with the box, noting how useful some of its contents were.
In conclusion, he said the box's quality was indicative of his overall experience with Bespoke Post.
"I can't remember a time that I have not been happy with my Bespoke Post delivery," Eric wrote. "While there is no mystery to these boxes … there is still a pleasant surprise to the quality of each item in the box."
Review of Bespoke's Boost Box
Fellow MSA co-founder Liz Cadman reviewed Bespoke's Boost box, which contained a WMF Mix & Go nutrient extraction blender, a long metal spoon and several packs of My Protein whey powder.
Like Eric, she ended her post with glowing praise for Bespoke.
"I'm always so impressed with the quality of the items Bespoke Post sends in their boxes," she wrote. "The value of this box is about $75, and it's a powerful little blender with a clean design, so I'm very happy with that value. Plus, I've been using it every morning since I got it – so definitely adds to the personal value!"
Review of Bespoke's Concentrate Box
Eric also wrote a review of Concentrate, a box that contained a Primula cold-brew coffeemaker, an eyedrop bottle of Bittercube Bolivar Bitters and a concrete cup-valet set from Port Living Co.
This box was interesting to us because it contained a coffee maker that costs around $25 at Bed Bath & Beyond and a bottle of bitters (flavoring) that costs $10. Those items bring the total of the box to $35.
The Port Living Co. cup and tray were what caught our eye. When we went to the company website, it reminded us of online-only startup companies who create a clean looking website they use to ship items from China's mega-wholesale site Alibaba.
What made us even more suspicious of the concrete company was that we couldn't find any information about the supposed founders of the company, Annastasia & Jordan Castro.
In our opinion, this box doesn't quite live up to the $70 standard Bespoke Post set. However, My Subscription Addiction's Eric Cadman was pretty impressed.
"I haven't had a disappointing Bespoke Post in quite some time – this one knocks it out of the park again. Not only is the curation spot on – but the products are all high-quality," he said.
My Personal Reviews of Bespoke Post
In my experience with four Bespoke Post deliveries, I've been extremely pleased with what I received.
For my birthday one year, wife got a two-for-one deal on Homefront and a box called Copper, which contained two hammered Moscow Mule mugs, a bottle of Liber & Co. ginger sauce, a Lewis bag (for holding ice) and a wooden mallet for crushing the ice in the bag.
I noticed that copper Moscow Mule mugs were of better quality than the ones you typically find in outlet stores. There was exposed copper on the outside and inside of the mugs (cheap mugs only have copper on the outside) and the hammered surfaces gave the mugs a rustic, handmade feel.
I also received the Bloom box I priced out earlier in this review. The products are great, particularly because the Chemex coffeemaker is a premier brand and not a generic knockoff.
The last of my four boxes was the Weekender, which included a leather-handled canvas weekend bag I've used time and again.
My own experience has taught me that Bespoke boxes usually feature one big-ticket item:
Homefront: Walnut trapper knife
Bloom: Chemex coffeemaker
Copper: Two copper mugs
Weekender: Canvas bags
These big-ticket items usually high quality, although I can't vouch for every box Bespoke Post sends.
Our Final Thoughts About Bespoke Post
The world of subscription services has exploded in the past five years. Everything from global foods (Try the World) to wine (Club W) can be sent straight to your door for relatively reasonable monthly fees.
Male-focused services are no exception. I mentioned SprezzaBox along with Bespoke Post in this review, but there are dozens more out there, including Five Four Club (clothing), Birchbox Man (personal care) and Gentleman's Box (accessories).
How to Find a Subscription That Works for You
The key to finding a box that works for you is understanding what kind of person you are. Do you enjoy mixing up your personal care products? You may enjoy Birchbox Men – each box contains a variety of samples from top-tier personal care brands.
If style is more your preference, you might want to opt for Five Four Club or the swankier Bombfell.
For fans of ever-growing collections of accessories, try SprezzaBox or Gentleman's Box.
However, if you're looking for unique ways to bring quality items into the fold of your repertoire, you may want to consider Bespoke Post. The products they put in their boxes tend to receive high praise for their sturdiness and style.
Understand Bespoke Post's Return Policies
One of the biggest pain points for subscription customers is the matter of returns.
Bespoke's return policy is pretty straightforward: You've got 60 days to return the item like you received it. For example, if you received the Bloom box and used the beans, then you can't return the box.
Remember that you'll only pay a $6 shipping fee if you want your money refunded.
Consider Whether or Not $45/Month for Bespoke Post is Worth It
In the end, the main question everyone has is, "Is Bespoke Post worth it?"
If you're judging by the value of the items you get in your box, our findings say, "Yes." However, if you're on a tight budget and you love the idea of boxes, signing up for a subscription may not be worth it.
Related: How to Choose the Best Subscription Box Services
You might want to wait until Bespoke Post runs promotions to get a box you've been eyeing. For example, Bespoke runs a "Black Box" promo on Black Friday. If you make a purchase of at least $45 on Black Friday, they send a free box with mystery items along with your purchase.
Bespoke will also run promotions from time to time, like the buy-one-get-one promotion my wife scored.
Our final bit of advice is this: Keep an eye on the boxes you like and know that they won't be around forever. Bespoke will occasionally bring back an old favorite, but those occurrences are few and far between.
Expensive scam

By Neal A.

,

Arizona

,

Jan 13, 2020
Verified Reviewer

They originally send emails notifying you of what will be in your box. It's usually overpriced trash. I declined two months in a row, the next month on the 7th I hadn't received a notification yet so I logged in to see what they were recommending...they had decided on 2 lightbulbs, yes just TWO LIGHTBULBS, and they are charging me $50 for TWO LIGHTBULBS, no option to cancel the box. No option to unsubscribe from the service.

Total scam company.

Do not subscribe, they only have nice-looking garbage, you can literally go to any artsy store or website and get as high or higher quality for less.

Bottom Line: No, I would not recommend this to a friend

---

This is a complete scam

By Derek P.

,

Washington

,

Sep 30, 2019
Verified Reviewer

I should have known when I started and the first thing they wanted was complete access to my PayPal account. All I wanted was to see what I would be getting and how much it would cost. You know, like they claim you can do without a required purchase. But before they show you anything you are forced to connect your PayPal account.

When I saw that all I was getting for my first box was a small overnight bag with nothing inside, I decided this wasn't for me and backed out of the order.

Imagine my surprise when I wake up the next morning to a PayPal alert thanking me for my Bespoke purchase. They had literally completed the purchase without my authorization. That's fraud.

Do NOT go with these guys. They are criminals.

Bottom Line: No, I would not recommend this to a friend

---

Advertisement

---

They'll steal your money! Order stuff without you buying it!

By Matthew C.

,

Portland, OR

,

Sep 3, 2019
Verified Reviewer

So I made an account to see what they had. Soon enough there was $48.50 charged to my checkings and the package was on its way to my house. I never confirmed purchasing anything. I called and asked for a return but I'm charged $6 to return! The guy said they don't make any more from the $6 but I shouldn't be responsible for paying that! This company is a scam! Do not sign up unless you want to lose $6 and get a headache!

Bottom Line: No, I would not recommend this to a friend

---

It's a scam

By Brian F.

,

Indiana

,

Jun 21, 2019
Verified Reviewer

Checked them out through an ad on my gaming app, had to create an account to look further. Wasn't interested, but three months later they charged my card with no notice or approval. No emails, nothing. That is not how you conduct business.

Bottom Line: No, I would not recommend this to a friend

---

Advertisement

---

Solid

By Alex J.

,

Texas

,

May 13, 2019
Verified Reviewer

Bespoke Post has given me a million cool things that I could buy. Additionally, they have rolled out a million products that I have, or might, buy.

I've bought 79 boxes from Bespoke Post. Perfection, every time.

Bottom Line: Yes, I would recommend this to a friend

---

Quality selection, thoughtful items

By Jason Y.

,

Texas

,

May 2, 2019
Verified Reviewer

I have been a Bespoke Post customer for a while now, and I am always impressed by the product quality and thoughtfulness that goes into to each of their boxes. I haven't had a month go by that there wasn't something worth having in my selections.

Bottom Line: Yes, I would recommend this to a friend

---

Amazing service

By Javier F.

,

Miami, FL

,

Apr 17, 2019
Verified Reviewer

I just want to thank the team at Bespoke for being so attentive to my needs and my orders! I picked the wrong package and they were able to fix it immediately. Very rare nowadays to find companies with such detail to there customer needs like this! Thanks again guys.

Bottom Line: Yes, I would recommend this to a friend

---

Incredible service!

By Brian L.

,

New York

,

Apr 13, 2019
Verified Reviewer

Hello Bespoke!

You offer a wonderful service for buying a gift for a man that already has seemingly everything! Your product is high quality and very unique! When I needed extra assistance with the website and other details I was ready for the usual delay, no response and possibly someone from a foreign country that would probably not be familiar with the website/product or be able to provide the assistance I needed. HOW WRONG I WAS! I received courteous, informative and patient answers to all of my questions. I just wanted to let you know this as I really value customer service and will definitely be doing business and referrals in the future!

Bottom Line: Yes, I would recommend this to a friend

---

Great service, even better people!

By Sean P.

,

Pittsburgh, PA

,

Apr 12, 2019
Verified Reviewer

The team at Bespoke Post take a great idea and support it with an amazingly helpful staff. I don't get a box each and every month, but when I do, I'm never disappointed. Every item is verifiably reduced in price and always great quality. I've had a couple of requests for customer service and always been helped, usually above and beyond. Love them!

Bottom Line: Yes, I would recommend this to a friend

---

Great products, even better customer service

By Wilber A.

,

Pinole, CA

,

Apr 7, 2019
Verified Reviewer

This is hands down the best subscription box I've ever had! Their products are great and every time I've forgotten to choose a box they always pick the best one for me and I always love them! Not to mention the fast and friendly customer service, that right there is definitely what separates them from the rest!

Bottom Line: Yes, I would recommend this to a friend

---

Call to customer service

By Phil J.

,

Wisconsin

,

Apr 7, 2019
Verified Reviewer

Cory is GREAT! Take his photo with a caption that says "You should all be like him! Give the man a raise! He handled an upset customer very well, was polite and explained in detail what and how the site works. Kudos!

Bottom Line: Yes, I would recommend this to a friend

---