Bevel Reviews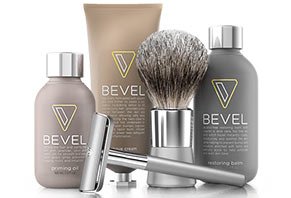 Bevel's five-part shaving system uses a single blade safety razor, a special shaving cream application brush, and topical products to reduce your razor bumps.
About Bevel
Geared toward individuals of color and those with coarse, curly hair, Bevel is a five-part, end-to-end shaving system specifically designed to help reduce razor bumps and irritation.
In fact, when using all five parts of their system together, the company claims that Bevel can help you achieve smoother, clearer skin within 4 weeks!
Look, we know that razor bumps and irritation can make an otherwise pleasant experience something to be dreaded. But other than quitting shaving an adopting a mountain man look, is there really something to the Bevel system that can help you "shave with a razor again without fear"? That's exactly what we'll help you decide.
Before we dive in though, let's find out exactly what you'll get with the Bevel shaving system.
What's Included In Your Bevel Shaving System?
There are five main parts to the Bevel system; two pieces of hardware and three topical products:
At the core of the system is Bevel's single blade safety razor (which they call a "re-engineered version"—we'll come back to this in a moment). Unlike modern multi-blade razors that cut hair below skin level and can lead to bumps, this razor will cut hair level with your skin, while giving you a closer shave than alternatives like electric razors, or dealing with the harsh chemicals and bad smells of depilatory creams.
In fact, by featuring blades with perfectly polished edges, a weighted handle, and a razor head that's designed to provide "effortless, precise maneuvering," Bevel's safety razor has been "clinically proven to reduce your razor bumps and prevent irritation in those with coarse, curly hair"!
On top of this, your kit will also include:
Priming Oil – Features lavender oil and vitamin E-rich olive oil, both of which naturally moisturize and reduce irritation and swelling. This will also soften your skin and your hair and prime them before each shave.
Badger Brush – A high quality brush that exfoliates and lifts hair while you're applying shave cream.
Hydrating Shave Cream – Formulated with shea butter, aloe vera, and white tea to moisturize, protect against UV damage, and heal and smooth damaged skin.
Restoring Balm – A post-shave treatment featuring oat kernel, tea tree oil, and jojoba oil to moisturize, protect against irritation, and repair your skin.
Ok, now we know more about what's included in the Bevel shaving kit, the ingredients it uses, and the benefits it claims to provide. But is this realistically what you can expect?
What Causes Razor Bumps? Can Bevel Help Prevent Them?
Razor bumps are caused when "strands of hair curl back on themselves and grow into the skin" after shaving, leading to irritation and pimples, and even scarring in some instances. While just about everyone who shaves has experienced razor bumps at some point, they're most common among those with coarse, "tightly curled or spiral hair strands."
While the exact causes and severity of razor bumps can be specific to each individual (e.g. those with oily skin are more likely to get them, while those with especially sensitive skin might be more prone to swelling and irritation), one of the primary culprits is modern multi-blade razors.
Specifically, these types of razors actually provide too good of a shave. Why? Because they first lift the hair before cutting, which means that after the hair is "released," it actually goes back below your skin line. And although this might give you a close shave, it also makes these hairs more susceptible to curling back and causing bumps.
From this perspective, the single blade found in Bevel's safety razor won't lift the hair, meaning that you might end up with fewer razor bumps. So, whether you take the company's word for it or read about other people's experiences online, the reality is that safety razors just might be able to eliminate (or greatly reduce) your razor bumps.
Is the Bevel Shaving System Clinically Proven?
There are a couple important things to note here:
First, Bevel claims to have "re-engineered" their safety razor, but they don't provide any details as to what this means. But based on our research, their design doesn't appear to be meaningfully different than most other safety razors out there (more about this in a second).
Second, although Bevel claims that "in clinical trials, 4 out of 5 patients saw a 50% reduction in razor bumps and skin irritation over a 4-week period," this might be a prime example of some overzealous marketing. Why?
Here's how the company puts it:
"A four week user-perception study was conducted prior to making Bevel available to the public. In just four weeks, four out of five men reported an overall improvement in skin clarity, smoothness, and softness using Bevel's razor blades. They reported a shave that is closer than other methods of hair removal. Participants also reported positive changes in the reduction of ingrown hairs and an improvement in the appearance of razor bumps."
So, this wasn't actually a clinical trial. Instead, participants basically just used the Bevel system for a month, filled out a questionnaire, and reported back on their experiences. Granted, their results seem encouraging, and in line with what other safety razor users are saying online, but this still doesn't make them "clinical."
Now, how much will you pay for Bevel?
How Much Will a Smoother Shave with Bevel Cost You?
A 3-month supply of Bevel's shaving system (Priming Oil, Shave Cream, Restoring Balm, and 60 blades) costs $59.85, which is split into three equal installments of $19.95. Your first shipment will include a complimentary razor and badger brush.
After your original shipment, you'll be sent a fresh supply of Priming Oil, Shave Cream, Restoring Balm, and 60 blades once every 3 months, and will be charged $29.95 each time.
Compared to most other membership programs (which basically just involve recurring shipments), Bevel also provides members with 1-on-1 video or phone consultations, blades sent to you while you're traveling at no extra charge, and access to grooming and style-related articles. You can even receive free products by referring your friends!
All Bevel products come with a 30-day refund policy, less S&H. You can also cancel your membership at any time by calling customer service at 1-844-442-3835.
Are There Other Methods of Reducing Razor Bumps?
Taking everything we've learned so far about razor bumps and how to minimize them, along with Bevel's price, it might seem like a no-brainer to hand over your credit card info. But not no fast. Why?
You might not need a safety razor at all in order to accomplish this, because there are several other ways of reducing shaving bumps without necessarily having to purchase any additional equipment.
This includes making sure you're using a sharp blade (ideally, less than a week old), shaving immediately after your shower (the steam will condition your skin and hair), making sure to shave in the same direction as your hair, and more.
But are customers finding that Bevel's benefits are worth the money? Let's take a look before wrapping things up.
Customer Feedback For the Bevel Shaving System
GentlemenStandard.com provided an in-depth look at the Bevel system; everything from packaging to performance. Overall, they noted that the safety razor was high quality, the topical products smelled good, and they liked the fact that it came with a "manual for rookies."
On the other hand, they thought that, "The shaving cream needs some bolstering to produce a richer lather that lasts longer," and that it might be easy to over apply the priming oil or shaving cream and quickly run out.
TheShavingReview.com also provided a fairly in-depth Bevel review, who liked the overall design of the kit, the razor's "strong and sturdy design," and the pleasant scent of all the topical products. They ultimately concluded, "If you're sick and tired of razor bumps, or even just looking for a high level shaving kit at a competitive price, then there's absolutely no reason for you not to try the Bevel Razor and the shaving system kit."
Given all of this, should you take the plunge with Bevel?
Does the Bevel System Make Financial (& Facial) Sense?
Razor bumps are awful, plain and simple. They hurt, they're unsightly, and they last for weeks. So if you're looking to try something new in order to make them stop, and are looking for an all-in-one system that can help ensure you start off on the right foot, Bevel seems like a good choice.
This is especially so when you consider that most mid-level safety razors cost between $30 and $60, which could be more than Bevel's entire system. Plus, you'll continue receiving products every 3 months, so that takes one less thing off your to-do list.
However, the vast majority of Bevel's ability to potentially reduce razor bumps lies with its safety razor, and has very little to its topical products. Given this, continuing to receive these products every 3 months might not be the best use of your hard-earned money.
So, if you're just starting to look for solutions, you might get more bang for your buck by trying some of the options above, without spending anything extra. Then, you can know whether or not it'll make financial sense to take the leap and sign up for Bevel's subscription service.
Good product

By Chris F.

,

Florida

,

Aug 9, 2019
Verified Reviewer

I struggle with finding shaving products for my coarse hair but this one seems to be working ok so far. It is a little pricey. They do give your referral codes for discounts through a link. This helps you save a couple of bucks.

Bottom Line: Yes, I would recommend this to a friend

---

The Brush

By Vincent S.

,

Lakewood, CA

,

Jul 27, 2019
Verified Reviewer

I love the after-shave lotion, however, the brush is losing way too many hair bristles every day. I have had other brushes in the past that also lose hair, this one just is at a faster rate, and they get caught in the razor. I'm wondering if anyone else has this problem?

Bottom Line: No, I would not recommend this to a friend

---

Advertisement

---

Customer for 2 years

By Gary C.

,

Colorado Springs, CO

,

Jul 26, 2019
Verified Reviewer

I am very disappointed in a company that I supported as a customer for two years. The company is dishonest. I will not disclose any more information as I am looking into the practices of how Bevel steals money from customers. No one should ever spend over $80 in three months for a product.

Thanks for absolutely nothing Bevel!

Bottom Line: No, I would not recommend this to a friend

---

Zero Customer Service

By Johnna C.

,

Mableton, GA

,

Nov 21, 2018
Verified Reviewer

I bought a Bevel Gift card. The code does not work in check out and no one ever answers the 1-844-442-3835 phone number.

This is not how you earn customer trust. Have people answer your phones during business hours at a minimum.

This is a scam.

Bottom Line: No, I would not recommend this to a friend

---

Advertisement

---

Updated review

Update

By Eniola F.

,

Texas

,

Sep 20, 2018
Verified Reviewer

Not great with communication; I ordered but never ended up trying the product.

Bottom Line: No, I would not recommend this to a friend

Previous review
Sep 5, 2018

Learned my lesson

Usually I research everything I buy before I buy it and I look at tons of reviews, but unfortunately, that didn't happen this time. GetBevel.com is run by thieves who have no desire to run an actual business. I ordered the product, and I was very excited to receive said product until time kept passing and passing and my order was still processing. Their site warns that orders process in 15 minutes. At the point that I had expected I would have had and been using the product, I still had yet to receive a shipping email. Nothing irritates me more than inexplicably show shipping from a company, so I tried contacting them multiple times to see what was holding up my order. Crickets. Absolute crickets. That's when I got curious and decided to check their rating on BBB. There isn't one. Figures. I just don't understand why they've turned a great idea into such a terrible experience for the customer.

(

read more

read less

...)

---

Do not subscribe to Bevel! "One time" purchases only.

By Joe J.

,

Atlanta, GA

,

Sep 11, 2018
Verified Reviewer

I subscribed to Bevel and it worked out for me for a while until I became overstocked with the product by three boxes. You basically receive an entirely new set when you are halfway done with the first set on, so on. They also continuously bill you every month for a quarterly shipment of the product. So when you add those monthly payments you are def overpaying vs. restocking on the items as you need them. I also canceled my membership and they proceeded to take the funds out. Let me rewind back the "cancel" part. It's not really a cancellation, it's a "subscription freeze" I had to email them to request a cancel. Not to mention I was charged $39 for the "subscription freeze." And that was taken out immediately!

It's just all around a bad experience for me.

Bottom Line: No, I would not recommend this to a friend

---

Worst experience ever

By Shae M.

,

Breckenridge, MO

,

Sep 4, 2018
Verified Reviewer

So I just received an email today stating that Bevel has not gotten the first payment of $29 required to ship my first order that already shipped. (Makes no sense that they didn't receive their money but they already shipped the product when the first payment is required to ship.) I have proof that I was charged for the product that I actually did receive and shipped it back to them. I never even opened it. I have emailed many times. I was originally told that I wouldn't be refunded because I ordered the system through Swagbucks and got rewards for it. I have already sent the product back at the time, and I even sent them proof from Swagbucks that showed I did not receive rewards for buying this product.

The first time I received an email was when the woman I spoke to told me that now I would not be receiving my product back or my money back with no explanation for why. I have emailed a good ten times since then, and still, have not heard back. It's been months since I got the product and shipped it back and I still haven't heard anything or gotten my refund. The least they could do is ship the product back to me. How can they get away with keeping my money and now are trying to charge my card again for the same shipment that I do not have? They have the product back and I'm getting charged two times for the same thing. This is outrageous. Buyers beware! Scam!

Bottom Line: No, I would not recommend this to a friend

---

Highly misleading subscription

By Ben B.

,

New Jersey

,

Aug 6, 2018
Verified Reviewer

They have a monthly plan and a quarterly plan, so you would think that subscribing to the monthly plan does not commit you to paying for a full quarter (i.e. three months) of shipments. But it does. The only difference is that the monthly plan costs significantly more and splits your payment into three, once-monthly payments. This information can be found in their Terms and Conditions, but it is not plainly evident when you are ordering the product. The Bevel website says "no commitments" - clearly false.

I wanted to try a single month's subscription from each of several different shaving companies. Now I am locked into paying Bevel for three months - or returning the shipment for a refund, but they will not cover the cost of shipping it back to them.

Bottom Line: No, I would not recommend this to a friend

---

Bait and switch scam

By Prateek A.

,

California

,

Jul 31, 2018
Verified Reviewer

I signed up for Bevel's membership so I can only speak about that. I never used the products so I cannot comment on that either.

The monthly membership is a scam. It says $29.95/month but they lock you in for three months without mentioning this anywhere, and you are not allowed to cancel. This deceptive practice combined with the worst customer service should be enough to scare you away.

I never got a response on live chat and emails took two business days. They really don't care about their business practices. Fortunately, I realized quickly enough after ordering to refuse delivery of their product and file a chargeback with my credit card company.

STAY AWAY from the membership. You don't really know how much you are paying.

Bottom Line: No, I would not recommend this to a friend

---

Scam

By Emily M.

,

Oregon

,

Jul 24, 2018
Verified Reviewer

They refuse to cancel or refund any money. It costs three times more than what it says. They are basically blackmailing me into another $59.90 by not allowing me to hold my shipments or anything. It's very frustrating, and their customer service does nothing. I just wanted to cancel my order, but they refuse.

Bottom Line: No, I would not recommend this to a friend

---

Excited to try a single blade and support Tristan, but...

My husband was very excited to try this Bevel brand because of what Tristan stood for and the whole concept behind it. However, after several months of using the whole line including the clippers, my husband found that the products weren't what they claimed to be. The "wireless clippers" did not keep a charge and the blades didn't cut as close as they claimed without bumps.

After, he decided to suspend the membership, and it was an absolute hassle to get the company to stop pulling our money out every month! They were taking out $30 a month for six months without even receiving a single product! We had to cancel our credit card just to stop the company from pulling our money. Customer service was non-existent! Always a recorder! Do not waste your time or money trying this product!

Bottom Line: No, I would not recommend this to a friend

---