Beverly Hills MD Dermal Repair Complex
Claimed This company has claimed this profile, is getting alerted on any new customer reviews entering this page, and may engage in dialogue with its customers to address their matters.

Companies cannot pay money or provide goods in order to remove or alter customer reviews.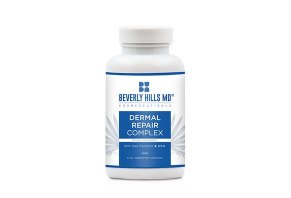 Beverly Hills MD's Dermal Repair Complex is a nutritional supplement that allegedly helps you look younger from the inside out through a blend of all-natural ingredients. Scientific research backs the claims made by the brand.
---
This company is actively collecting reviews from its customers. All reviews submitted are subject to moderation and approval to ensure they meet our

Review Guidelines

.

Overall Experience:

No one can believe me when I tell them my age. Dermal Repair Complex is truly a miracle product for keeping skin in tip-top condition. I would highly recommend it to anyone who wants to "send back the clock!"

Bottom Line: Yes, I would recommend this to a friend

---

I'm loving this supplement!

Overall Experience:

I'm only on my second bottle of BHMD's Dermal Repair Complex, but I can already see a difference. I'm almost 73 years old and am fortunate to have good family genes, but at this age, I think we all need a little boost! Because I have been using many other BHMD's products, I decided to give this a try, and I couldn't be happier! I so appreciate the work and dedication these two doctors put into their products! I am truly grateful!

Bottom Line: Yes, I would recommend this to a friend

---

Advertisement

---

Dermal Repair Complex

Derby, NY

,

Feb 16, 2018
Verified Reviewer

Overall Experience:

I have been taking the Dermal Repair Complex supplement since June 2017. I am 45 years old. I wanted to take the supplement because I read other women's reviews and testimony and was encouraged by their statements that the supplement helped achieve a youthful appearance.

I will be honest in that I have always been told that I look younger than I am. Since taking the supplement, I have noticed some improvement in fine lines around my under eye area and forehead. I have an overall healthy glow to my skin. It's nice to hear compliments on my skin and to be told that I look young.

I am pleased so far and consider taking the Dermal Repair Complex a necessity to my skin care regimen.

Bottom Line: Yes, I would recommend this to a friend

---

Overall Experience:

Before I ordered my Dermal Repair Complex, my face looked like I was 90 years old. I'm 65 and feel like I'm 40, but my face told my age.

It's been 6 weeks and taken as suggested, I can't believe my face! I look like I ironed out the wrinkles on my face!

My sister who lives close by said I looked different. Of course, she's a lot younger, but said: "Now we look like we're just a couple years apart! What have you been doing?"

To make a long story short, I'm very happy with the results and will keep using it.

Thank you for letting me speak!

P.S. I love my Blueberry shakes.

Bottom Line: Yes, I would recommend this to a friend

---

Advertisement

---

I got pimples

By Dora R.

,

El Paso, TX

,

Feb 9, 2018
Verified Reviewer

Overall Experience:

Well, when I started using Dermal Repair Complex my expectations were very high. The first months I saw a difference in my face, but also pimples too, a lot of. Considering that I had never had pimples and I'm 45 years old, it was rare.

I was about to stop using it but now the pimples starting going away. I don't know if my skin was getting used to the supplement or what, but now my face is much, much better. So I plan to continue using Dermal Repair Complex and expect more of the product yet, I always think that you have to give the product a chance and a reasonable time and take it religiously serious if you really want to have results. Thank you BHMD.

Bottom Line: Yes, I would recommend this to a friend

---

Too soon to tell, but taking the pills every day

Overall Experience:

I believe it takes about three months or so for any vitamin to do its work. I am faithfully taking mine and believing that I will see a difference. I have lost hair and hoping to see new growth. My skin looks awesome, no wrinkles or sagging, but at this point, I believe it is their other products that I have been using. No one believes my age.

I would recommend it because everyone should give it a try for their needs.

Bottom Line: Yes, I would recommend this to a friend

---

Overall Experience:

I can visibly see the difference, especially after the first three months of use. Great supplement not only for skin, but overall. I'll continue to take it as long as I see the benefits looking back at me in the mirror - brighter, smoother, healthier, and supple-looking skin.

Bottom Line: Yes, I would recommend this to a friend

---

This could make you very sick

By Sheila

,

Washington DC

,

Jan 12, 2018
Verified Reviewer

Overall Experience:

I had taken these supplements for about three weeks when I went for a routine colonoscopy. Following that procedure (which wipes out your good stomach bacteria), I experienced diarrhea all day long and I was still taking the supplements. One month later I was admitted to the hospital after suffering diarrhea up to 20 times a day, lost 15 lbs and was severely dehydrated. Another colonoscopy was done and I was diagnosed with microscopic collagenous colitis. Note the word collagenous.

I had never had any problems like this before. I was released from the hospital after four days and prescribed a steroid used solely for the gut. My doctor expected me to be on this medication for life because this type of colitis is considered an autoimmune disease. But after taking the steroids for ten days, my symptoms cleared. And I continue to have regular bowel movements since. I visited my doctor today, and he was amazed that it had cleared up and his response was that the supplements (which I stopped as of my hospital time) were the cause. Besides, he said the molecular makeup of collagen is too large to be absorbed properly. He called it a scam.

I'm offering my experience as a warning. You make the choice. Good luck.

Bottom Line: No, I would not recommend this to a friend

Jan 16, 2018

Hello Sheila, my name is Samantha and I am writing to you from Beverly Hills MD. I wanted to take the time and address your review as it was very concerning to us. I cannot imagine what you must be going through, it sounds awful. I want to assure you that Beverly Hills MD stands by all of its products with the highest level of integrity. All of our products are third-party tested for quality and purity. We have not seen any type of digestive conditions arise with the Dermal Repair Complex. I want to remind you to always speak to your physician when starting any type of supplement. Especially with something as serious as a colonoscopy, anything you put into your body right after may cause a negative reaction.

While Dermal Repair Complex does not have the ability to cause any type of auto immune disease, there may have been underlying factors that were irritated by the supplement. This is why we always recommend consulting your physician above all else, especially when dealing with a prior condition. I would be more than happy to issue you a full refund for your purchase. Please email me directly at samantha@beverlyhillsmd.com. Take care Sheila.

---