BURST Sonic Toothbrush Reviews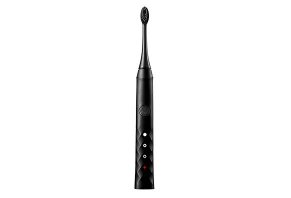 Endorsed by hygienists and dentists, the BURST Sonic Toothbrush vibrates at 33,000 strokes per minute and uses activated charcoal bristles to clean and whiten.
About BURST Sonic Toothbrush
Over the course of three weeks, we had the opportunity to try out the BURST Sonic Toothbrush, which delivers 33,000 sonic vibrations per minute, charcoal bristles, three brushing modes, and a Quadpacer timer. It's also endorsed by thousands of hygienists and dentists directly on the company's website.
Together, it's advertised as the most powerful and most effective toothbrush on the market.
Not only this, but by cutting out the middlemen and passing the savings along to their consumers, BURST advertises their Sonic Toothbrush and recurring shipping program is very affordable (although we tried it for free).
When it comes down to it, does the product's performance match its marketing angle? We'll walk you through everything we learned during our hands-on testing and subsequent research so that you can come to your own conclusion.
The Basic Science Behind Brushing Teeth
Before diving into our results, we need to unpack four primary concepts related to the BURST Sonic Toothbrush:
The difference between cleaning and whitening teeth
The difference between regular toothpaste and activated charcoal toothpaste
The difference between activated charcoal toothpaste and activated charcoal toothbrush bristles
The difference between manual, electric, and sonic toothbrushes
Let's quickly take this step-by-step:
Cleaning vs. Whitening Teeth
The primary reason we brush our teeth is to remove food particles and dental plaque, which Live Science tells us is a sticky, clear biofilm that forms on teeth. If not performed regularly, this substance can lead to "bad breath, red swollen gums, and discoloration," and will eventually eat its way through the enamel and cause tooth decay.
As such, brushing with toothpaste—even just using a damp toothbrush, in some instances—can clean teeth and lead to some level of whitening, assuming enough plaque has accumulated.
On the other hand, extrinsic teeth stains occur when the 'pores' in the enamel permanently trap small particles of food and other substances (i.e., tobacco smoke), which lead to a visible change in color. Brushing can remove some of these extrinsic stains, although deeper oxidizing ingredients, such as carbamide peroxide or hydrogen peroxide, are often required to make a meaningful difference.
Compared to traditional toothpaste, though, how does charcoal (whether from BURST or another brand) work to clean and remove stains?
Regular Toothpaste vs. Charcoal Toothpaste vs. Charcoal Bristles
Activated charcoal (regular charcoal whose surface area has been increased to maximize its absorptive abilities) is often used in hospitals to trap toxins and chemicals in the digestive tract, such as in instances of accidental poisoning or overdose.
When it comes to the teeth, Bruce L. Cassis, DDS, a dentist from Fayetteville, WV, points out that activated charcoal is an abrasive, so it could help remove some stuck-on plaque and food particles.
He goes on to emphasize, however, "there aren't any long-term studies on activated charcoal as an ingredient in toothpaste." This is especially the case when it comes to charcoal's power to attract other molecules in the gut, versus in the mouth.
As such, there's limited clinical evidence that it can perform as well as traditional toothpaste, whether referencing its ability to effectively remove bacteria, plaque, and odor, or deliver visible whitening results.
What about activated carbon bristles, like those used on BURST's Sonic Toothbrush? Searching the National Institutes of Health's PubMed, we didn't encounter any clinical trials that matched the terms 'activated charcoal toothbrush' or 'charcoal bristle.'
Regular vs. Electric vs. Sonic Toothbrushes
According to sites like WebMD and the Mayo Clinic (to name just two), if a manual toothbrush is used properly, it can be just as effective at removing plaque and food particles as an electric model.
Often times, however, they're not used properly, which is where electric models like BURST have a potential advantage, since their oscillating motion can remove particles and plaque more easily. They also report they can be ideal for children or adults with limited dexterity.
Compared to regular electric toothbrushes, which Animated-Teeth tells us typically vibrate at 2,500 to 7,500 strokes-per-minute, sonic models typically vibrate in the 30,000+ strokes-per-minute range.
This enacts a second cleaning mechanism called fluid dynamics, which "refers to the process where the intense vibrational speed of the sonic brush's bristles agitate the fluids that surround the user's teeth (water, saliva), to the degree that they're able to disrupt dental plaque colonies even beyond where the bristles of the brush actually touch."
Now that we have a solid foundation to work with, let's dive into our firsthand testing of BURST.
Our Experience With How the BURST Sonic Toothbrush Works
The bristles on BURST's Sonic Toothbrush (which the company sent to us at no charge) are coated with Binchotan charcoal, which we learned is fine-grade charcoal sourced from Wakayama, Japan traditionally used in cooking.
Note: Despite the BURTS's claims, though, we didn't encounter clinical support that this type of charcoal is "proven to absorb impurities for brighter, whiter teeth."
Nonetheless, during our testing, we found Sonic Toothbrush's three modes (whitening, sensitive (which decreases to 31,000 vibrations per minute), and massage) enjoyable.
We also thought the 700mh lithium-ion battery (that can last up to four weeks after charging for just one hour) powerful, and the head's ability to oscillate at 33,000 sonic vibrations per minute delivered a superior clean to our traditional manual toothbrush.
If you clean your teeth twice per day with the Sonic Toothbrush, the manufacturer reports you should get about six weeks of battery life per charge. We rarely had to recharge during our testing.
To shuffle between each mode, we simply pressed the power button in fast succession. To turn it off, we left any mode running for three seconds and then pressed the power button again.
From a timing perspective, its Quadpacer timer gently reminded us to switch to another part of our mouth every 30 seconds, and we thought the two-minute automatic shutoff was handy.
From an upkeep perspective, the manufacturer recommends removing the head and cleaning the metal rod underneath approximately once per week.
How Much Does the BURST Sonic Toothbrush Cost?
According to the website, The BURST Sonic Toothbrush is priced at $69.99, and can be purchased via the BURST website or through a dental professional, which is something we could definitely get behind as consumers ourselves. Each order includes:
1 toothbrush
1 USB charger
1 toothbrush head
1 wall socket
For $6 every three months, BURST will continue sending you a replacement head once every three months. There is no commitment and you can cancel at any time.
Related: How to Choose an At-Home Whitening System That Works
According to their website, each Sonic Toothbrush comes with a two-year warranty. However, if you're actively subscribed, they emphasize they'll always "replace your tired companion" by overnighting you a new one. They'll even send you a prepaid return envelope for your old toothbrush.
To request one, customer support can be reached at 833-BURST or help@burstoralcare.com.
What Can We Learn From Customer Reviews For the BURST Sonic Toothbrush?
On the BURST website, more than 2,300 customers had given their Sonic Toothbrush and an average rating of nearly five stars, with common compliments referencing effectiveness, affordability, and effective cleaning—many of which came directly from dentists and hygienists. There were no complaints.
Burst USA, Inc. is based out of Los Angeles, CA, and was founded in 2017 by Hamish Khayat, who started his first company at the age of 19, which manufactured a "self-standing toothbrush for kids."
A recent Forbes article provides some additional insight into his current company's unique marketing approach: "Burst's distribution model relies heavily on dental hygienists to act as salespeople. But, Khayat is quick to point out, this is not a direct sales company -- no one is ever required to buy the product in order to sell it.
"I never want [anyone] to be out of pocket," he says. The way it works is that hygienists can sign up for Burst and use the toothbrush, and after providing a review of their experience and paying a one-time fee of $20 to sign up, they can begin recommending patients to use it.

Patients that sign up with a referral code from the hygienist receive the discount price and hygienists, in turn, receive a commission of that sale which they can keep track of through either an iOS or Android app."
BURST's companion iOS and Android app allow dental professionals to track sales-related data.
Burst Oral Care held a B+ rating with the Better Business Bureau, based on one closed complaint, as of 4/16/18. No details were listed, although it was classified as 'resolved to the complainant's satisfaction.'
Burst vs. Sonicare, Quip, & Goby Electric Toothbrush Subscriptions
If you're looking for an electric toothbrush subscription that involves charcoal covered bristles, BURST is currently your only option.
However, you'll find a couple of other companies already occupying the marketplace with subscription-based standard electric toothbrushes, which also include soft, replaceable heads, multiple speeds, waterproof/resistant designs, 30-second timers over the course of two minutes, long-lasting rechargeable batteries, competitive pricing, and covered-for-life warranties:
| | | | |
| --- | --- | --- | --- |
| Brand | Price | Vibrations Per Minute (VPM) | Unique Features |
| BURST Sonic Toothbrush | $69.99 retail for brush, $39.99 through a dental professional; $6 refills | Up to 33K VPM | Charcoal bristles, 3 speeds |
| Quip Toothbrush | $35 (plastic) or $50 (metal) for brush; $5 refills | 15K VPM | Also offers toothpaste |
| Goby Toothbrush | $50 w/subscription (or $65 without); $6 refills | Up to 9K VPM | 60-day refund policy, 2 modes, 3 colors available |
While these are certainly competitive prices, keep in mind that traditional retail options, such as the popular Sonicare Essence (31K VPM), can be purchased locally for as little as $25. We found replacement heads for the same model as low as $2 each when purchased in bulk, bringing the overall price much lower than these options.
Pro tip: We didn't encounter professional or clinical evidence during our research that more sonic vibrations per minute (e.g., 31,000 vs. 33,000) will deliver a better cleaning experience.
But will you necessarily achieve a better, hassle-free value by paying more for a subscription-based option like the BURST Sonic Toothbrush? Let's address this final question as we wrap things up.
Our Final Thoughts About the BURST Sonic Toothbrush
As we learned earlier from Animated-Teeth, sonic electric toothbrushes use fluid dynamics to potentially clean teeth better than their non-sonic counterparts. And of the most popular electric toothbrush subscription options in the table above, BURST is the only member of the 'sonic club.'
They're also the only option that uses activated charcoal (whether bristles or toothpaste). Again, though, as we learned from dental professionals, there's limited clinical evidence that charcoal's cleaning power lies in anything other than its abrasiveness.
Furthermore, there's little-to-no reported clinical evidence indicating it can kill bacteria and prevent the accumulation of plaque and odors better than (or even as well as) traditional toothpaste.
However, in the Forbes article cited earlier, founder Hamish Khayat points out that the charcoal used in the replaceable heads allows for softer bristles, as well as a more powerful motor. So, if these factors are at the top of your list, it might be worth giving BURST a try, and taking advantage of their 30-day refund policy if you're not satisfied.
With all of this said, based on our three-week test, we were impressed by the clean, smooth finish the BURST Sonic Toothbrush left on our teeth when we were done. We loved the idea of the charcoal brush idea in general, and we felt like we were left with a cleaner mouth.
Just keep in mind that if you combine the charcoal bristles with an activated charcoal toothpaste, this could lead to extra abrasiveness that might cause sensitivity in some users.
The company also sent us a sample of their whitening strips, which we used every day and experience noticeable whitening.
Editorial Disclosure: The BURST Sonic Soothbrush was sent to HighYa free of charge. There is no affiliate/material relationship between HighYa and BURST. This article reflects our honest opinion and impression of the toothbrush based on our experience.
BURST: More false hope than a dating app.

By Denell S.

,

North Carolina

,

Nov 9, 2019
Verified Reviewer

This business is more shady than the feud between Kanye and Taylor Swift. I posted a ONE-star review on the BURST website. They did not post it. In fact, the last one-star review was from May 2019 and it is a positive review. Additionally, the Facebook page limits negative reviews to 25 characters. A positive review, surprise, unlimited characters. My review as follows:

"The customer service is nice and sounds like they mean well but no follow through. I contacted Burst several times. My order was supposedly delivered. Then the USPS system was supposedly broken and tracking wasn't available. After never hearing back on several emails...ghosted. I bought another Sonicare. Can't go wrong with a Sonicare. Pricey. But at least you'll get one."

Bottom Line: No, I would not recommend this to a friend

---

Love!

By Emily P.

,

La Plata, MD

,

Dec 28, 2018
Verified Reviewer

I LOVE my Burst! Seriously, as a dental hygienist, I've tried multiple toothbrushes. Burst is by far my favorite (yes, over Sonicare and Oral-B). The super soft bristles are my favorite!

Bottom Line: Yes, I would recommend this to a friend

---

Advertisement

---