Cellunlocker.net Reviews
Claimed This company has claimed this profile, is getting alerted on any new customer reviews entering this page, and may engage in dialogue with its customers to address their matters.

Companies cannot pay money or provide goods in order to remove or alter customer reviews.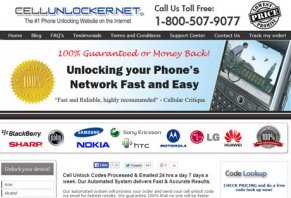 About Cellunlocker.net
Based out of Vancouver, British Columbia, CellUnlocker.net is a website that allows customers to unlock their mobile phones via email, using the company's fully automated o­­­­nline system.
CellUnlocker.net claims to be able to unlock 99% of all phones supported by major carriers and from manufacturers including Samsung, Apple, HTC, Nokia, LG, Motorola, Blackberry, and many more. In addition, the company also claims to provide their service in more than 180 countries around the world, and that their unlock codes are 95.5% accurate.
CellUnlocker.net states that, when compared to their competition, they provide the lowest prices and fastest turnaround times available, and that if they are unable to unlock a specific phone, then the chances are that no one can.
How CellUnlocker.net Works
When attempting to unlock a cell phone through CellUnlocker.net, the first step would be to verify that the company provides unblock codes for an exact phone manufacturer and model. After the phone has been located, simply select the carrier and country, and input the phone's IMEI number, which can be obtained by entering *#06# on the phone's keypad (additional information regarding IMEI numbers can be found here).
Once this information has been entered, customers will then be redirected to a final page, which outlines the price and estimated turnaround time. After contact and payment information have been submitted, CellUnlocker.net will email the unlock code and unlocking instructions for the specific model, carrier, and IMEI number provided at checkout, within the estimated timeframe.
Potential customers should keep in mind that if a specific carrier is not listed under their country and phone model, the unlock codes will not work, and no orders should be placed. The CellUnlocker.net site will still process the order, though no refunds will be given.
CellUnlocker.net Pricing
CellUnclocker.net does not provide flat pricing for all their unlocking services, which can vary depending on the phone model, cellular carrier, and country in which a customer is located. For instance, a U.S.-based iPhone 5 through AT&T will cost $29.99 to unlock, whereas the same model through Verizon can cost as much as $119.99. Other popular phones, such as the Samsung Galaxy S4, can cost as little as $24.99 to unlock, if based in the U.S.
Soon after inputting their phone's model and carrier, CellUnlocker.net customers will find out their total cost for unlocking. After this is complete and payment has been processed, the company claims turnaround times in as little as one hour, and as long as a few days, depending on the phone's model.
When ordering through CellUnlocker.net, it's extremely important to make sure a valid IMEI number is entered upon checkout. This is because the site will process requests that include invalid numbers, which will cause the unlock code to essentially be worthless, and no refund will be provided.
It's also important to note that 100% refunds will only be granted if two conditions are met:
A valid IMEI number was provided, including supporting carrier and phone model details, and all unlock attempts have failed when performed according to instructions, and
You must provide video proof that demonstrates the unlocking attempt.
No refunds will be granted if an unlock fails due to reasons such as being hard-locked, or because prior attempts were made to unlock the same phone using other codes.
Important Information for USA Phone Unlocking Customers
Any phones purchased within the United States after January 26th, 2013 are no longer eligible for unlocking, as the procedure is now illegal. Unless a customer has prior approval from the associated service provider, CellUnlocker.net will not provide any type of unlocking service or support for phones purchased after this date. Furthermore, CellUnlocker.net states that they will not be held liable or responsible if a customer attempts to unlock a phone purchased after this date, and no refunds will be provided.
However, it's important to specify that all services provided through CellUnlocker.net continue to be 100% legal in Canada.
Pros:
Claims to be able to unlock 99% of all phones supported by major carriers, in more than 180 countries around the world.
Unlock codes are claimed to be 95.5% accurate.
Ordering and checkout process is fast and simple, including the use of PayPal for payments.
If unlock codes do not work after all instructions have been followed, customers may be eligible for a 100% refund.
Cons:
No support for cell phones located in the United States, if purchased after January 26th, 2013
Extremely strict refund policy, which includes the requirement of videoing the unlocking process.
Editor's Note: It has recently come ot our attention that there is a company with a similar name as CellUnlocker.net called CellUnlocker.co.uk. If you're a consumer wishing to submit a review, before doing so, please confirm that it's for CellUnlocker.net as this page is not intended for CellUnlocker.co.uk. Thanks
---
Cellunlocker.net is Legit

By Janice Lee

,

Vancouver

,

Jun 9, 2015

I was traveling to Hong Kong and need my Blackberry unlocked so I wouldn't have to pay roaming fees. I'm quite skeptical about purchasing things online. After placing my order, 2 minutes later what do you know? an Unlock code sent to my email. Support was great. Two thumbs up!!

Bottom Line: No, I would not recommend this to a friend

---

Good site!

They did a good job unlocking my Galaxy! Later I had one phone no one could unlock, but the refund was prompt. They do what they promise in a timely fashion.

Bottom Line: No, I would not recommend this to a friend

---

Advertisement

---

Nokia Lumia 925

By Rene

,

Brno, Czech Republic

,

Jun 20, 2015

I had lock my phone to three and now it is unlocked for all networks.

Thank you very much, cellunlocker.net.

Bottom Line: Yes, I would recommend this to a friend

---

Great customer service

By Jenny Lee

,

Los Angeles, CA

,

Jun 20, 2015

I unlocked all my phones with this company. Cellunlocker has great service and fast results.

Bottom Line: Yes, I would recommend this to a friend

---

Advertisement

---

Easy to deal with, excellent service

By Leo Lavoie

,

Quebec, Canada

,

Jun 26, 2015

Rogers wanted to charge me $60 to unlock my Nokia N8 phone. This company gave me a code for $7.99 US. Service was fast and everything went smoothly. I do recommend them and would recommend them to a friend.

Bottom Line: Yes, I would recommend this to a friend

---

Great Service

By Mobile Enterprise

,

New Jersey

,

Jun 16, 2014

I've been unlocking phones with this company for over 6 months. All you have to do is give them the correct information and follow their directions simple as that. They do give refunds in case of unlock code not found.

Bottom Line: Yes, I would recommend this to a friend

---

Tried it with hesitation. Glad I did!

By Eric

,

San Antonio, Texas

,

Oct 2, 2014

I read the reviews on this site, Highya, and was a little hesitant to try unlocking my TMobile Samsung Galaxy Note 3 (N900T). I know that most people who leave reviews do it because they had a poor to horrible experience or they had an amazing one, so I started looking at the low scores. A lot of the reviewers, from this and other review sites, don't leave concise reviews, make ridiculous typing errors and seem like they wouldn't be able to program the time on a microwave. That's okay; some people shouldn't be messing around with unlocking their own phones, anyway.

After looking around at other providers like this and asking T-Mobile to do it, I decided to save $20 and get a code with cellunlocker.net. I know there are a few models of my phone depending on the carrier, so I made sure I used the correct one and provided my IMEI. I was given a 1-5 hour turnaround estimate. I received confirmation of my purchase at 3:19 pm and received the email with unlock code and instructions at 6:15 pm the same day. I followed the first unlock method and was immediately successful.

Bottom Line: For "true savvy" (not "wannabe savvy") individuals, this is a great way to get an unlock code when your provider refuses to give you one or is going to charge more than it'll cost here. I believe some of the negative reviews are actual experiences, as all businesses have similar issues now and then, but this can be a quick, less-expensive option for an unlock. Here's to phone freedom!

Bottom Line: Yes, I would recommend this to a friend

---

Works Great

By Jim

,

Barrie, Ontario Canada

,

Jul 9, 2015

The only problem I had was, to use the unlock code you need a sim card from a provider other than the company you are using. Once I obtained one of those I unlocked my phone with the code in two minutes. I notice people dishing the company as it wouldn't unlock their particular brand. That is totally their own fault, they are told before they try which phones it won't work on. I do not shop online frequently but am very happy with the product I received.

Bottom Line: Yes, I would recommend this to a friend

---

Amazing and would definitely use again

By Kayla

,

Ontario, Canada

,

Jul 9, 2015

Was really skeptical because of some of the reviews, but ended up purchasing a code that arrived in less than four hours on a Saturday afternoon and worked perfectly on the first try. My phone is now unlocked and accepts my new SIM card. Really happy with the entire process.

Bottom Line: Yes, I would recommend this to a friend

---

Worked!

I don't usually leave reviews, but I was so pleased with the service I had to write something. I had a AT&T Galaxy 5 and I sent in my info and received my code in less than a half an hour. I went to T-mobile, put in the code and it worked like a charm. I had to change some APN settings to get the data to work, that's standard. Thanks guys!

Bottom Line: Yes, I would recommend this to a friend

---

Legit service

By Steve P

,

Ottawa, ON

,

Jul 23, 2015

I recently unlocked my Bell LG G3 (still at the beginning of contract) using Cellunlocker.net since I wanted to use SIM cards while over in Europe.

I received a couple unlock codes (apparently depends on the phone) and the first one I tried worked (my LG G3 had 10 attempts to unlock). The codes arrived in less than an hour.

Very happy with this service; I had no requirement to go to customer service, so I cannot comment on that.

I'm guessing this site has a proprietary algorithm to determine the unlock codes based off cell manufacturer and IMEI? That might explain how they sometimes get it wrong. Some sources say they go to a database to get the code, but due to the fast turn around I doubt that is how they do it.

Anyways, overall a good experience and low cost ($10 CAD).

Bottom Line: Yes, I would recommend this to a friend

---