Copper Fit Core Shaper Reviews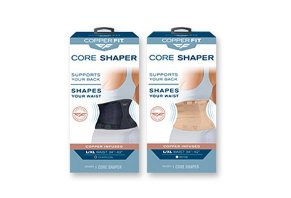 Summary
The Copper Fit Core Shaper is a compression garment that provides targeted support and improved posture while reducing fatigue, improving circulation, and aiding in muscle recovery.
Pros
Provides support and compression to help improve posture.
Designed to reduce lower back pain and strain.
Breathable fabric helps keep you cool and comfortable
Lightweight and easy to wear under clothing.
Available in multiple sizes to fit different body types.
Cons
Not effective for everyone.
May be uncomfortable for some users due to tightness.
Not recommended for use during vigorous physical activity.
Not designed to be worn for long periods of time.
About Copper Fit Core Shaper
The Copper Fit Core Shaper is a compression garment designed to support and enhance core muscles during workouts.
It is designed with lightweight, breathable fabric and provides targeted compression to the core area for enhanced support and improved posture.
The garment also helps to reduce fatigue, improve circulation, and support muscle recovery.
At $29.99, the Copper Fit Core Shaper is available in a variety of sizes and colors and is suitable for both men and women.
How to Use Copper Fit Core Shaper
Put on the Copper Fit Core Shaper as you would any other piece of clothing. Make sure the garment fits snugly but not too tight, and adjust the waistband as needed.
Begin your workout as usual. Copper Fit Core Shaper is designed to be worn while exercising and will provide support and compression throughout your workout.
After your workout, remove the garment and give it a quick rinse in cold water. Hang it up to dry and store it in a cool, dry place away from direct sunlight.
Wear Copper Fit Core Shaper for up to 8 hours at a time for maximum benefit. If you need to remove it due to discomfort, take a break and put it back on after a few minutes.
For best results, wear Copper Fit Core Shaper daily and incorporate regular exercise into your routine.
Customer Reviews