Defender Razor Reviews
As the only independent company to develop and manufacture in-house razors in 50+ years, Defender Razors feature unique designs and superior performance.
About Defender Razor
Except for adding more blades, modern razors have remained largely unchanged for over 40 years. Despite this, the cost of replacement blades has skyrocketed—so much so that a deluge of low-cost options have entered the market over the past few years.
One of the most recent additions to this industry is Defender Razor, who claims to give customers a superior shave that costs less and feels better, without sacrificing quality. Defender Razor's 3-blade products are made of high-grade stainless steel, so the company claims they'll also last three times longer than other brands, while featuring some never-before-seen technology (we'll go into more detail in the following section).
Perhaps you just recently became fed up with the extraordinarily high cost of replacement razor cartridges, and you're looking to venture "outside the box." Or, perhaps you've tried all the subscription services out there, and are looking for something new. Either way, we'll answer all your most important questions about Defender Razor here.
Let's start by taking an in-depth look at Defender Razor's unique designs.
What Makes Defender Razor Different?
Based on what we learned from the company's promotional video, it seems like Defender Razor has turned traditional razor design on its head. Here's why:
Independent Blade Suspension
One of Defender Razor's more unique features is its independent blade suspension, which allows each blade in the cartridge to work independently of one another. This way, the blades will conform to the curves of your face, remain in close contact with your skin at all times, and provide maximum safety, closeness, and comfort.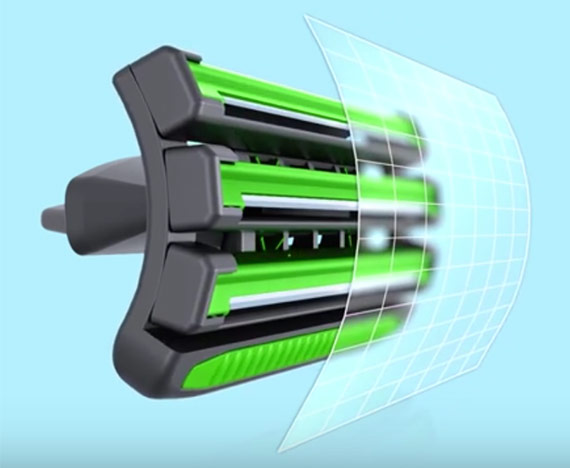 Here, you can see how Defender Razor's independent blade suspension allows for greater flexibility.
Each blade is also mounted separately with its own embedded safety guard, which can help protect skin and prevent nicks, cuts, and irritation.
Defender Razor's Cartridge Design
Not only do Defender Razor's cartridges flex, but they're also engineered to pivot from the center, allowing the cartridge to move in both directions for better control when shaving at any angle.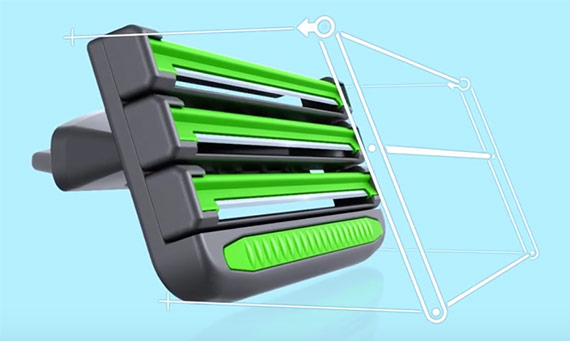 ​Caption: Instead of pivoting from the bottom, Defender Razor's cartridges pivot from the center, providing greater control.
Although Defender Razor's cartridges don't have a built-in trimming edge like many mainstream manufacturers, they are up to 50% thinner than the competition, allowing the blade to be located much closer to the edge of the cartridge. According to the company, this can dramatically increase accuracy and make it much easier to shave directly underneath the nose.
While you're shaving, you might appreciate Defender's four anti-friction glide strips, which work to protect your skin before and after each blade makes contact. And speaking of protecting skin, Defender offers regular, sensitive, or extra sensitive cartridges for skin that's easily irritated, prone to breakouts, or that frequently results in painful bumps or ingrown hairs after shaving.
The Importance of Blade Spacing
Yes, this technically falls under the previous section, but it's important enough to warrant its own area.
Despite being up to 50% thinner than other products, Defender Razor's cartridges feature blades that are placed an ideal distance apart, which helps prevent multiple blades from trying to cut the same hairs at the same time, which can lead to painful tugging and pulling. Instead, this design allows each hair to be cut with minimal resistance.
This unique spacing also allows for multiple strokes without clogging, as well as "effortless" rinsing.
Defender's Unique Handles
Each of these cartridges attaches to one of two handles: the standard Defender handle or the Defender Dual Head.
The standard handle might look a lot like a traditional razor handle, but there are some important differences. First, it's made from a soft touch, non-slip polymer (the company claims to have tested dozens of different polymers before finding the "ideal material") for better grip. And for improved control, the handle also features 5 reference holes.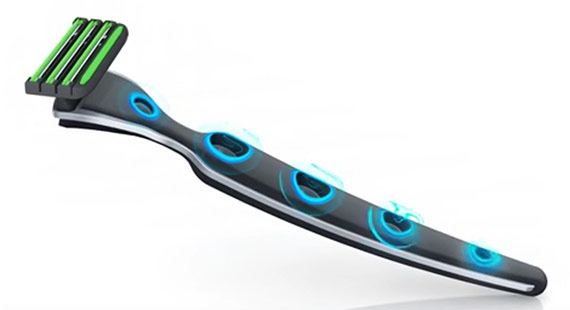 ​The standard Defender handle, shown here with its highlighted reference holes.
This certainly seems unique, but it pales in comparison to the Defender Dual Head handle (shown below); just put your forefinger through the hole and control with your thumb.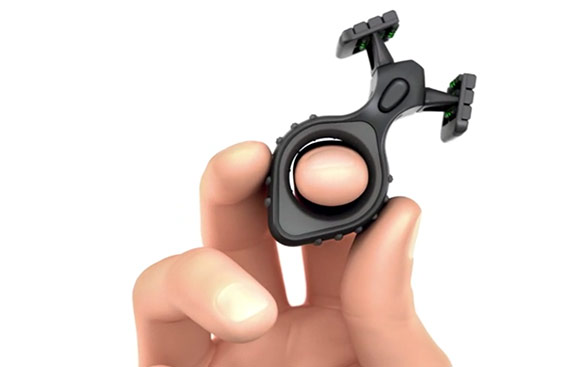 Defender's Dual Head handle might look funny, but it's claimed to provide a "faster, cleaner" shave.
According to the company, this will provide "maximum control and accuracy" by allowing you to shave with or against the grain without changing grip or angle. This way, you'll be able to shave faster and achieve cleaner results.
Given all these features, you might believe that Defender Razors will cost you an arm and a leg. Is this really the case?
Are Defender Razors Expensive?
Defender claims that by using "innovative manufacturing techniques and selling directly to our customers," they're able to provide high-quality replacement cartridges that are up to 50% less expensive than leading brands. How much less? Here's where they're priced:
Dual Head Handle: $14.95 each
Standard Handle: $4.95 each
Defender Blades (4-Pack): $7.95
Regardless of which options you choose, all orders come with free shipping.
Important note: If you sign up for automatic shipments, you'll be able to save 20% on blades through their Club Membership. In contrast to a lot of less-than-stellar companies, Defender Razor claims you can change or cancel at any time directly through their website.
Defender Razors also come with a 30-day refund policy, which you can request by sending them a contact form message.
With such low pricing and feature-packed products, it'd be easy to imagine that customers are over the moon about Defender Razors. Is this the reality, though?
What's Everyone Saying About Defender Razors?
It appears that Defender Razor hasn't offered their products for very long. Why? Because there wasn't much online feedback for the company, and most of what we encountered appeared within the last month or so.
With this in mind, the biggest source of customer feedback we found was on this Reddit thread. However, only one user actually shaved with Defender's razors, noting that the sensitive option felt "delightful" on their head, but that they preferred Dorco razors for their face (we'll come back around to this next).
One other user mirrored a concern we also shared; specifically, that there's no mention of exactly what differentiates the normal, sensitive, and extra sensitive cartridges: "It bothers me greatly that they don't explain the differences between normal and sensitive lines anywhere. For all I know they just changed the color and are banking on the placebo effect."
Outside of this, the only other Defender Razor review we came across was an in-depth YouTube video, where we were able to see it go head-to-head against the Gillette Pro Glide system. Overall, the reviewer found:
Both razors looked like they provided the same shave.
After a touch test though, the Defender Razor provided a much closer, smoother shave. In fact, you could actually hear the difference as he ran his hands over his head.
He noted that, despite Defender's claims, it was difficult to remove hair/shaving cream from in between the blades of both razors.
Overall, the reviewer felt they found something as good as traditional cartridges, but at a much more affordable price. The only thing they didn't like was the lack of a trimming blade, although they still recommended giving it a try.
Should You Sign Up for a Defender Razor Subscription?
Just like clothes, food, or anything else, each and every one of us has our own unique preferences about what constitutes a good shave. On top of this, each of us is blessed with different features and skin types, which means that what I consider a great shave could be sheer torture for someone else.
For these reasons, there's no way to know whether or not Defender Razors are right for you without giving them a try. The good news is that the company offers a 30-day refund policy, so you should be able to recoup most of your money (less S&H charges) if you're not satisfied.
The only thing we might recommend is immediately putting Defender's subscription service on hold as soon as your order is placed. This way, you'll be able to try the razors without forgetting your automatic shipments. Then, if you're pleased, you can reinstate your subscription and receive regular shipments of a product your enjoy.
Did you like Defender Razors, or were you disappointed by their performance? Whatever happened, be sure to tell us about it by writing a review below.
See Also: Dollar Shave Club vs. Harry's vs. ShaveMOB: Which Men's Shave Club is Best?
---
Wow!

By Randy A.

,

Walla Walla, WA

,

Sep 26, 2018
Verified Reviewer

I am an old retired cop and cynical as hell! I bought this razor expecting the usual sub-par performance. It is without a doubt the best razor I have ever used. And I have used them all! Always with the same complaint, the darn things clog up with debris. This one does not and it did a fantastic job in about half the time!

Thank you, I will be a loyal customer from here on out. I shave my head, and it's usually a struggle! No more! It literally slicked my head as smooth as a baby's butt!

Bottom Line: Yes, I would recommend this to a friend

---

I've been using my razor for almost a year and it's still awesome.

By Jeff R.

,

Nevada

,

Jul 28, 2018
Verified Reviewer

My only regret is that this review doesn't allow me to post a picture so people can see how great this product actually works. I hear all of you and how some of you are satisfied and many of you aren't. Truth be told, I have used so many different products including the HeadBlade. Defender is by far the best product out there, and the only time I have cut myself is when I had little bumps on my head from sweating. I was so impressed with this razor that not only did I order the dual blade handle, but I ordered the standard handle as well, which my wife uses as well.

My wife uses her razor daily and never cuts herself, I use my razor every two or three days and I never cut myself. We both get a smooth shave, The problem for most men is that there is a way to hold the razor when shaving your head so it gives you that smooth shave you want and a lot of men don't know that. And the fact that the blade is flexible, that makes it even easier to get the shave I want for my head. I used to use HeadBlade and switched to Defender, I would support this brand of razors even to the point where I promote them free of charge on my radio station. This razor could work wonders in hospitals. And again I am only sorry I cannot upload a picture of my head, it is guaranteed that you would change your opinion after seeing it. Defender, I support your product and thank you for making my shave so much easier and smoother.

Bottom Line: Yes, I would recommend this to a friend

---

Advertisement

---

Best shave ever

By Neal Woods

,

Los Angeles, CA

,

Aug 29, 2017
Verified Reviewer

The Defender Razor is one of the best. I've tried the Dollar Club, I've tried them all, and this razor really works because of the distance between the blades. To my surprise, with just running water the Defender rinsed out very cleanly without any problem. And closing the blade does exactly what it states is going to do and I'm thoroughly impressed, and I will continue to use them.

Bottom Line: Yes, I would recommend this to a friend

---

Solid razor

Everyone's needs vary, so as they say in the shaving world, "YMMV" (your mileage may vary,) but the developers did quite a lot right in my opinion.

The head flexes like a pivot head but with enough give to not force you to press too hard and cut yourself.
The triple blade design is plenty; 4-6 blades is expensive overkill.
The blades are spaced enough to prevent ingrown hairs. Essentially, you get a multiple pass shave (unlike a single blade, which requires re-lathering and is time-consuming) but in one sweep because the blades have space in between.
The blades are plenty sharp and last a while. They also don't cost an arm and a leg.

The result for me is an easier shave with a good result.

Bottom Line: Yes, I would recommend this to a friend

---

Advertisement

---

Best I've tried!

By Jason

,

Carmi, Illinois

,

Mar 21, 2017
Verified Reviewer

I have had my DEFENDER single blade for a month or a little more and I really love these blades and handle. After not shaving 3-5 days, as usual, these things cut through the stubble like a hot knife through butter. No joke! It takes fewer strokes too, so that helps my face not get irritated. Also, you'll be done shaving a lot quicker.

I honestly love these and will use these for as long as the company is in business! I am a genuine customer, and my review is no BS.

Bottom Line: Yes, I would recommend this to a friend

---

Great razor

By Andy

,

Virginia

,

Jul 26, 2016
Verified Reviewer

I currently have about 7 razors. From a straight edge to a 7 blade razor. I started shaving my head in the last year and have been looking for the best possible razor. I will say i love the Defender razor. At the base of my skull there is a dip. I'm pretty sure everyone has it but razors struggle to shave there which is a problem for me. I want my head to be perfectly smooth and it was taking me about a half hour or more to get my head as smooth as i want. First time trying the defender razor i was amazed. Every dip, every bump was shaved perfectly. I finished shaving my head in about 10 minutes with the Defender Razor. This is a great razor and not a scam.

Bottom Line: Yes, I would recommend this to a friend

---

A welcome surprise for only $5

Ohio

,

Aug 29, 2017
Verified Reviewer

I joined HighYa just so I could write a review about this amazing razor.

So I got my Defender Razor in the mail today and figured I'd try it out right away since I really wanted to see how it worked. I really felt that a 3-blade razor for $5 was no way going to give me any sort of a good shave, but I lathered up to try it out. I can honestly say I'm extremely impressed! The razor shaved me very smoothly and I didn't have to keep going over the same spot over and over. I was done shaving in no time. It's like my shaving time was cut in half.

Not one time did my razor clog up and it was super easy to clean. I'm definitely sold on this product. There is a couple of issues I wanted to point out though. The suction cup is kind of a bad idea for anyone that's had experience with suction cups before. They will eventually unhinged themselves and fall. The razor does feel pretty good in your hand, but it's kind of a mediocre quality. The razor cover is also kind of thin and weak.

However the minuses do not outweigh the pluses with this razor. Excellent shave, doesn't clog up, and cuts your shaving time in half, plus the cost is very low. I'm sold on it. I will be ordering more blades here in the near future. Good job Defender! I will be throwing away my 5-blade and 6-blade razors away.

Bottom Line: Yes, I would recommend this to a friend

---

Definitely the best

By Ermelo D.

,

Texas

,

Aug 8, 2018
Verified Reviewer

I've tried the Dollar Shave Club, tried Harry's . They both have the same issues. Too many blades, which seems to be their selling point, but all it does is make it harder to clean the blades while shaving. You have to stop many times in the process just to clean your blades. With Defender blades, it is not an issue and the extra blades the others have on the back of the razor is not necessary because the blades on the Defender is close enough to the edge you can shave next to your nose. The moving Blades definitely cuts closer and gives me cleaner shaves in less time. Hands down the best. By the way, I use it to shave my head every three days. Blades last over a month.

Bottom Line: Yes, I would recommend this to a friend

---

This is not a scam!

By Kenny S.

,

Las Vegas, NV

,

Feb 9, 2019
Verified Reviewer

As an African American male with coarse hair, I would like to say the Defender Razor is not a scam. I have a tender head when it comes to shaving and I've tried everything known to men from. The Art of Shaving, Andis Trimmers, Wahls Finale, Andis ProFoi, Bevel, and of cause Gillette Razors that are so expensive. My hair is a challenge every time I have to shave. So, today I decided to try the Defender Razor and I am so like "WOW." Thank you for thinking outside the box. Please, watch the video. Because every word said in the video is so true. I shaved my head after two days off and my head did not hurt. It felt great to shave without the pain of shaving. I can't thank you enough. I am a customer for life.

Sorry, I ripped up the receipt before I saw the comment "The Defender Razor is a Scam" and customers only giving it one star. That does not sit well with me. Let the TRUTH be TOLD. Time for a change and this is a great razor. Yes, it's LEGIT.

Bottom Line: Yes, I would recommend this to a friend

---

Believe the ad

By Darryl

,

Boca Raton, FL

,

Oct 28, 2016
Verified Reviewer

I watched the ad and it made complete sense. It's not often when the claim matches the experience, and I must say I am very excited about this product now. I spend a fortune on brand new blades, as I often do not use them twice. Whether it is because my wife shaves her legs with them before I use them again, or I just like the concept of a "brand new" blade. However, due to the ability to clean this blade so thoroughly, I can see myself using each cartridge several times.

Happy Face.

Bottom Line: Yes, I would recommend this to a friend

---

Definitely worth trying out

By Jason

,

Chespeake, VA

,

Sep 26, 2016
Verified Reviewer

The Defender Razor popped up as an advertisement on my Facebook feed randomly one day. Instead of passing over it like I do with all the Dollar Shave Club ridiculousness. Their video was straightforward and the technology seemed worth trying. I'm Navy and absolutely despise shaving. No razor has ever given me a pain-free, knick-free shave but the Schick​ Hydro 5 has been my go to until now. After trying these for a week I've been able to go against the grain every day with only extremely minor irritation. I did notice more comfort with the sensitive blades vs the normal blades, I don't think it's a placebo. I think I'm sticking with these for a while, I just can't justify paying $18 dollars for 4 cartridges anymore and these give me a top notch shave.

Bottom Line: Yes, I would recommend this to a friend

---