Finishing Touch Flawless Legs Reviews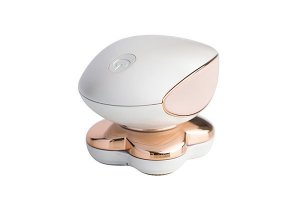 Using four independent gold-plated rotary razors and a palm-perfect design, Finishing Touch Flawless Freedom claims to help remove hair without irritation.
About Finishing Touch Flawless Legs
Advertised as the new gold standard for instant, painless hair removal, Finishing Touch Flawless Legs is a rechargeable device that provides four times more coverage than razors, without the hassle of shaving with soap or water.
This way, the manufacturer tells us that the device can be used anywhere, while its hypoallergenic 18K gold-plated floating heads are safe for all skin types and contour to your every curve, including delicate areas around the ankles and knees. It also features built-in LED lights to make it easier to see and a palm-perfect design for better control.
Regardless of your age, shaving your body can be a time-intensive—and at times, painful—process. But can you really expect Finishing Touch Flawless Legs to deliver the closeness of a razor, but without nicks, cuts, or irritation? That's the main question we'll help you answer here.
How Does Finishing Touch Flawless Legs Work?
If you're in the market for an over-the-counter device that removes hair, there are really only three classifications: razors, epilators, and lasers.
Lasers use specific wavelengths of light to destroy follicles, epilators quickly pull hairs from the root (which is why they're often referred to as 'electric tweezers'), and razor blades lift hairs up from the follicle and then cut them very close to the skin.
Circular rotary electric razors like Flawless Legs use small perforations to lift hair and spinning blades that also cut close to the skin. But because they all have the ability to flex independently of one another, they're able to trace the contours of your body much better.
This is compared to foil razors, which use a thin, curved metal foil to cover their cutting blades and lift hairs, which LifeHack reports can be ideal for "moving in a straight, long back-and-forth movement over the face and neck."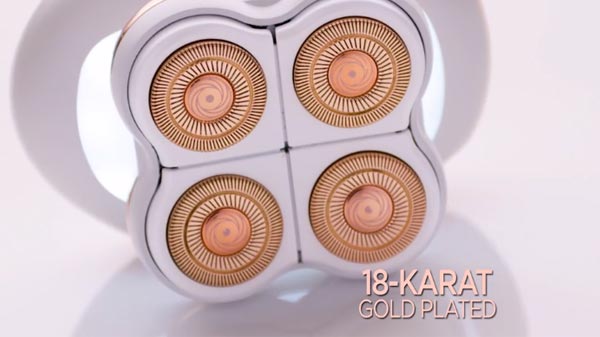 In this screenshot from the Finishing Touch Flawless Legs commercial, we can see its four 18K gold circular rotary razors. Image credit: Idea Village
What's the gold good for? While the manufacturer didn't specify on the website or in the commercial, other than adding good looks, gold is naturally a naturally antimicrobial metal (known as the oligodynamic effect) that can potentially help keep your Flawless Legs device free of bacteria.
Are there any other devices quite like it? First, we need to discuss price.
How Much Does Flawless Legs by Finishing Touch Cost?
Flawless Legs is priced at two payments of $29.99 plus $7.99 S&H, or a single payment of $59.98 plus free shipping.
Regardless of the payment option you choose, all devices come with a 30-day money back guarantee, less S&H. In order to request one, support can be reached at 844-764-4363. Note: When we attempted to call, this number was not in service.
Finishing Touch Flawless Legs vs. Other Women's Electric Razors
Together, browsing online and at local retailers, customers have access to perhaps hundreds of different women's specific electric razors, including models from household names like Braun, Philips, Remington, and Schick. Even if you're only in the market for rotary devices, the number of options can still be overwhelming— especially considering you can pay anywhere between $20 and $130 for one.
With this in mind, we didn't encounter anything exactly like Flawless Legs during our research. So if this is a must-have for you, it's currently the only game in town.
We did encounter a similarly designed device named Butterfly Pro by Skull Shaver, which features three to five rotary razors (depending on model), a palm-grip design, cord-free operation, and rechargeability. However, they didn't include an LED like Flawless Legs.
Personal grooming products are just that—personal. Ultimately, this means the best choice is going to hinge on your specific needs, such as the body part(s) you'll most often use it on, if you also need to use it in the shower, whether portability or number of features are most important, and so forth.
Once you've discerned your basic needs for an electric razor and narrowed your choices down to a handful of options, Consumer Reports recommends asking questions like:
What kind of battery does it feature?
How long will it operate on a single charge? How long will it take to recharge?
Are there any special features, such as automatic shutoff, low power indicator, wet/dry operation, an LCD interface
Can the individual razors be cleaned? If so, is it easy? Does it have to be cleaned every day, or only periodically?
When looking at Flawless Legs through this lens, how does the device measure up?
The Bottom Line About Finishing Touch Flawless Legs
While their phone number wasn't in service (as mentioned earlier), we sent an email to their service department at custserv@ideavillage.com, which included the questions above, and currently, haven't heard back.
But, we do know that Flawless Legs is manufactured by Idea Village, a large As Seen on TV company that has brought many popular products to market, including others in the Finishing Touch lineup including the Yes! Hair Remover.
Using the product ourselves demonstrated tangible results. However, it also depends on the darkness and thickness of your hair.
One test subject had more and darker hair, and she was not satisfied when comparing to her traditional razor method. The other subject had lighter and thinner hair on her legs, and she was satisfied with the result.
---
Safe and effective

By Barb M.

,

Hampstead, MD

,

Feb 3, 2020
Verified Reviewer

Overall Experience:

I have only positive things to say about Flawless Legs. I was told by several physicians to only use an electric razor. As when getting nicks and cuts from a blade razor, germs can enter through them and cause disease; to which I am prone.

If you wait the two weeks faithfully using this razor, as the directions recommend, you will have a close shave.

There is only a mild drawback to the use of Flawless Legs. That is why you need to use this razor on clean, dry, lotion-free, legs. This is why you can only use this razor after you leave the shower or bath. This is only a MILD imposition.

I would highly recommend Flawless Legs to anyone who shaves!

Bottom Line: Yes, I would recommend this to a friend

---

Quit working

By Nancy J.

,

Lincoln, NE

,

Jan 11, 2020
Verified Reviewer

Overall Experience:

Had it for about 4 months and it quit working. Tried to recharge it and the light was green signifying it was fully charged. Tried to use it but quit after a couple of seconds.

Trying to find a site that will give me more information.

This costs too much money to fail in such a short time. Very disappointing as it worked well when I first got it.

Bottom Line: No, I would not recommend this to a friend

---

Advertisement

---

Finishing Touch Flawless Legs

By Michael E.

,

Kirbyville, TX

,

Dec 29, 2019
Verified Reviewer

Overall Experience:

Bought one of there for my lady friend for Christmas.

They took my money instantly. Never was able to get into the order status page.

It arrived (apparently directly from China). Tried to register. No luck.

She charged the unit and attempted to use it. It literally fell apart.

The internet info provided no way to contact customer service. I have an address to return it to Connecticut. I will wind up eating the shipping fees.

Typical Chinese Junk. Looks like 20K others like me got suckered.

Bottom Line: No, I would not recommend this to a friend

---

Just purchased

By Joan H.

,

Dublin, OH

,

Apr 3, 2019
Verified Reviewer

Overall Experience:

I bought this shaver because I am using the facial one, which I use every day! I cut my leg so badly while using a razor blade, I ended up in the Emergency room. I hit a vein that bled profusely and even had to have a stitch. I cannot use a razor on legs, so I want this to work for me. My legs feel good, and I am one that must have smooth legs. I hope it will work for me.

Bottom Line: Yes, I would recommend this to a friend

---

Advertisement

---

Great product

By Joy S.

,

Chillicothe, OH

,

Mar 21, 2019
Verified Reviewer

Overall Experience:

I really love my Flawless Legs hair remover. It's amazing and it does what they say it will do. I love it because I don't cut myself when I use it. It's a product that is made for me, and I love it!

Bottom Line: Yes, I would recommend this to a friend

---

Horrible razor!

By Jean O.

,

North Carolina

,

Feb 12, 2019
Verified Reviewer

Overall Experience:

I bought the Flawless Legs, thinking that I could use it occasionally, as I have very little hair on my legs or underarms. I tried it on my underarms and it burned my delicate skin and I had red marks and discomfort for several days. It doesn't work that well on my legs, as I still feel stubble. I'm a little afraid of it. I would return it, but I didn't save the receipt or the box.

Bottom Line: No, I would not recommend this to a friend

---

Brilliant

By Geri S.

,

Taunton, England

,

Jan 19, 2019
Verified Reviewer

Overall Experience:

I'm very hairy and this has worked so well, so I can't recommend it enough. I got it on Amazon for £24, so a great bargain. It even did my underarms with no problem.

It's a good alternative to wet shaving all the time. I can't believe it had a lot of bad reviews.

Bottom Line: Yes, I would recommend this to a friend

---

Most horrible Christmas gift ever received

By Kim J.

,

Albuquerque, NM

,

Jan 5, 2019
Verified Reviewer

Overall Experience:

My son bought me a Flawless Legs for Christmas. He knew I wanted one as I always commented on it with every infomercial I saw. The first time using it was on my underarms, I have pictures to prove that it tears and rips at your skin. I didn't even think about the use of it on my legs because I couldn't put my arms down for about two days. I'm going to get my son's money back or showing pictures I've got to everyone I know and a lot I don't know. Also, take your 18k gold heads and bury them in the sand.

Bottom Line: No, I would not recommend this to a friend

---

Not what I thought it would be

By Jasmine B.

,

Quakertown, PA

,

Dec 28, 2018
Verified Reviewer

Overall Experience:

This is a good product. Very good on the legs. The only bad thing is that I got extremely bad razor burn. And it burns really bad. I don't get why they didn't mention it. Or fix it yet.

Bottom Line: No, I would not recommend this to a friend

---

Razor burn underarms, not a smooth leg shave

By Margaret B.

,

Anderson, IN

,

Sep 21, 2018
Verified Reviewer

Overall Experience:

At first, I thought it would be a great product.

Although it did razor burn my underarms, that was not a big deal because I did buy it for the convenience of shaving my legs while not in the shower.

The razor does not provide a smooth shave, no matter how long you shave. The next day you have to shave again. I'm not a hairy person, so this is frustrating. And to touch your legs and still feel stubble after going over and over the spot?!

Don't waste your money.

Bottom Line: No, I would not recommend this to a friend

---

Negative review

By C G.

,

Reno, NV

,

Jun 11, 2018
Verified Reviewer

Overall Experience:

I've never written a review of any product before, but feel obligated to do so now. Three-day stubble was not removed. My legs felt the same as before use. I would not recommend this product.

Bottom Line: No, I would not recommend this to a friend

---