Hairburst Reviews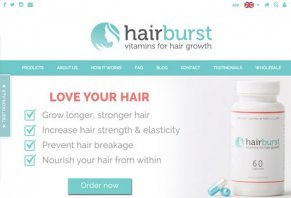 Hairburst is a nutritional supplement that claims to provide women with all the essential vitamins and nutrients they need for longer, stronger, healthier hair.
About Hairburst
Previously branded as HairVits, Hairburst is a natural health supplement that claims to provide a safe, essential mix of nutrients that can nourish your hair from within, thereby improving hair health and elasticity, speeding up growth, increasing strength, and stopping breakage.
How Does Hairburst Claim to Work?
Just like a flower will grow better in nutrient-rich soil, Hairburst claims that its "intense" mix of 26 premium vitamins and ingredients can help create an environment where perfect hair can thrive, including:
Selenium – May help prevent a dry scalp and dandruff.
Zinc – Can help strengthen hair follicles.
Hyaluronic Acid – A vital ingredient that may perform several functions, including supporting, nourishing, and hydrating hair.
Calcium – May help prevent hair loss.
Folic Acid
Advanced B Vitamin complex, including B1, B2, B3, B5, B6 and B12 – May help regulate hormones and the immune system, both of which can impact hair health.
Vitamins A, C, & D
Biotin – May help increase keratin production in your body, a key building block of healthy hair.
MSM – May help lengthen the growing cycle for your hair, leading to longer hair.
Collagen – A protein that can prevent dry, brittle hair.
BCAAs – May work as a fuel source for hair cells.
Silica – May help revitalize hair, and might even help prevent hair loss.
According to the company, Hairburst can be a great tool for starting your journey to great hair, or as a way of maintaining your current results indefinitely, should you already be satisfied with your hair's length, strength, and health.
How Should Hairburst Be Used?
In order to begin using Hairburst, the manufacturer recommends taking 2 capsules per day for best results, for a minimum of one month, regardless of your hair type.
However, with regular use, the company claims that users should experience more hydrated and revitalized skin after about 2 weeks and faster-growing and better-conditioned hair in about a month, with full results in about 3 months. For the most part, the manufacturer claims that users can expect about an inch of growth per month when using Hairburst.
Hairburst is claimed to be suitable for all types of hair, and to be manufactured without artificial coloring or flavoring. There are no know side effects related to the use of Hairburst.
Hairburst Pricing & Refund Policy
Hairburst is priced as follows:
1-Month Supply (60 capsules): £19.99 GBP (about $31.39 US)
1-Month Supply w/Autoship: £16.99 GBP (about $26.28 US)
3-Month Supply: £49.99 GBP (about $78.50 US)
6-Month Supply: £96.99 GBP (about $152.30 US)
Shipping Hairburst to the US will cost £6.99 GBP (about $10.98 US).
All Hairburst purchases come with a money-back guarantee, although no time limit for this guarantee is provided on the product's website. In order to request a refund though, there's no phone number provided there either, so the only way to contact the company is through their online contact form.
Can Hairburst Give You Healthier, Longer, and Stronger Hair?
As a woman, you put a great deal of time, effort, and money into making sure that your hair looks its best when you step out the door each day. But can Hairburst provide you with better hair, and is it ultimately worth the price? Consider the following:
Hairburst's Ingredients
While most of Hairburst's ingredients have the potential to provide you with better hair, it's very important to keep in mind that almost none of them do this directly. In other words, many of the supplement's ingredients can work as a building block to help your body ultimately produce healthier hair.
Because of this, different individuals will almost certainly have different experiences with Hairburst based on things like physiology, any other supplements or medications you're taking, your current level of health, the foods you eat, and so forth.
Don't Overlook Food
As one Reddit reviewer mentioned about Hairburst, "Any registered dietician will tell you no pills substitute for a balanced nutrient dense diet. Clean up what you are eating, add in way more nutrient dense foods (e.g. oily fish, organ meats, molluscs, seeds, cocoa, bright and dark coloured produce) and there will be no need to 'supplement'."
In other words, it's certainly possible to get the same level of nutrients from the foods you eat, simply by changing your diet. This can even have whole-body health benefits, not just related to your hair.
With this said, WebMD provides a solid overview of some of the best foods you can eat for better hair.
Keep Your Expectations Realistic
Next, the company claims that you can expect your hair to grow an average of one inch per month while using Hairburst, and according to Wikipedia, this is roughly double the rate of normal hair growth.
However, if you believe your hair will grow an astounding amount and that you'll end up with Rapunzel-esque hair after just a couple months of using Hairburst, you might end up sorely disappointed.
What Are Other Consumers Saying About Hairburst?
Taking a look at the company's site, it appears that Hairburst has an average rating of 4.7 (out of 5) stars. Elsewhere online though, customer satisfaction with the product appears to be a mixed bag, with the most common compliment referencing positive results (generally shinier and faster-growing hair).
However, some of the most common complaints appear to reference failure to work, poor customer service/difficulty processing refunds, high price, large capsule size, and bad smell. An additional concern not related to the product was slow, expensive shipping, especially if delivered to an address outside of the EU.
Bottom Line
While the nutrients provided in Hairburst can potentially provide you with longer, healthier, and stronger hair, keep in mind that all of the ingredients it contains can be obtained through the foods you eat. Ultimately, this may be able to provide you with many (if not all) of the same benefits, but at a lower overall cost.
However, if you live in the US and are willing to roll the dice on Hairburst, keep in mind that between shipping to your home and back to the manufacturer if you're not satisfied, you could end up spending roughly $25 on shipping costs alone.
Not as I hoped...

By Katie E.

,

United Kingdom

,

Sep 24, 2018
Verified Reviewer

I saw loads of great reviews so thought I'd try them. I bought one month of chews and three months of capsules.

The capsules taste gross and smell disgusting, but I still took them as my hair never gets past a certain length.

After 4 months (plus one week to show results), there is absolutely no difference in my hair length, even though it's healthier.

Bottom Line: No, I would not recommend this to a friend

---

Amazing, I love it!

By Lynnette Shaw

,

Wirral, England

,

May 19, 2018
Verified Reviewer

I bought this product after reading all the positive reviews. I'm SO glad I did. It has done wonders for my hair, not to mention my nails and skin. I'm certainly going to continue using this for EVER!

Bottom Line: Yes, I would recommend this to a friend

---

Advertisement

---

No, no, no!

By Natasha

,

Windsor, Ontario, Canada

,

Jan 26, 2018
Verified Reviewer

Four years ago I bought a bottle of this, and though it did work in the beginning, I began to notice hair was starting to grow all over my body. Naturally, I stopped taking them and ever since then I've had INSANE skin issues to the point I wake up from my sleep to scratch, and my hair is falling/thinning out until TODAY. I never had any issues prior to using this product, and now my body is left in shambles four years running.

The doctors said my hair follicles are infected though nothing has helped relieve my discomfort. A potential lawsuit coming soon. Do not touch this product. Others have reported similar cases.

Bottom Line: No, I would not recommend this to a friend

---

Complete waste of money, do not buy!

I am so angry I wasted money on this product. I have very weak nails which, after taking Phyto capsules for a year, were finally becoming strong and healthy. Due to concerns about thinning hair, I decided to switch to Hairburst vitamins. Now after five months of taking only Hairburst (so as not to overdose on vitamins), my nails are once again fragile and peeling and my hair is shedding. I am really upset with myself; I should never have stopped taking the Phyto capsules.

Bottom Line: No, I would not recommend this to a friend

---

Advertisement

---

Love Hairburst!

By Henri

,

Non-US/Other

,

Jun 9, 2017
Verified Reviewer

I have been taking the Hairburst vitamins for six months, and the improvement to my hair is amazing! A lot of reviews on here say about the shipping etc., but I think this is from when they were a newer company as I got my product on time and the customer service was spot on from order to completion. Thanks Hairburst, I will be a long time user and will recommend it to all my friends.

Bottom Line: Yes, I would recommend this to a friend

---

Love these

By Natalie

,

United Kingdom

,

May 2, 2017
Verified Reviewer

Since using these, my hair has grown so much. I had a very short bob shaved at one side 18 months ago, and today my hair is half way down my arm, so they 100% work to accelerate hair growth!

Bottom Line: Yes, I would recommend this to a friend

---

Do not buy

By Gabi

,

Prague, Czech Republic

,

Dec 6, 2016
Verified Reviewer

I bought 3 bottles of Hhairburst and took it for several months. After that I had a serious acne problem for over a year and half of my hair had fallen out and the rest had severe breakage.

My hair was medium length to my back and I was forced to cut it to a shortbob. DO NOT buy this product. It is a total scam and will do you more harm than good.

Bottom Line: No, I would not recommend this to a friend

---

Totally recommend

By Christine

,

Southend-on-Sea, England

,

Jul 18, 2016
Verified Reviewer

Hi all, my name is Christine and I have been using Hairburst capsules for 2 months. My hair grown up to 2 inches & the condition has improved very much. I buy hair burst from Holland & Barret in packs of 3 for £59.99. I dye my hair blonde, but since taking hair burst, I have to dye my hair every 2 weeks when I used to dye my hair every 4 weeks. Totally recommend Hairburst. It really works!

Bottom Line: Yes, I would recommend this to a friend

---

I love it

By Nicole

,

Sydney, Australia

,

Feb 7, 2016

I have been trying to grow my hair for seven years with not luck. In fact, I went 12 months without cutting it. I've tried different oils and shampoos, scalp massages and cutting my hair every six weeks, with no luck. My hair dresser put me on to Hairburst and my hair is finally growing. It has grown around two inches in 6 weeks, and is much healthier. I love it. I bought it directly from the Hairburst site and had no issues with my order. I can't recommend this product enough.

Bottom Line: Yes, I would recommend this to a friend

---

Worked for me

Sucks some people did not receive their orders, I did get mine. However, yes it did take a bit, but I live in Canada. Because I did receive my order I would not consider it a scam. I don't feel like it made my hair shinier, but I did notice more growth then usual, which is good enough for me considering I bought it for length, not overall health.

Bottom Line: Yes, I would recommend this to a friend

---

Worked wonders!

By Kelly

,

Ireland

,

Oct 12, 2015

My hair is naturally brown thick and extremely curly! I'm 18 and I've never dyed my hair and only occasionally use heated products on my hair. My hair was long curly and really healthy until I was about 13 and then I started straightening it all the time! Eventually my hair started breaking and becoming uneven, short, dry and very damaged. I bought myself extensions to try give my hair the length it used to have but these probably didn't help my hair either.

When I was 16 I decided to stop using heat on my hair because it just refused to grow. I kept using conditioning treatments and many products to restore my hair but it only helped a little bit. So I've done some research and heard about this product. I ordered a 3-month supply and got them within a few weeks. When I was into my second month, it only seemed that my hair was shinier and thicker (not longer). I started to get frustrated as I really wanted it to grow, I was going to stop using HairBurst but decided I'll finish off the third month and I wouldn't buy them again. However, as I started the 3rd month, I could actually tell my hair had started to grow. Keep in mind that my hair didn't grow for 3 years and then suddenly it had grown roughly 2/3 inches in 3 months!

I stopped taking them afterwards and continued to look after my hair properly. Just yesterday I ordered some more to give my hair another kick in the right direction. I can't wait to see the results again. I only gave it four stars because after reading some of the other reviews it seemed pretty lousy that they have been taking money and not letting people cancel. Other than that, I think it is an amazing product. And I'm being serious. I'm not just saying that. Good luck to everyone else using them.

Bottom Line: Yes, I would recommend this to a friend

---