HD Free TV Antenna Reviews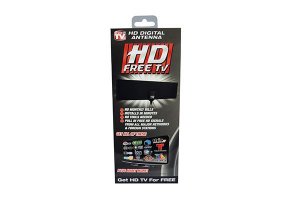 HD Free TV Antenna captures over-the-air digital signals, giving you access to all your favorite broadcast shows from networks like NBC, ABC, FOX, and more.
About HD Free TV Antenna
How would you like to save hundreds on your cable subscription?
HD Free TV Antenna can help by giving you access to broadcast TV, without worrying about contracts, fees, or price hikes. All you have to do is:
Attach HD Free TV Antenna to any window, wall, door, or flat surface. The thin, low profile design makes it easy to conceal.
Plug the antenna into your TV's AUX/IN.
Scan for channels and enjoy.
Once you're up and running, HD Free TV Antenna will send an uncompressed, full 1080 picture to your television, which will allow you to watch sports, movies, races, news, and more. And because the HD Free TV Antenna is so easy to install, you can use the same one at the home or office—even on a boat!
On top of this, HD Free TV Antenna will pull signals in from all directions, giving you the ability to watch TV in any room of the house, without extra cable boxes and wires.
If you're thinking about going cable-free, the thought of saving hundreds (or thousands) of dollars can seem tempting. But before deciding that HD Free TV Antenna is your best choice, let's cover all the basics you'll need to know.
First, let's discuss exactly what you can expect out of HD Free TV Antenna.
What Kind of Content Can You Watch with HD Free TV Antenna?
HD Free TV Antenna's manufacturer would like you to believe their product can help you "eliminate your cable bill without losing your favorite channels." Is this really the case though?
First, a little back story:
Because of the Digital Transition and Public Safety Act of 2005, all broadcast TV stations were required to begin transmitting digital (versus the old analog) signals as of February 17, 2009. In other words, if you watched TV using an old antenna (such as rabbit ears), you would have been required to purchase a new antenna that could pick up these new digital signals.
What's all of this mean for you? The signals you pick up with your digital antenna are broadcasted for free from major networks (such as NBC, ABC, CBS, FOX, PBS, etc.), but you won't be able to watch shows from "premium" cable channels such as HBO, TNT, Lifetime, Nickelodeon, and others. These always require a cable subscription.
So yes, if your favorite shows are on major networks, then HD Free TV Antenna can help you watch them. On the other hand, if your favorite shows are only found with a cable subscription, HD Free TV Antenna will not help you watch them once you've canceled your cable subscription.
Now that you understand which kinds of content you'll get with HD Free TV Antenna, let's talk about the quality.
What Kind of Picture Quality Will HD Free TV Antenna Provide?
When you watch shows with cable, the image you see on your TV first travels through the cable in your wall, and then into your cable box, after which it's sent to your TV. This signal is compressed, which just means that its size is decreased, making it easier to transmit (i.e. it takes up less space).
However, although compressed signals are easier to transmit, they also lose a fair amount of quality by the time they reach you.
On the flip side, digital over-the-air signals remain uncompressed, which means that you can potentially receive a better picture than with cable using products like HD Free TV Antenna.
Pro tip: HD Free TV Antenna connects to your TV through the AUX/IN (the same place many cable boxed connect). In order to receive "true" HD quality images though, it would need to connect using an HDMI cable. So, in a very real way, HD Free TV Antenna will not provide true HD picture quality.
Regardless of the cables you use though, there are two primary factors that really define picture quality with products like HD Free TV Antenna:
Your distance to the nearest broadcast tower, and
If there are any obstacles between you and the tower, such as hills or mountains, trees, other buildings, and more.
To address this, HD Free TV Antenna's manufacturer links to AntennaWeb.org and DTV.gov, where you'll be able to check your distances and better gauge what kind of reception you can expect.
In many instances, customers for similar digital antennas have complained that they still didn't get many (or any) channels, even though they were well within range of a tower.
Let's talk more about these other options.
What Does HD Free TV Antenna's Competition Look Like?
Perhaps the most popular "As Seen on TV" digital antenna currently on the market is Clear TV.
But it doesn't stop there. Try typing "digital antenna" into your favorite search engine, and you'll find dozens more essentially identical options to HD Free TV Antenna, many of which are priced about the same (more about this next).
Overall, Clear TV's products had an average rating of 1.9 stars here on HighYa, based on nearly 600 reader reviews (as of 11/3/15). While many customers felt "scammed" because these antennas didn't provide access to cable content (as we discussed above), many more complained of:
Failure to work (primarily, that they were unable to get more than a couple channels, and even those they could get were poor quality), and
Difficult customer service experiences (problems processing returns, unhelpful personnel, etc.).
Will you experience the same with HD Free TV Antenna? Since they're made by different companies, there's no way to know. But we'd certainly recommend keeping it in mind.
Speaking of which, let's talk more about HD Free TV Antenna's manufacturer, as well as the price.
Pricing
The company website advertises one HD Free TV Antenna is free, but you will have to pay a $7.99 charge for S&H.
Should You Buy HD Free TV Antenna?
There are three primary parts you'll need to free yourself from expensive cable, while still retaining access to many of your favorite programs:
An internet connection,
Hardware (including digital antennas), and
Software (such as apps or online subscriptions).
Now, if you want to take a "bare bones" approach and save as much money as possible (e.g. not paying for a faster internet connection or purchasing other types of hardware), a digital antenna like HD Free TV Antenna might be a good choice. Just keep in mind that you may only get access to a handful of broadcast channels, and your picture quality might not be fantastic.
Regardless of the number of channels you get though, HD Free TV Antenna will not give you access to your favorite cable-only shows.
So, if you're expecting HD Free TV Antenna to magically give you access to all your favorite cable content, but without paying an expensive monthly bill, you're bound to be disappointed.
But if you understand that you might have to make some sacrifices in the content you receive (and/or are willing to round out your digital antenna with other hardware and software options), you might be pleased with HD Free TV Antenna.
---
Great Free TV

By Gary H.

,

Florida

,

Mar 19, 2016
Verified Reviewer

Overall Experience:

It works! I got it today, hooked it up and wham it works. I get about 28 channels. Will move it around and see if I get more. They all come in clear and in HD. I will cut the cord from cable and maybe add Sling TV and still will be saving about $100 a month. Buy one and get one free, you can not go wrong, so order today and cut the cord tomorrow. Have fun enjoying free HD TV.

Bottom Line: Yes, I would recommend this to a friend

---

Overall Experience:

I have had and used the antenna ever since it came out with commercial on TV. I live in a 75-unit apartment building on the 5th floor. I ordered a "set" and convinced seven or eight other tenants to get some (most of us sold the other one to other neighbors for $12). I also gave the information to people in another apartment building of 100 units, and they ordered some. In fact, I sent in the orders for most of them in my building (a group of orders) and got a questionnaire from the company as they were thinking I was upping the price and selling them in a business.

I love the antenna so much. I put it in my south window-up high and get 75 channels (not all at same time, depends on weather, etc. ) and get around 45 each day regularly. I also use a "spliter" to get service in the bedroom. Both have great picture quality and are better than cable or satellite (which I cannot use because my building is a Historic Building and can't put up dishes), and with no monthly charge, I'm saving about $120 every month. I'm STILL recommending it to everyone I know or new tenants in the building.

Bottom Line: Yes, I would recommend this to a friend

---

Advertisement

---

Overall Experience:

I get a great quality HD picture and I can choose from several channels. Of course they are not cable network channels, but nonetheless, they are good, basic TV channels. And the quality of the HD picture is the same as cable HD pictures. I am very pleased and would definitely recommend it to my friends and family.

Bottom Line: Yes, I would recommend this to a friend

---

No more cable bills

By Joann G.

,

Everett, MA

,

Dec 31, 2018
Verified Reviewer

Overall Experience:

I love the antenna, I get a better picture than I had with cable...no bill too!

Now with Firestick or Roku added I get more channels than I had with cable.

Now if they could work on a WiFi, it would be perfect.

Once many of my neighbors saw what a great picture without cable, they bought the antennas also.

The only thing I'm missing are the magic stickers.

Bottom Line: Yes, I would recommend this to a friend

---

Advertisement

---

Simply incredible

By Orlando A.

,

Orlando, FL

,

Jan 2, 2019
Verified Reviewer

Overall Experience:

The installation was very simple and I got all my favorite channels, and I was surprised the I can have Netflix. I am very satisfied.

I recommend it with the certainty that everyone will agree with me.

Bottom Line: Yes, I would recommend this to a friend

---

Great product

By Robert E.

,

Florida

,

Jan 5, 2019
Verified Reviewer

Overall Experience:

I purchased this the HDTV antenna for my aunt and she loves. It works awesome, great picture, great channels and very easy to set up. I would recommend this item to anyone. I am very satisfied with the outcome. I would definitely be using one for myself for my motorhome, it will be great to have to travel and have HDTV on the go.

Bottom Line: Yes, I would recommend this to a friend

---

Review of amphithe antenna for HDTV

By Donald L.

,

Port Saint Lucie, FL

,

Jan 16, 2019
Verified Reviewer

Overall Experience:

We received our antenna and was very anxious to try it. We were quite surprised at how the picture was very clear, very easy to install. As we where amazing on how many channels we could get with such an easy installation. We would recommend the antenna to anyone.

Bottom Line: Yes, I would recommend this to a friend

---

Free HD TV

By Steven H.

,

Savannah, GA

,

Feb 5, 2019
Verified Reviewer

Overall Experience:

I bought this HD antenna thinking it would not pick up any channels. I was surprised and very pleased at my results. I am able to get 13 channels on my TV. The quality of the picture is great and the set up was very easy. I would highly recommend this antenna to anyone who is looking to cutting the cable cord.

Bottom Line: Yes, I would recommend this to a friend

---

Best ever free HDTV antenna

By Nimesh S.

,

Milpitas, CA

,

Feb 14, 2019
Verified Reviewer

Overall Experience:

One of the best ever free HDTV antennas. We are using at our workplace. It helps us to see the morning news and all other important programs without paying any extra cost. And this HDTV antenna is very easy to install and operate. And picture quality is very sharp. Now I am not required to use any other TV set up box to watch my favorite program.

Bottom Line: Yes, I would recommend this to a friend

---

HD TV Antenna

By Margaret G.

,

Florida

,

Feb 27, 2019
Verified Reviewer

Overall Experience:

I truly have enjoyed this product. I have been able to watch TV again. I would recommend to others. The reason writing this review - easy to install. Thank you for this product.

Bottom Line: Yes, I would recommend this to a friend

---

Super antenna

By Angelo S.

,

Silver Spring, MD

,

Mar 15, 2019
Verified Reviewer

Overall Experience:

This antenna is a masterpiece to beat the wallet if you do not want to pay higher cable bills. It works great at our house. The only thing is when it is a high wind the signal is lost, but for this, it is a great device.

Bottom Line: Yes, I would recommend this to a friend

---