Hint Water
Claimed This company has claimed this profile, is getting alerted on any new customer reviews entering this page, and may engage in dialogue with its customers to address their matters.

Companies cannot pay money or provide goods in order to remove or alter customer reviews.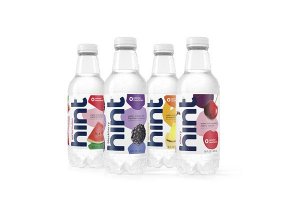 Hint sells calorie-free, sweetener-free drinks made with filtered water and natural fruit extracts in stores and on a subscription basis.
---
Overall Experience:

My office decided to get these from Amazon as an alternative to the Monster Energy drinks they provide. I ended up trying one today because it was the only thing that fit my diet. Boy was I impressed. I didn't even realize the name was "hint." I was telling my co-worker how it didn't have full-on flavor, just a hint of watermelon on the aftertaste. She laughed at me and pointed at the name "hint." Needless to say, this is now a regular drink at the office.

I would recommend this to anyone who is going the healthy route but wants just a little flavor to your water.

Bottom Line: Yes, I would recommend this to a friend

---

Do not buy!

Pennsylvania

,

Mar 24, 2018
Verified Reviewer

Overall Experience:

I will not purchase it ever again. It is advertised to help you get off soda. Anyone that drinks soda wants sweet flavor. "Hint" is just overpriced water with barely any flavor. Very disappointed. Save your money. DON'T BUY.

Bottom Line: No, I would not recommend this to a friend

---

Good but definitely not worth the money

By Roger Bean

,

Ohio

,

Mar 20, 2018
Verified Reviewer

Overall Experience:

The water is good, but extremely overpriced! I will infuse my own water, thank you. Then again, if you don't have the time and don't mind paying the price, then I would recommend it. The flavors are good, but it lives up to its name; "Hint!"

Bottom Line: Yes, I would recommend this to a friend

---

Charge without permission

By Shawn Hunter

,

Columbus, OH

,

Mar 1, 2018
Verified Reviewer

Overall Experience:

I didn't give them permission to charge me $32. They need to refund the money ASAP. Someone was supposed to get a hold of me within 24 hours, but I am still waiting. Hint Water, refund my money, and if you set me up on a membership, cancel it now.

Bottom Line: No, I would not recommend this to a friend

---

Advertisement

---

Finally a fruit-enhanced water

Overall Experience:

Years ago I tried a water similar to Hint called LeNatures. The company went out of business, and I have been searching for a similar product. I did not want a sweetened/artificially sweetened water. I wanted just what LeNatures was, a fruit-enhanced water without carbonation. I found it on Peapod, tried it and now order it directly from the company. For me, it is well worth the money. My favorite is the raspberry enhanced variety.

Bottom Line: Yes, I would recommend this to a friend

---

I love Hint!

By Veronica A

,

New York

,

Feb 20, 2018
Verified Reviewer

Overall Experience:

I don't know what some people are talking about! I love Hint! My fav is watermelon, and I have 4 cases of it in my house right now. I also like the pineapple and cherry, but besides watermelon, I don't drink the rest. But it doesn't leave any bad aftertaste, and I don't know what else to say, I simply love it.

Bottom Line: Yes, I would recommend this to a friend

---

Very refreshing

San Diego, CA

,

Feb 8, 2018
Verified Reviewer

Overall Experience:

Absolutely a great alternative to sugar drinks. It is not in all stores or easy to find. Also, it is way OVERPRICED for water! Tea in a bottle costs less than this. I would like to buy it, but not for $1.50 - $2.00 a bottle.

Bottom Line: Yes, I would recommend this to a friend

---

Not worth the money

By Sue Lehde

,

Illinois

,

Feb 7, 2018
Verified Reviewer

Overall Experience:

It has a plastic aftertaste. Really nothing special. Not much flavor. Pricey. Once you set up a "subscription," it is very hard to cancel.

Get a Nalgene bottle, and use your own water. I have great well water. Or filter your own, add some fresh fruit, customize to your taste, and you are flavor and dollars ahead.

Bottom Line: No, I would not recommend this to a friend

---

Tried Blood Orange

By Rose

,

Jan 14, 2018
Verified Reviewer

Overall Experience:

Don't try, too expensive, save your money. It has a plastic aftertaste, pretty weird. Check the expiration date since plastic bottles leak chemicals after time.

Take a bottled reverse osmosis or spring water and add a twist of lemon, lime, orange or add a little juice to it, and it tastes much better.

The ingredients say "purified water." Purified water from where? Blood orange and other natural flavors are from non-GMO plants? What plants? Not from fruits?

People, please read ingredients and fine print before you buy products.

Bottom Line: No, I would not recommend this to a friend

---

Overall Experience:

I saw this little jewel on a shelf in Bi-Lo grocery store as I was looking for something other than plain water. I have completely forgone soda, juice and artificially sweetened drinks and flavorings.

Hint is exactly what the name suggests; there is a hint of flavor that tickles your taste buds without the use of sugar or sugar substitute. I have not had any of the negative experiences that I have read about in this review, but, I do know that everyone's taste buds are different and that also varies by age so that would explain a few of the comments that suggest they taste no flavor at all. I love the variety of flavors and will continue to buy it.

Thanks Hint for making something different and accomplishing the zero sweetener flavoring!

Bottom Line: Yes, I would recommend this to a friend

---

Overall Experience:

I ordered three cases of Hint Water; one Sparkling Grapefruit, one Watermelon, and one Kick Lemon Cayenne. After tasting all of them, there is no taste in any of them. I don't even think there was a watermelon in the room when they were bottling that flavor.

A total waste of money. I could buy three for $9 bottled water that tastes better than this stuff. Total ripoff. Stay away!

Bottom Line: No, I would not recommend this to a friend

---