Hydro Mousse Liquid Lawn Reviews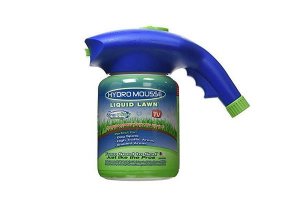 Hydro Mousse Liquid Lawn combines four different seed varieties with a formula that hydrates and nourishes the soil, leaving you with great-looking grass.
About Hydro Mousse Liquid Lawn
After attaching to any garden hose and setting the dial, Hydro Mousse Liquid Lawn's eco-friendly Spray n' Stay hydroseeding technology ensures its seeds attach firmly to the soil, while also reducing the surface tension and increasing its water absorption ability.
Each container covers up to 100 square feet with a "high-quality seed mixture" that "blends perfectly with your existing lawn," making it ideal for many different applications, including dry spots, dog spots, and high traffic and shaded areas. It even grows in hot or cold weather.
Together, the website advertises this green mousse formula eliminates guesswork by showing where you're planting, makes reseeding as easy as watering your lawn, and reduces the likelihood of losing seeds to birds or weathers. Is this what you can realistically expect?
We've learned a lot from the 280+ HighYa readers who have provided feedback about their experiences with Hydro Mousse Liquid Lawn, as well as from our in-depth research into the manufacturer's core claims.
In this article, we'll walk you through each of the product's important details. In the end, you'll have a better idea of which step you should take next. Let's start with the price.
How Much Does Hydro Mousse Cost and Where Can You Buy?
Hydro Mousse is available in two different kits:
Standard Kit – Includes one sprayer with attached seed container. Enough for 200 spots or 100 square feet: $19.95 plus $7.95 S&H, bringing your total to $27.90 (or, about $0.28 per square foot)

Best Value Kit – Includes everything in the Standard Kit, in addition to five seed refill bags for $79.80 plus $29.95 S&H, bringing your total to $109.75 (or, about $0.18 per square foot)
The manufacturer also offered the Standard Kit on Amazon for $24.99, with free shipping available for Prime members.
Regardless of which direct option you choose, Hydro Mousse comes with a 30-day refund policy, less S&H charges. Note: This means that if you order the Best Value Kit and request a refund, you'll have to send six bags of seed back to the manufacturer, which could cost a decent chunk of change in return S&H charges.
To request a refund, you'll need to contact customer service at 888-405-8997.
Now, let's dive into perhaps the three important aspects of Hydro Mousse's functionality.
How Does Hydro Mousse's Spray n' Stay Hydroseeding Technology Work?
DoItYourself.com explains that hydroseeding (also frequently referred to as hydraulic mulch seeding, hydroseeding, and hydro mulching) involves using a hose to spray a special mixture of "water, seeds, fertilizer, cellulose fiber or wood mulch, and soil treatment agents" onto the ground.
Not only does this mixture help "shelter your seeds from sunlight, wind, and soil erosion," they explain that it also "helps create a bond with the soil" and "releases a wide range of nutrients that help your seeds thrive" during its natural decomposition process.
Furthermore, this mixture is typically dyed green to a) make it easier to apply and b) help make it less of eyesore immediately after application, until the seed has had time to germinate and grow.
Hydroseeding was initially used for large agricultural purposes, such as restoring burned areas and controlling erosion, so it required application by trained professionals. Recently, however, products like Hydro Mousse have entered the marketplace, promising to provide many of hydroseeding's same benefits, but at a scaled-down size useful for residential applications.
What Ingredients and Seed Types Does Hydro Mousse Contain?
Other than telling us Hydro Mousse contains a "high quality" seed mixture that's resistant to extreme heat and cold and will blend perfectly with your existing lawn, the manufacturer doesn't provide any information about the exact species of grass seed it contains, nor the specific ingredients found in their eco-friendly slurry.
We reached out to several support representatives during our research, none of which were able to provide additional insight.
However, according to the EpicReviewGuys YouTube channel, the only active ingredient in Liquid Lawn's green foaming agent is alpha-olefin sulfonate (15%), with 85% 'other ingredients.' The seed mix includes:
Xtreme Green Tall Fescue 39.94%
Corsair Kentucky Bluegrass 19.82%
Radar Chewings Fescue 19.77%
Academy III Perennial Ryegrass 19.55%
Are these ideal? According to Lowe's, the 'best' seed type for your particular application will depend on a wide variety of environmental factors, such as climate and soil type, in addition to other considerations like sun/shade levels, amount of traffic, and even how short you choose to mow your grass.
With this said, fescue grass is adaptable to a wide range of climates and soil conditions (even in drought areas), although it typically thrives in moist environments in transition zone states like AR, GA, KY, OK, MO, NC, TN, TX, and VA.
Kentucky Bluegrass has a shallower root system than fescue and typically requires a greater amount of water during the summer, although it goes dormant during the winter and requires no watering at all.
Finally, Perennial Ryegrass boasts high traffic tolerance and naturally prevents the growth of weeds, but doesn't withstand cold temperatures well, requires a great deal of maintenance, and can crowd out other beneficial grasses and plants.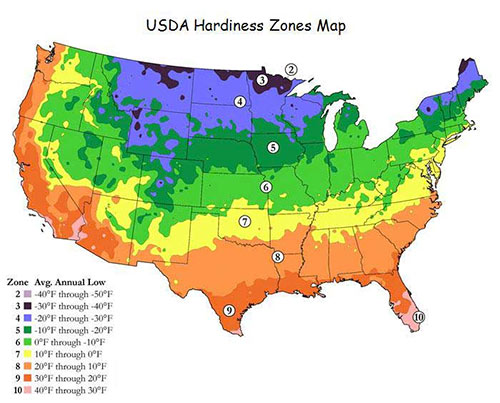 In this hardiness zones maps from the USDA, we can see that the type of grass you should plant (and when you should plant it) depends largely on your climate. Credit: SeedLand.com
Is Hydro Mousse Liquid Lawn Really as Easy as Watering Your Lawn?
If you fast-forward to the 1:20 mark in this instructional video posted by Hydro Mousse's manufacturer, you'll see that even if you only cover dog spots or fill in high-traffic areas, the surface area must be prepped. This involves removing all dead vegetation (including your existing grass), loosening the topsoil, and watering your lawn three times daily after application.
Depending on the size of the area you're looking to apply Hydro Mousse, this prep work requirement could translate into a meaningfully more labor-intensive endeavor than the commercial might make it seem.
A Look at Hydro Mousse Liquid Lawn Reviews and Complaints
Customer Reviews
Since writing our original article, more than 280 HighYa readers have chimed in about their experiences with Hydro Mouse (as of 5/8/18), giving it an average rating of 1.4 stars. While a handful of customers reported good results, in general, most complaints appeared to revolve around:
Difficult application – Many customers indicated the container doesn't eject its contents properly, resulting in most of the seeds remaining in the bottom after all of the green mousse had sprayed out. In fact, more than one customer stated that it worked better by simply by unscrewing the cap and pouring the mixture out by hand.

Spot treatment functionality – Multiple customers reported that the bottle trigger shown in the commercial isn't functional. Instead, once you turn on your water, they indicated everything in the bottle comes out all at once (including the mousse and the seeds), which meant there isn't an ability to spot treat.

Much less coverage than advertised – Many customers claimed there was only enough mousse in the bottle to cover about 20 square feet.
Note: The instructional video linked to earlier covers everything from unpacking the system and choosing an application area, to how to clean up afterward. This could potentially help clear up any user errors that may have caused some of the experiences noted above.
Additional common complaints included:
Inferior seed varieties – Many reviewers claimed that you could purchase similar seed mixes from local hardware stores for much less (we'll discuss this important aspect again, soon).

Staining & potential toxicity – Several customers stated that Liquid Lawn stains, so be sure to wear gloves and old clothes when applying, while also taking care around driveways, sidewalks, and other concrete areas. Also, some claimed the mousse made their pets sick and/or the chemicals it contains burned their carpeting.
Hands-On Reviews
A Canadian network news team conducted a 14-day Hydro Mousse review in July 2014 and found that the treated area grew only in patches. However, they pointed out that an area of fresh dirt on the same piece of property filled in much better.
FeXNet Review also found that after two weeks, Liquid Lawn had only grown in patches in a small area, which was prepped according to the manufacturer's recommendations (tilling topsoil a full 3" from the surface, as well as removing any existing grass or weeds). In fact, they reported standard grass seeds planted alongside performed better than Hydro Mousse.
On the other hand, YouTuber Steve Johnson created a short four-part series examining Hydro Mousse, from initial spraying to nine days after application, and seemed to experience better results. He even posted a follow-up video revealing that some of his leftover seeds inside the sprayer had germinated after a few days.
Hydro Mousse Liquid Lawn vs. Grass Shot
The only other at-home hydroseeding product currently competing for the same customers as Liquid Lawn is Grass Shot, which also attaches to a garden hose, ejects a green foam that promises to hydrate and nourish the soil and features replacement kits for refilling.
Although they were found in different percentages, both of these formulas also contained two types of Fescue, one type of Kentucky Bluegrass, and one type of Perennial Ryegrass:
| | Price / Quantity | Seed Mix |
| --- | --- | --- |
| Hydro Mousse Liquid Lawn | $19.95 + $7.95 S&H / 100 square feet | Xtreme Green Tall Fescue (39.94%), Corsair Kentucky Bluegrass (19.82%), Radar Chewings Fescue (19.77%), Academy III Perennial Ryegrass (19.55%) |
| Grass Shot | $27.90 + $9.35 S&H / 700 square feet | Rhizing Star Tall Fescue (24.94%) All Star 2 Perennial Ryegrass (20.64%), Boreal Creeping Red Fescue (14.80%), Harmonie Kentucky Bluegrass (9.98%) |
Comparing these two side-by-side, we can see that Hydro Mousse comes with a lower price, but it also covers a meaningfully smaller area than what's advertised by Grass Shot's manufacturer.
Grass Shot also came with very similar Amazon customer reviews and an overall average rating of 1.9 stars at the time of our research. As with Liquid Lawn, common complaints referenced difficult application, no grass growth, and high price.
Given their similar seed mixes, claims, price points, and average customer ratings, how can you choose which of these options—if any—is the right one for you?
The Bottom Line
Here at HighYa, our goal is to present you with the facts, let them speak for themselves, and leave the final decision up to you.
Based on what we learned during our research, it seems most online customers who left reviews about their experiences were disappointed with Hydro Mousse's performance, whether during the application, weeks later, or both.
Many who used it to spot treat seemed to report better results than those who applied the formula to larger areas.
Even if Hydro Mousse were reported by customers to work exactly as advertised, though, as consumers ourselves, we'd question its overall value. For example, let's run some quick numbers based on reseeding an entire lawn:
The average lawn size in the U.S. is 1/5 of an acre, or about 8,712 square feet (front and back).

With 100 feet of coverage at the cost of $20 per bottle, this means that you'd likely spend around $1,742 in order to apply Hydro Mousse to your entire lawn.

However, we learned earlier that customers commonly complained that Hydro Mousse only covered about 20 square feet, since the seeds and "mousse" often seemed to come out all at once. In this scenario, you'd spend more than $8,700 to apply Liquid Lawn to your whole lawn.

On the other hand, professional hydroseeding generally costs $0.10 - $0.12 per square foot, resulting in a cost of $800 - $1,000 to have it professionally done for you.
Together, the manufacturer's claim that Hydro Mousse will provide "professional results at a fraction of the cost" doesn't seem to add up.
Furthermore, based on what we learned from customer reviews, Liquid Lawn might not deliver meaningfully better results than standard bluegrass, fescue, and ryegrass seed blends, which can often be purchased locally for less than $15 and cover a minimum of 750 square feet (or, about $0.02 per square foot). Which works out to much less money than at-home hydroseeding products like Hydro Mousse Liquid Lawn and competitors.
» Read Next: 5 Tips for Achieving the Greenest Grass on the Block This Spring
---
Amazing Product!

By Kristien

,

Calabasas, CA

,

Jun 24, 2014

Overall Experience:

I could not be more impressed by this product! I have had patches all over my lawn from my dog and have tried a bunch of different products to fix them. When I had heard about this product I decided to give it a try, and am I glad I did! Patches be gone! I would highly recommend this to anyone with lawn issues, because it works great and makes the lawn look fantastic!

Bottom Line: Yes, I would recommend this to a friend

---

Great with a twist

By Larry Tobias

,

Santa Barbara

,

Jul 1, 2014

Overall Experience:

A friend of mine says you should soak grass seed overnight before using, grass grows quicker and needs less watering if soaked, so Hydro mousse seemed perfect as you get a container to soak the grass in and can then spray it out. Anyone who's soaked grass knows it sticks to your hands and everything and is impossible to scatter around so this is brilliant. Anyway, I soaked the seed overnight in the container, added the mousse and sprayed it where I have issues and behold, the grass began sprouting in three days. And here's the best part, I only watered once a day, not three times. I've written to Hydro mousse as this makes their product really incredible.

Bottom Line: Yes, I would recommend this to a friend

---

Great product

By Daniela Tod

,

Toronto, Canada

,

Jul 23, 2014

Overall Experience:

I am a single mom of two and find gardening companies very expensive. I love Hydro mousse.

Bottom Line: Yes, I would recommend this to a friend

---

Don't get why the bad reviews

Overall Experience:

I don't get why so many bad reviews. I just went online to order more product because I thought it worked good, then I found this site. I'm not sure what everyone is doing wrong but I fixed up all of my dog spots and it grew in really well. So now I want to get some for an area under a tree that was damaged because I left leaves on it over the winter.

Bottom Line: Yes, I would recommend this to a friend

---

Advertisement

---

It does work

By Daniel

,

Sylvania, ohio

,

Jul 24, 2014

Overall Experience:

I followed the directions. After 5 days, I started to think it's a rip off. On day 8 I looked and BAM!, there was grass.

Bottom Line: Yes, I would recommend this to a friend

---

Was actually shocked how well it worked!

By Jason

,

Milton, On

,

Aug 7, 2014

Overall Experience:

Was really pleased with the coverage and results, put some top soil under my tree, used the hydro mousse and in 5 days I saw results, need to follow directions if its not working for you.

Bottom Line: Yes, I would recommend this to a friend

---

Works just fine, but it took up to 3 weeks

By Jamie Beck

,

Fort Worth,TX

,

Aug 11, 2014

Overall Experience:

Bought it online got it 16 days later put it to work the next morning.

I had to water my yard 3 times a day though. I had bald spots on my yard that looked really bad but this stuff saved it and my sister thought we used a professional.

Bottom Line: Yes, I would recommend this to a friend

---

Green Grass again

By Jack H

,

Fairfield, CA

,

Aug 19, 2014

Overall Experience:

Followed the directions and in 2 weeks I had green healthy lawn again. I tried to grow grass in a section of my lawn for 3 years and nothing ever worked until I found this Hydro-Seeding product. Completely amazing even my landscaper was blown away when he came to mow my yard.

Bottom Line: Yes, I would recommend this to a friend

---

Best Lawn Solution I Have Used

By Bill D.

,

Pensacola Florida

,

Oct 11, 2014

Overall Experience:

I was skeptical, however Hydro Mousse works! My only advice is to follow the directions Exactly. I have also been able to use my own store bought grassed with liquid fertilizer to spread the product. IT WORKS LIKE A CHAMP. I had grass in seven days. Make sure you water three times per day.

Bottom Line: Yes, I would recommend this to a friend

---

Great for patching.

By Jason Brown

,

Oct 18, 2014

Overall Experience:

The Hydro Mousse filled in my dog spots and dead areas well. I like how easy it was.

Bottom Line: Yes, I would recommend this to a friend

---

Filled in lawn spot from car

By Nichole

,

Nov 15, 2014

Overall Experience:

I liked it, it grew in good. Fixed the dead spot in our lawn where we used to park our car.

Bottom Line: Yes, I would recommend this to a friend

---