InstaChill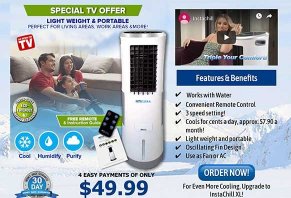 InstaChill is a lightweight and portable cooler that promises to cool, humidify, and purify your air by using 10 quarts of cool water that you pour in prior to turning the device on.
InstaChill Reviews - Does It Really Work?
InstaChill is a portable, stylish, and affordable personal air cooler that promises to make your home, office, or even outdoor areas more comfortable, while also humidifying and purifying your environment.
The website advertises you only need to add water, set the speed on its full-function control panel or remote control, and then sit back and relax as the evaporation technology pulls in hot air from the surrounding room.
Air then passes through Moisture Pads and is sent—significantly cooled—back out into the room via oscillating fins.
InstaChill is so powerful, the manufacturer says, you don't even have to stand in front of it to experience its cooling power.
But, will it help you triple your comfort, as the commercial advertises? In this article, we'll help you understand InstaChill's functionality, its pricing, and its competition, so you can know what to expect for your hard-earned money.
How Does InstaChill Work?
The website explains that you'll start the process by popping off InstaChill's back panel and adding 10 quarts of cold water—the colder the water, the cooler air generated by the device. Then, turn it on.
InstaChill's fan draws in warm air from your surrounding room and passes it over washable, reusable, water-infused cooling pads, which reduces the temperature of up to 160 square feet of air by as much as 15 degrees Celsius—or about 27 degrees Fahrenheit—in less than one second.
The now-cooler air is sent back into your room, whether in one direction or multiple directions by pressing the oscillation button that allows it to pivot from side-to-side.
InstaChill also features three variable speed settings and an easy-view water level checking system, easily rolls from room to room for use anywhere in your house, workshop, garage, office, or commercial space, and can be used as a fan or a humidifier.
Overall, the manufacturer says this process and feature set can reduce the air temperature in any room between 5 percent and 15 percent, and only uses the same amount of energy as a 100-watt lightbulb.
In fact, they tell us it would only cost $7.90 to operate 24 hours a day for an entire month, without requiring freon.
We'll dive into how this is possible in the next section. Beforehand, we should note that the website leaves out several important details about InstaChill, such as:
What are its dimensions?
How much does it weigh?
What is the air output, as measured in cubic feet per minute (CFM)?
Are there any special features, such as notifications when it's time to refill the tank, replace a filter, timers, etc.?
We sent an email to customer support but hadn't received a response as of publishing.
How Effective Is InstaChill's Evaporative Cooling?
Before becoming vapor, water must first heat up—which means evaporation fundamentally involves transferring heat from a surface into the air. Hence, this process is known as "evaporative cooling," or more technically, "endothermic reaction," as stated in the InstaChill commercial.
This is precisely how sweating cools you off on a hot summer day. It's also how devices like InstaChill—formally called evaporative coolers and colloquially known as "swamp coolers"—work, which force air over water, cool it down, and then send the air back into your room to make you more comfortable.
Because adding water vapor to the air increases humidity, though, evaporative cooling works best in arid environments where it can decrease indoor temperatures by up to 20 degrees.
However, swamp coolers become increasingly less effective as the air humidifies, so they're rarely found in regions like the Southeast and Gulf Coast.
So, while the manufacturer repeatedly emphasizes that InstaChill only costs $7.90 per month to operate, compared to more than $200 for a traditional wall-mounted air conditioning unit, it's essential to keep in mind that these technologies will provide very different levels of cooling depending on where you live.
How Much Does InstaChill Cost & Where Can You Buy?
If purchased from BuyInstaChill.com, each unit is available for a single payment of $219.95, plus $19.99 shipping, or four interest-free monthly payments of $49.99. Each order includes a free remote and instruction guide.
During checkout, you can upgrade to the XL model, which promises to deliver bigger, more robust operation and to cool rooms up to 270 square feet. This increases your cost to five payments of $59.99 each, or single payment of $319.94.
We also found a "medium" (no capacity listed) version sold on Amazon for $199.99, plus $19.99 shipping, which advertised all of the same features.
As long as it's in as-new condition and their original packaging, InstaChill comes with a 30-day money back guarantee, less original and return shipping charges. It also features a one-year warranty.
There aren't any details regarding replacement filters on the InstaChill website. Again, we emailed customerservice@branddevelopers.com for insight but hadn't received a response as of publishing.
InstaChill vs. Competing Portable Evaporative Coolers
We didn't encounter anything designed exactly like InstaChill during our research.
However, there are many different evaporative coolers available from third-party manufacturers that share most of the same core features, including control panels, remote controls, adjustable speeds, fins for directing airflow, easy-fill water tanks, and functionality as fans, coolers, and humidifiers.
As examples for your comparison, here are a couple of the most popular models on Amazon:
| | | | | |
| --- | --- | --- | --- | --- |
| Model | Price | Specs | Average Amazon Rating | Special Features |
| InstaChill | $239.94 | Unknown | N/A | XL version available ($319.94) to cool up to 270 square feet |
| Honeywell CL201AE | $199 | 32.9" x 18.9" x 14.6", 23 lbs. | 3.3 stars, 413 reviews | 5.3-gallon tank, 470 CFM output, 230W power consumption, includes activated carbon filter, low water alarm, timer, adjustable humidification, shut-off timer |
| Costway Air Cooler | $85.99–$109.99 | 25.5" x 14.5" x 12", 8 lbs. | 3.6 stars, 123 reviews | Available in 4 sizes (24", 24.5", 28", 29"), 24" version cools up to 270 sq. ft., features 8-hour timer, 6L water tank |
Costway's Air Cooler models are significantly less expensive than InstaChill or Honeywell's CL201AE, and Costway's 24-inch version is nearly four times lighter than the CL201AE.
So, if paying the lowest price or maximizing portability—at least from a weight perspective—are at the top of the list, it seems like the logical way to go.
Costway also comes with a higher average Amazon customer rating, although Honeywell has four times the number of reviews, so it seems to be more popular. It also has a 5.3-gallon tank and multiple useful features (carbon filter, adjustable humidification, etc.), whereas we know the fewest specs about InstaChill and it's so new that it doesn't have any online feedback yet.
Our Conclusion: Will InstaChill Deliver Maximum Value?
From an effectiveness standpoint, the manufacturer's 20-degree cooling claims for InstaChill seem to be mostly inline with evaporative cooling capabilities.
However, if you don't live in an arid climate, you can almost certainly expect much less of a temperature drop than this.
Effectiveness aside, InstaChill's Standard version costs almost four times as much as Costway's 24-inch model, and you also know the least about what you'll get for your money.
So, even if they're about the same size, you could get four times the cooling power with Costway for the price of a single InstaChill device.
On top of this, InstaChill comes with steep, non-refundable shipping charges and zero current online customer feedback, so you're largely buying blind.
You also can't reach live support if you have questions, or if you want to speak with a real person to request a refund, versus sending off an email and crossing your fingers that you receive a speedy response.
Bottom line: If you're in the market for a portable evaporative cooler, InstaChill's combination of high price, lack of details, and limited support options mean that we'd recommend exploring other devices that seem to deliver more value for your money.
---
InstaChill

By Sandy W.

,

Central Coast, New South Wales, Australia

,

Jan 21, 2020
Verified Reviewer

Overall Experience:

Purchased two InstaChills, still in the free trial promotion and wanting to return this product. As Seen On TV shop does not pick up. Customer not allowed to deliver. And I can't find a courier to pick up and deliver. Many phone calls I've made. Employees saying they can't help to return. This product is not worth the cost and it's not effective either. It's been nothing but a hassle.

Bottom Line: No, I would not recommend this to a friend

---

Same as an ordinary fan

By Linda A.

,

Australia

,

Dec 17, 2019
Verified Reviewer

Overall Experience:

I purchased Insta Chill. We put the medium size product in an average size bedroom with the door ajar. It did absolutely nothing to cool the room. We had a temperature monitor and it did not shift in degrees. It is the same as any fan but costing $500 plus. It just circulates the heat. So we had it on for 1 night and packed it back up in the morning to send back. So what it came down to it, it cost us $90.00 for postage for nothing as it's YOUR responsibility to return it. A lesson learned. I am a disabled PENSIONER feeling I lost $90.00. Disgraceful!

Bottom Line: No, I would not recommend this to a friend

---

Advertisement

---