JuveTress Reviews
Claimed This company has claimed this profile, is getting alerted on any new customer reviews entering this page, and may engage in dialogue with its customers to address their matters.

Companies cannot pay money or provide goods in order to remove or alter customer reviews.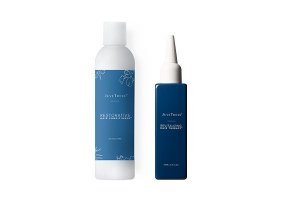 Using plant polyphenols and proprietary ingredients, the JuveTress system features two products that promise to help revitalize and make your hair look fuller.
---
This company is actively collecting reviews from its customers. All reviews submitted are subject to moderation and approval to ensure they meet our

Review Guidelines

.

Scammers

By Darling A.

,

Georgia

,

Sep 23, 2020
Verified Reviewer

Overall Experience:

You have to be careful with this company. They refused to cancel one of my orders. My daughter placed an order and while checking out she mistakenly clicked on another offer, and when we called to cancel one of the orders they said no, that it was already locked in. I will never order from them again. I just think they are scammers, a company that is desperate for people's money.

Bottom Line: No, I would not recommend this to a friend

Sep 24, 2020

Hello, my name is Nadia with Juvetress. We're sorry to hear about your experience. It is never our intent to confuse our customers. Any additional offers presented during checkout always have a visible option to decline. We appreciate your feedback and are happy to issue a refund. Please email me at nadia@juvetress.com and I can assist you with this. Thank you.

---

I am definitely seeing improvement in my hair

By Gloria J.

,

Richmond, CA

,

Jul 15, 2020
Verified Reviewer

Length of Use: 3–6 months

Overall Experience:

Now when I first started using the product I was totally bald in the top of my head and now I can see new growth. The product is definitely working. I wonder, do you have a leave-in condition? My hair is very thin and dry.

Pros and Cons:

It leaves the hair very soft and manageable
I like the smell
It is working, I can see positive results, it's kind of slow but I am willing to keep using it, at least I am not losing any more hair
It takes time, but I am willing to wait

Bottom Line: Yes, I would recommend this to a friend

---

Advertisement

---

Best Hair Serum Hair Therapy out there in the market.

By Libby C.

,

Lewisville, TX

,

Jul 5, 2020
Verified Reviewer

Length of Use: Less than 3 months

Overall Experience:

I had practically lost all of my long curly hair that was down my waist within a 2-week period. I tried everything out there in the stores I could get my hands on. One day I came across this ad in my email and something told me to try it. So I did and I'm so grateful because my hair grew a lot faster than the other competitors I used and most importantly my hair has grown thicker, stronger, and fuller. It's much better than it was before it fell of.

Thank you for coming out and helping myself and others that ate loosing hair for medical reasons or for no reason at all. Your research and the products your company has is making big differences in people's lives. Keep up the great work and God bless you.

Pros and Cons:

Easy to use
Easy bottle/package
Hair grows strong and beautiful
A little too expensive
I wish it lasted longer

Bottom Line: Yes, I would recommend this to a friend

---

Thicker, softer hair

By Bill W.

,

Leominster, MA

,

Jun 30, 2020
Verified Reviewer

Length of Use: Less than 3 months

Overall Experience:

I shampoo my hair every third day; in between, I just rinse while in the shower without a soap product. This keeps from drying my scalp out and reduces flaking. I have been using JuveTress as a stay in applications, massaging JuveTress into my scalp. I have had thinning hair loss and my hope was to reduce or maybe stop this hair loss. The result was a thicker and healthier looking head of hair. Hair loss is less, and hair is soft and luxuriant but not too shiny or oily looking. It is easier to comb and/or brush. I have received positive comments about how my hair looks, even some saying I look younger.

Pros and Cons:

Very easy to use, a small amount in palm and then massaged into moist hair
Hair becomes soft and luxuriant with no flaking or residue buildup
The scent of product is pleasant but not overwhelming, smells clean, not soapy or chemical like
The cap on the container very loose fitting, not reliable to prevent a spill if container tipped over
I shook product in container to give it more viscosity and that seemed to help from having spill off of my hand when applying to scalp
For cost of product and amount needed for hair, especial longer, thicker hair, I would have thought a larger volume of product would have been packaged for the cost

Bottom Line: Yes, I would recommend this to a friend

---

Surprised - pleasantly surprised

By Susan N.

,

St. George, UT

,

Jun 19, 2020
Verified Reviewer

Length of Use: 3–6 months

Overall Experience:

I was skeptical but the money-back guarantee was enough for me to at least try it. After just 30 days, I could feel and see a difference. My hair felt silkier, thicker, and was easier to manage. It's now been 90 days and I don't see a lot of difference between the 30 and 90-day mark. However, I am hopeful that as I keep using it EVERY day, there will be another increase in volume and thickness.

Pros and Cons:

The results
The ease of application
The clean fresh smell
No "cons" were specified in this review

Bottom Line: Yes, I would recommend this to a friend

---

Will order again

By Jennie K.

,

Alabama

,

Jun 16, 2020
Verified Reviewer

Length of Use: Less than 3 months

Overall Experience:

I am a 66-year-old female. I had spots on my scalp that were bald/low hair count spots. With this product, I now have hair growing in those spots. I will be ordering more!

Pros and Cons:

It really works!
Easy to use.
Not messy or hard to use.
No "cons" were specified in this review

Bottom Line: Yes, I would recommend this to a friend

---

Revitalizing Hair Therapy

By Antonia K.

,

Canberra, Australia

,

May 23, 2020
Verified Reviewer

Overall Experience:

I have been using Revitalizing Hair Therapy for nearly 3 months. I love how the product makes my scalp feel. It feels tingly and I'm impressed with the ingredients - very nourishing.

However, I am still experiencing hair loss though and cannot see hair growth. I would greatly appreciate talking with an expert about my circumstances as my hair is thinning all over.

Bottom Line: Yes, I would recommend this to a friend

---

Advertisement

---

Great concept

By Kimber M.

,

Neptune Beach, FL

,

May 19, 2020
Verified Reviewer

Overall Experience:

So far it's making what hair I do have feel thicker and healthy. It's too soon to say I am growing hair yet, but it's not falling out either anymore. I can say it's making my hair look better. I have color-treated hair as well so it doesn't harm my color too.

Bottom Line: Yes, I would recommend this to a friend

---

My hair looks better

By Joy G.

,

Whiting, NJ

,

May 14, 2020
Verified Reviewer

Overall Experience:

I am 75 years old. Hair was not looking good anymore. Thinning, dull explains a lot. I started using Revitalizing Hair Therapy. After a while my hair started looking better and thicker with more shine. I am looking forward to my hair filling in. Also, I have noticed my hair not falling out like it was. Thank you.

Bottom Line: Yes, I would recommend this to a friend

---

Got more hair back!

By Mirandia H.

,

Iowa, LA

,

May 12, 2020
Verified Reviewer

Overall Experience:

I've noticed after a month and a half that I am sprouting new growth! All over my head! My hair is very thin, hope in the next month and a half it will really be more thicker! Hair was so thin! I was using the JuveTress every other day! Working it in for at least up to 6 to 8 minutes each time! It's like giving myself a scalp every other day a treat for me! Thanks for this product!

Bottom Line: Yes, I would recommend this to a friend

---

Revitalizing Hair Therapy

By James C.

,

Saskatoon, Saskatchewan, Canada

,

May 6, 2020
Verified Reviewer

Overall Experience:

I received my product about 1 month ago, and since taking the product daily, I have noticed new hair growth. There were many, like I call, PEACH FUZZ, but it is there. I was completely bald on top, but now I notice hair starting to grow. I do not expect that I get a full set of hair back, which I would love, but any amount I am very happy with. Actually I have been using the product for exactly 3 weeks now, so I am confident it will regrow some of my lost hair. After 3 months, I will again review the product and see where I am at, at that time. I believe anything is better than nothing.

Bottom Line: Yes, I would recommend this to a friend

---

Result using JuveTress

By Grace L.

,

Weyers Cave, VA

,

Apr 29, 2020
Verified Reviewer

Overall Experience:

JuveTress does make my hair more manageable but I am still having a problem with my hair breaking off at the ends and getting thinner. I was hoping it would fill in and not break off. I am going to give it a very good trial. My husband is using it too and he also thinks his hair feels a little thicker.

Bottom Line: Yes, I would recommend this to a friend

---

Advertisement

---

It's actually working!

By Patti F.

,

Seattle, WA

,

Apr 29, 2020
Verified Reviewer

Overall Experience:

I must admit I was skeptical after wasting so much money looking for an answer to my thinning hair since my cancer treatments and menopause! Well, I thought this was another waste of money only to go to do my hair yesterday and think, wait a minute...why is my hair so thick right there? Then I realized it's been a month and I'm actually seeing results after staying consistent with the product! Thank you, thank you!

Bottom Line: Yes, I would recommend this to a friend

---

Love this hair stuff

By Nancy M.

,

Omaha, NE

,

Apr 28, 2020
Verified Reviewer

Overall Experience:

Wow, with not seeing my hairstylist for almost 3 months now, JT is a lifesaver. Makes my hair look good when it looks so bad. The smell, the feel, the look of each strand makes it look and feel so healthy. It tames all the fly-aways as well. I can't wait to use it, especially after a shower. It feels, looks, and smells so good. A little bit goes a long way...overdoing or using too much can be bad. It is so economical for all the good things that come from it. I am soon going to be on my 3rd bottle and will be ordering 3 more again. I won't live without it. It actually helps me sleep better and destress my head. Weird, but true.

Bottom Line: Yes, I would recommend this to a friend

---

Great products

By Becky M.

,

Columbus, MT

,

Apr 25, 2020
Verified Reviewer

Overall Experience:

I have been using JuveTress revitalizing hair therapy products for two months. I am 63 years of age and started to see thinning areas in my hair. The thinner areas are now gone. Thank you JuveTress.

Bottom Line: Yes, I would recommend this to a friend

---

Seems to be working

By Tiffany B.

,

Norman, OK

,

Apr 24, 2020
Verified Reviewer

Overall Experience:

At first I didn't notice any changes. There was no tingling sensation and there still isn't. But, the amount of hair in my hairbrush slowly decreased. I forgot to use it for a few days and that's when I noticed a lot of hair in my hairbrush again. Now that I've remembered to uses it every day, the hair loss has stopped completely.

Bottom Line: Yes, I would recommend this to a friend

---

Been ok

By Gordon C.

,

Hyrum, UT

,

Apr 14, 2020
Verified Reviewer

Overall Experience:

Been using for about 2 months, have not seen any progress yet but it does feel good to put on not like other products that l have used. l do hope that it does work, it seems to make my hair grow faster though.

Bottom Line: Yes, I would recommend this to a friend

---

Advertisement

---

Stronger hair and new growth

By Sharon W.

,

Midwest City, OK

,

Apr 9, 2020
Verified Reviewer

Overall Experience:

I have been using the JuveTress for 4 months now and the best thing about it is that my hair has quit falling out. I find very few hairs in my brush now where before I started using it, my brush was really full. I was getting concerned that my hair was not able to replenish the amount I was losing and would soon be too thin to wear longer. Also, I have always had receding hairline on each side of my head. I can see the new hair growing there. It makes me feel very good to know I will have a full head of hair again.

Bottom Line: Yes, I would recommend this to a friend

---

Overall Experience:

Since using the JuveTress products that include the therapy, shampoo, and conditioner, my hair is looking better than ever. I no longer worry about the thinning area that has been in the back looks in public. No longer checking and rearranging my hair when out in public. The shampoo and conditioner have made my hair softer and a better texture. Glad I tried the products and will keep using them!

Bottom Line: Yes, I would recommend this to a friend

---

Hair loss

By Jean P.

,

Plainfield, NJ

,

Apr 6, 2020
Verified Reviewer

Overall Experience:

l struggled with hair loss since 2012. Tried everything. Nothing worked and it kept getting worse. Was seen by a Dermatologist and after blood work and biopsy and referrals to Endocrinologist and Rheumatologist, gave me a list of things I could try including Minoxidil and that was it.

I felt defeated then. I started to search the internet for information and as I searched I stumbled on the article by JuveTress and was interested in what it said. I immediately ordered the Revitalizing Therapy and am presently on my second bottle. l am thrilled to see that I now have hair in the bald areas.

I no longer "need a hat" as I can style it to hide the areas not yet fully covered.

Bottom Line: Yes, I would recommend this to a friend

---

Pleased so far, looking forward to the end result!

By Lena P.

,

Ohio

,

Apr 3, 2020
Verified Reviewer

Overall Experience:

About 6 weeks ago I started to use the products. I have not seen new hair growth yet, but it has DEFINITELY STOPPED the fallout, praise GOD! I was losing so much hair I was starting to get scared. I found the product by searching online. I started with the hair treatment, and added the shampoo. I was so happy with the two products that I then added the hair conditioner to my regimen. I would highly recommend using all 3 products for the best results. Even my hairstylist told me my hair is in excellent shape. (She thought it was something she did, but I can tell you it wasn't.) It was the JUVETRESS!

Bottom Line: Yes, I would recommend this to a friend

---

Great results!

By Maria H.

,

Sacramento, CA

,

Apr 1, 2020
Verified Reviewer

Overall Experience:

Been using JuveTress for 3 months and I'm happy with the results. I will continue to use for another 3 months to see if I can exceed current results. Have new hair growth and hair feels softer with shampoo. That's a first!

Bottom Line: Yes, I would recommend this to a friend

---

Advertisement

---

Product working well

By Elaine T.

,

Pennsylvania

,

Mar 31, 2020
Verified Reviewer

Overall Experience:

JuveTress seems to be adding strength and volume to my hair. I am combining Minoxidil with the JuveTress. Minoxidil alone did not seem to produce strong growth. Using both together seems to be the ideal combination.

Bottom Line: Yes, I would recommend this to a friend

---

My hair looks fuller!

By Renee C.

,

Michigan

,

Mar 27, 2020
Verified Reviewer

Overall Experience:

I love JuveTress Revitalizing Hair Therapy! My hair looks fuller and I've noticed a significant drop in hair loss when I brush or wash my hair. My hair grew incredibly slow before and I've noticed it's growing faster now. I just love JuveTress!

Bottom Line: Yes, I would recommend this to a friend

---

Love, love, love

By Cindy S.

,

Independence, MO

,

Mar 17, 2020
Verified Reviewer

Overall Experience:

I love this product! I had hair loss due to several surgeries in a short period of time and medications.

I now have fuller and younger hair than I have had in years! I am getting compliments and I am happy to tell everyone how it all happened.

Bottom Line: Yes, I would recommend this to a friend

---

Fantastic hair product

By Wilfrid K.

,

Albuquerque, NM

,

Mar 6, 2020
Verified Reviewer

Overall Experience:

Within one month, my hair was noticeably fuller and thicker. I am actually quite astounded at the results, which greatly exceeded my expectations! I am glad that I was willing to give this product a try.

Bottom Line: Yes, I would recommend this to a friend

---

It works!

By Martha P.

,

St. George, UT

,

Feb 25, 2020
Verified Reviewer

Overall Experience:

I started using this product thinking that it was going to be like all the other products that I have tried. But it's not, it's better. I can see the new hair coming in at the roots. I've never seen that with anything else I have tried, so I'm very happy with the products. I have been using the oil along with the shampoo and conditioner. Would recommend this to all that I know because I know that it works! Thanks!

Bottom Line: Yes, I would recommend this to a friend

---