Modere TRIM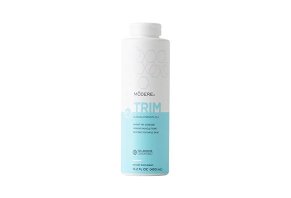 Summary
Trim by Modere is a dietary supplement alleged to offer joint health support, improve muscle tone, decrease fat, and promote skin restoration. While the available studies offer support for fat reduction, joint health, and skin restoration, it is nearly impossible to compare the studies and dosage amount because Trim does not disclose this information.
Pros
Ingredients in the proprietary blend are recognized as safe
May offer support to joint health, improve skin health, and fat reduction
Cons
Expensive
Excludes individual ingredient dosage amount contained in the proprietary blend
Lack of consistent research supporting improvement in muscle tone
Modere TRIM Review - Effectiveness & Safety
What is Modere Trim?
TRIM by Modere is a dietary supplement that is alleged to offer a proprietary blend of ingredients to reduce fat and improve muscle tone and skin restoration.
TRIM features a plant-based conjugated linoleic acid (CLA) as an ingredient that is aimed toward promoting fat loss.
Working alongside the CLA is Collagen and Hyaluronic acid that will help repair collagen and improve joint health.
This article will review the available studies to determine if there is scientific evidence to back the proposed benefits.
TRIM Ingredients
As a dietary supplement, take one tablespoon directly by mouth daily first thing in the morning.
One tablespoon of Trimm contains 5 g of a proprietary blend comprised of the following ingredients:
Conjugated Linoleic Acid (CLA)
Liquid BioCell ® (Proprietary Chicken Sternal Cartilage Extract providing Hydrolyzed Collagen Type II Peptides, Chondroitin Sulfate, and Hyaluronic Acid)
The Trim dietary supplement offers a proprietary blend of ingredients that indicate a particular purpose toward changes in body composition.
However, without providing each ingredient's specific amount, it makes comparing the efficacy impossible.
Proposed Benefits of Modere Trim
The dietary supplement Trim is alleged to offer support for burning fat, improving muscle tone, aiding skin restoration, and promoting joint and connective tissue health. We've broken down into five areas below.
Fat Burning and Decrease Fat Cells Support
Trim contains the ingredient Conjugated Linoleic Acid (CLA), a fatty acid with anti-obesity benefits that can reduce weight by targeting fat cells.
In a review of 13 clinical trials, CLA supplementation slightly reduced body weight and fat mass and increased lean body mass in overweight and obese subjects. However, the efficacy was not significant.
CLA was studied for 12-months and was shown to decrease the amount of fat in humans at doses above 3.4 g per day.
The authors explained in this study that since physical training was performed at the same time CLA was ingested, it was difficult to determine if the effects of body changes were due to CLA, exercise, or both.
The makers of Trim do not provide the exact dosage amount included in their proprietary blend, further making it difficult to determine the efficacy of CLA to support the proposed benefits.
The available studies had difficulty in establishing the efficacy of CLA to decrease fat mass in subjects, especially when studies of CLA included diet and exercise.
Muscle Tone Improvement
The ingredient of CLA that is in Trim purportedly offers support muscle tone. However, clinical evidence has lacked consistency regarding the efficacy of CLA on improving muscle tone.
This is partly due to the commonality that with the performance of resistance training, aerobic exercise, and diet, CLA may aid in body composition changes.
A randomized study of 23 experienced resistance-trained subjects was matched with 3 g of CLA for 28 days. The study's findings revealed that it did not significantly affect percent body fat, fat-free mass, and strength.
Further, it may be unclear whether CLA supplementation alone may lead to toning muscles compared to resistance training and aerobic exercises.
Skin Improvement
The skin is the largest organ of your body and serves as a barrier against potentially harmful factors.
More than half of your total body content of Hyaluronic acid (HA) is present in the skin, playing some critical roles in providing nutrients to the layer underneath your skin (dermis) and providing resiliency in the skin.
Results from a study demonstrated that oral intake of HA of 20 mL led to a statistically significant increase in skin hydration and elasticity.
While intake of HA over a more extended period provides a positive impact on skin health, it should be emphasized that the efficacy demonstrated in this study refers to a specific HA supplement.
BioCell, an ingredient in Trim, offers hydrolyzed collagen type II, HA, and CS in 26 healthy females who had signs of wrinkles in the face. When taking orally at dosages of 1 g for 12 weeks, it was found to have significantly reduced skin dryness and scaling, and skin wrinkles.
While Trim offers HA in their blend of proprietary ingredients, the HA ingredient is not the same as in the referenced study.
Joint and Connective Tissue Health Support
Chondroitin sulfate (CS) is an important material that makes up the components responsible for the integrity of connective tissues, including cartilage, bone, skin, ligaments, and tendons.
CS consumption is suggested to reduce pain and the breakdown of the joint.
A review of studies to determine the effectiveness of CS has on decreasing the age-related osteoarthritic (OA) changes found that dosages of 1200 mg per day had more of an effect of pain reduction than dosages that were lower than 1000 mg per day.
While the data suggests that CS has a small to moderate efficacy in reducing OA-related pain, there was a minimal effect on joint space narrowing and no effect on cartilage volume.
Hyaluronic acid (HA) is a material that can be found in your cartilage and your synovial fluid, which serves to lubricate your joints.
Supports Healthy Hair, Nails, Gums, and Eyes
There is currently a significant lack of research available to offer support to Trim's proposed benefits regarding healthy hair, nails, gums, and eyes.
Safety and Side Effects
Trim provides a 5 g blend of proprietary ingredients but does not give each ingredient's dosage amount in the blend. Without the individual dosage amount, comparing and determining safety would be difficult.
CLA's review of studies leads to some adverse events that include constipation, diarrhea, and soft stools. However, dosages of 3.4 g of CLA per day for 12 weeks were considered safe in a study of healthy adults.
Chondroitin Sulfate has led to optimism about its use due to its favorable safety profile. It does not interact with other drugs or present with serious adverse events.
Safety regarding hyaluronic acid is considered to be safe with no adverse event reported in the review.
Further, collagen supplementation is also considered safe with no reported adverse events, as demonstrated in a review of studies.
What are the Alternatives to Modere Trim?
BioCell ® is offered as a dietary supplement without CLA, which means that you will possibly lose out on fat reduction benefits that CLA offers.
You can purchase BioCell Collagen directly from the Health Logics site. The 120-capsule bottle will last you one 1-month when used as described.
This supplement retails for $39.95, though it is currently on sale at $29.95 for a one-time purchase. Health Logics also offers a subscription option. You'll save 15% when you opt for delivery every 30-days.
A 30-day guarantee backs your purchase, so trying BioCell Collagen is low-risk in terms of finances.
How Much Does Modere Trim Cost?
One bottle of Trim will provide 30 servings per 15.2 fl. oz. container.
One bottle - $99.99
One bottle - $89.99 with an enrollment of SmartShip subscription
Creating a SmartShip profile will allow you to receive savings and discounts that will arrive as an automatic monthly shipment.
With SmartShip & Save, your discount begins with a purchase of your initial product.
It will continue with your first monthly shipment on the recurring date you choose.
However, purchases of 5 or more different products will save you 20%, and purchases of 8 or more different products will save you 30%, which will qualify you for free shipping each month.
You also have the option to edit or cancel your SmartShip order at any time.
The Bottom Line: Is Modere TRIM Worth It?
Trim by Modere offers a blend of ingredients that may reduce fat and support skin restoration and joint health.
The available studies and their results have demonstrated Trim's ingredients to alter the amount of fat in overweight and obese adults, reducing the number of skin wrinkles from aging and restoring some resiliency in connective tissue.
However, results may vary from the studies as a comparison could not accurately be drawn due to the ingredient information on Trim not being disclosed.
Studies showing a moderate reduction of fat when supplementing with one of Trim''s key ingredients, CLA, were done only in addition to resistance training, aerobic exercise, and diet.
More studies are required to determine the overall efficacy of CLA as a standalone strategy for weight loss when compared to resistance, aerobic exercise, and diet.
At $99.99 per bottle, Trim is extremely expensive. BioCell is an ingredient contained in Trim, and while it does not offer CLA, it is a generally safe and less costly product.
Trim may offer some relief to joint pain, but it is crucial to speak with your doctor first regarding your symptoms.
Customer Reviews