NoNo Pro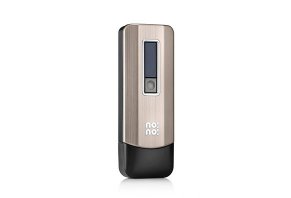 NoNo Pro Hair Removal claims that its patented "thermicon" technology can help remove hair better than waxing or shaving resulting in smoother skin.
What Is NoNo Pro?
The NoNo Pro is a handheld personal hair removal device that promises to zap away unwanted follicles, from peach fuzz to dense growth, on every skin type and tone under the sun.
On the market since 2004, it has gone through several evolutions but the basic principles remain the same: the no!no! uses patented properties to remove your hair, and claims that repeated use will result in long-term hair removal.
With over 6 million units sold to customers in 55+ countries, it's obvious that consumers want to believe there's a better way to remove their unwanted hair. So much so that they're willing to bite, despite the steep price. And who blames them?
The alternatives for hair removal are awful: lasers, razors, hot wax, plucking… half of which aren't even in the privacy of your home (and that's just dealing with standard hair growth, not the mustache fuzz variety).
But the online consensus can give would-be buyers pause: there seems to be one glowing review for every ten that bemoan the product's failures. That's quite a gamble! We'll take a look at all the facts to see how it works, and, more importantly, if it could work for you.
What You Need to Know to Use no!no!
When using the device, it's important to start with clean, dry skin, and choose a Thermicon tip that's appropriate to the size area you'll be treating. Once the unit is turned on, press the tip to your skin and glide in smooth, steady sweeps.
If you're using the no!no! correctly, a blue signal light will appear. A red signal light means you need to adjust your pressure or speed.
It's important to go in the opposite direction of your hair's growth, so the no!no! can reach as close to the root as possible. Also, if your hair is long enough to curl slightly, you may need to trim it down some, but be careful not to shave completely, as some hair still needs to be present.
After use, the NoNo Pro will leave you with a burnt smell and an arm, leg, chin, or upper lip full of stiff stubble. This is the result of your hair being "crystallized" and requires buffing with the included pad to achieve the smoothest results.
To see a long-term difference in hair thickness and density requires that a user treats each area with the no!no! 2-3 times every week, for a minimum of 4-6 weeks. You must continue using the no!no! to maintain any hair removal results.
Buyers should also be aware that the unit tips burn out, and need to be replaced about twice a year. This costs $7 per tip, or bulk packs of three offer one for free, and should be factored in when considering the purchase.
"How it Works" vs. How it Actually Works
The NoNo Pro device sends electrical pulses through a thin, coated wire. When each hair makes contact with the wire, it delivers a small shock down the hair shaft and into the follicle.
That heat pulse results in the burning smell you'll often read about in user reviews. It also can have an effect on the hair follicle over time, which we'll talk about in a minute.
In the How it Works section of the no!no! site, this process is said to occur with the patented "Thermicon" heating element, which "works using the scientific principles of thermal technology."
Their site also uses the word "thermodynamic" often, which makes the product sounds more like something NASA had originally developed to fly rockets.
In reality, thermodynamics is just the branch of physics that's concerned with how heat relates to energy, and how that can make stuff work. So sure, it can mean fancy-pants inventions that take us into space. But you know what else uses thermodynamics? Your stove.
So how does the no!no! actually remove your unwanted hair? The folks at no!no! call what happens to your hair "crystallization," but mostly leaves this process to the reader's imagination.
However, research shows that hair growth can only be stopped by destroying the follicle, and the no!no! claims to do this with heat, unlike lasers that use light. Treating each hair shaft explains the rough, stubbly feeling, and is also why the area must be buffed to achieve the desired smoothness.
Buying Options & Cost
When purchasing the NoNo Pro directly from the website, you have two purchase options available:
You can pay in full with one upfront cost of $249.95 which includes free shipping
Pay $14.95, which covers the shipping portion, and then 3 monthly installments of $83.33 charged in 30-day increments. This will bring your total to $264.94
It's important to note that should you chose the payment installment option, the credit card which you use to pay the initial $14.95 will be charged 30 days after the original purchase date in the amount of $83.33.
Each device also comes with one narrow tip and one wide, a large buffer, a tip cleaning brush, charger, user manual CD, and a quick guide to get you up and going. Each unit comes in three available colors: pink, blue, and platinum.
Is no!no! Worth the Investment?
The NoNo Pro promises both short and long-term hair removal, so we'll address the results in two stages:
After personal use of the product on my arm, I found the area to have noticeably less hair but was not pleased with the resulting texture. Much like the result of singing a thread to prevent unraveling, no!no! use left my arm smelling like something overcooked and feeling rough with stubble even immediately after treatment.
Long-term use is reported to cause a noticeable reduction in hair density by customers who spoke about their experience with the product, both on HighYa's previous no!no! review and YouTube videos found by searching the product's name. These reviews all emphasize dedicated use over a long period, and only some were pleased with their results.
What Do Other Consumers Have to Say About the NoNo Pro
The no!no! catches a lot of heat online because their marketing message promises faster, professional-level hair removal; but even in the positive reviews that report actual hair removal, the results don't match the marketing hype.
While there were reported results of thinned hair and satisfied customers, it's difficult to find a review that claims this product removed their hair completely. It's important to remember that you must continue using the no!no! to maintain hair reduction or removal.
The most positive reviews state that some who stuck to their routine past the several months reported a thinning of hair. One positive review on our website states that it has drastically improved her appearance, and she very happy with the result.
The individuals who report the highest level of satisfaction with their purchase tend to be those who struggled the most with a combination of unwanted hair (typically facial) and sensitive skin prior to using.
Concerns raised in reviews focused on the claim that hair removal results would be seen in just a 4-6 week time frame. Many reviewers expressed disappointment in the lack of reduced hair after regular use during this initial window and were dissatisfied enough with their purchase to return the product.
Another common complaint is that the NoNo Pro is not contoured properly to be useful on the chin or underarms.
NoNo Pro's Return Policy
Finally, there are enough reviews to raise an eyebrow regarding the no!no!'s return policy: the site promises a money-back guarantee (minus the cost of shipping) if you're not satisfied within 30 days from the date your no!no! is received.
However, they require you call their customer service for a return authorization number (RMA) before mailing it back.
According to the company website, everyone can take advantage of NoNo Pro's 30-day triple guarantee. That means you can return your product for a full refund within 30 days of initial purchase and the company will cover the cost to ship it back and reimburse you for the original shipping costs.
Additionally, the company claims that each NoNo Pro unit comes with a one-year manufacturer's warranty. Should something happen with your unit as a result of a manufacturer's defect within the first year, they will either fix your current unit or send you a free replacement.
In our opinion, this is subject to question in order to determine what types of issues qualify as a manufacturers defect or normal wear-and-tear.
In order to be eligible for this return policy and one-year warranty, the unit itself has to have been purchased from NoNo Pro's website directly.
To initiate this process, you need to call (800) 985-6730 and provide your original invoice.
Bottom Line
The bottom line is that this product takes some serious commitment: Users who reported the best results claimed to have dedicated 30+ minutes per body area, 2-3 times a week for up to one year.
So if you already spend several hours struggling with unwanted hair each week, but aren't in the market for laser treatments, this product may be for you. For everyone else, it seems a little too steep an investment to be satisfied with the minimal results.
---
Horrible product

By Rebecca Isett

,

Amarillo, TX

,

Jun 23, 2015

Overall Experience:

I was so excited to purchase this. I mean what girl likes to shave several times a week? I don't! I knew the price was very expensive. I didn't care. I ordered it and got it within 3 weeks. Used the product for 3 weeks. I know it says to use it longer. I couldn't. It was terrible. First, the smell of burning hair, awful! Second, it takes forever to do one leg. Takes about 30-45 minutes per leg. You have to go over the area real slow and make sure to hold the no-no at a certain angle or the thing will beep at you. Third, they give you a buffer. Really? That kind of burns. So in my opinion I do not recommend this product.

Bottom Line: No, I would not recommend this to a friend

---

Scam, thieves, cheats, liars, etc.

Overall Experience:

Wow, where to even begin. I guess starting with "What a crock of garbage" would be a good start, but would not suffice for the overall experience, frustrations, money, and let down this item cost me.

Number one...it doesn't work. I'm middle of pack fuzzy, but this item WILL NOT work on full hair, thick hair, light hair, or peach fuzz. I honestly felt hairier after using it. A complete waste of time and effort, I might as well have ran a block of cheese over my chest; it would have produced the same result. I would like the 17 minutes back that I spent trying to get this poor excuse for a laser pointer to work so I can use those 17 minutes doing something more productive and "enjoyable" like trimming my sidewalks or lancing a boil (that's how much a waste this thing is).

Making matters worse when I sent it back for my "money back within 60 days" they waited until the 60 days were up to contact me and say that they "never got my returned item." I talked to incompetent managers, haggled with clown-like personnel, and wrestled with stubborn and arrogant designers. Whole thing is a sham that should be lumped in with the likes of Enron and Martha Stewart. My only regret that is stronger then my regret of buying this product is the fact that I wasn't smart enough to develop a lackluster, P-O-S item and sell it for the price of someone's left kidney, only to snub the consumers and not back the garbage item when the crap hits the fan. Talk about a business plan!!

If I met the swindling, slimy, selfish owner and creator of this company I would wrestle for days in my mind with the fact should I punch the lowlife scammer in the chin, or do I shake his hand for fooling everyone.

Bottom Line: No, I would not recommend this to a friend

---

Advertisement

---

Overall Experience:

I bought the NoNo Pro 5 sometime in March of this year. I am attempting to return it because I can't seem to work it right and it takes a long time to be effective. Also, it takes a VERY long time to do. I've been attempting to reach customer service all day. They are telling me the line is very busy and the wait is very long. For that they were offering either a trip to the Bahamas or a $100 Walmart gift card. I kept saying I was not interested in anything other than speaking to customer service about returning my NoNo Pro.

They hung up on me after I said that five different times. This is a total scam. Don't get caught up in it. But if you have, please report it to the Better Business Bureau.

Bottom Line: No, I would not recommend this to a friend

---

Totally Useless NoNo

By Yolanda

,

England

,

Jul 20, 2015

Overall Experience:

My son spend nearly £300 for this totally useless NoNo. Please do no buy, and do not believe you can get your money back in 60 days either.

Totally a scam. I cannot believe I have to leave at least a star to post this review.

Bottom Line: No, I would not recommend this to a friend

---

Advertisement

---

Waste of Money

By Tonya

,

Baltimore, MD

,

Jun 25, 2015

Overall Experience:

NoNo doesn't work. If you're looking for hair removal you won't get it with this. When I called for help, I was told that it's not to remove hair but slow down hair growth. Don't buy it. I wish I would've read the reviews before I purchased it.

Bottom Line: No, I would not recommend this to a friend

---

Scam and Fraud

By Dave

,

Cincinnati

,

Mar 4, 2015

Overall Experience:

After my wife found out the total cost of the product with an online order, she canceled the sale only to find out on Sunday evening it processed and charged her card. Customer service is closed, no one can help you. After that, the next day called customer service, they can't help you – order processed and shipped.

Now there is nothing to do but wait for it, then call them back and ask for a RMA number, then pay to ship it back with tracking and then in 5 to 7 days they will refund.

Also no one is near the product, no corporate numbers to call. Customer service has no power and can only go by the script.

This product has horrible reviews and should be banned from being sold.

Bottom Line: No, I would not recommend this to a friend

---

They named it a NoNo for a reason!

By Hayley Dickie

,

Blackshear, Georgia

,

Apr 1, 2016
Verified Reviewer

Overall Experience:

I lucked out, and found my NoNo Pro 5 on my wish app for like $75, and couldn't wait to get it. I felt like a kid at Christmas the day it came in the mail, because I've heard so much about how wonderful it was, and the "never shave again" was what sold me. I sat down and started experimenting with it, starting with my arm, and the burning smell wasn't what got me, it was my burnt flesh that did it. It looked as if I took a razor blade to myself, and it hurt really bad. It took weeks to heal. I tried it several more times on my legs, and to same thing happened. I found that the wire on the tips was touching my skin, and was therefore causing the burning.

The end result is, I would rather stick to waxing and shaving.

Bottom Line: No, I would not recommend this to a friend

---

Do not waste your money

By Marcel

,

Montreal

,

Jun 14, 2014

Overall Experience:

They say you can get a refund within 60 days, but when you call you are told that you cannot since you must try it for the 60 days, we omitted to call and now are stuck with it, they will not help you in any ways, so, if you have the least problem with that thing, do not listen to them and demand a refund on the spot, but an even better choice, don't even bother. My wife tried this thing for a while for no results whatsoever.

Bottom Line: No, I would not recommend this to a friend

---

Save your money

By Kim Wainwright

,

Derby, UK

,

Jul 17, 2014

Overall Experience:

Having used this product for a while, the design is poor, time consuming, and expensive. A complete waste of money. To do the chin, the design does not work. To do legs, the time required is ridiculous and can never achieve hair free. To do underarms is impossible. All in all, don't bother, it is not worth the money and I have one for sale if you do insist on trying it.

Bottom Line: No, I would not recommend this to a friend

---

Hoping and waiting and still wanting the hair removed

By Marge

,

Las Vegas, Nevada

,

Nov 11, 2014

Overall Experience:

I bought this product in June and used as it said to. Do not waste your money. It does not work!

Bottom Line: No, I would not recommend this to a friend

---

Overall Experience:

I tried this for over 3 months. Returned the first one, it worked for two days then burnt out. They convinced me to accept a new one and return the old one. I tried it for 60 days, as they said my warranty would extend that long. It removed light hairs but not the course hairs, and I almost kept it just to remove light hairs, then it quit. I am on the phone with them now waiting on my refund, but have been getting the run around about the return of my money. They first said 2 to 3 days, now its 7 to 10 days. Waiting on a supervisor for 20 minutes and then the call ended. Calling back now. Really pissed off. Do not buy, rip off.

Bottom Line: No, I would not recommend this to a friend

---