PremFit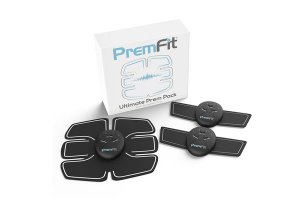 Like many other electrical muscle stimulation systems, PremFit features stick-on electrodes, wireless functionality, and multiple modes and intensity levels.
PremFit Review: Things to Consider Before You Buy
Using slow electrical pulses that contract and relax different areas of your body, PremFit electrical muscle stimulation (EMS) devices promise to deliver proven results like a flatter stomach, reduced waistline, and toned, strengthened, and firmed muscles.
The website advertises that the system's lightweight, thin, wireless design allows you to train anytime and anywhere. Also, because their devices generate deep signals that contract all of your muscles at once, it only takes 10 to 20 minutes per day to achieve an effective workout.
Together, we're told that PremFit represents the latest, most effective EMS technology available in the comfort of your home—that can deliver results in a matter of weeks, whether you're a woman or a man.
Just because the company claims it's the latest technology, does this mean it's necessarily the best for your needs? Or, that PremFit—or any EMS device, for that matter—will deliver the results you expect?
Before handing over your hard-earned money, we'll briefly discuss pricing, overall effectiveness, and competing EMS devices. First, let's zoom in on PremFit's functionality.
Taking a Closer Look at How PremFit Works
Whether from PremFit or another manufacturer, the underlying concept behind electrical muscle stimulation is straightforward: Your brain sends electrical impulses to your muscles, which cause them to contract and relax as needed.
Consequently, these signals allow you to walk, climb, sit, jump, and perform any other bodily motions.
Instead, using a central controller and adhesive pads, devices like PremFit simply bypass your brain and send special electrical pulses through the skin directly to the underlying muscles. This causes them to rapidly contract and relax—generally much faster than what you could naturally accomplish.
Using the PremFit EMS System
With these details in mind, PremFit offers two different devices: ab stimulator and body stimulator.
Their ab stimulator features a spider-like design with six individual "arms," which affix to different abdominal muscles.
Their body stimulators, on the other hand, feature a roughly rectangular design that can be used on multiple areas, including waist, arms, legs, and buttocks.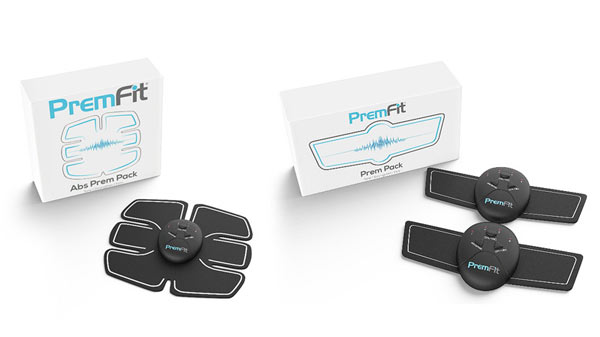 PremFit's ab stimulator (left; one per pack) is designed to deliver electrical pulses to your midsection, while you can use their body stimulators (right; two per pack) on multiple areas. Your experience is customizable using the stone-shaped central controller. Credit: PremFit Limited
After sticking these soft, skin-friendly gel pads attach to the appropriate areas of your body, you'll turn on the device using the top-center button on the controller, which will start delivering slow electrical pulses to your muscles.
You can control these signals by pressing the left button and choosing from six different modes or using the center (increase) and right (decrease) buttons to control pulse intensity.
Once complete, you'll just peel off the pads, which should last up to six months with regular use before requiring replacement.
For best results, PremFit recommends that you follow this protocol for 10–20 minutes per session, four times per week. They state you can also combine these sessions with traditional training.
The PremFit website doesn't provide additional details about the modes offered by each pad type (e.g., what kinds of impulses/patterns do they generate? Do the ab and body stimulators feature different programs? Etc.), nor what the four lights at the top of each controller represent, or how the controllers are powered.
We emailed support but did not receive a response at the time of publishing.
Regardless of the programs offered by PremFit, what kinds of real-world results might you expect from its underlying EMS technology?
The Effectiveness of Electrical Muscle Stimulation
Like anything else related to the body, whether or not a treatment is useful depends on the specific condition referenced.
For example, when it comes to EMS, Verywell Health tells us that it's been used for decades in professional physical therapy settings to help patients address lower back and post-surgical pain, muscle weakness, poor motor control, tendonitis, and bursitis.
On the other hand, the US Food and Drug Administration emphasizes that there are some drawbacks to using EMS:
"Stimulating muscles repeatedly with electricity may eventually result in muscles that are strengthened and toned to some extent but will not, based on currently available data, create a major change in your appearance without the addition of diet and regular exercise."
Possible PremFit Side Effects
As for side effects, the Food and Drug Administration (FDA) notes there can be some danger in using certain EMS kits. The FDA reports they're responsible for regulating the sale of all EMS devices sold directly to consumers in the United States, which legally must meet premarket approval beforehand demonstrating safety and effectiveness.
"Using a product that has not met FDA requirements isn't necessarily unsafe or dangerous. But it could be," the organization notes. "The FDA has received reports of shocks, burns, bruising, skin irritation, pain, and interference with other critically important medical devices (e.g., pacemakers) associated with the use of unregulated products."
They go on to say that shocks and electrocution are possible side effects of using an unregulated device.
When it comes to products like this, we look for something called "FDA premarket approval," which is the FDA's way of saying they've reviewed a product and deem it safe.
We did not see any information on the PremFit website indicating the product receive any type of FDA approval.
We reached out to PremFit for additional insight into their premarket approval status but did not receive a response at the time of publishing. Keep in mind that this doesn't mean the product unsafe, just that we were unable to verify its FDA status.
That being said PremFit recommends not using the system if you're pregnant, have given birth within three months, or undergone a cesarean within six months. Furthermore, you should avoid if you've been diagnosed with febrile diseases, epilepsy, or cancer, or use a pacemaker.
In professional settings, PatientsLikeMe reviewers report common temporary side effects like headaches, muscle spasms, dizziness, and general discomfort when undergoing EMS treatments.
As with anything else you plan on putting in or on your body, you should talk with a healthcare professional before purchasing an EMS system to avoid potential side effects.
How Much Does PremFit Cost?
PremFit's systems are priced as follows:
Prem Pack: $49 – Includes two body stimulators
Abs Prem Pack: $69 – Includes one ab stimulator
Ultimate Prem Pack: $99 – Includes one ab stimulator and two body stimulators
According to their website, replacement pads are available by sending an email to help@premfit.com, although no prices are listed. We sent an email for additional details but did not receive a response before publishing.
All PremFit orders come with free worldwide delivery, along with a 45-day money back guarantee.
You can return defective products for an exchange but you can't get a refund because you changed your mind, the fine print says. The PremFit refund process is a bit more involved than many of the other EMS systems we have written about in the past. Read their money-back-guarantee page to learn more.
Furthermore, PremFit emphasizes that you should only use their branded replacement pads, which begs the question: Are there other EMS systems designed exactly like PremFit?
Comparing PremFit to Similar EMS Systems
At-home electrical muscle stimulation systems have been widely available for many years, whether purchased via an infomercial, a website, or a physical retail location.
So, it might not come as much of a surprise that PremFit is up against hundreds of potential competitors that share many of the same core features. These include sticking to the same areas of the body using gel pads, multiple programs, adjustable intensities, and wireless operation.
Some, such as PowerDot, even come with app connectivity and the ability to control multiple systems simultaneously.
In fact, on Amazon alone, we encountered dozens of systems that appeared functionally identical to PremFit. Here were customers' top-rated results:
| Brand | System Price | Warranty | Details |
| --- | --- | --- | --- |
| PremFit | $99 | N/A | 6 modes, multiple intensity levels |
| Flextone | $99 | 2 years | 20 intensity levels, 6 modes, auto shutoff after 25 minutes of use, FDA cleared |
| Caldor Sports | $39.99 | N/A | 15 intensity levels |
| Zociko | $49.99 | 1 year | 6 modes, 9 intensity levels, LCD display |
| Antmona Abs Stimulator | $36.95 | N/A | 6 training modes |
Despite the number of similarities between these systems, we can see there are some meaningful differences.
For example, PremFit and Flextone come with price tags almost three times higher than the Antmona model, although Flextone comes from a manufacturer who's been in business a long time.
It also features the same six modes as PremFit but 20 intensity levels and an auto-shutoff feature that kicks in after 20 minutes of use.
Granted, having access to more modes and intensity levels doesn't necessarily mean that you'll achieve more noticeable results, but they might be nice to have.
Flextone is also the only option in the table above that's FDA-cleared.
"At this time, Slendertone Flex marketed by BMR NeuroTech, Inc., has been cleared by FDA for toning, strengthening and firming abdominal muscles," the FDA stated on their website.
On the other hand, if one or your primary needs is the ability to piece together your own system, PremFit and Caldor are the only options here that allow customers to buy pieces individually.
Let's pull all of these details and come to a conclusion about the PremFit EMS system.
Our Final Thoughts About PremFit
Although PremFit advertises their system features an advanced design that utilizes the "most effective in [sic] the latest high-tech EMS technology," we can see that there are dozens of systems on Amazon designed almost identically. And in most instances, these come with meaningfully lower prices than PremFit.
Furthermore, the PremFit website leaves a lot of fundamental questions unanswered, such as warranty details, information about modes, batteries, FDA clearance, and cost of replacement pads, to name just a few.
And there's no phone number listed on their website, so customers are forced to send an email and wait for a response to their inquiries, refund requests, and so forth.
Finally, although more than 12,000 customers gave their system an average rating of 4.8 stars on the PremFit website at the time of our research, none have been posted since Sept. 28, 2018. We also didn't encounter any third-party online reviews.
With this said, the company seems to stand behind their EMS devices with a 45-day refund policy, which should give you plenty of time to decide if it meets your needs.
Just keep in mind that it's always wise to talk with a healthcare professional before starting any fitness program, or purchasing an electrical muscle stimulation system.
Tiny font for the instructions, no customer service.

By Lo A.

,

London, England

,

Dec 26, 2019
Verified Reviewer

I can't read the instructions as the font type is like 2pt and faint. I've tried to contact customer service but got no response.

The pad is hanging off on the first use so I am using my hand to hold it to my stomach.

Came with no batteries.

Came with only one set of pads and no instructions on how to get another.

I will be sending this product back to PremFit.

Bottom Line: No, I would not recommend this to a friend

---

Advertisement

---