Primal Gut Restore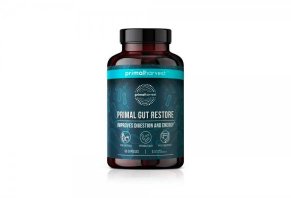 Summary
Primal Gut Restore from Primal Harvest is a dietary supplement designed to offer seasonal allergy relief, promote gut health and improved digestion, and aid in fighting leaky gut. The ingredients contained in this supplement offer some scientific support for the proposed benefits, except research for leaky gut is currently lacking.
Pros
Research supports the use of probiotics to promote gut health
May mildly reduce the effects of seasonal allergies
Cons
Lack and limited research regarding efficacy to treat leaky gut
About Primal Gut Restore
What is Primal Gut Restore?
Primal Gut Restore from Primal Harvest is an adult dietary supplement that allegedly provides you with probiotics to support gut health.
Probiotics are friendly bacteria that live in your gastrointestinal tract (GI) that creates a network known as gut microbiota.
By working to regulate and balance your gut, probiotics may aid in digestive health, decreasing the incidence of diarrhea, and improving symptoms of allergies.
This article will review the available literature to determine if the ingredients contained in Primal Gut Restore will aid in balancing gut bacteria.
Ingredients
According to Primal Harvests' website, you should take two capsules of Primal Gut Restore daily, preferably with a morning or afternoon meal, or as recommended by your healthcare provider.
Further, Primal Gut Restore may work best when combined with a daily routine of exercise, water, balanced meals, and plenty of rest.
The serving size of 2 capsules of Primal Gut Restore contains:
CoreBiome ™ Tributyrin 1000mg

Xylooligosaccharides 100mg

B. longum BB536 ® 3 Billion CFU
Proposed Benefits of Primal Gut Restore
It is essential to go over the ingredient's role to support the proposed benefits of Primal Gut Restore, as some of the components may serve multiple functions.
Treats "leaky gut"
Increased intestinal permeability (IP), otherwise known as leaky gut, involves the loss of the small intestine's interior barrier.
The lining of your intestine may allow potentially harmful toxins into areas of the body where they should not be.
Currently, there are no effective treatments that promote improved functioning of the function of the intestinal barrier, also known as leaky gut.
Promotes Healthy Gut Bacteria and Improve digestion
The idea of supplementing probiotics strains is recognized as a valid approach to maintaining the balance of intestinal gut bacteria.
A randomized study found that a B. longum dosage of four billion CFU could alleviate symptoms of lactose intolerance by enhancing the amount of good bacteria composition in the gut.
Xylooligosaccharides (XOS) have recently gained an increased interest because of their health properties and are used in probiotic Bifidobacterium strains that help with balancing the amount of good gut bacteria.
A 6-week study found that approximately 1.2 g of XOS led to the positive alteration of gut microbiota composition in 20 subjects.
Tributyrin is an example of a short-chain fatty acid (SCFAs) and is very important to regulating immune function and improving the lining of the intestinal wall.
It was reported in a study of mice that tributyrin was able to counteract the negative effects of antibiotic therapy of gut barrier function in the intestines.
The findings from the studies are promising. The dosage contained in Primal Gut Restore may provide support for promoting healthy gut bacteria.
Reduce Seasonal Allergies
Bifidobacterium longum, B. longum may support allergy relief. A study found that a daily dose of 200g of B. longum reduced itching symptoms in the eye in 40 randomized participants. However, no other relief was found.
Furthermore, B. longum may also have a role as an anti-inflammatory.
A randomized study with human participants found that B. longum could boost antibody and white blood cell levels in elderly patients compared to the placebo.
The studies available link B. longum to improving the amount of white blood cells that may provide some relief to seasonal allergies.
However, it may be limited to decreasing itchy eyes.
Is Primal Gut Restore Safe?
Tributyrin, when taken orally, can be safe at lower doses, but higher doses greater than 10 g/kg per body weight can be
toxic.
A study population of 13 pre-diabetic participants did not report any adverse effects or symptoms with XOS at 2 g per day.
In general, pre-and probiotic blends, such as Primal Gut Restore, are safe with only mild and self-limiting side effects reported.
The symptoms most often include abdominal pain, gas, bloating, and diarrhea.
These symptoms can be relieved by decreasing your dosage amount or discontinuing use.
While these side effects may be easily relieved, it would benefit from consulting your physician before taking Primal Gut Restore.
The Cost
Primal Gut Restore is available for a one-time purchase or as a subscription. The one-time purchase options allow you to purchase either:
One Bottle - $54.95
Three Bottles - $49.95 each or $149.85
Six Bottles - $43.95 each or $263.70
Subscribing to have Primal Gut Restore delivered to your door is available at $43.96 per month for one bottle and $87.92 for two bottles. With this option, you get 20% off along with free shipping.
The Bottom Line
Primal Gut Restore's blend of ingredients has some support for their proposed actions. However, scientific support to back the proposed benefit of addressing leaky gut is lacking.
XOS has recently gained increasing interest as a probiotic with studies confirming that the dosage contained in Primal Gut Restore is appropriate.
Studies have identified the risk for serious side effects as low with probiotic dietary supplements.
However, due to the high price and lack of evidence for treating leaky gut, it is probably beneficial to seek relief elsewhere.
If you are experiencing digestive symptoms that seem to impact your quality of life negatively, then you should first consult with your physician.
Even though dietary supplements may be helpful, it is best first to seek further understanding of the source of your symptoms.
Customer Reviews