Pro-B Fresh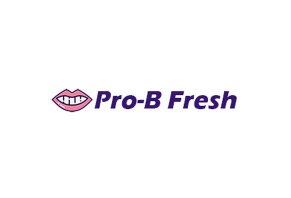 Pro-B Fresh is a dental probiotic that comes as a chewable tablet that claims to improve dental health. Pro-B Fresh probiotic blend may offer benefits to dental that is supported by evidence from scientific studies.
Pro-B Fresh Review - Is It Safe & Effective?
What is Pro-B Fresh?
Pro-B Fresh is a chewable dental probiotic with certain probiotic strains intended to improve your dental health.
If you're prone to cavities or have bad brushing and flossing habits, a solution like this allegedly helps avoid the need for fillings, crowns, root canals, and additional surgery resulting from cavities and gum disease.
This review will help you understand how this supplement works and if it's a good way for you to protect your teeth and gums from disease.
Usage
One bottle of Pro-B Fresh includes 30 capsules. You take one capsule a day either by chewing them or dissolving them in water. Whether chewed or dissolved, the ingredients in each pill you take coat your tongue, gums, and teeth.
This coverage puts the supplement's ingredients in contact with various bacteria in your mouth that cause cavities, as well as tooth and gum disease.
As a result, you should see a reduction in your number of cavities, experience fresher breath and an overall improvement in your oral health.
Ingredients: Are They Effective?
Each Pro-B Fresh chewable includes the following active ingredients and flavorings:
L. paracasei
L. reuteri
L. acidophilus
L. salivarius
Peppermint
Spearmint
The first four ingredients are known as "probiotics" and are responsible for maintaining good health in various parts of your body. You probably relate probiotics to your gut health, however, they're becoming a new area of exploration in dental health.
Despite dental probiotics being a new area, there are studies of the four strains (types) of probiotics in Pro-B Fresh.
The existing research about these ingredients include studies and what's called a "meta-analysis," which is an assessment of existing studies.
We analyzed this information and pulled together the main points of the existing research about each probiotic strain to understand how likely it is that this supplement can boost your oral health.
L. Paracasei
Lactobacillus paracasei have been reported to have beneficial effects on Helicobacter pylori infection, a bacteria that can affect the stomach with pain.
A randomized study with a total of 142 patients was able to reduce H. pylori density and decrease the levels of inflammation with no serious adverse events being reported when taking 100,000 CFU/g.
This probiotic is also effective against bacteria responsible for severe gum inflammation that leads to tooth loss (periodontal disease) and causing cavities.
Because of this, the dosage amount of 3 billion CFU that is contained in the Pro-B Fresh supplemental has the potential to help you fight off cavities and periodontal disease.
L. Reuteri
Research indicates that taking this probiotic by mouth was reported to prevent dental caries and periodontitis.
The amount of L. reuteri is known for being able to survive even the poorest oral conditions which may be effective in stopping or reducing your symptoms of gingivitis (gum disease).
Evidence was also able to show that the groove between your gums and teeth were at lower percentages when L. reuteri lozenges were taken twice a day for 3 months at 1 billion CFU.
L. Acidophilus
The probiotic strain L. acidophilus may be effective in fighting and preventing tooth decay.
This strain significantly reduced harmful bacteria causing tooth decay after consumption of yogurt that contained 100, 000 CFU/g of L. acidophilus in 4 weeks.
L. acidophilus was also shown to be an effective probiotic in improving the gingival status and plaque inhibition in a study.
While L. acidophilus could help your oral health, you'd need repeated research to give you more certainty about the supplement's positive effects.
L. Salivarius
This final probiotic gives you a variety of benefits based on recent. You can take this probiotic to reduce your "gingival pocket depth" or the space that separates your gum from your teeth.
Smoking will most likely create a condition that would increase your pocket depth and lead to cavities and more serious conditions.
Research shows that the presence of L. salivarius can prevent the formation of tooth decay from strains of bacteria.
Main Takeaways
In general, the research about dental probiotics is new and unfolding.
What we do know is that the existing information points to the probiotics in this supplement helping you with preventing cavities and various gum disease.
There is evidence, too, that you can reduce the symptoms of gingivitis, periodontal disease, and periodontitis with the probiotics in Pro-B Fresh.
There isn't much information, however, about these probiotics' ability to help with your bad breath.
If you do notice a difference, it's most likely due to the peppermint and spearmint flavors in each pill.
Possible Side Effects
There isn't any evidence you'll face mild or adverse dental side effects from taking Pro-B Fresh available dosage amount. However, probably some of these probiotics will make it to your stomach.
Dosages that are higher than what is currently available when taking Pro-B Fresh, you may experience some or all of the following side effects:
Gas
Bloating
Diarrhea
Cramping
Nausea
Pricing and Return Policy
One bottle: $19.95 with $2.95 shipping
Two bottles: $34.95 with $4.95 shipping
Three bottles: $49.95 with $6.95 shipping
Four bottles: $64.95 with $8.95 shipping
If you live in California, you will pay sales tax on your purchase. Otherwise, there is no tax.
You have 90 days to return your probiotics if you aren't happy with them. Call the company at (832) 532-3848 to notify them you want to make the return. They will give you instructions about what to include in your shipping box and how to package your supplements.
You'll send the return to the following address: Pro-B Fresh, 10450 N. Airport Dr., Hayden, ID, 83835.
Available Alternatives
There are a couple of simple things you can do at home to increase your mouth bacteria without taking a supplement, said Dr. Michael W. Davis, a dentist and owner of New Mexico-based practice Smiles of Santa Fe.
Dr. Davis said that drinking enough water each day (eight 8-oz. Glasses) will keep your mouth moist with saliva. Saliva is full of good bacteria. Those good bacteria protect your mouth from bad bacteria.
Dr. Davis went on to tell us that decreasing sugar consumption will help your good bacteria, too, because bad bacteria consume sugar as food.
"You'll want to reduce or eliminate fructose and glucose in your diet," he said.
The Bottom Line: Who Can Benefit from Pro-B Fresh?
The ingredients in Pro-B Fresh have some scientific evidence behind them. In several different tests, they've shown they can help reduce your symptoms resulting from gingivitis and periodontal diseases.
However, Dr. Davis pointed out that there needs to be more research to give you an idea of exactly how well probiotics can help and which conditions they work best for.
That being said, Dr. Davis and Dr. David Nguy, a dentist who owns Toronto-based Atlas Dental, said there are certain types of people who will benefit from using chewable dental probiotics:
You Have Xerstomia: Xerstomia is a condition in which you don't produce enough saliva in your mouth. Dr. Nguy said cancer treatments can cause this condition.
Taking an oral probiotic will boost your good bacteria levels and fight off gum inflammation and gum diseases that flourish in people with dry mouth.
Diabetics: Those with diabetes have an increased risk of gingivitis. Pro-B Fresh can boost your good bacteria levels, fighting off the symptoms and severity of the condition.
Mouth Breathers: Breathing with an open mouth while you sleep dries out the inside of your mouth. Because of this, you put yourself at a higher risk for cavities. If this is you, you could benefit from a probiotic boost.
You Have Cavities or Gum Disease: Cavities and/or gum disease is a sign that your oral health isn't where it should be.
If your dentist tells you that you have either of these ailments, Dr. Nguy said dental probiotics could help.
"If you have had a visit to the dentist and you found out that you have cavities or gum disease, then taking probiotics could encourage good bacteria to crowd out bad bacteria is part of your oral wellness strategy," he said.
If you floss and brush regularly, Dr. Nguy says there's no reason to use dental probiotics.
"If a person is in good oral health, meaning no cavities or gum disease, then you probably do not need to make extra efforts to change the bacteria in their mouth," Dr. Nguy said.
"Regular visits to the dentist and good oral hygiene techniques (think brushing and flossing regularly), will do just the trick."
---
Fake product, you will not receive anything for your money.

By Mark M.

,

London, United Kingdom

,

Nov 23, 2020
Verified Reviewer

Overall Experience:

This is a bogus product. When you send off your money you receive an email response with no contact address or phone number, simply telling you there may be a delay? I never ever received any product from them, after paying money into their account. Fake scam, totally avoid paying any money to these people!

Pros and Cons:

No "pros" were specified in this review
Their advert is a manipulative con
They keep your money
You will just receive minimal email auto-replies when you try to get your money back

Bottom Line: No, I would not recommend this to a friend

---

Ordered Pro-B Fresh

By Arly C.

,

Ontario, Canada

,

Nov 3, 2020
Verified Reviewer

Overall Experience:

Hi, are you guys legit? Or a scam? I ordered Pro-B Fresh on October 28th and it went through my account twice without your official confirmation. And I do not know if I am receiving this product, why do you guys advertise a product that is not legit? Please reply to me, I want my money back ASAP.

Bottom Line: No, I would not recommend this to a friend

---

Advertisement

---

Do not buy it

By Maureen H.

,

Australia

,

Oct 13, 2020
Verified Reviewer

Overall Experience:

Do not waste your money, I have waited and waited for this product but it never came. They say it's in the post. Not. I will not be recommending this.

Bottom Line: No, I would not recommend this to a friend

---

Never got it

By Eva N.

,

Barcelona, Spain

,

Oct 3, 2020
Verified Reviewer

Overall Experience:

I never had the chance to try it. Still waiting after one month. Many emails sent complaining, only good words, emails answering but without a resolve.

They don't accept refunds or sending new orders.

Bottom Line: No, I would not recommend this to a friend

---

Advertisement

---

Very long terms of delivery

By Jessica T.

,

Hamburg, Germany

,

Oct 2, 2020
Verified Reviewer

Overall Experience:

It's been 7 weeks now since I purchased this product and it hasn't been delivered yet. No idea if it ever arrives but I would definitely not buy it again, nor would I recommend it to anyone. Very disappointing. I should have read the reviews first.

Pros and Cons:

No "pros" were specified in this review
Delivery

Bottom Line: No, I would not recommend this to a friend

---

I will be ordering again

By Dana V.

,

Adkins, TX

,

Sep 25, 2020
Verified Reviewer

Length of Use: Less than 3 months

Overall Experience:

Received my order a lot sooner than I thought I would, but because of the current situation (Corona), if it would have been delayed I would have been fine with it. Now as far as the product itself, I really like it. It delivered what it promised, cleaner feeling mouth, and fresh breath. If you don't practice good hygiene, this is probably the reason it's not working for you. Brush your teeth, like it states, and then the mint. You can't expect it to clear up your killer breath, if you're not brushing, it's not magic!

Pros and Cons:

Not an overpowering flavor
Fresher breath
Quick delivery
No "cons" were specified in this review

Bottom Line: Yes, I would recommend this to a friend

---

Very bad

By Ashika A.

,

Reading, England

,

Sep 9, 2020
Verified Reviewer

Overall Experience:

Please don't order this product. I have ordered this one month ago now. I haven't gotten it yet. I have sent so many emails. Said delivered to me. Went and asked from the post office and filed a claim. I went to 4 post offices around me.

I sent a final email asking to refund. No, not replying.

You will see on the ads about this product, marketing has created a very high standard. Some customer reviews are positive. It's fake customer reviews.

Please don't order this.

I lost my money and time.

Bottom Line: No, I would not recommend this to a friend

---

I have not received the order

By Anthony D.

,

London, England

,

Sep 5, 2020
Verified Reviewer

Overall Experience:

Please, my name is Anthony D, I ordered Pro-B Fresh from you since 4 weeks ago and I did not receive the order until now. Please, my Reference numbers to track the product is 802200623191594352. I have tracked it and they said I should contact the company. Thanks.

Bottom Line: Yes, I would recommend this to a friend

---

Very disappointed

By June D.

,

Poughkeepsie, NY

,

Sep 1, 2020
Verified Reviewer

Overall Experience:

I ordered on July 18th. I haven't received it by August 11th so I called and customer service stated it was lost in transit and will reship again. It is 14 more days and I still have not received it. I do not recommend buying from this outfit. I don't know how they get away with this. It is a terrible way to do business in this country!

Pros and Cons:

No "pros" were specified in this review
Bad overall

Bottom Line: No, I would not recommend this to a friend

---

Have arrived after waiting over 3 weeks

By Julia K.

,

Northampton, United Kingdom

,

Aug 24, 2020
Verified Reviewer

Length of Use: Less than 3 months

Overall Experience:

Have just taken the first pill as I have waited over 3 weeks to arrive. The ordering system is terrible, no email to confirm the order, no tracking number that was correct, not being updated once left the USA.

However, it did arrive today. I have 2 bottles so will pre-order (if they work) before I start the 2nd bottle so I don't run out.

I have taken it wrong though as I have dissolved it in my mouth and not water. It doesn't state on the bottle, just says to chew it or dissolve.

Will update if these work.

Pros and Cons:

No "pros" were specified in this review
The delivery time
The order process
The tracking information

Bottom Line: No, I would not recommend this to a friend

---

Have not received the ordered item

By Taura May T.

,

Croydon Surrey, England

,

Aug 22, 2020
Verified Reviewer

Overall Experience:

I have ordered a Pro-B Fresh on July 2nd and until now there is no sign my parcel will be delivered. It's August 17th today.

I am so disappointed.

Pros and Cons:

No "pros" were specified in this review
Still waiting for my parcel, I will review again when product is tried

Bottom Line: No, I would not recommend this to a friend

---