RediCalm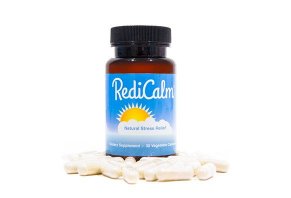 Nutreance's RediCalm supplement uses a proprietary formulation of L-Theanine, 5-HTP, ashwagandha, lemon balm, and passionflower to help you find relief from anxiety symptoms.
RediCalm Review - Relief From Stress and Anxiety?
Formulated with a blend of five ingredients that promises to promote healthy GABA and serotonin production, RediCalm claims to deliver relief from moderate to severe anxiety.
Specifically, the manufacturer advertises that by taking one capsule twice daily, a Princeton Consumer Research test against placebo found the supplement relieved anxiety within 30 minutes for two out of three study participants, with 95% reporting improvement within 30 days.
Based on the available evidence, can you realistically expect much of these same results after handing over your hard-earned money for RediCalm? This is the central question we'll help you answer in this article by taking a look at RediCalm's pricing, its ingredients, online customer feedback, as well as the competition.
Before covering these critical aspects, let's first tackle the basics of anxiety.
Your Quick Reference Guide to Anxiety
Healthline succinctly explains anxiety as:
" … your body's natural response to stress. It is a feeling of fear and apprehension about what's to come. But if your feelings of anxiety are extreme, last for longer than six months, and are interfering with your life, you may have an anxiety disorder."
As with other psychiatric conditions like depression, they go on to explain that anxiety symptoms can express themselves differently between individuals, although common symptoms include increased heart rate, rapid breathing, and restlessness, as well as difficulty concentrating and/or falling asleep.
Even then, there are different types of anxieties, from everyday problems that can motivate you to work harder, to diagnosable conditions like panic disorder, social anxiety disorder, obsessive-compulsive disorder, separation anxiety disorder, hypochondriasis (health anxieties), and post-traumatic stress disorder.
What role do brain chemicals play in this process?
According to the University of Pittsburgh Medical Center, as partially mentioned on the RediCalm website, there are four key chemicals produced by the body that influence mood: serotonin (sleep, depression), dopamine (behavior, emotion, cognition), glutamate (cognition, learning, memory), and norepinephrine (creates your body's 'fight or flight' response). There's no mention of GABA.
Will any of this supplement's ingredients help boost any of these chemicals in the body?
Taking a Closer Look at the Clinical Support for RediCalm's Ingredients
The supplement facts label indicates that RediCalm contains the following ingredients: RediCalm Proprietary Blend 350 mg – L-Theanine, 5-HTP, Ashwagandha Powder, Lemon Balm Powder, Passion Flower Powder
Taking between 150 and 3,000 mg of 5-HTP by mouth per day over the course of two to four weeks could help improve symptoms of depression—in some instances, as well as conventional antidepressant therapy.
Taking 300 mg of a specific ashwagandha root extract (KSM66, Ixoreal Biomed) twice daily for a period of 60 days may help improve symptoms of stress, while 600 mg of lemon balm extract daily (plus a blend of 12 additional ingredients) may reduce anxiety symptoms like nervousness and edginess. A standardized standalone extract may also ease symptoms of anxiety.
Finally, taking 400 mg of passion flower extract twice daily for two to eight weeks is listed as possibly effective for reducing symptoms of anxiety, in some instances, as effectively as prescription medications.
In addition to this clinical evidence for singular ingredients, the RediCalm supplement blend underwent a 2016 single-blind, randomized, placebo-controlled study involving 50 healthy male and female participants, which was conducted by the UK-based Princeton Consumer Research and lasted a total of 30 days.
Based on the results of self-perception questionnaires, 80% agreed or strongly agreed that the supplement provided benefits, with more than 60% indicating they "experienced anxiety relief within just 30 minutes" and more than 95% reporting "improvement in their overall anxiety level over the course of 30 days."
Potential Side Effects Related to RediCalm's Ingredients
This same manufacturer-sponsored study found no side effects in participants, although they emphasize you'll want to speak with your doctor beforehand if you're pregnant or nursing.
Sites like Examine.com, the Natural Medicines Database, and WebMD also indicate that it's not known if l-theanine is safe to use for longer than three weeks. Similarly, they report that the long-term safety of lemon balm (more than four months) and ashwagandha (no length provided) is not known.
However, in some instances (no dosages or other specifics provided), they report that ashwagandha can cause stomach upset, diarrhea, and vomiting, while lemon balm can similarly cause "increased appetite, nausea, vomiting, abdominal pain, dizziness, and wheezing."
Passionflower (again, no specifics provided) could lead to drowsiness, dizziness, and confusion, while "some people who have taken [5-HTP] have developed a condition called eosinophilia-myalgia syndrome (EMS), a serious condition involving extreme muscle tenderness (myalgia) and blood abnormalities (eosinophilia)."
As a result, they recommend, "Until more is known, 5-HTP should be used cautiously."
To minimize your chances of experiencing side effects or medication interactions, make sure you have an in-depth conversation with a healthcare professional before ordering RediCalm or another dietary supplement.
How Much Does RediCalm Cost & Where Can You Buy?
If purchased directly from Nutreance, RediCalm is priced at $39.95 per 30-capsule bottle, plus free shipping.
Important: Keep in mind that if you take the recommended two capsules per day, each bottle will only last 15 days. So, you'll need to double this price for a complete month's supply, which could be important from a budgeting perspective.
If ordering direct, you can set yourself up on automatic shipments and continue receiving a fresh supply (between one and 10 bottles) every 15, 30, 45, 60, 75, or 90 days. Customers can un-enroll at any time without penalty.
We also found RediCalm sold on Amazon for the same price, which included free Prime shipping eligibility.
Direct purchases come with a 30-day money back guarantee, less S&H, although this only applies to one empty or unopened bottle. All others must be sealed and unopened. Third-party policies can vary.
To request a refund for a direct purchase, you'll need to call (800) 749-7776 or send an email to support@nutreance.com.
What Can We Learn From RediCalm Customer Reviews?
On the Nutreance website, 180+ customers had given the RediCalm supplement an average rating of 4.8 stars at the time of our research. Compliments often cited improved relaxation, boosted mood, and increased focus, without side effects. The only complaints referenced that it took a while to experience results.
Among more than 250 Amazon customers, RediCalm had a lower overall rating of 3.7 stars. While compliments mirrored many of those found on the manufacturer's website, additional common complaints included no results and side effects like nausea, headache, and vomiting.
How to Choose Between RediCalm & Third-Party Anti-Anxiety Supplements
There are tons of anxiety and stress-related supplements to choose from, which you can quickly see for yourself by searching online marketplaces like Amazon and Google Shopping. And for the most part, you'll find similar ingredients among them.
For example, here were some of the most popular results at the time of our research, chosen at random:
| | | |
| --- | --- | --- |
| Supplement | Price | Ingredients |
| RediCalm | $39.95 | L-Theanine, 5-HTP, Ashwagandha Powder, Lemon Balm Powder, Passion Flower Powder (350 mg proprietary blend) |
| Life Seasons Anxie-T | $29.99 | Ashwagandha, GABA, Kava Kava, Theobromine, L-Theanine (no dosages listed) |
| LESLabs Mood Boost | $28.50 | L-Tyrosine 150 mg, Ashwagandha 100 mg, 5-HTP 75 mg, Passionflower 75 mg, GABA 50 mg, L-Theanine 50 mg, Rhodiola 25 mg, Chamomile 10 mg, Lemon Balm 10 mg |
| Natrol Stress & Anxiety | $9.99 | Day: Vitamin B-6 10 mg, Folic Acid 200 mcg, Vitamin B-12 50 mcg, 5-HTP 50mg, Suntheanine L-Theanine 50mg. Nite: Vitamin E 30mg, Calcium 72mg, L-Glutamine 800mg, Valerian Extract 100mg, Grape Seed Extract 25mg, Melatonin 3mg. |
| CalmSense Stress Relief | $19.99 | Vitamin B1 15 mg, B2 15 mg, B5 20 mg, B6 20 mg, Niacin 30 mg, Magnesium 25 mg, Zinc 25 mg, Calming Herbal Blend 500 mg: Passion Flower Extract, Lemon Balm Extract, Hops Extract, Chamomile Extract, Hawthorn Berry Ashwagandha 200 mg, Rhodiola Rosea 200 mg, Bacopa Monnieri 200 mg |
As we outline in Steps to Understanding a Dietary Supplement's Claims, narrowing down the right option for you—if any—boils down to examining two key ingredient-related factors: clinical support and dosing. Let's look at the handful of examples above through this lens.
We learned earlier authoritative sites like the Natural Medicines Database and WebMD report that the 5-HTP, ashwagandha, and passion flower extract found in RediCalm may deliver improvements in mood and anxiety symptoms.
However, they emphasize that 3,000 mg of 5-HTP is needed daily to experience its benefits, and we can see that RediCalm's entire blend only contains 350 mg, so there's no way it can include the same levels found in supporting studies.
It's much of the same when it comes to the clinical support for ashwagandha (600 mg daily), lemon balm (600 mg, in addition to 12 other ingredients), and passion flower (800 mg daily).
Similarly, while LESLabs Mood Boost provides dosing details for each of their ingredients, we can see that they're well below what's reported in supporting clinical studies. And while this formula adds GABA, Rhodiola, and chamomile, these same sites report there's insufficient clinical evidence supporting their efficacy for anti-anxiety benefits.
Natrol's Stress & Anxiety supplement features unique Day and Nite blends, and WebMD indicates that 400-900 mg of valerian may help reduce the amount of time it takes to fall asleep, while 0.5 mg to 12 mg of melatonin may help address insomnia and difficulty falling asleep.
However, Natrol only contains 100 mg of valerian. And with 3 mg of melatonin, its dosage could be considered on the lower end of the spectrum.
Like Natrol, CalmSense's Stress Release formula contains a variety of vitamins and minerals essential to human health. But, unless your doctor has diagnosed you as deficient, organizations like the National Institutes of Health and American Academy of Family Physicians indicates that supplementation likely won't deliver meaningful benefits.
Related: Do You Need to Take Vitamins or Dietary Supplements?
And like RediCalm, many of its ingredients are part of a proprietary blend, with no dosages listed. On the upside, 300 mg of Bacopa is listed as possibly effective for improving memory and thinking, although CalmSense only contains 200 mg per dose.
Let's pull all of these details together—along with pricing—and come to a bottom line about Nutreance's RediCalm supplement.
Should You Place an Order for RediCalm?
RediCalm is the most expensive formulation in the table above and is tied for the fewest ingredients, all of which are part of a proprietary blend. As such, we can't know precisely how much of each it contains.
And while it features some ingredients (5-HTP, ashwagandha, lemon balm, passion flower) that may have some anti-anxiety benefits, at a total of just 350 mg, it cannot contain the same levels found in supporting clinical studies.
On the upside, Nutreance stands behind RediCalm with a 30-day refund policy (one opened bottle only), and the supplement seemed to come with mostly positive online customer feedback. The company also held a B rating with the Better Business Bureau, as of 3/5/2020.