REMfresh Reviews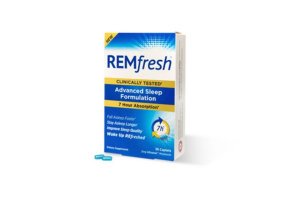 REMfresh is a sleep aid supplement that claims to possibly help you fall asleep faster and get better sleep overall thanks to quality ingredients and a patented delivery system.
About REMfresh
Rest is an essential part of our lives, and yet many of us struggle to find the time to get the amount we actually need in order to be healthy and productive throughout the day. REMfresh, a new supplemental melatonin sleep aid from Physician's Seal, seems to be on a mission to make sleeplessness a thing of the past.
Physician's Seal looks to be a new company, listed as forming in February of 2016 on LinkedIn. The organization is currently not listed with the Better Business Bureau, and REMfresh appears to be their first product to market.
The company claims that REMfresh is able to mimic the way the body releases its own melatonin during the course of your sleep cycle. They also claim that this might help you fall asleep faster, stay asleep longer, and experience better sleep overall.
The product apparently contains no narcotics, hypnotics, barbiturates, sedatives, antihistamines, or alcohol, and is non-habit forming as well. We'll break down exactly how the supplement is said to work here in a short moment, but before that, let's dive a bit deeper into what melatonin is, and how it affects our bodies as a whole.
Understanding Melatonin's Role In Our Lives
Why do you sleep? That might be a question you haven't asked yourself in quite a while. The answer, however, lies in a chemical found inside the pineal gland of your brain called melatonin. Melatonin is responsible for helping to maintain your sleep and wake cycle, which is constantly changing as a result of external changes in your environment.
For instance, throughout your average day, the melatonin levels in your body are often quite low. Towards the evening, they begin to rise, staying high throughout much of the night. According to WebMD, the level of melatonin in our bodies decreases as we age, and they even state that some older individuals produce very little of the substance; sometimes none at all, at a certain point.
This can lead to sleeplessness and other sleep-related complications, faster aging, intestinal issues, and more, according to an article from rxeconsult.com.
Taking melatonin in supplemental form is a practice that has been around at least since 1995, when the first patent was granted to Richard Wurtman at MIT for its use as a sleep aid.
As noted on the REMfresh website, it is indeed possible to have a melatonin deficiency. According to The Institute of Health Sciences, it can be caused by a lack of sleep, usually stemming from late nights, jet lag, alcohol, caffeine, blood sugar imbalances, stress, exposure to light ( blue light in particular), electromagnetic waves and old age.
From the same link, we're told that you can maximize your chances of increasing your melatonin levels by using blackout curtains in your bedroom, not using electronics like smartphones and TV's before bed, exposing yourself to as little light as possible in general, and avoiding foods and drinks directly before bedtime.
WIth REMfresh specifically, the product claims to use enhanced delivery methods and a special grade of melatonin in order to help you sleep your best all night long. Let's take a closer look at their claims to see how they stack up against any potential alternatives.
What Is IPP Technology?
REMfresh claims to use a patented method for delivering the chemical to the body that they refer to as Ion-Powered Pump Technology. An ion pump seemingly already exists, but in the form of a vacuum pump that can reach incredibly high pressures. It would appear that this technology in use with REMfresh is unrelated.
The company also claims that this technology allows the melatonin inside REMfresh to be distributed and absorbed throughout the digestive tract for up to 7 hours continuously.
While this seems to be unique on the surface, it sounds very similar to a time-release formula, which many other companies utilize for hundreds of different drugs and supplements, including melatonin specifically.
Moreover, it looks like the effectiveness of time-release supplements might possibly vary from person to person, with some individuals reporting on personal blogs and forum comments that the method is actually less effective for them; we were able to find users with differing reports on various reviews of both time-released and regular melatonin supplements.
What About UltraMel Melatonin?
The makers of REMfresh also claim that the product utilizes UltraMel Melatonin, a 99% ultra-pure variant of the substance that is sourced from Western Europe. There do appear to be varying grades of pureness, but most of the competing products we were able to find online also featured a 99% pureness rating as well.
Physician's Seal states that many companies don't disclose where their melatonin comes from, and that if they do, it is often from places like China and India (where regulations are less strict for supplement ingredients like melatonin than in Western Europe).
This might indeed be true, but many of the competing products we found on markets like Amazon also disclosed where they were made, with many being manufactured in Europe, as well as in America. Additionally, where a product is made does not necessarily tell you anything about its quality.
In the next section, let's examine if there are any side effects that you should be looking out for when taking REMfresh.
REMfresh: Are There Any Side Effects?
The manufacturer states that REMfresh has no "drug hangover" effect, but what exactly is this? Our best guess is that they are describing the hangover-like effect that sometimes accompanies certain medical and recreational drugs, but we've found no evidence that any pure melatonin supplement would present a risk for hangover-like side effects.
The side effects you might be able to expect from taking a melatonin supplement include sleepiness, lower body temperature, vivid dreams, morning grogginess (which could be what the makers of Clarity X refer to as a "drug hangover"), and small changes in blood pressure. However, according to WebMD, these symptoms will go away rather quickly when you discontinue using the supplement.
As always, if you are ever confused about any aspect of a new supplement, we recommend speaking with your doctor before proceeding.
REMfresh Pricing & Return Policy
REMfresh is currently available both directly through the manufacturer and on Amazon.com. In either case, the product costs $29.99 for a box that includes 36 individuals caplets (It's recommended on the box that you take 1-2 caplets per night).
As for the return policy, Physician's Seal states that they offer a full 30-day satisfaction guarantee on products order straight from the company's website. If you order via Amazon, you'll have to process the return through the retailers dedicated return service.
Alternatives To REMfresh
So, breaking down everything that we've learned about REMfresh, it looks as though the product has some unique characteristics (such as the supposed IPP technology and the extremely pure UltraMel melatonin being used) that might enable it to stick out amongst the competition. But what else is out there on the market today?
It turns out the answer is quite a bit. There are literally hundreds of different melatonin supplements to choose from, many of which are available at your nearest convenience or grocery store. What's more, many of these are available as "extended release" variants that mimic the body's natural release of melatonin, just as REMfresh claims to do.
According to Sleep.org, a dosage between two tenths of a milligram and five milligrams 60 minutes before bedtime is typically recommended for adults, while children should take the smallest effective dose possible, due to the increased amount of melatonin in their bodies.
Adults, too, should try and take the lowest effective dosage of the product, as according to the link above, too much melatonin can actually disrupt your sleep cycle. With REMfresh, each caplet includes 2mg of melatonin. Popular alternatives that we found online had anywhere from 2-5mg per dose as well.
In general, you'll want to be on the lookout for a supplement that features 99% pure melatonin or better, as well as one that does not use "filler" or binder ingredients in its formula. We were able to find several melatonin supplements online that contained additional vitamins, which, while not likely to be harmful on its own, might open up the risk of interactions with other medications.
If you take any other supplements or medications currently, in our opinion it might be best to stick with pure melatonin supplements with no other active ingredients.
Final Thoughts On REMfresh
It can often be difficult to determine exactly how well a particular supplement can be expected to perform without trying it out for yourself. Everyone is different, after all, so it is sometimes arbitrary to make a blanket statement about a supplement, depending on the ingredients in use.
Now that we've learned more about REMfresh as a whole, as well as more about the various alternative options that exist today, we have a few thoughts about who this product might be best for.
On the one hand, we know that REMfresh is made with 99% pure melatonin, and we know that melatonin has been shown to act as a sleep aid, according to authority sites like Examine.com and Sleep.org.
On the other hand, if price is a major concern, perhaps your best best would be to try one of the vastly cheaper alternatives available in stores and online. These products often contain 99% pure melatonin, and might possibly do the trick for a lot less in the end.
The ultimate choice will be up to you. If you choose to give REMfresh a shot, know that you won't be alone; the product had 24 customers reviews as of the time of this writing, and 88% of them were 5 stars.
Also keep in mind the return policy for the outlet you choose to buy the product from; both Amazon and the manufacturer offer 30 days to evaluate the product.
Have you used REMfresh before? Leave a review and share your experience with other HighYA readers!
Really works for me!

By Mark G.

,

Cincinnati, OH

,

Dec 19, 2019
Verified Reviewer

This product WORKS for me. I've tried melatonin in the past and hated it. Woke up feeling groggy and dopey until 8 or 10 a.m.

Saw this and was intrigued by the science so I tried it. Net/Net: it works plain and simple. I'm 6-1 and weigh 220, take two 2 mg tabs and wake up feeling MUCH less groggy and what is there clears in short order. My only challenge now is finding it in stock.

Bottom Line: Yes, I would recommend this to a friend

---

Best sleep aid

By Stacy T.

,

Crown Point, IN

,

Jul 1, 2019
Verified Reviewer

I am a nurse practitioner and have tried everything over the counter and prescription to help me sleep. Nothing has helped except for Ambien. I hate taking it because it's just not good for me. I was at the AANP conference when the makers of this were passing out boxes. Their goal was to get providers to recommend it to patients. So I tried it and was amazed from the first night. I stopped taking Ambien! This takes me a little longer to fall to sleep but keeps me sleeping all night long. It's amazing.

Bottom Line: Yes, I would recommend this to a friend

---

Advertisement

---

REMfresh

By Bonnie R.

,

Ohio

,

Jun 29, 2018
Verified Reviewer

I've been using REMfresh for about three months now. And for me, it has been excellent. I've been struggling with sleep for over a year. I've tried many different products to help. But until I came across REMfresh none of them had worked. I'm sitting here in my living room staring at my box of REMfresh, and I think the company from the bottom of my heart. It is the only product that helps me sleep, and it gives me at least 7 hours every single night. So for me, it is an excellent product! Thank you REMfresh.

Bottom Line: Yes, I would recommend this to a friend

---