TheraTears Reviews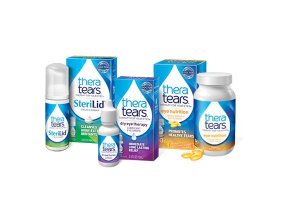 With a lineup of six different products, TheraTears promises to help relieve symptoms of dry eye, cleanse lids and lashes, and deliver ocular nourishment.
About TheraTears
Advertised as dry eye therapy for immediate and long-lasting relief, TheraTears' doctor-developed products promise to deliver science-based therapy that can restore, cleanse, and nourish your eyes.
Specifically, when using their products together, the website indicates this involves restoring the eyes' natural balance, cleansing eyelids and lashes, and nourishing eyes to promote healthy tears.
Healthline reports that chronic dry eye, also commonly known as dry eye syndrome or DES, affects nearly 50 million Americans, most of which are aged 50 or older. Regardless of your age, though, if you count yourself among these numbers, can one (or more) of TheraTears' formulas provide relief?
We're here to help you find some facts before making a purchase. Let's start the process by taking a couple moments to discuss the basics.
Your Quick Reference Guide to Chronic Dry Eye
Science Notes tells us there are three layers to tears: An outer oily layer that prevents tears from spilling onto your cheeks or evaporating, a middle layer that helps "transport vitamins, salt, and other minerals and nutrients to the cornea of the eye," and an inner mucous layer that helps the tear 'stick' to the eye and maintain moisture.
However, a condition can occur where one or more of these layers doesn't work properly, resulting in not "enough quality tears to lubricate and nourish the eye," leading to symptoms like burning, itching, aching, eye fatigue, redness, blurred vision, and sensitivity to light.
The American Optometric Association defines this condition as chronic dry eye, which they state can be caused by:
Age – Older individuals tend to suffer from dry eye more frequently

Gender – Women are more likely than men to develop dry eye

Medications and Medical Conditions – Everything from antihistamines and decongestants to diabetes and thyroid problems can make dry eye more prevalent

Environmental Conditions – These include exposure to smoke, wind, dry climates, and even staring at electronics screens for a long time without blinking frequently enough
As mentioned on the TheraTears website, common treatment options for chronic dry eye include using artificial solutions (or even omega-3 fatty acids) to supplement and increase tear production or to decrease inflammation. In more severe cases, your doctor might recommend conserving tears by blocking tear ducts with silicone or gel-like plugs.
As far as eye drops, what's contained in TheraTears' products that might help address your chronic dry eye?
Taking a Closer Look at TheraTears Products
Overall, there are six products in the TheraTears lineup:
Dry Eye Therapy Lubricant Eye Drops w/OSMO-Correction
Available in 15 ml and 30 ml bottles, this is an electrolyte-balanced formula that's said to replicate tears, without the use of preservatives. In fact, the TheraTears website indicates this product uses a unique preserving ingredient that turns into pure oxygen and water on eye contact.
Active ingredient: Sodium carboxymethylcellulose 0.25%

Inactive ingredients: Borate buffers, calcium chloride, Dequest, magnesium chloride, potassium chloride, purified water, sodium bicarbonate, sodium chloride, sodium perborate, sodium phosphate
To use, TheraTears instructs customers to instill one or two drops in the affected eyes, as needed.
Carboxymethylcellulose (CMC) is typically sourced from softwood pulp or cotton linter and acts as a viscosity modifier, thickener, and stabilizer in a wide variety of products. In the instance of artificial tears, CMC's naturally high viscosity—and its nontoxic and hypoallergenic nature—makes it an ideal lubricant.
The remaining ingredients in this formula act as pH balancers; that is, they help maintain the neutral acidity found in natural tears).
Dry Eye Therapy Lubricant Eye Drops – Preservative Free
Another preservative-free formula that's available in 32 count single-use vials, all of which are packaged in individual foil pouches to ensure maximum freshness.
This contains the same ingredients found in the standard version, without Dequest or sodium perborate.
Nighttime Dry Eye Therapy Lubricant Eye Gel
While this formula also focuses on replicating healthy tears, its noncrusting, protective film delivers longer-lasting relief for protection throughout the night. Despite its effectiveness, TheraTears advertises that it delivers less blurring than competitors. Available in 28 single-use vials.
Active ingredient: Sodium carboxymethylcellulose 1%
Inactive ingredients: Same as the Preservative-Free Lubricant Eye Drops
Contact Lens Comfort Drops
Available in a 15 ml bottle, this product promises to provide soothing relief from dryness and irritation associated with daily wear and extended wear, and soft and RGP (rigid gas permeable) contact lenses.
According to the label on the TheraTears website, the only active ingredient is carmellose sodium (very similar to the carboxymethylcellulose found in the products above) in purified water, with no concentration listed.
Inactive ingredients include sodium chloride, potassium chloride, sodium bicarbonate, calcium chloride, magnesium chloride, and sodium phosphate.
SteriLid Eyelid Cleanser
This science-based, 1.62 oz. patented formula of natural plant ingredients claims to remove oil, debris, and other irritants that can build up on eyelids and eyelashes. Despite its effectiveness, TheraTears reports it only takes 60 seconds to work. Ingredients:
Water (aqua), PEG-80 sorbitan laurate, sodium trideceth sulfate, cocamidopropyl betaine, sodium lauroamphoacetate, PEG-150 distearate, sodium laureth-13 carboxylate, linalool, sodium chloride, sodium piperazinoethyl acetate ethylsulfonate, boric acid, sodium perborate, panthenol, allantoin, cocamidopropyl PD dimonium chloride, melaleuca alternifolia (tea tree oil) leaf oil, trisodium EDTA, etidronic acid, citric acid, sodium hydroxide
According to sites like PaulasChoice.com, Truth In Aging, and EWG.org, most of these ingredients act as:
Cleansing, moisturizing, and conditioning agents (PEG-80 sorbitan laurate, cocamidopropyl betaine, sodium lauroamphoacetate, sodium laureth-13 carboxylate, sodium piperazinoethyl acetate ethylsulfonate, panthenol, allantoin)
Surfactants (sodium trideceth sulfate, cocamidopropyl PD dimonium chloride)
Emulsifiers (PEG-150 distearate)
Fragrance (linalool)
Preservatives and antibacterial agents (boric acid, tea tree oil, trisodium EDTA)
Binding agents and anticoagulants (etidronic acid, citric acid, sodium hydroxide)
Eye Nutrition Advanced Omega-3 Supplement
A 1,200 mg omega-3 supplement from TheraTears that contains an optimized blend of organic flaxseed oil, a triglyceride form of fish oil, and Vitamin E, all aimed at supporting eye comfort and healthy tears. Ingredients in each of the 90 easy-to-swallow soft gels include:
Vitamin E 183 IU
Fish Oil 1.6 g (EPA 450 mg, DHA 300 mg, ALA 450 mg)
Flaxseed Oil 1 g
Mixed Tocopherols 20 mg
The Natural Medicines Database and WebMD indicate that taking vitamin E and C together (no dosage listed) may help improve vision in those with middle-eye swelling, but nothing related specifically to dry eye. In fact, this seemed to be the case with most of the supplement's ingredients.
As mentioned earlier, though, omega-3 fatty acids are often used to help dry eye, since the American Academy of Ophthalmology tells us they "appear to improve function in the eye's meibomian glands, which produce the oily part of tears. Improved function of those glands can ease dry eye symptoms."
Could TheraTears Formulas Cause Side Effects?
These same sources indicated the ingredients in TheraTears' formulas likely won't cause side effects for most individuals. In fact, the active ingredient in most of them—carboxymethylcellulose—is classified by the FDA as Generally Recognized as Safe (GRAS).
However, Patient.info notes that these "eye drops can occasionally cause mild eye irritation or stinging, but this usually soon passes, and not everyone will experience it. If you experience any other eye problems, especially if you think they may be due to the drops, speak with your doctor or pharmacist for advice."
In fact, since frequent, painful dry eye is considered a medical condition, it would be wise to speak with your doctor before making any purchasing decision.
How Much Do TheraTears Products Cost?
TheraTears products are available at dozens of nations retailers, including Amazon, CVS, Walgreens, Walmart, Rite Aid, Target, Dollar General, Kmart, and Swanson, to name just a few. The prices on Amazon at the time of our research, which seemed to be one of the least expensive options at the time of our research, were as follows:
Dry Eye Therapy Lubricant Eye Drops w/OSMO-Correction: $10.87
Dry Eye Therapy Lubricant Eye Drops – Preservative Free: $10.25
Nighttime Dry Eye Therapy Lubricant Eye Gel: $9.76
Contact Lens Comfort Drops: $12.41
SteriLid Eyelid Cleanser: $13.50
Eye Nutrition Advanced Omega-3 Supplement: $11.06
Shipping charges (unless purchased locally) and refund details will depend on the retailer you purchase from. If you have specific questions for TheraTears, their customer service department can be reached at 800-579-8327.
What Can We Learn From TheraTears Customer Reviews?
Between their Lubricant Eye Drops, Preservative Free, and Nutrition Omega 3 Supplement formulas, we encountered more than 1,600 combined customer reviews on Amazon at the time of our research, which had given the products a collective rating of about 4.5 stars.
There, common compliments referenced effective results (decreased dry eye symptoms and discomfort) and competitive price (especially compared to prescription options that don't always work meaningfully better). Frequent complaints—what relatively few there were—often cited no results and high prices.
Many of these same ratings, compliments, and complaints were found elsewhere on sites like Walmart.com, Drugs.com, and Walgreens.com.
From a company perspective, Akorn Consumer Health is based out of Lake Forest, IL has been in business since 1984, and currently manufactures well over 100 different products and ingredients. They hold an A+ rating with the Better Business Bureau and no closed complaints, as of 10/19/17.
TheraTears was originally invented by Dr. Jeffrey P. Gilbard, a Columbia University-trained medical professional who completed his ophthalmology residency at Harvard Medical School, and later served as a Clinical Assistant Professor of Ophthalmology at Harvard Medical School.
According to his bio on the website, he was the youngest scientist in history to receive project grant funding from the National Eye Institute for his work on the TheraTears formulation, which promises to supply oxygen and electrolytes to eyes.
TheraTears vs. Other Artificial Tear Eye Drops
Because chronic and temporary dry eye is experienced by millions of people on a regular basis, there are many different artificial tear formulations available over the counter, including options from household brands like Visine, Systane, Refresh, and Murine. Price-wise, you can pay anywhere between $5 and $25+ for the majority of these options.
What about their formulas? We found several products that, like TheraTears, contained somewhere between 0.25 and one percent carboxymethylcellulose. In fact, some also contained many of the same inactive ingredients, and also came in preservative-free versions and single-use vials to maintain freshness.
Other products contained alternative lubricants like polyethylene glycol, polyvinyl alcohol, glycerin, dextran, and mineral oil. Which of these is right for you?
Writing for VeryWell.com, Troy Bedinghaus, OD emphasizes that you should start your artificial tear search by consulting with your doctor, who can recommend options based on your dry eye cause, type, and level of severity.
Outside of this, he reports that formulas containing higher carboxymethylcellulose concentrations could help eyes remain lubricated than some other options, although there's not anything about this ingredient that necessarily works better than others. Just keep in mind that thicker formulas can often cause temporarily blurry vision.
The Mayo Clinic adds that if you have especially sensitive eyes, or moderate to severe chronic dry eye, eye drops with preservatives could cause irritation.
What's the Bottom Line About TheraTears?
Just like any over the counter solution to address any condition, the fact of the matter is that no single solution will work for everyone. As such, it might take some trial and error before finding a product that meets all your preferences, while meaningfully addressing your dry eye symptoms.
To help get you started on the right foot, though, making an appointment with your doctor can go a long way toward helping you achieve the most value for your money.
But if you feel like giving a TheraTears formula a try in the meantime, they seem to come with mostly positive online customer feedback, competitive prices, and availability at many local retailers. This way, you might be able to save on return S&H charges if you're dissatisfied, as well as make the return process as easy as hopping in your car.
Finally relief

By Vitoria V.

,

Sandy Valley, NV

,

Feb 16, 2019
Verified Reviewer

I have had dry eyes for years, but once diagnosed with glaucoma the eye drops to control the disease made the dry eyes much worse. I had blurry vision at least twice a week, and at night I couldn't leave any lights, direct or not, on in the house, it was almost impossible to keep my eyes open, they burned so bad.

I have been using another product by indication from my doctor, with almost no results, so I decided to try TheraTears. I'm sorry I can't place fireworks on this review. Immediately after applying, instant relief, and the blurry vision is gone. I couldn't be happier.

Bottom Line: Yes, I would recommend this to a friend

---

Excellent

By Andrea M.

,

Ontario, Canada

,

Jan 11, 2019
Verified Reviewer

I have been down the road of trying this drop and that drop, off the shelf, prescription drops, steroids, Omega for two years. Currently waiting to see a cornea specialist appointment to hopefully solve my chronic dry eye problem.

About two weeks ago I was at a grocery store-pharmaceuticals section. I was going to buy some more Omega3 pills. I saw Thera Eyes has a special Omega for dry eyes specifically, then furthermore, found they have eye drops of there own too. I didn't buy either at the time, went home and read reviews, which were great. Went back the next day and purchased both items...best treatment I've had yet!

My eyes I know could still feel a bit better, but they feel 90% better for sure! I highly recommend both these items and use together. My eyes started feeling better a couple of days after I started using, but now two weeks later way better. I'm actually going to call my ophthalmologist and tell him I recommend both these items vs. what he had me using.

Bottom Line: Yes, I would recommend this to a friend

---

Advertisement

---

Inside packaging needs redesigning

By Margaret B.

,

New York

,

Jun 3, 2019
Verified Reviewer

I like the product because I have allergies to many other brands. It is very expensive, and after complaining a few times along with many others, the coupons in the box finally actually work and are accepted at stores that accept coupons. Now they have redesigned the tubes which the drops come in, but not the foil packaging the tubes come in. One has to pretty much rip apart the foil enclosures to get out the tubes, and then there is no place to put the unused tubes. Putting them back loose in the box is really not a very hygienic choice. If you try to not rip open the foils, you can struggle forever trying to get out the five vials which are connected together. I am hoping others will complain as I have, and maybe they will do something about improving the packaging. I have called once about this, but so far it seems to have fallen on closed ears.

Bottom Line: Yes, I would recommend this to a friend

---

Wasn't worth the expense.

By Lynn S.

,

Springfield, OR

,

Aug 7, 2018
Verified Reviewer

I recently purchased TheraTears single-use eye drops to attempt to relieve my dry eye disease symptoms. I am very displeased with the results. I have had better and longer lasting relief from regular everyday allergy eye drops like Visine. After this disheartening experience, I must say that will stay with store brand dry eye products.

Bottom Line: No, I would not recommend this to a friend

---

Advertisement

---