Wax-Rx Reviews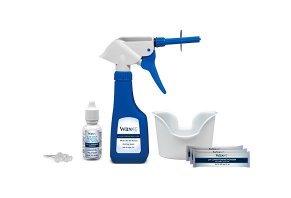 Using only one active ingredient (carbamide peroxide) and a unique nozzle attachment, the Wax-Rx system claims to deliver effective ear wax removal in three easy steps.
About Wax-Rx
Invented by a Florida physician Teddy Garcia and based on the same technology used in doctor's offices since 1997, Wax-Rx is a professional-grade, pH conditioned ear wash system that promises to provide safe, easy-to-use, and effective ear wax removal.
In fact, the manufacturer tells us that using Wax-Rx is as easy as 1, 2, 3. Just start with the Ear Wax Removal Aid Drops to help soften wax, wash using the specially designed spray bottle, and rinse. Safe for ages 12+, you'll get three complete uses from each kit, while the bottle is reusable and refillable.
It certainly seems like Wax-Rx can help make cleaning your ears in the comfort of your own home quick and easy, without being required to visit the doctor.
But should you clean your ears in the first place? Even then, will Wax-Rx provide the most bang for your buck? Let's start by discussing the basics.
Your Quick Introduction to All Things Ear Wax
Formed in the outer third of the ear canal, the American Academy of Otolaryngology—Head and Neck Surgery tells us that earwax (also known as cerumen) is there to serve "as a self-cleaning agent with protective, lubricating, and antibacterial properties." Specifically, it helps protect against damage, prevent infection, provide moisturization, and temporarily repel water.
While it begins deeper in the canal, earwax naturally moves out of the ear through chewing and jaw motion, where it eventually dries up and flakes away. Given these benefits and the fact that it naturally moves out, is it a good idea to manually remove earwax?
Again, the AAO tells us that, "Under ideal circumstances, the ear canals should never have to be cleaned." This certainly references sticking anything in your ear (like cotton swabs), but also candle waxing and other liquid solutions competing with Wax-Rx.
However, there can be instances where earwax becomes impacted, leading to side effects like earache, a feeling that the ear is plugged, and partial hearing loss, as well as itching, odor, or discharge. In cases like these, it's best to see your doctor.
Until you can get in to see your physician, the AAO recommends cleaning the outside of your ear with a cloth. Then, you can try using "a few drops of mineral oil, baby oil, glycerin, or commercial drops in the ear. Detergent drops such as hydrogen peroxide or carbamide peroxide (available in most pharmacies) may also aid in the removal of wax."
They also note that irrigating (also called ear syringing) with a solution of warm water and saline, along with wax dissolving drops, can be a viable solution. Is this basically how Wax-Rx works?
How Does Wax-Rx Work?
Overall, the product's website indicates that Wax-Rx works over the course of three steps:
1. Prepare. You'll start by placing several drops of Ear Wax Removal Aid Drops in each ear and waiting 10 minutes. These will help soften stubborn wax and make it easier to remove.
The company notes that this step isn't necessary, although without the drops, you might have to wash vigorously, which could lead to discomfort.
2. Wash. Fill the specially designed Wax-Rx Sprayer with very warm water and attach the sprayer. Then, twist a disposable tip onto the nozzle, place the basin under your ear, and begin pumping fluid into the ear.
When pumping, you'll be able to control pressure based on how hard you squeeze the sprayer's handle.
Note: If you fill the bottle with water that is colder than body temperature, this can lead to dizziness, while hot water can scald the ear canal. As such, it's important that you only use very warm water in this step.
If needed, repeat until all wax is removed.
3. Rinse. Finally, empty one pack of Wax-Rx pH Conditioning Powder into the bottle and rinse your ear. Instead of using plain water that can reduce the slightly acidic environment in your ears, and therefore kill beneficial bacteria that prevent ear infections, this water is conditioned to better match its pH.
Discard the tip, along with any remaining solution.
The Wax-Rx bottle if designed to be refillable as many times as you need, although you'll only have two additional packages of the Ear Wax Removal Aid Drops, pH Conditioning Powder, and disposable tips.
When performing these steps, exactly which ingredients will you be spraying into your ear?
What Ingredients Are Found In Wax-Rx's Spray Solution?
According to the drug facts label listed on the website, the only active ingredient contained in Wax-Rx is carbamide peroxide 6.5%.
Inactive ingredients include Aloe Barbadensis Leaf Extract, Chamomilla Recutita (Matricaria) Flower Extract, Glycerin, Oxyquinoline Sulfate, and Ascorbic Acid.
Carbamide peroxide is a chemical that reacts with oxygen when exposed to air (known as oxidation). When this occurs, it breaks down into hydrogen peroxide and urea, which can break up and lift away stains.
As such, it's most commonly found as a bleaching agent in at-home teeth whitening kits. Stronger versions are also used in dentist offices.
But when applied to the ear canal, carbamide peroxide's oxidation action results in foaming, which is intended to help breakup and remove earwax.
Wax-Rx's inactive ingredients primarily act as moisturizers, help improve skin feel, and prevent/reduce any potential irritation. Speaking of which, will you experience any side effects with Wax-Rx?
Will Wax-Rx Cause Any Side Effects?
According to WebMD, side effects from carbamide peroxide "usually do not occur."
The Wax-Rx website tells us that it's normal to experience some pressure while washing, it shouldn't hurt. If it does, stop immediately and contact your doctor.
Wax-Rx or otherwise, the fact of the matter is that ear irrigation can impact the middle ear, where balance is regulated. As a result, you'll always want to sit down due to potential dizziness.
Not everyone will experience this, although using very warm (at least body temperature) water—never cold—may help lessen the likelihood. If you do experience dizziness, though, Wax-Rx recommends resting your head until it passes and then trying again if you feel comfortable.
Wax-Rx notes that the product is only intended for adults and children over 12 years of age and shouldn't be used:
"if you have ear drainage or discharge, ear pain, irritation or rash in the ear, or are dizzy; consult a doctor
if you have an injury or perforation (hole) of the eardrum or after surgery, unless directed by a doctor
in ear with tympanic tubes (ear tubes)
for more than 4 consecutive days"
You can use Wax-Rx twice per day up to four consecutive days, or as directed by your physician.
It might be difficult to place a price on comfortable ears and good hearing, but that will you pay for the Wax-Rx system?
How Much Does Wax-Rx Cost?
The Ear Wash System is priced at $39.95 and includes the following:
Wax-Rx Ear Washer Spray Nozzle and Bottle
Splash Guard
Ear Wax Removal Aid Drops
Disposable Tips
pH Conditioning Powder
Ear Basin
If you already own the complete Ear Wash System, you can also purchase a Refill Kit (enough for six complete uses) for $14.95. This includes:
Disposable Tips
pH Conditioning Powder
Ear Wax Removal Aid Drops
The company also sells a battery operated Pen-light Otoscope with five reusable/disposable heads for $12.95.
All products come with a 30-day money back guarantee, less S&H. In order to request one, customer support can be reached at (800) 719-6679.
What Can We Learn From Wax-Rx Customer Reviews?
On the Wax-Rx website, the system had an average rating of about 4.5 stars from customers. There, most compliments appeared to revolve around effective results, ease of use, and convenience (no need to visit the doctor's office), without any side effects.
Among 120+ reviews, Wax-Rx had a slightly lower average rating of 3.7 stars on Amazon, with many of the same compliments found on the product's website. On the other hand, common Amazon complaints referenced no results and high price.
Obviously, we're only reporting the facts and not insinuating that you'll experience any of the same with Wax-Rx.
From a company perspective, Wax-Rx is manufactured by Doctor Easy Medical Products Corporation, based out of Orange Park, FL. While the company didn't have a Better Business Bureau rating or any closed complaints as of 5/3/17, they've been in business for more than two decades and sell a variety of other medical products.
Are There Other Ear Wax Removal Systems Like Wax-Rx?
There are dozens—perhaps even hundreds—of ear wax irrigation systems competing with Wax-Rx, which you can see for yourself by quickly typing the phrase "ear wax removal," "ear wax irrigation," or "carbamide peroxide ear wax" into your favorite search engine.
This includes traditional syringes (as low as $6), drops (as low as $5), and single-use squeeze bottles (as low as $9). In fact, these types of products are so popular that you'll almost certainly be able to find at least several options lining the shelves of your local pharmacy or big box retailer.
Specifically like Wax-Rx, there's also the original Elephant Ear Washer Bottle (about $30), also from Doctor Easy, which is the "same technology used in doctor's offices since 1997" referenced earlier. How to choose?
Just like any other product—especially one intended to address a medical condition—no single earwax removal method will work for everyone. So, in order to ensure you're not wasting your money or making your situation worse, the first person you should speak with is your physician.
But if you're looking to get the most bang for your buck, syringe-based systems can be found locally for much less than $10, saving you time, as well as S&H charges.
Further, while the foaming action provided by carbamide peroxide might help loosen wax, even the Mayo Clinic indicates that flushing with warm water might work just as well, so it's not guaranteed that you'll get better results for your money with Wax-Rx (or any other carbamide solution, for that matter).
Our Final Thoughts About Wax-Rx
If you're looking for an all-in-one ear wax irrigation system that features a unique design and was formulated by a physician, it might be difficult to outdo Wax-Rx.
Despite its ease of use and mostly positive online customer feedback, though, we didn't encounter any clinical evidence during our research indicating that its spray bottle and carbamide peroxide-based solution will remove meaningfully more earwax than a standard syringe and very warm water.
Or, that Wax-Rx's pH balanced Conditioning Powder will maintain ear health better than water (unless you have an active infection or other condition).
Given this, if you're looking to use something very similar to remove earwax, but pay as little as possible in the process, it's difficult to overlook a basic syringe kit you'll almost certainly find at a local pharmacy. And if you need to return it for any reason, this could be as simple as hopping in your car.
In the end, Doctor Easy stands behind Wax-Rx with a 30-day refund policy if you're dissatisfied, although you'll lose a few bucks in return S&H. Just be sure to reach out to your doctor if you're frequently experiencing excessive earwax build-up or any of the associated side effects.
Great product

By Raymond M.

,

Illinois

,

Feb 13, 2020
Verified Reviewer

Ok, a little pricey, but it's all there, everything you need, and what came out of my ears was indescribable, and I have used many other ear cleaners. I would highly recommend before going to the doctor, which would cost a lot more money.

Bottom Line: Yes, I would recommend this to a friend

---

Ear felt as clean as if the doctor did it.

By Dave M.

,

Kentucky

,

Feb 8, 2019
Verified Reviewer

I've always had a wax problem. I don't use earbuds and even like things in my ears but it would get so bad they'd clog and get muffled sound. With Wax-Rx I was able to get rather large disgusting chunks that were clogging up my ears after about 3 or 4 uses, yes I know it sounds nasty and I'm sorry, but that's what you wanted to know. What you do is use it about every 5 days and when you put the treatment in your ears it crackles and pop (like the cereal) and then you rinse it out. You do this every 4 or 5 days for 3 or 4 treatments and you'll see stuff come out of your ears that will make you go OMG, no wonder I couldn't hear. I recommend it, and it beats paying a doctor about $200 to do it for you.

Bottom Line: Yes, I would recommend this to a friend

---

Advertisement

---

Best product ever

By Susan T.

,

Baltimore, MD

,

Oct 15, 2018
Verified Reviewer

I have had to have my ears irrigated since I was about 10 years old, when I was a kid it was maybe twice a year, but now that I'm well into my 40s, for the last decade, it has been literally once every six through eight weeks because of Bluetooth use and earbuds. My wax has always been very, very tough to get out and it has been inconvenient always having to go to the doctor to have it done. This is the first product (and I have tried everything) that works perfectly! The best part is you can do it by yourself, it's not awkward. I have been using it for one year now, so I feel that is plenty of time to determine how good it is.

Bottom Line: Yes, I would recommend this to a friend

---

Don't waste your $40.00

By Joanne Jordan

,

Minneapolis, MN

,

Oct 10, 2017
Verified Reviewer

I took this out of a professional looking box and found nothing inside worth the $40.00. This is a rip-off. Go to your drugstore and you can purchase these plastic items for far less than what they charge. Hopefully, I can return this but will be probably out two delivery charges. As I said, the only thing pleasing about my purchase was the box.

Bottom Line: No, I would not recommend this to a friend

---

Advertisement

---