Zevo Reviews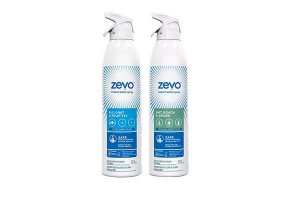 Zevo's line of flying insects traps and botanical-based sprays promises to naturally kill unwanted bugs, without the use of chemicals that can harm mammals.
What Is Zevo?
Zevo manufactures a line of instant action, bio-selective sprays that use essential oils to target nervous system receptors only active in insects, which quickly paralyze and kill them on contact. They also offer a Flying Insect trap that can kill insects for up to a month and a half.
Because of these mechanisms of action, the company advertises their revolutionary products are safe for use around people and pets, and their sprays—all of which feature precision triggers that allow you to spray from a distance accurately—are effective for both indoor and outdoor use.
Zevo's insect sprays and traps certainly come with competitive prices, but will they deliver on their advertising promises? Let's start by zooming in and examining their product lineup.
Taking a Closer Look at Zevo's Insect Spray and Trap Ingredients
There are currently four Insect Spray formulas in the Zevo lineup, all of which promise to quickly paralyze and kill insects without the use of imiprothrin, cypermethrin, pyrethroids, butane, or propane:
Ant, Roach, Fly Multi-Insect Killer
This is formulated to eliminate ants, roaches, flies, fruit flies, drain flies, gnats, spiders, crickets, moths, mosquitoes, and other flying and crawling insects.
The only active ingredients are geraniol and lemongrass oil. Inert ingredients include white mineral oil, isopropyl alcohol, butyl lactate, isopropyl myristate, and triethyl citrate.
Wasp, Hornet, and Yellow Jacket Stinging Insect Killer
Formulated to exterminate wasps (including their nests), hornets, yellow jackets, and other stinging insects.
The active ingredients are geraniol and cinnamon oil, while inert ingredients include white mineral oil, 2-propanol vanillin, isopropyl myristate, triethyl citrate, and carbon dioxide.
Ant, Roach, and Spider; Crawling Insect Killer
Uses one active ingredient (geraniol), along with inert ones like white mineral oil, 2-propanol vanillin, isopropyl myristate, triethyl citrate, lactic acid n-butyl ester, and carbon dioxide, to kill "ants, cockroaches, spiders, crickets, beetles and other crawling insects."
Fly, Gnat, and Fruit Fly Flying Insect Killer
It also uses geraniol (and inert white mineral oil, 2-propanol vanillin, isopropyl myristate, triethyl citrate, lactic acid n-butyl ester, carbon dioxide) to kill flies, fruit flies, gnats, drain flies, moths, and mosquitoes.
Pro tip: You'll notice that except for cinnamon oil, Zevo's Stinging and Crawling spray formulas are the same.
Zevo Flying Insect Trap
This system features a plug-in base that uses two blue and UV LEDs (for a total of four) to attract insects like houseflies, fruit and drain flies, mosquitoes, midges, moths, gnats, fleas, and flying roaches toward a strong adhesive pad. Once stuck, it holds them in place until they dehydrate and die.
This pad is attached to a plastic shell-shaped cartridge with discreet openings, and the Insect Trap can't be operated without one in place. After about 45 days (or when it's full), you'll simply pop out the old cartridge, replace it with a fresh one, and plug the device back into an outlet.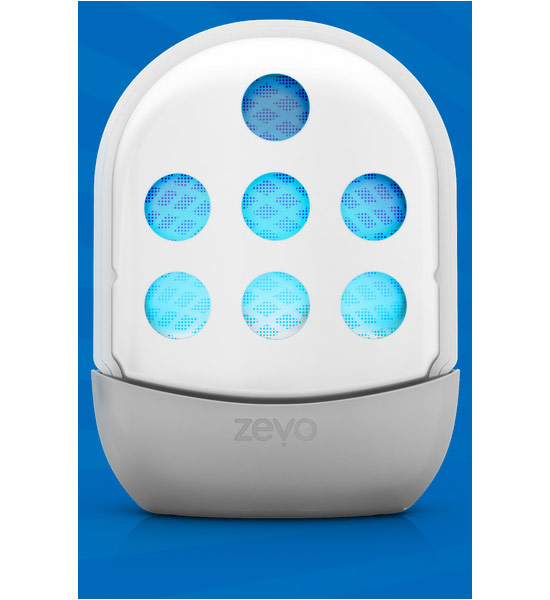 The Zevo Insect Trap. Credit: Procter & Gamble
Could the Ingredients in Zevo's Insect Sprays Cause Side Effects?
FDA doesn't consider botanicals like geraniol, lemongrass oil, and cinnamon oil serious safety risks. Still, they point out that botanical-based insecticides can sometimes contain high levels of allergens.
With this in mind, the Zevo website explains that since their Instant Action Sprays are comprised of "naturally occurring compounds found in a wide variety of fruits, vegetables, and spices," they're considered safe around people and other mammals like dogs, hamsters, guinea pigs, ferrets, and rabbits.
They emphasize their sprays shouldn't be used around fish, birds, or reptiles. You should also never apply them directly to your skin, to pet's fur, or to plants or soil.
How Much Does Zevo Cost and Where Can You Buy?
If purchased from Zevo's main website, customers will pay:
Ant, Roach & Spider Crawling Insect Spray (10 oz): $5.99
Ant, Roach & Fly Multi-Insect Spray (12 oz – available in Standard and Trigger Spray bottles): $5.99
Wasp, Hornet & Yellow Jacket Stinging Insect Spray (10 oz): $5.99
Fly, Gnat & Fruit Fly Flying Insect Spray (10 oz): $5.99
Flying Insect Trap Kits: $14.99 - $45.99
Flying Insect Trap Refill Kits: $5.99 refill kits
We also encountered several bundles priced between $16.99 and $45.99.
On the other hand, ZevoOffer.com offered only the Crawling Insect and Flying Insect formulas, which were priced at:
1 Can: $5.99
2 Cans: $10.99
3 Cans: $15.99
All direct orders come with free shipping, as well as a 30-day refund policy, less S&H. Note: Their terms emphasize they "cannot accept items back that have been opened or used unless the item was received by you in a damaged or defective condition."
To request one, support can be reached at 866-215-1297 or help@zevoinsect.com.
We also found several of Zevo's products sold on HomeDepot.com (as well as in-store) for about the same prices. Third-party refund policies may vary.
What Can We Learn from Zevo Online Customer Reviews?
On Home Depot's website, we encountered 80+ customer reviews for Zevo's Flying Insect Trap, who had given it an average rating of about 2.3 stars. There, most compliments seemed to reference ease of use and effective results, while complaints frequently revolved around less-than-stellar results and high prices.
Comparatively, Zevo's sprays, traps, and bundles came with meaningfully higher 4.5-star average ratings on the brand's website. Compliments and (the relatively few) complaints were similar to those found elsewhere online for their traps.
Most customers also reported good results with the company's different spray formulations, although the relatively few complaints often cited less-than-stellar smell, and indicated that they tend to leave behind an oily residue.
Zevo vs. the Competition: Are Natural Insecticides Effective?
UV Light Insect Traps
There are many theories as to why insects as a whole are drawn toward UV light. Despite this incomplete understanding, there are perhaps hundreds of different products available in all shapes, sizes, and designs that take advantage of this attraction by combining UV lights with sticky surfaces and/or dehydrating fans to kill insects, without the use of chemicals.
However, limiting our options only to wall-mounted plug-in devices in direct competition to Zevo, we found significantly fewer. These included the:
Dynatrap Flylight ($20 - $35) – Uses a specially designed aluminum plate along with heat, CO2, and a built-in fan to attract and trap flying insects. Higher-priced indoor models can cover up to 2,000 square feet.

Hoont Indoor Plug-in Sticky Fly Trap Catcher ($30) – Except for the grille, it features a very similar design and functionality as Zevo's Flying Insect Traps. Includes two replaceable adhesive glue boards ($12 for a five-pack of additional replacements).

Gardner Fly Web Trap ($32) – Only includes one replacement board. A 10-pack of replacements is priced at $10, and each bulb is priced at about the same price.
Given their similar functionality and price points, choosing the best option might largely come down to your budget—not just initial price, but the cost of replacing boards and bulbs (when applicable).
Botanical Insecticide Sprays
When it comes to sprays, the Texas A&M AgriLife Extension explains there are several effective plant-based insecticides used on a commercial basis—including pyrethrins, sabadilla, nicotine, Linalool, and neem—that are very low on the toxicity scale for mammals. Often, they work by shutting down the insect's nervous system or other important bodily functions.
However, they emphasize "products containing these active ingredients must be registered for use by the Environmental Protection Agency (EPA) and used in accordance with the provisions of the Federal Insecticide, Fungicide, and Rodenticide Act (FIFRA)."
The Consumer Reports article cited earlier, though, points out that because the FDA doesn't consider botanical ingredients like those found in natural sprays such as Zevo as serious safety risks, they're not "required to prove to federal regulators that they actually work. And CR's testing has repeatedly found that they don't work well."
Still, we found many competing botanical sprays, most of which ranged in price between $10 and $20, putting Zevo's options at the lower end of the price spectrum. Does this necessarily mean you should give them a try?
The Bottom Line
Zevo's lineup is brought to us by Procter & Gamble, a company that's been in business since 1837, manufactures thousands of products, and held an A+ rating with the Better Business Bureau, as of 7/17/18. They also stand behind Zevo with a 30-day refund policy and their products seemed to come with mostly positive online customer feedback.
Just keep in mind that as soon as you try any of them, you won't be able to process a refund through the manufacturer.
Considering you can potentially have their products in your hand faster by shopping at a local Home Depot, as well as return it there if it doesn't meet your needs after testing, it might make logical sense to go this route. This could also save return S&H charges back to the manufacturer.
---
Happy but a few flaws

By Lucille N.

,

Corona, CA

,

Jun 29, 2020
Verified Reviewer

Length of Use: Less than 3 months

Overall Experience:

First of all, Zevo got rid of what I think were gnats in my home, but it does make an oily mess and I had to mop my floor because after spraying it leaves a slippery residue. And the smell is pleasant, but the smell gives me a headache.

Pros and Cons:

Delivery
Kills on contact
Oily mess
Smell

Bottom Line: Yes, I would recommend this to a friend

---

Puzzled?

By Beverly D.

,

Austin, TX

,

Jun 13, 2020
Verified Reviewer

Overall Experience:

I bought Zevo about a year ago because I started to spot a few spiders in my garage down here in hot Texas. I used it and never saw another spider in the remaining year that I lived there. So I've moved now and there were a couple of huge ant hills in my front yard. So I remembered Zevo and saw a couple of commercials and said, I will get some. I purchase 6 cans of 3 different sprays (not needed) and use it on the anthills, sure enough, it killed the big red ants. However, in about a week, I started seeing tiny ants in the same hills. So I thought, "Did they shrink?" Just kidding. It took a whole can to kill the hills so I ordered some more to try to take out the tiny ants. In the meantime, I suppose they have some kind of vendetta against me because now the tiny ants are popping up in my bathroom. (Kidding again folks.) By this time my new supply had come in. Not cans this time but bottles. So I pull out the gun and start spraying. It killed or drowned them, but each day over a week I still see more coming. What is going on here? This is some high-priced drowning fluid. Why do the bottles seem to be less effective and smell is different than the cans? I am perplexed by this situation. I just had to kill or drown 2 more ants so I decided to check this out. Anybody else having this problem?

Pros and Cons:

The can spray seems to work better than the bottles
It works on spiders and large ants
Order and delivery was great
The tiny ants don't seem to be phased (except by drowning)
Apparent inconsistency in the product by package method

Bottom Line: Yes, I would recommend this to a friend

---

Zevo bug spray

By Connie F.

,

St. Louis, MO

,

Jun 5, 2020
Verified Reviewer

Length of Use: Less than 3 months

Overall Experience:

I bought the bug spray, it does work. The only thing I didn't like is it smells like bug spray and you need to ventilate the room, because it actually smells like bug spray.

Pros and Cons:

Products work
Delivered quickly
They say the smell isn't bad and it is

Bottom Line: No, I would not recommend this to a friend

---

Ants gone!

By Tony P.

,

Las Vegas, NV

,

Jun 1, 2020
Verified Reviewer

Length of Use: Less than 3 months

Overall Experience:

Saw ants crawling around on my patio/deck; sprayed Zevo along the trail of ants...instant results...no sign of ants in over 6 hours!

Pros and Cons:

Long standing manufacturer
No "cons" were specified in this review

Bottom Line: Yes, I would recommend this to a friend

---

Advertisement

---

It works

By Davina D.

,

Illinois

,

May 15, 2020
Verified Reviewer

Overall Experience:

So sitting in my kitchen I was surrounded by ants, saw the commercial about Zevo, went to Home Depot and brought it. I have not seen an ant or roach, nothing, so went back to the store and brought 2 more bottles. Does it work on MICE too?

Bottom Line: Yes, I would recommend this to a friend

---

Awful product

By Louis D.

,

Pennsylvania

,

May 1, 2020
Verified Reviewer

Overall Experience:

Purchased both spray cans and was not impressed at all. It did nothing to kill the bugs and it smells worse than any bug spray I ever smelled. I wouldn't recommend this product. So if you're looking for a decent bug spray, look elsewhere.

Bottom Line: No, I would not recommend this to a friend

---

Kills but they come back

By Anna A.

,

Idaho

,

Oct 14, 2019
Verified Reviewer

Overall Experience:

Ok people, I do use Zevo, and yes it does kill springtail, which is what I have. But as soon as it dries they come back so I am buying it all the time, which is expensive. So my husband went to Home Depot and brought me some OdOBan cleaner citrus scent big yellow jug. You have to dilute a bit but when I spayed it on my baseboards they died and they do come back but a lot less frequent. You can also put a few drops of mint oil and it works longer. So try it out and see if it works for you. It is a lot cheaper at 8.00 a jug. I like Zevo but the price was killing me more than the bugs.

Bottom Line: Yes, I would recommend this to a friend

---

Flies

By William H.

,

Idaho

,

Oct 7, 2019
Verified Reviewer

Overall Experience:

For use in the kitchen. Does seem to kill flies, but makes an oily mess that needs to be cleaned up. Has to be a better product. Don't get it on furniture or items that may stain. Would not buy again.

Bottom Line: No, I would not recommend this to a friend

---

Bug be gone!

By Doris M.

,

Ocala, FL

,

Aug 29, 2019
Verified Reviewer

Overall Experience:

Bought Zevo a while back, used it in the kitchen and bathrooms. Tried other brands, they work but didn't leave a good smell afterward, but Zevo works fast and smells nice very. I'm happy, that's why I ordered some more.

Bottom Line: Yes, I would recommend this to a friend

---

Get rid of annoying fungus gnats

By Sheri K.

,

Green Bay, WI

,

Aug 5, 2019
Verified Reviewer

Overall Experience:

After retiring, I thought I would get back into household plants. I went to Stein and bought a few African Violets. Well, they were full of fungus gnats. I tried everything to get rid of the nasty things. So bought your spray for gnats. While reading the directions it says do not put on plants. So I thought - those dang gnats like water. So I put spittle water in the bottom tray and sprayed Zevo on the water. Bye-bye fungus gnats. They are all gone!

Bottom Line: Yes, I would recommend this to a friend

---

Nice buuuuuuutttt

By Rikkia W.

,

Springfield, IL

,

Aug 2, 2019
Verified Reviewer

Overall Experience:

I just received my Zevo today. I used it in my problem area. I like the fact that it does work and it works pretty fast. The downside is the smell. It's pretty strong and quite lingering. To me, it is not a good smell at all. I think it stated that it had cinnamon oil in it, however, it doesn't smell like cinnamon at all. It's really hard to describe the smell. It's a very greasy spray as well. You really have to wipe it off when you spray it on a surface. I would recommend for pest control. I wouldn't recommend of smell. Even though insecticides aren't supposed to smell good it shouldn't smell like that.

Bottom Line: Yes, I would recommend this to a friend

---