LightStim Reviews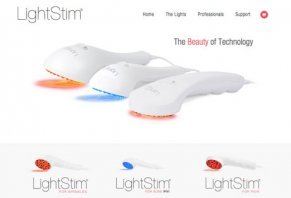 About LightStim
Featured in the likes of Elle, InStyle, and Good Morning America, LightStim is a handheld device that uses LED light therapy to reduce or eliminate the appearance of fine lines and wrinkles. LightStim works in a similar manner as professional-grade devices used by dermatologists, which deliver specific wavelengths of light directly to your skin. These energize the cells within your skin, and "…help to increase collagen and elastin production, reduce inflammation, speed healing, increase circulation, and destroy acne bacteria."
The LightStim device has been cleared by the FDA, and claims that you will begin to see results within two months of regular use.
How Does LED Light Therapy Work?
LightStim devices are equipped with hundreds of LEDs (Light Emitting Diodes) that display a very specific wavelength of light. When applied regularly to your skin, these infrared lights can be therapeutic, building collagen and helping to smooth fine lines and wrinkles.
How to Use LightStim for Wrinkles
LightStim devices can be used anywhere on your face, neck, chest, hands, arms, back, and legs.
To begin, the company recommends that you use LightStim 5-7 days per week, and apply it to each problem area for three minutes. After your desired results have been achieved, you'll need to use LightStim twice a week for maintenance.
LightStim Products
LightStim for Wrinkles
At a cost of $249, LightStim for Wrinkles is the primary (and original) product, which helps you to:
Reduce/eliminate fine lines and wrinkles
Restore your skin's youthful appearance
Stimulate the production of collagen and elastin
LightStim for Pain
$249 plus shipping and taxes, if applicable
Temporarily relieves arthritic pain, muscle and joint pain, and reduces inflammation and stiffness
Increases blood circulation, speeds healing, and diminishes bruising
LightStim for Acne
Heals and calms existing breakouts
Destroys acne-causing bacteria and minimizes future breakouts
Restores your skin's clear and healthy appearance
Claims to be suitable for all skin types and tones.
LightStim Warranty & Refund Policy
All LightStim products come with a 90-day satisfaction guarantee, which means that if you're unhappy for any reason, you'll be able to receive a full refund, minus shipping charges. However, there are some terms that you should be aware of:
The LightStim guarantee only applies to devices that were purchased at full retail value from the official LightStim website. If you purchased your device through a third-party retailer (such as Amazon), you'll be subject to that specific retailer's return policy.
You must have your original receipt or invoice, in addition to the original packaging and any included accessories. If any of these are missing, you'll end up paying a 15% restocking fee.
To initiate your refund, you'll first need to call customer service in order to obtain a return authorization number.
From a warranty perspective, LightStim provides two years of repair/replacement service, but only for factory defects. Keep in mind that you'll still be responsible for all shipping charges.
Additional LightStim Accessories
LightStim also provides a free iPhone app that will help you track your treatment time, as well as helpful tips and hot-to guides. In addition, the company sells numerous creams and serums, which are claimed to enhance your results and increase the benefits received from your device.
Pros:
The LEDs should never require replacement
FDA approved
Cons:
Similar to other handheld LED devices, results could be minimal