Australian Dream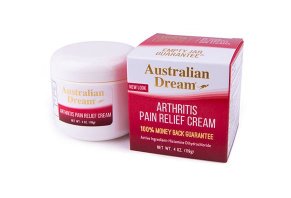 Australian Dream manufactures a line of topical pain relief products that can allegedly reduce persistent arthritis and back-related pain, without burning or greasiness.
Australian Dream Reviews - Does It Work For Pain Relief?
What is Australian Dream?
Australian Dream guarantees pain relief for arthritis, muscle aches, and minor back pain with daily use of their creams.
The company was founded in 1996 by the Maddox brothers, sons of a rural physician. Their father's clinic served some of the poorest people in the country and provided a foundation for American Dream's mission to help others.
The company offers 2 formulations that differ slightly in terms of the ingredient list and intended use. However, both creams allegedly provide effective relief through the same key active ingredient.
Australian Dream states that their products are different from other topical pain relief creams as they lack ingredients like menthol, camphor, and capsaicin; ingredients that may cause an unpleasant odor or burning sensation.
According to Australian Dream, apply a small amount of their cream to your fingertips and massage into the area where you're experiencing pain no more than 3-4 times daily.
Though they claim you'll reduce your pain, they mention that the speed of relief varies from person to person.
In this review we'll help you answer this question by highlighting the available scientific support for the safety and efficacy of Australian Dream's active ingredient.
The Key Active Ingredient: Does it Work?
American Dream offers 2 formulations, one for back pain, and one for arthritis pain.
The ingredient list for each cream differs slightly, though both may offer relief through the same active ingredient: histamine dihydrochloride.
In this section, we'll provide the ingredient list for each formulation, though our literature review focused on the available support for the active ingredient found in both creams.
Arthritis Relief Product:
Histamine dihydrochloride - 0.025%
Chondroitin
Emu oil
Glucosamine
MSM/DMSO2
Vitamin E
Back Pain Relief Product:
Histamine dihydrochloride - 0.050%
Aloe Vera
Chamomile extract
Emu oil
Ginger extract
MSM/DMSO2
Tumeric extract
Vitamin C
Vitamin E
Histamine dihydrochloride
Histamine is a nitrogen-containing compound that is heavily involved in allergic and inflammatory reactions. Histamine dihydrochloride is an artificial form of histamine.
Histamine dihydrochloride is used primarily in treating patients with leukemia as it can boost the ability of white blood cells to kill tumor cells. However, it is also FDA approved for use as a topical pain relief cream.
Pain relief may be related to the role of histamine receptors in the pain pathway. Histamine may also reduce inflammation and increase blood flow, 2 actions that can also positively impact aches and pains.
Despite these potential benefits, topical histamine dihydrochloride has not been extensively studied in the laboratory, in animals, or in humans.
We located only one study that examined the topical use of this ingredient.
Painful inflammation in and around the mouth is a potentially debilitating side effect of stem cell transplantation.
In a randomized trial with 45 stem cell patients, those that were treated with a 0.12% histamine dihydrochloride topical gel did not experience relief. These patients were also more likely to develop painful complications when compared to the placebo group.
The topical gel used in this study was offered at a higher concentration of histamine dihydrochloride than Australian Dream. Also, the gel was applied to the inside of the subjects' mouths, a very absorbent area.
Poor results in these subjects are therefore concerning when we consider that American Dream creams offer smaller concentrations which must be applied over thick, less absorbent skin.
Histamine dihydrochloride is offered at a higher concentration in Australia Dream's back pain cream. Again, this may be because the skin overlying arthritic joints is thinner and may not need a higher concentration of the active ingredient.
There were no studies that examined this concept, unfortunately.
While histamine dihydrochloride has been proven effective in treating leukemia when injected, studies detailing its efficacy for topical pain relief are basically nonexistent.
Is Australian Dream Safe to Use?
Topical pain relief creams are generally safe, though there are some considerations to be mindful of before use.
Make sure you know the ingredients, skin rash is probably the most likely side effect. If you develop one, discontinue use. You should also avoid use over open or healing wounds.
Regarding histamine dihydrochloride, adverse events may include headache, fever, and diarrhea; keep in mind, this is in the injectable form of this ingredient.
In the lone study that investigated a topical gel, no side effects related to treatment were reported.
We don't have adequate research to characterize the safety profile for this ingredient fully. More long-term studies with human subjects are needed.
For these reasons, it's best to speak with a physician before use. Your aches and pains can be related to a more serious condition that requires medical management.
Australian Dream Pricing and Where To Buy It
Getting Australian Dream is easy enough as many major retailers offer their products, though prices may vary slightly.
Target offers the 2oz jar of Arthritis Pain Relief Cream in stores and online for $17.99
Walmart and CVS offer the 2oz jar for $17.86.
At Amazon, you can pick up a 2oz jar for $15.
Though not available for purchase on their site, Australian Dream backs all purchases with an "empty jar" guarantee.
Per the company:
"If you are not completely satisfied with your purchase of an Australian Dream product, you can return the jar or tube with the original receipt for a full refund of the purchase price."
To process your return, mail the empty jar/tube and the original sales receipt to:
Australian Dream Refunds
PO Box 609
Campton, KY 41301
Though this guarantee may remove some of your concerns when purchasing, keep in mind that it may take 4-6 weeks to receive your refund.
Are There Any Alternatives?
Some other brands offer histamine dihydrochloride creams.
The Extra Arthritis Pain Relief Cream by CVS Health contains the identical concentration of histamine dihydrochloride that is offered by Australian Dream's arthritis cream. They offer the 4oz jar for $26.99.
Raging Kakapo Pain Relief Cream contains capsaicin as well as histamine hydrochloride at a 0.075% concentration. The 4oz jars are prime eligible and offered at $17.97.
If you're interested in a histamine dihydrochloride cream, Raging Kakapo may offer more bang for your buck.
They claim that their cream can tackle back and arthritis pain, so purchasing 2 different products is not necessary. Ragin Kakapo offers a 25% larger dose than Australian Dream's Back Pain Relief Cream. Lastly, you would receive double the amount of cream for the same price of 2oz American Dream jars.
Keep in mind that the addition of capsaicin in this product, a chili pepper extract, may cause a burning sensation.
The Bottom Line
While histamine dihydrochloride has been proven effective in treating some conditions, its effectiveness as a topical pain relief cream has not been demonstrated. Much more work is needed to investigate any possibility of effectively reducing painfully.
Topical creams are generally safe for use with skin rashes being the most likely adverse effect. Nonetheless, the lack of research means that fully identifying the safety profile for this ingredient is not possible.
As these products are modestly priced and also backed by the empty jar guarantee, the downside of including them in the treatment of your aches and pains is probably minor.
Keep in mind, there are other creams containing the same ingredients that have been well studied. These may offer a better option for relief.
Lastly, always identify the source of your symptoms before use. A physician can help you determine the underlying cause and outline the best plan of care.
---
This stuff REALLY works!

By Debbie V.

,

Michigan

,

Dec 24, 2019
Verified Reviewer

Overall Experience:

My knee was swollen with fluid. I had extreme pain and trouble walking. 1 and 1/2 months ago I started using Australian Dream cream. Instantly I felt some relief. As time went on and I was applying it daily, the swelling from fluid had dramatically decreased and I no longer have pain.

After seeing the Orthopedic surgeon today (he was impressed with the results), I will continue to use the cream and start the physical therapy exercises he gave me to do at home. This will strengthen my leg muscles to what they used to be before the swollen knee.

I truly believe in this cream and will continue to use it daily. Evidently I'm one of the lucky ones who don't have an allergic reaction. Thank God because I love this stuff!

Bottom Line: Yes, I would recommend this to a friend

---

No pain relief

By Elizabeth B.

,

Jacksonville Beach, FL

,

Aug 15, 2019
Verified Reviewer

Overall Experience:

I am sorry to report that the Australian Dream Arthritis Cream did not work for me as far as pain relief. I have had 6 total hip replacements on my left side which has left me with chronic extreme pain and limited mobility.

The cream just did not work for my level of pain. However, I have asked several people that have used the cream and it worked for them. Maybe my level of pain is so great that nothing will work for me. I have resolved to believe that I will just be in this chronic pain for the rest of my life. I have seen several physicians and they cannot tell me why or what is causing my extreme chronic pain. So, I just give up and face it that this is my life now.

Thank you.

Bottom Line: No, I would not recommend this to a friend

---

Advertisement

---

Australian Dream works for me!

By Mama B.

,

New York, NY

,

Jul 24, 2019
Verified Reviewer

Overall Experience:

Purchased at my local Walgreens for relief of knee pain, I was definitely skeptical. I had never heard of the main ingredient.

First try I had no real results, 2nd try, the pain almost gone. The swelling was gone. So I tried it on my feet, and swelling disappeared after a long night at work along, with the pain - AND varicose veins seemed to temporarily disappear.

After two weeks of use, my pain level seemed to improve, as if the cause of the pain was going away. This stuff works.

The only side effect was itching on the broken skin on my fingers which went away after I washed my hands.

One more thing - when I wake up from 7 hours of sleep, my hands and fingers are swollen. After applying the cream to my feet and knees, I noticed the swelling immediately went down in my hands as well.

I will say that this should not be used on over 10% of your body, it could have unwanted effects.

Also, try a small amount first to make sure you won't have an undesired reaction - but for now, this stuff works for me and is a godsend!

Bottom Line: Yes, I would recommend this to a friend

---

Not worth the money

By Judy L.

,

Ohio

,

Apr 11, 2019
Verified Reviewer

Overall Experience:

I used it for two weeks and I thought it was working, but as time went by, I knew it wasn't. I used the whole container and am still in pain. I would not waste your money buying this. Good thing they have an empty jar guarantee, I will send it back soon as soon as I get ahold of someone to do so.

Bottom Line: No, I would not recommend this to a friend

---

Advertisement

---

Immediate relief

By John C.

,

Wisconsin

,

Mar 6, 2019
Verified Reviewer

Overall Experience:

I have started having arthritis in my right foot around the joints. Tonight my foot was throbbing with pain so I applied a small amount of AD. Within minutes all the pain was gone. How can this be? I've never used a product that is this effective.

Bottom Line: Yes, I would recommend this to a friend

---

It's not an instant relief but it works!

By Amanda W.

,

Mobile, AL

,

Sep 17, 2018
Verified Reviewer

Overall Experience:

I use this for over 30 days and it's wonderful. I do not experience the knee paid like I did before. I actually do not have a knee pain anymore. An elderly lady referred me to use this cream. I am 44, and it's the best. I was taking pain medicine and my pain comes back after the pills wear off, but not with using the cream every day I feel no pain, and I can bend my knees which I couldn't do before.

Bottom Line: Yes, I would recommend this to a friend

---

It works

By Marilee T.

,

Beaver Falls, PA

,

Jun 12, 2018
Verified Reviewer

Overall Experience:

I am 64 years old and being a painter for over 30 years every part of me hurts. I have tried everything out there. One day I saw this product on TV, so I asked my husband to pick it up for me. It works wonders on me - knees, hands, back, neck, and etc. I like that it has no smell and is not greasy; I can put it on and get right in bed or get dressed and off to work. I am glad I tried it. It's the only product I will use. My sister had pain, and she uses it with no problem and loves the pain-free feeling.

Bottom Line: Yes, I would recommend this to a friend

---

Overall Experience:

I had spinal fusion surgery two years ago. While recuperating from surgery, in-hospital pain management was lacking. My husband asked if he could try over-the-counter creams. The doctor said sure. My husband bought every cream for pain at the drugstore. I was in so much pain I would wake up screaming before the next pain injection. He tried every cream he bought. He noticed a difference in me with the Australian Dream. Fast forward, and I'm much better, except for on cold nights or if I overdid it that day. I use the Dream and it still works. Your mileage may vary. But as for me, I'm getting awesome results.

Bottom Line: Yes, I would recommend this to a friend

---

Overall Experience:

This product is as fake as they come. The name should be enough to put you off. No connection to Australia at all except for the cute kangaroo logo. As for the product, it really didn't do anything. Voltaren Emulgel is much better. The only good thing about this is that you can send it back and they give you a full refund. They pay it back to you, eventually.

Bottom Line: No, I would not recommend this to a friend

---

Overall Experience:

Having sciatica, sometimes the pain is bearable, other times it is really bad. My sister recommended Australian Dream because she has the same back problems. One day recently, the pain was so bad I could barely walk. My thighs, back of legs and knees were sore. I applied the Australian Dream, placed myself on the bed and waited for five minutes. I was able to completely stand up and feel no pain at all.

True, meds of all kinds work for some people and not for others, but I now buy the big jar (9 ounces) from Amazon who has the best price. I also tried the back crème (4 ounces), same good relief from the product.

Bottom Line: Yes, I would recommend this to a friend

---

Doesn't compare to Ben-Gay

By James Eifler

,

Woodland Park, NJ

,

Mar 28, 2017
Verified Reviewer

Overall Experience:

Heard great things about this product, turns out Ben-Gay in the same size tube worked 2-3 times better for pain relief at 1/3 the price. I'm not big on writing reviews or complaining, and I appreciate the money back guarantee, the facts are as stated above, Ben-Gay is simply better and cheaper.

Bottom Line: No, I would not recommend this to a friend

---