Because Market Reviews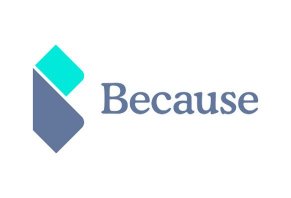 Formerly known as Hexa Premium Briefs, The Because Market promises to sell their brand of men's and women's incontinence guards and briefs at lower prices than many national competitors.
What Is Because?
By selling direct to customers, The Because Market promises to offer high-quality incontinence protective underwear and pads at a fraction of the cost of competitors.
According to their website, all you have to do is complete a short online questionnaire, sign up for a free trial, keep trying their products until you find one that's perfect for you, and then receive discreet packages at your doorstep every two weeks. You can change your subscription whenever you like, or cancel without further obligation.
Between their superior fit, premium products manufactured with quality materials, and low prices, The Because Market advertises thousands of customers love what the company has to offer.
But, are they necessarily the right option for you? Keep reading, and we'll help you find actionable answers.
How Does The Because Market Quiz, Trial, & Subscription Work?
Compared to the potential embarrassment of walking into a retail store and speaking with someone who will leave you with an ill-fitting product, The Because Market promises to help you discover the best products by simply taking their short online quiz. After all, they emphasize, "Around 50% of leaks happen because of incorrect fit."
We quickly ran through Because's quiz several times during our research, and it involved six steps regardless of how we answered:
Are these products for a female or male?
What level of absorbency do you need? Minor Drips (Low), Unsure (Medium), Heavier Streams (Maximum)
Do you need protection during the daytime, nighttime, or both?
Do you prefer underwear or guards?
What size do you need? S/M (28-40-inch), L (40-50-inch), XL (50-60-inch). Note: Measurements are taken at the waist, not the hips.
How many pieces do you need per month? You can choose between 20 and 140 per month (less than one per day up to four per day).
Based on your selections, The Because Market will send a discreet trial box to your door containing 10 units of one product and three samples of another.
You'll have 21 days to test them out and see if they offer the perfect fit—if so, you'll do nothing and the company will ship you a full order once your trial expires. If not, you can contact a representative who will work to help you find a product you love.
Whether before or after your trial begins, there's no commitment and you can cancel at any time.
With these high-level details in mind, let's zoom in and take a closer look at specific products you'll get with your Because subscription.
Which Products Does The Because Market Offer?
Their website explains that The Because Market manufactures their own incontinence goods, so they're able to cut out the middlemen to help consumers save money, while also working directly with customer feedback to continue improving their products.
Furthermore, they advertise that their underwear and guards for men and women use US-sourced materials and contain fewer chemicals than other brands.
Because Underwear for Women or Men
From a visual perspective, The Because Market's underwear for women and men appear meaningfully different, although their website indicates that they deliver all of the same features. These include:
The company collaborated with Stanford Hospital's Department of Urology during the development of their underwear, which features a single-layer core that can absorb 1240 ml of liquid in just 19 seconds.
Then, it holds the liquid quickly and effectively, while the ultra-soft nonwoven cotton blend keeps the material in place without bulking up. In the meantime, the triple-stitch leg barrier further prevents leaks, while the odor-reducing system can help avoid embarrassment all day or all night.
The Because Market's underwear is designed for maximum comfort, with hypoallergenic and latex-free construction, an elastic waistband for a natural fit, an over-the-leg design, and tear-open sides for easy removal. They currently offer Moderate, Maximum, and Overnight absorbencies.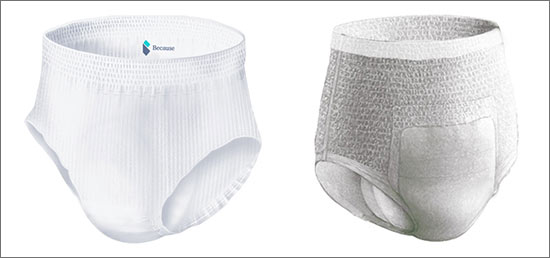 The Because Market's direct-to-consumer women's (left) and men's (right) underwear comes with many essential features, including an ultra-absorbent core and odor-reducing system—but at lower prices than retail.
Here are the ingredients listed on Because Market's website:
Single-Layer Absorbent Core - Paper (for softness), Sodium polyacrylate (for ultra absorbency).
Invisible Technology Pant Section - Polypropylene (Non-Woven Fabric with Aloe Vera and Vitamin E), Polyethylene (for structure), Styrene, Butadiene, Styrene (Synthetic Handle), Ethylene Vinyl Acetate Copolymer (waistband).
Together, The Because Market tells us their women and men's underwear is the most high-tech and driest on the market.
Slim Guard for Women and Men
The Because Market also advertises that they worked with Stanford Hospital's Department of Urology to develop their women and men's slim guards and that they're the most high-tech and softest on the market.
The pads come with the same high-performance, pH-neutralizing absorption core as their underwear, although it holds less liquid (500 ml) but absorbs it faster (13 seconds).
Additional features include a soft, quick-drying top sheet that helps keep you dry and comfortable, along with the same nonwoven textile, odor control, invisible profile, hypoallergenic and latex-free construction, and a locking adhesive as their underwear.
The Because Market offers their women's and men's protective guards in Light, Moderate, Maximum, and Overnight absorbencies. The website indicates they also "carry boosters that can be inserted into underwear to increase protection."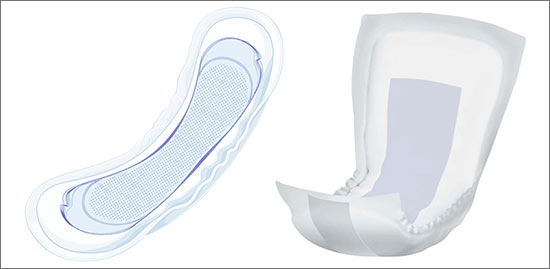 The Because Market's women's (left) and men's (right) protective guards offer many of the same benefits that their underwear, just with a smaller "invisible" profile and an absorbent core.
How Much Does The Because Market Cost?
The Because Market's prices start at:
Underwear for Women and Men: $0.67 per item
Slim Guard for Men: $0.18 per item
Slim Pad for Women: $0.21 per item
Customers will pay a flat $2.49 shipping fee for their trial box. You can also add Premium Flushable Wipes to your trial—which contains aloe and are alcohol and fragrance-free—and are priced at $3.49 per package after the trial expires.
Another add-on during checkout is the Moisturizing Aloe Vesta liquid skin cleanser, which is designed for convenient incontinence cleansing by deodorizing with a fresh lemon fragrance.
As mentioned earlier, you can contact The Because Market's support department at (855)318-5318 or help@becausemarket.com if any of the items in your trial box didn't fit properly, or that otherwise didn't meet your needs. They include free shipping on any additional samples you request.
If everything works out Because Market will begin sending you full-sized shipments every two weeks, which also include free shipping.
Their website emphasizes that refunds are only issued on a case-by-case basis. If approved, they recommend donating the products "to nursing homes, women's shelters, and other organizations in need."
Are There Other Services Like The Because Market?
The reality is that whether you order from Amazon, Walmart, Target, or just about any other national retailer or pharmacy, it's super easy to get name brand incontinence products delivered to your door regularly and at competitive prices. This is to say nothing of incontinence-specific retailers like HDIS.com, National Incontinence, and iDiaper.com, to name just a few.
There are even several direct-to-consumer manufacturers competing for many of the same customers as The Because Market, including LiveWell, MyLilyBird, TENA, and Willow. Here's how their important details compare:
| | | |
| --- | --- | --- |
| Company | Per-Item Pricing | Notes |
| The Because Market | Underwear: $0.67, Slim Guard/Pad: $0.18-$0.21 | Online quiz can help you choose products. Close customer support. Wipes and cleaning ointment available. |
| LiveWell Incontinence Delivery | Guards/Pads: $0.39-$0.74, Underwear: $0.82-$0.94 | Can purchase up to four products in bulk per order. Autoship program but no free trial. |
| MyLilyBird.com | Underwear; $1.33-$1.50, Pads: $0.56-$0.76 | Only available for women. Free one-week trial available. |
| TENA Incontinence Products | Liners: $0.16-$0.62, Pads: $0.47-$0.71, Underwear: $0.47-$3.75, Pad/Pant Systems: $0.60-$1.17 | Also offers wipes, creams, and underpads. Free trial (contains multiple products for you to try, followed by subscription, no length listed). Might also be able to find locally. Close customer support available. |
| Willow Disposable Underwear | No prices listed | Underwear only, available in three different colors. Free trial (pay $4.99 shipping, try 20 pairs), customizable subscription plan afterward. $4.99 S&H following each order after trial. |
How to decide? As a product intended to serve a very personal need, it's probably no surprise that the best option will be the one that offers the right combination of goods and services that matches your specific preferences and requirements.
For example, TENA offers the lowest per-unit prices on underwear, although The Because Market advertises the lowest prices for liners and pads. Because Market is also the only competitor above that offers an online quiz to get you started on the right foot, so you don't have to speak to anyone to ensure an optimal fit.
Both Because Market and TENA provide customers with hands-on customer support aimed at helping everyone find the right products for them. They—along with LilyBird and Willow—also provide free trials, less shipping charges, although LilyBird's is only one-week long, compared to Because Market's 21 days. LilyBird also only sells women's products.
Either way, since the fit is such an essential factor in your overall happiness, we think these trials are all but mandatory if you're currently shopping for incontinence products.
Appearance is also crucial, and Willow is the only direct-to-consumer manufacturer that offers their underwear in different colors. However, it's disconcerting that they don't list prices before you sign up for an account, or place an order.
Let's wrap everything up.
Our Final View About The Because Market
The Because Market offers many attractive features, including free trials (less a nominal shipping fee), direct-to-consumer pricing, high-quality materials and manufacturing, and competitive prices. They're also the only company in our list that offers an online quiz to help customers feel even more comfortable.
With these positives in mind, multiple HighYa readers report difficulty canceling their Because Market (formerly Hexa Premium Briefs) trials and subscriptions, even after numerous attempts. Then, when they received products they didn't want, they were told no refunds were available.
Along these same lines, although Because Market offers refunds on a case-by-case basis, they're not guaranteed. As a result, keep in mind that you might be stuck with any products you order once your trial expires.
Keep reading: Successful Aging: Lifestyle Habits of People Who Age Well
Great incontinence product for my husband's needs!

By Rose W.

,

San Francisco, CA

,

Mar 31, 2020
Verified Reviewer

This is a review from my husband using Willow by Because underwear for men:

I can't thank this business enough for providing me with the support I need. I have tried many incontinence brands in the past, but Because seems to get it right on the dot from the fit to the material! When I chose the wrong amount in my trial pack, their customer service team went beyond my expectations in helping me correct my order in a timely manner and making sure the product I chose was correct for my lifestyle. I received my products in the mail fairly quickly. You guys have earned a happy and returning customer!

Bottom Line: Yes, I would recommend this to a friend

---

I like the willows

By Tasna S.

,

Lafayette, CA

,

Feb 1, 2020
Verified Reviewer

Because is the company that bought Willow last year...I was worried they'd mess up my deliveries but I think it's even a little faster than before. I like the Willow ones, they're the only ones I like to use. So I was a little worried but it's good.

Bottom Line: Yes, I would recommend this to a friend

---

Advertisement

---

Saves time

By George M.

,

California

,

Jan 26, 2020
Verified Reviewer

I saw this online before but all I wanted was an easy way to buy underwear without going to Walgreens. This company delivers each month for a good price so I don't have to deal with the store clerks who don't know anything. I see some folks complaining about canceling - I didn't call to cancel but I did call once to change size and that was easy. I think Because is fine and saves time.

Bottom Line: Yes, I would recommend this to a friend

---

Great product

By Carol H.

,

Starr, SC

,

Dec 27, 2019
Verified Reviewer

I got the trial order and tried all of them. Was not happy with what was on the market. The briefs are well made and durable. I have never had a problem with them charging my card and not getting the product. I can choose delivery dates at any time.

Now they offer Willow. I will try these too but the original product is great.

Bottom Line: Yes, I would recommend this to a friend

---

Advertisement

---

DO NOT BUY FROM THEM

By Carol F.

,

Kansas

,

Nov 16, 2019
Verified Reviewer

Do not buy anything from this company, it is a rip-off. Their product is very expensive and they do not listen to you and your needs. Was sent a text as to whether the product was right or no. Advised I didn't like the product expecting that they would send me something new or call me. They did neither, they sent my order for a month at a price tag of $100.27. Refused the package and have never gotten a response.

Bottom Line: No, I would not recommend this to a friend

---

New customer with successful experience

By Wanda M.

,

Arlington, TX

,

Oct 16, 2019
Verified Reviewer

I've been with Because for less than 2 months. I order the trial and tried all but one item in the trial package. I ordered the women's underwear. I received a sturdy box with 3 packages. Each package contained 20 pairs of underwear. The first package I opened worked and fit fine for me. The second package seemed to have a problem with the leg openings. One was a little too snug while the other was a bit loose. These rubbed a sore within 2 days. I emailed help@becausemarket.comwith details of my problem in the middle of the night. I had a reply the following morning. I will be switching to the pads when my next order is shipped. I notice those having a problem are using the telephone to contact them. It may be that the email allowed them to manage my issue at their convenience. It was still prompt and much less stressful than what I've read here.

Bottom Line: Yes, I would recommend this to a friend

---

Beware of Because Market

Been cheated again by the Because Market. The first underwear sent was well made, worked beautifully and was inexpensive. The next shipment didn't come although they charged my debit card and I called and told them to remove my account because I needed a reliable company. The man said they would not send another shipment until I called. He lied. Got another shipment, but of a very poor quality that leaked like a sieve. Called again and was told my subscription was removed. My debit card was charged again and received another inferior product. Typical bait and switch scam. The only way to get rid of these cheating schemers was to cancel my debit card, get a new one and change my groceries, utilities, insurance, etc over to the new number. These people are the lowest of the low - taking advantage of an 85-year-old with a neurological disease.

Bottom Line: No, I would not recommend this to a friend

---

Underwear

By Anne F.

,

Caldwell, ID

,

Aug 29, 2019
Verified Reviewer

I've only used the underwear, but I'm very pleased with them. They're most absorbent I've tried yet. I did try the wipes, but didn't like them. There's a problem with they're service dept though. They weren't very professional when I called them.

But as far as the underwear, they're the best I've tried yet.

Bottom Line: Yes, I would recommend this to a friend

---

Beware of this dishonest company

By Annette P.

,

North Carolina

,

Jul 23, 2019
Verified Reviewer

I was a subscriber for a while hoping this would be a cost-effective, reliable way to obtain products. I was very wrong. There is a poor selection of products which are grossly over priced. Amazon offers the same product at a fraction of the price with much faster and reliable delivery. Because claims "free shipping," yet charges a $25.33 monthly "handling fee." My order was due to come weeks ago. I called to ask about it and was told the order was delayed and it would be at least another week before I would receive it. They had no intention of notifying me of this. I regret that it took me so long to discover that this company is just a scam to fleece the elderly as much money as possible. Don't fall for it. Save money as aggravation and order from Amazon.

Bottom Line: No, I would not recommend this to a friend

---

GARBAGE

By Marie G.

,

California

,

Jun 27, 2019
Verified Reviewer

Do not even try a sample. You will automatically be signed up for continuing deliveries. You will be sent the wrong product, the wrong size. You will be charged a ridiculous amount for what they send. You will NOT be able to return the product and YOU WILL NOT GET YOUR MONEY BACK. The product is third rate and overpriced. The guarantee is worthless. BEWARE. These people are NOT HONEST.

Bottom Line: No, I would not recommend this to a friend

---