Beverly Hills MD Crepe Correcting Body Complex
Claimed This company has claimed this profile, is getting alerted on any new customer reviews entering this page, and may engage in dialogue with its customers to address their matters.

Companies cannot pay money or provide goods in order to remove or alter customer reviews.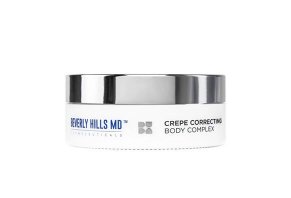 The Crepe Correcting Body Complex is a cream designed for daily use that will purportedly rehydrate your skin to fix a crepey appearance without surgery. There's clinical evidence that its ingredients will work to moisturize your skin and keep it looking it's best.
---
This company is actively collecting reviews from its customers. All reviews submitted are subject to moderation and approval to ensure they meet our

Review Guidelines

.

Overall Experience:

I received the order and immediately began to read the information.

I was to go out that evening, what better time to start using the product than tonight? Took my time "preparing my body" (as my use to say) and low and behold our hostess immediately said "you look different. What have you done?" I have not shared my secret with her as yet. Keep her guessing for a while!

Bottom Line: Yes, I would recommend this to a friend

---

Crepe Correcting Body Complex

By Cheryl Ross

,

Jackson, Michigan

,

Aug 8, 2017
Verified Reviewer

Overall Experience:

I have been using this Complex for about a month. I don't use it every day, but when I do, I enjoy the feel of the lotion on my skin. It does make my skin look younger. I am 63 years old and have noticed a crepe look to my inside of my upper arms over the last few years. I've noticed some difference in the way my skin looks after I put it on.

Bottom Line: Yes, I would recommend this to a friend

---

Advertisement

---

Luxurious cream

By Linda Brajer

,

Bryn Mawr, PA

,

Aug 8, 2017
Verified Reviewer

Overall Experience:

I love the consistency of this cream. I've been using it for a few weeks. Not a big difference yet, but it feels so nice going on.

The only thing I'm surprised about is how quickly I see the bottom of the jar. There's less cream in the jar than it looks. I don't use a lot at a time, and I expected it to last longer.

I did just reorder two more.

Bottom Line: Yes, I would recommend this to a friend

---

Overall Experience:

I have never seen anything like how this product works. Right before your eyes, you see the crepiness disappear. I am 69 years old and have lost weight over the years. My upper arms have sagging skin, and my neck also has loose flesh. I use Crepe Correcting Body Complex twice a day, and immediately I see a tremendous difference.

I've been using this wonderful product for more than a year, and everyone asks me if I had plastic surgery!

Thank you Drs. Layke and Danielpour.

Bottom Line: Yes, I would recommend this to a friend

---

Advertisement

---

Still waiting for best results

Tampa, FL

,

Aug 4, 2017
Verified Reviewer

Overall Experience:

So far the product worked very well for my dry skin. I can notice that it is not crepe as it was before.

The fact I did not give five stars is because my knees still have a little flab and with wrinkles.

Bottom Line: Yes, I would recommend this to a friend

---

There's no "correction" here!

By Erica

,

San Francisco, CA

,

Dec 6, 2016
Verified Reviewer

Overall Experience:

I am 46 years old, thin, have been thin and active my entire life, have applied lotion after every shower since my 20s, and am just now starting to "crepe." I'm not ready for this crepey business!

So after slogging my way through the entire Beverly Hills MD online infomercial video, I decided I would try the cream. I figured there was a really good chance that it was a total sham, but for the price, it was worth the risk.

I applied the cream every single day, religiously; didn't miss a single day for 60 days. I applied the cream to only one side of my body. I applied my regular lotion to the other.

Again: 60 days. Every single day to one side of my body. After 60 days, there was absolutely NO difference between the two sides of my body.

Knees: still crepey. Calves: still crepey. Arms: still crepey. Décolletage: still crepey. Arm into armpit over to breast: still crepey.

The product does smell good, but only hydrates with the same efficacy of regular lotion. Don't waste your money.

Bottom Line: No, I would not recommend this to a friend

Jan 6, 2017

Hello Erica, Samantha here with Beverly Hills MD. Thank you for taking the time to comment. I am glad to hear that you enjoyed the smell of the cream. We always work hard to provide our customers with the best formulations. I apologize that the Crepe Correcting Body Complex did not work as you expected. We always stand by our 60-day money back guarantee. Please email me at Samantha@beverlyhills-md.com so that I can personally take care of your refund. Thank you!

---

My Crepey Skin Is Still Crepey

By Dawn Hyde

,

Florida

,

Aug 25, 2016
Verified Reviewer

Overall Experience:

Can't believe I fell for the TV ad when I was practically positive it was just another scam for women so desperately wanting to find that smooth skin they took for granted for so many years.

But... I ordered the Crepe Correction Body Complex. I have faithfully used the creme for 6 weeks, and do not see one iota of improvement on any place I've been using the cream.

In all the literature I have, or found online, or heard on TV, all of it says 60 day money back guarantee. And added on right behind the 60 day money back guarantee, all info says "That means you can return your order at any point within 60 days, for a full refund of your money." "Within" does not mean you may use it 60 days, and return it the next day, but you need to return it before the 60 days are up.

Since it has not made the most minute difference in my skin, I am ready to return it now, at the end of 6 weeks. I went online to see exactly how to box it up to send back. I received an online mailing instruction page.

However, on that page, it is written "Keep in mind, we will only be able to issue a refund for the items returned back to us." So they don't give a full refund for the amount you paid. You get nothing back for the empty jars, or, probably, the partially used jars.

I also had to contact my bank when I received my order, as it tells you then, you will be automatically sent another shipment each month, and money will be taken from your account if you don't cancel the future ordering plan.

Too much confusion. Negative results. No, I would never recommend this to a friend or relative or even someone I hardly know.

Bottom Line: No, I would not recommend this to a friend

Aug 29, 2016

Hi Dawn,

My name is Samantha with Beverly Hills MD. I am sorry that our Crepe Correcting Body Complex did not work as you had hoped. Everyone's skin is unique, so certain products may take a bit longer to work for some. We always honor our 60-day money back guarantee, but I am happy to extend to you a refund even if the 60 days has passed. Please email me at samantha@beverlyhills-md.com so that I can help you with this.

To clarify, our return policy is a 60-day full money back guarantee once we receive the returned items. This means that a customer will receive their full refund once we have receive items, even if the jars are empty or partially used.

We never automatically bill or refill anyones order unless they sign up for our inner circle program. This is a completely optional service we offer to our customers so that they never have to worry about running out of their favorite product, as well as receive a special discounted price for being our valued customer.

I hope this helps to clarify any questions you had, and please feel free to email me personally if you have any additional concerns. Thanks Dawn!

---

No Help Whatsoever

By Leslie

,

Auburn, CA

,

Aug 24, 2016
Verified Reviewer

Overall Experience:

I purchased Crepe Correcting Body Complex thinking it would do everything they promised in their lengthy promotional. Sadly, I have seen zero improvement. I applied it to only a few specific places on my arms and legs and kept looking closely week in and week out for the promised results. There is no benefit. I am sending it back.

Bottom Line: No, I would not recommend this to a friend

Aug 29, 2016

Hi Leslie,

I am truly sorry to hear that you did not see the results you were expecting. I am curious to know more about your time with the product, and how long you have been using it, so that I may be able to help.

Please email me at samantha@beverlyhills-md.com so I can hear more as well as help you with your refund. Thanks Leslie!

---

Great product!

San Jose, CA

,

Aug 22, 2016
Verified Reviewer

Overall Experience:

I have noticed in my arms alone about a 50% improvement in one month and in the upper thigh about a 40% improvement. But the added perk is that this is just such a luscious cream and seems to hydrate as well!

I am 66 and a recently retired nurse with dry skin too and was concerned that this product might be drying after a few hours but just the opposite.

I have used the product daily as directed for a month and love the results so far.

Bottom Line: Yes, I would recommend this to a friend

---

Overall Experience:

I can't believe it! My legs, chest, and arms are so improved. I feel more confident when I wear my shorts! I love it.

Bottom Line: Yes, I would recommend this to a friend

---

Overall Experience:

I live an active outdoor life, walking the beach, boating, hot yoga, and love the sun! Your skin needs to be nourished back to life. This amazing crepe correcting complex does just that, brings your skin back to life, makes it look younger and tighter and feels that way as well, love this stuff.

Bottom Line: Yes, I would recommend this to a friend

---